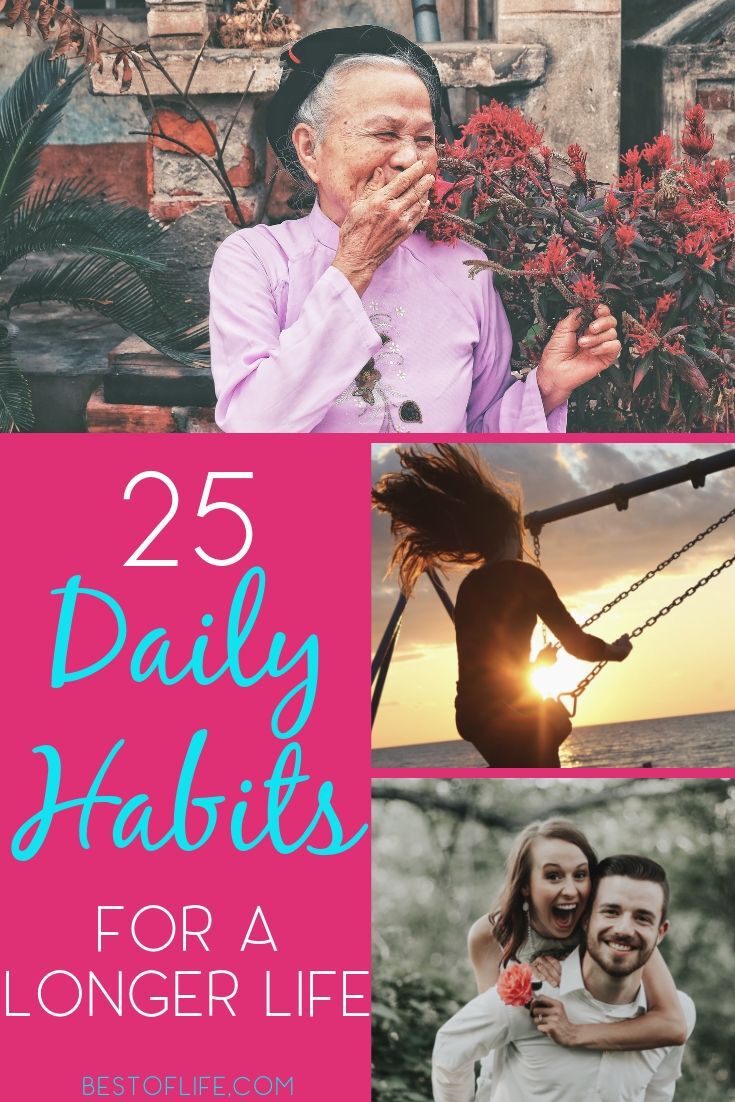 Living a long and healthy life isn't as easy as it may seem. People who have lived well past their nineties always say that simplicity is key to a long life. That may be true in some instances. But if you take a closer look you'll find that there is more to it than that. In fact, there are small, daily habits to live longer that you could already be doing every single day. There are also more habits you could be adding to your routine that will yield even better results.
You can learn to incorporate some of the best daily habits to live longer into your own routines. Who knows, you may even become the oldest person on earth.
We all get genes passed down from generation to generation. These are the building blocks of life. Some of those genes could be fatal ones and others just determine our hair color.
Some aspects of our lives are completely out of our control. But there are far more things in our control than out. Daily habits could play a bigger role than you may think.
In fact, it comes down to the age-old argument of nature vs nurture. But when you nurture your nature you could lead a healthier life that lasts longer.
Daily habits to live longer are ones that you could easily add into your day-to-day lives. The best part is, the end results will be seen in the number of candles that add up on your birthday cake.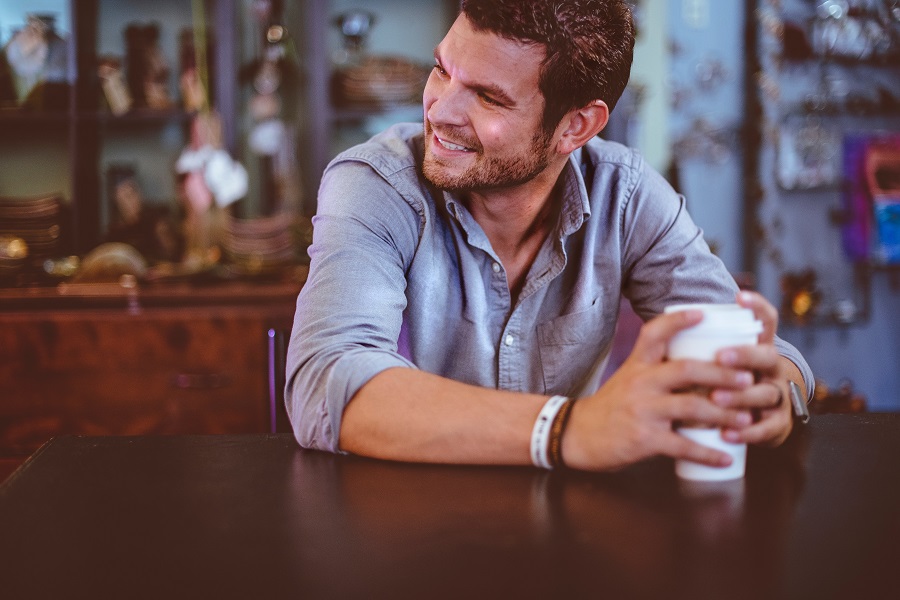 Daily Habits to Live Longer | Less Meat, More Plants
No one is preaching veganism here. Instead, simply get more protein from plants instead of meat. A Harvard study found that people who had a diet that was high in processed meats had a higher risk of death. Consider this, the study found that with a simple 3% increase in protein from plants, death risk was reduced by 10%.
Coffee
Here is a daily habit you might welcome with open arms. Drink coffee to add years to your life. Studies have found that moderate coffee intake could extend your life.
Coffee stimulates the nervous system, raises metabolism, and increases oxidation of fatty acids. Combined, these things will not only help you with weight loss but also help you live longer. Just remember moderation.
Spice Things Up
If you've tried to lose weight you've heard of turmeric. Turmeric is used for its anti-inflammatory properties. These properties have been shown to help with joint health as well as heart health.
But turmeric isn't the only healthy spice. Cinnamon is a great spice to use. There are studies that have shown cinnamon to improve insulin sensitivity and reduce the risk of type 2 diabetes.
Drinking
Believe it or not, no one is telling you to stop drinking. In fact, drinking in moderation could be a good thing. A study found that people who drank wine in moderation had reduced risk of cardiovascular disease.
Red wine specifically has an antioxidant in it called resveratrol. Resveratrol has been proven to reduce inflammation, provide protection against heart disease, and improve overall health.
Fruits
We all know that fruit is healthy for us. What we don't often pay attention to are the details. A study done by Imperial College London found that people who ate 10 portions of fruits and veggies had the greatest risk reduction.
The natural vitamins and minerals found in fruits and veggies will improve your health in many different ways.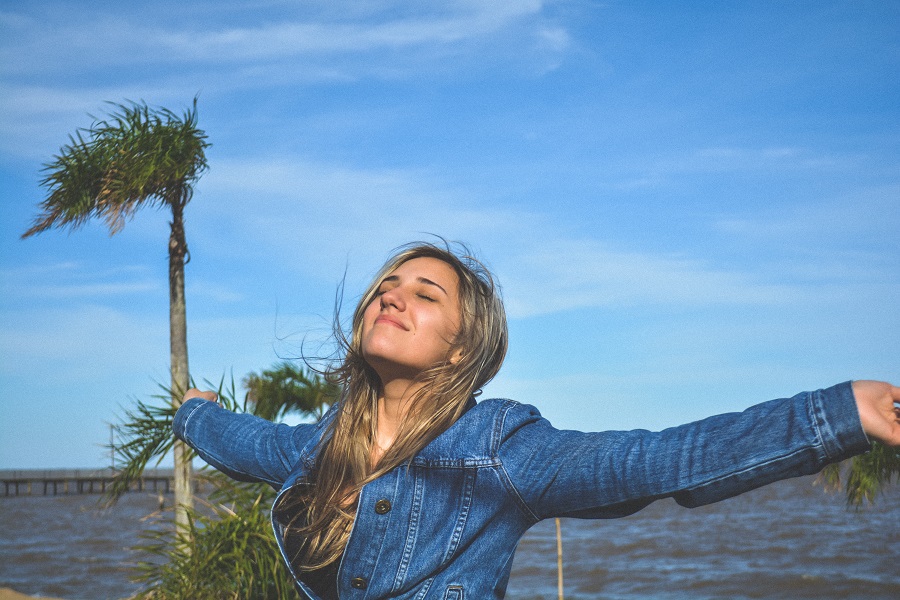 Daily Habits to Live Longer | Sleep
Sleep is quite possibly the most important part of our days. Not only should you get enough sleep, but you also need to get good sleep. Depression, obesity, and heart disease are just a few of the health problems we avoid by sleeping right.
Inner Child
Let out your inner child more often. Research done by University College London found that people who felt three years younger had reduced death rates.
While we can't control how we feel, we can control things that make us feel certain ways. For example, let loose from time to time, play, have fun! This is one of the best daily habits to live longer.
Mental Stimulation
Many of us fall into routines and eventually, lower the number of times we stretch our mental capacity. Studies have shown that keeping your mind stimulated could improve cognitive function.
You should challenge yourself mentally as often as possible. Solve puzzles, become social, get some hobbies, these are the things we can do to give our minds a workout.
Friends
The number of friends doesn't matter, it's the quality of those friendships that do. Research has indicated that connecting with others in a deeper way provides us with better mental and physical health.
In fact, some research indicates that recovery from disease is sped up by simply connecting with someone.
Live on Purpose
Over 9,000 people over the age of 65 participated in a study. That study found that those who felt they had a purpose in life were 30 percent less likely to die in the next eight years. Find ways to give your life meaning. That meaning could be the thing that saves your life.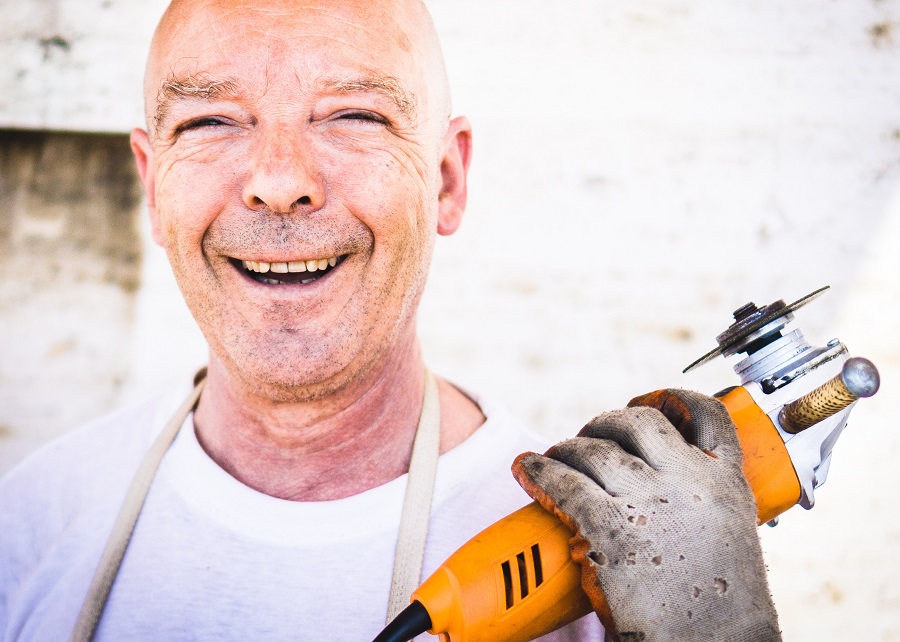 Daily Habits to Live Longer | Step by Step
You should go for a walk if you want to add any daily habits to live longer. Walking for 20 minutes a day could do more for your health than you may think.
In fact, studies have found that simply walking for 20 minutes a day could add 3-7 years to your life. This means that even if you aren't a gym junkie, you can still benefit from exercise.
Stay Hydrated
Drinking water is very important. All you need to do is make sure you drink plenty of water each day. That water will help our bodies work the way they should, including your liver and kidneys. Not only will it help you to lose weight, but it will also improve your skin and overall appearance.
Sex
There are a few things to remember with this one but overall, sex is important. In fact, having satisfying sex at least two to three times a week can add three years to your life.
Just remember to practice safe sex habits, make it consensual and be of legal age. Besides that, you can count on sex to burn calories, lower blood pressure, improve sleep, boost immunity, and even protect your heart.
No More Binge-Watching
A study done in 2010 found that people who watched 4 or more hours of TV were 46% more likely to die. Each hour of TV you watch, according to this study, increases your risk of death by 11%.
You stay sitting or lying down for prolonged periods of time while watching TV. The goal is to get more active.
Ditch the Sugar
There is no if, and, or buts about it, sugar tastes good. But too much sugar can be bad for you. Sugar increases blood sugar levels. That increased blood sugar will increase LDL cholesterol and lower HDL cholesterol.
HDL cholesterol is good for your heart and LDL cholesterol is not. Women should be sticking to 25 grams of sugar a day and men should stick with 36 grams. This isn't really one of the daily habits to live longer. More like an end to a daily habit to live longer.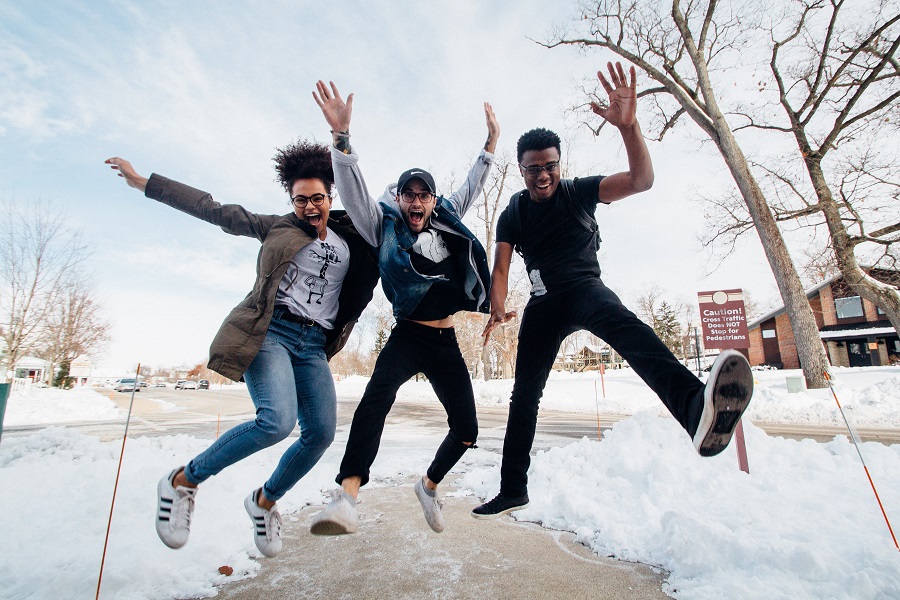 Daily Habits to Live Longer | Vacation More
Going on vacation is great for the mind but it is also great for the body. A study done with men who were at high risk of coronary artery disease found that more vacations equaled a longer life. In fact, the men who didn't go on an annual vacation were 32% more likely to die of a heart attack.
Drink Whole Milk
We've been told time and time again to avoid whole milk. But a 2016 study found that people who drank more dairy fat had lowered the risk of diabetes by 50%. Diabetes has been shown to reduce the lives of men and women by 8-10 years.
No Eating After 9 pm
There is always a heavy debate on when you should stop eating each day. The answer is 9 pm. People who eat after 9 pm have a 55% increase in the risk of heart disease. This was according to a study done by Harvard. The people in the study were all between the ages of 45 and 82.
Eat More Nuts
There was a European study that found that people who ate 10 grams of nuts each day reduced their risk of heart disease by 23%. You don't need to eat many nuts at all to get these benefits. All you need to do is eat 6 cashews or 8 almonds each day. That is less than a handful.
Laugh More Often
We've all heard that laughter is the best medicine. While it won't cure cancer it will increase your years. A study done by the University of Maryland School of Medicine in Baltimore found that laughter had a positive effect on blood vessels. That effect was very similar to the effect exercise has on our blood vessels.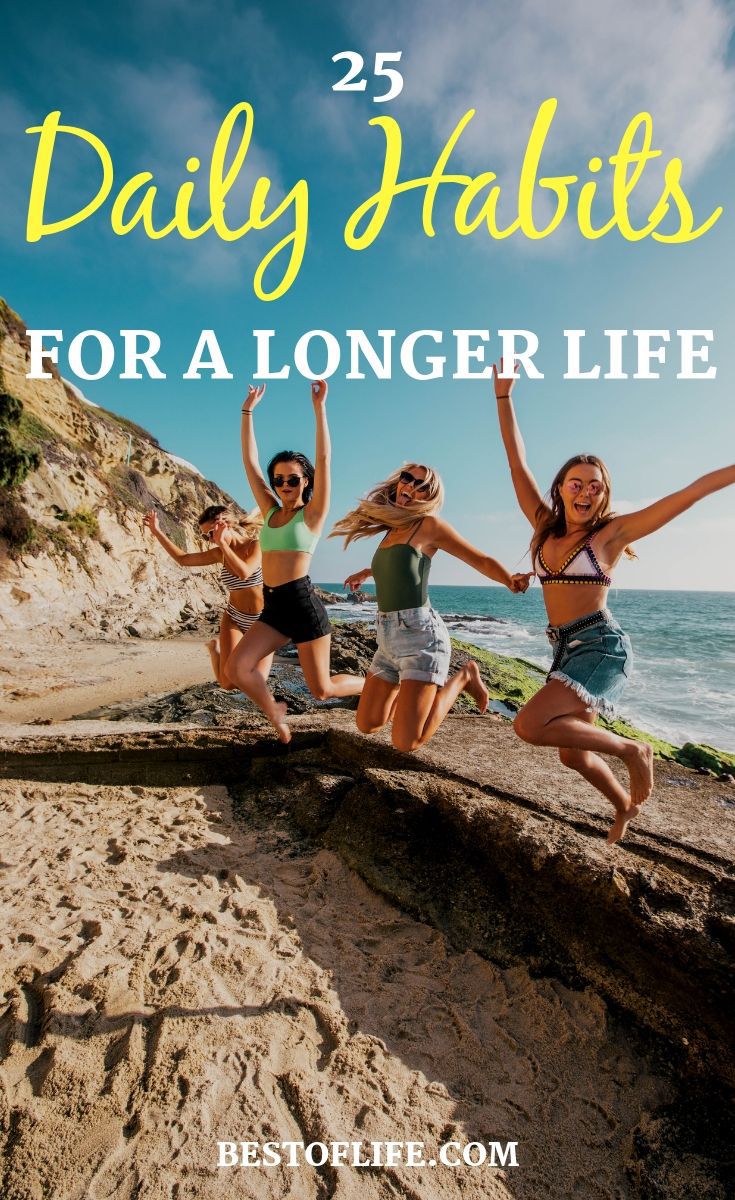 Daily Habits to Live Longer | Read Daily
If you read as little as half an hour per day you will increase your lifespan. What you read doesn't really matter. You could read a magazine, a newspaper, a book, a novel, a comic book, an article from The Best of Life. No matter what you read, just read and make it last for at least half an hour each day.
Practice Forgiveness
If you want to practice daily habits to live longer, forgiveness is one of them. A study done by the University of California, San Francisco found that holding onto grudges is bad for your health.
Those issues could become chronic stress and that can lead to premature aging, serious diseases, and early mortality.
Don't Sit
If you find yourself sitting more often than not, change it. In 2016, a British study found that sitting for seven or more hours a day increases the risk of death by 30%. Get up and go for a short walk every other hour. Just make sure you aren't sitting for 7 consecutive hours.
Eat More Beans
Beans really are a magical fruit. Beans are high in protein, fiber, and other complex carbohydrates. Research has been done on the "Blue Zones" and found that beans were prevalent in their diets.
A blue zone is an area that has a lower natural death rate. Lome Linda, California is considered a blue zone.
Practice Positivity
A 2012 study found that people between 95 and 107 years old tended to have more positive attitudes. This study showed that a positive attitude and a good sense of humor could be the cause of this longevity. This could be one of the easiest daily habits to live longer.
More Health
15 Clean Eating Tips for Beginners
Best Snacks to Eat at Night for Weight Loss
How to Apply Sunscreen | Sunscreen Application Tips
7 Quick Ways to Boost Weight Loss for Good