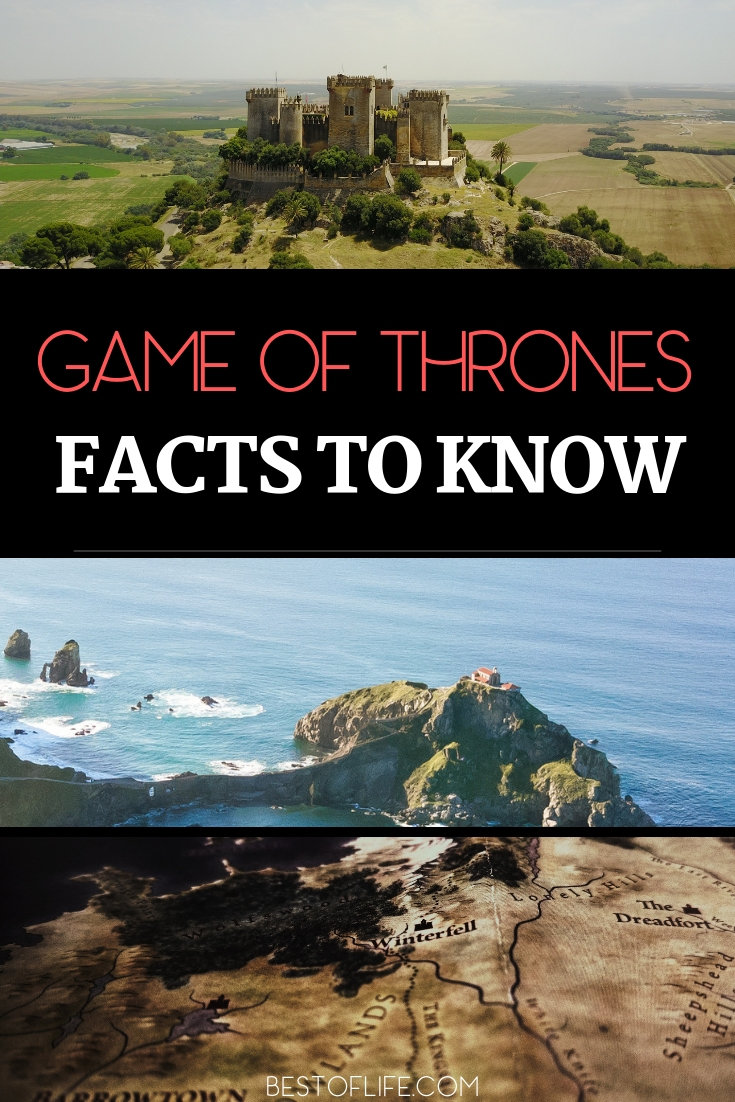 The battle for the iron throne is past the heating up stage. We are in the last stretch of what will surely be an amazing few episodes. While the biggest burning question won't be answered until the end of the series, we can learn other things about Westeros. In fact, there are quite a few awesome facts about Game of Thrones that you may not know yet.
While you bite your nails waiting to see who will win the game of thrones, learn some awesome facts about Game of Thrones.
Game of Thrones has been a part of our world for a very long time now. Whether you've read the books or just watched the series, the world of Westeros has been coming to life in amazing ways and has kept many people on the edge of their seats.
While the night is long and full of terrors, the world of Westeros has a few secrets of its own. There are some awesome facts about Game of Thrones that you may not know yet.
These facts don't just cover things inside Westeros but also the people and lives that bring that world to life.
Facts About Game of Thrones | Porcelain Throne
Did you know the man who invented the world's first flushing toilet was named Jon Harrington? Does that last name sound familiar? Well, the answer is yes, Kit Harrington, a.k.a. Jon Snow, is related to the man who invented the flushing toilet. That means he is at least the natural born heir to the porcelain throne.
Facts About Game of Thrones | I Eat Plants and I Know Things
Peter Dinklage, the actor who plays Tyrion Lannister, is a vegetarian. You may be wondering how he could be a vegetarian in Westeros. Well, all of the meat he eats in the show is fake. That's right — if you want to be as smart as he is, you might want to try a regular diet of fake meat.
Facts About Game of Thrones | There is No Word for That
The Dothraki are known for being fierce warriors, even savage in the way they fight. What the Dothraki are not known for is their language. However, the Dothraki language was created for the show and consists of over 3,000 words. Still, there is no word for thank you.
Facts About Game of Thrones | Winter Almost Never Came
Like any show, Game of Thrones shot a pilot episode to use as a way to get the show picked up by a studio for the initial season. For Game of Thrones, the pilot was, according to an insider, "a piece of sh-t."
There were different actors for Daenerys Targaryen, Catelyn Stark, and a few others. Thankfully, HBO had already purchased the rights to the content and wasn't going to give up that easily.
Facts About Game of Thrones | It's Real!
There are a few occasions in Game of Thrones that just go down in television history, one being the Red Wedding. Did you know the Red Wedding is based on an actual event? The Scottish "Black Dinner". In 1440, the Douglas clan was seen as a threat to stability by some people who were close to King James II.
It is said that William Douglas was invited to dinner with the king during which he was presented with a black bull's head (a symbol of death). After that, William and his brother were seized and then murdered.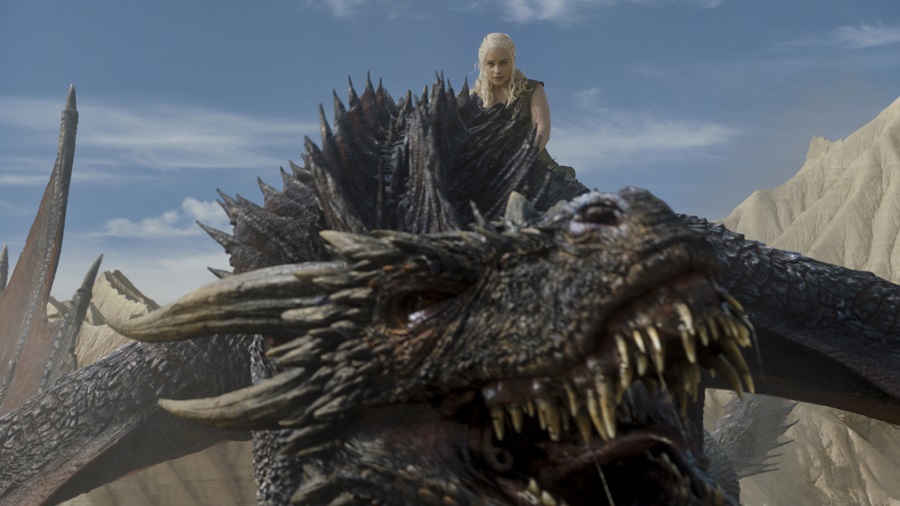 Facts About Game of Thrones | Sexy Dragons
The dragons of Game of Thrones have become very popular, and why wouldn't they? But it's hard to make sounds that don't exist in some way already and dragon roars aren't exactly known.
To make the sounds of the dragons roars, sound designers used animal sounds mixed together, including the sounds of tortoises having sex.
Facts About Game of Thrones | Retirement Wedding
There is one name in Game of Thrones that everyone seems to hate with a passion: King Joffrey. George R.R. Martin sent Jack a letter after the first episode aired and in that letter, told him, "Congratulations, everyone hates you!"
We all know what happened to Joffrey at the Purple Wedding, but did you know that the actor has since retired from acting?
Facts About Game of Thrones | Wolves of the North
Many people immediately fell in love with the dire wolves that were found and handed out to the Stark children, including the bastard. The wolves that were used to play those dire wolves are Northern Inuit dogs.
The dire wolves are known to protect their respective Stark child and in real life, Northern Inuit Dogs were bred in the 1980s to be the perfect rescue dog mixing different rescue dog breeds like Siberian Huskies, Alaskan Malamutes, and a specific bloodline of German Shepherds.
Facts About Game of Thrones | An Epic Life
The actor who plays Grand Maester Pycelle at The Wall, Julian Glover has had an epic career. Before playing in the epic story of Game of Thrones, Julian also played roles in Star Wars: The Empire Strikes Back and Indiana Jones and the Last Crusade.
Another actor who had a hand in other epic properties is Michelle Fairley, who played Catelyn Stark as well as Mrs. Granger in Harry Potter and the Deathly Hallows.
Facts About Game of Thrones | I Won't Bend the Knee
Kit Harrington, Jon Snow, had an interesting audition. While he must have been impressive as he landed the role, he had a black eye. A real one. Kit had gotten into a fight at McDonald's before going to his audition. Shiner and all, he still got the part.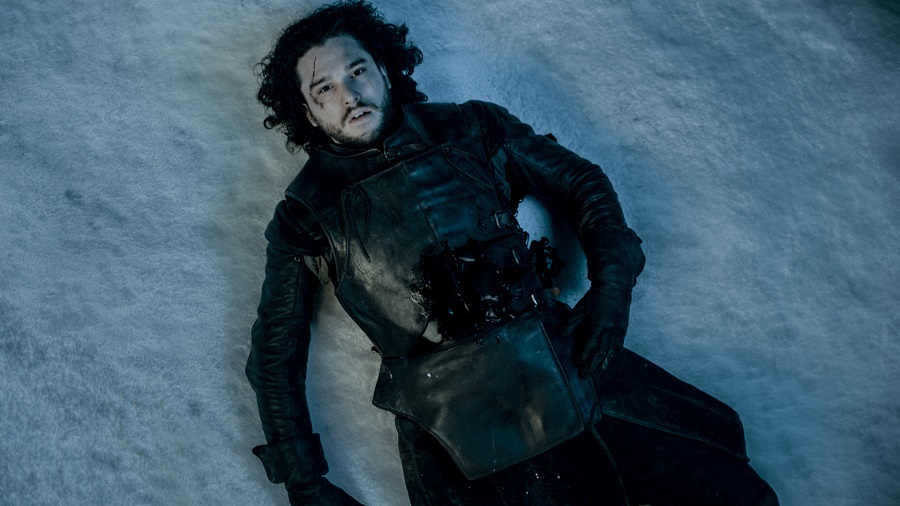 Facts About Game of Thrones | Hiding From Drones
One scene that took the breath from the world was the last episode of season 5. Jon Snow was betrayed in a major way and killed by a few members of the night's watch.
But, we all know that he comes back in season 6. While filming season 6, Kit Harrington was forced to hide from any drones flying over the set so that his return would remain as secret as possible for as long as possible.
Facts About Game of Thrones | Not Valyrian Steel
The Iron Throne was made by Aegon I Targaryen who was the first king of the seven kingdoms. The swords used were those surrendered by the enemies Aegon had conquered.
But that means they didn't use Valyrian steel, which could explain why Gwendoline Christie, the actress who plays Brienne of Tarth, was able to break it. After sitting in the iron throne and breaking it, Gwendoline said, " I'm a whole lot of woman."
Facts About Game of Thrones | A Visit from a Galaxy Far, Far Away
Season 8 of Game of Thrones may just be the most anticipated show to date. Some may say the first episode was setting the stage for things to come, but apparently, someone was really impressed.
George Lucas visited the set while they were filming season 8 episode 1. Between takes, George Lucas would talk with Kit Harrington and Emilia Clarke. His notes on Kit's performance? "No direction", meaning Kit really impressed George Lucas.
Facts About Game of Thrones | Double Take
Many may have seen Tommen Baratheon as having a lot of potential as king of the seven kingdoms. Then he got brainwashed and turned out to be very weak. But interestingly enough, in season 3 of Game of Thrones, Dean-Charles Chapman played Tommen as well as a squire, Martyn Lannister.
Facts About Game of Thrones | Ikea, The Night's Watch Store
Cosplaying is the act of dressing up as your favorite characters from books, movies, shows, and so on. If you want to cosplay as Jon Snow, head to Ikea because that is what the costume designers did for the show. The fur cape Jon wears is made from an Ikea rug.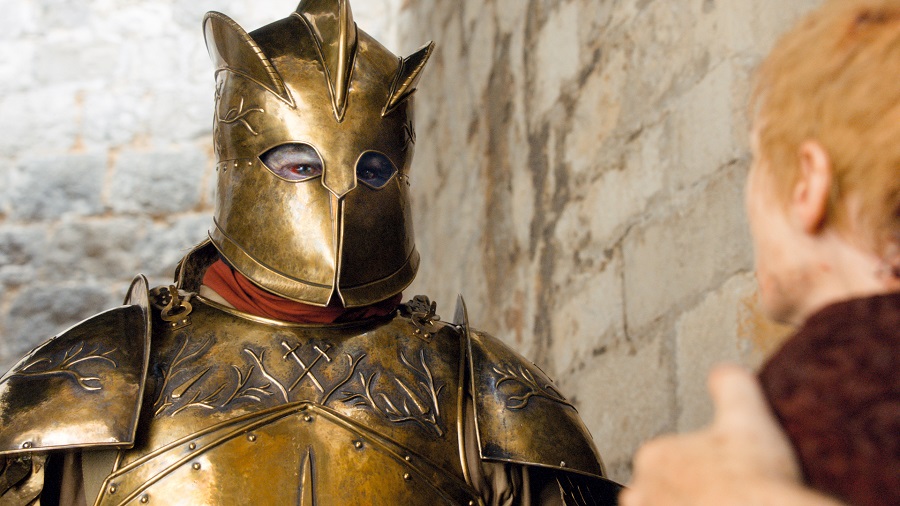 Facts About Game of Thrones | What's Under That Helmet?
You can easily be forgiven for not knowing that the Mountain was played by three different actors including Hafþór Júlíus Björnsson, Conan Stevens, and Ian Whyte. With the elaborate costume the actor wears whenever on camera, it can be hard to see his face. You may not even want to since he isn't exactly the picture of glowing skin in the show.
Facts About Game of Thrones | Harmed (or Skinned) in the Making
The lines of animal safety have been blurred in one episode of Game of Thrones season 1. There is a scene you may or may not recall in which Tywin Lannister and Jaime Lannister are having a conversation while on a hunting trip.
During that conversation, Tywin was skinning a stag. That animal was a real animal and the actor who plays Tywin, Charles Dance, really did skin that animal for that scene.
Facts About Game of Thrones | Boy Bands are Canon
Well, maybe not exactly canon, but at least encouraged. Actors, Kristofer Hivju (Tormund), Iain Glenn (Ser Jorah), Rory McCann (The Hound), and Richard Dormer (Beric Dondarrion) formed a band. The band is called Brotherhood Without Banjos and they even have a viral video out there.
Facts About Game of Thrones | Hold the Door!
The actor who played Hodor didn't really have a problem remembering his lines, so he got creative. While, for the most part, all he says in the show is "Hodor", the actor (Kristian Nairn) had 70 different ways to say it.
Facts About Game of Thrones | Dedicated to the Cause
During the sex scene between Jon Snow and Ygritte, the actor who played Jon Snow, Kit Harrington, had a broken ankle.
This means, he was not able to film the scene and so, a crewmember stepped up and bared his backside for the scene. Bonus fact: Kit Harrington is married to the actress who plays Ygritte, Rose Leslie.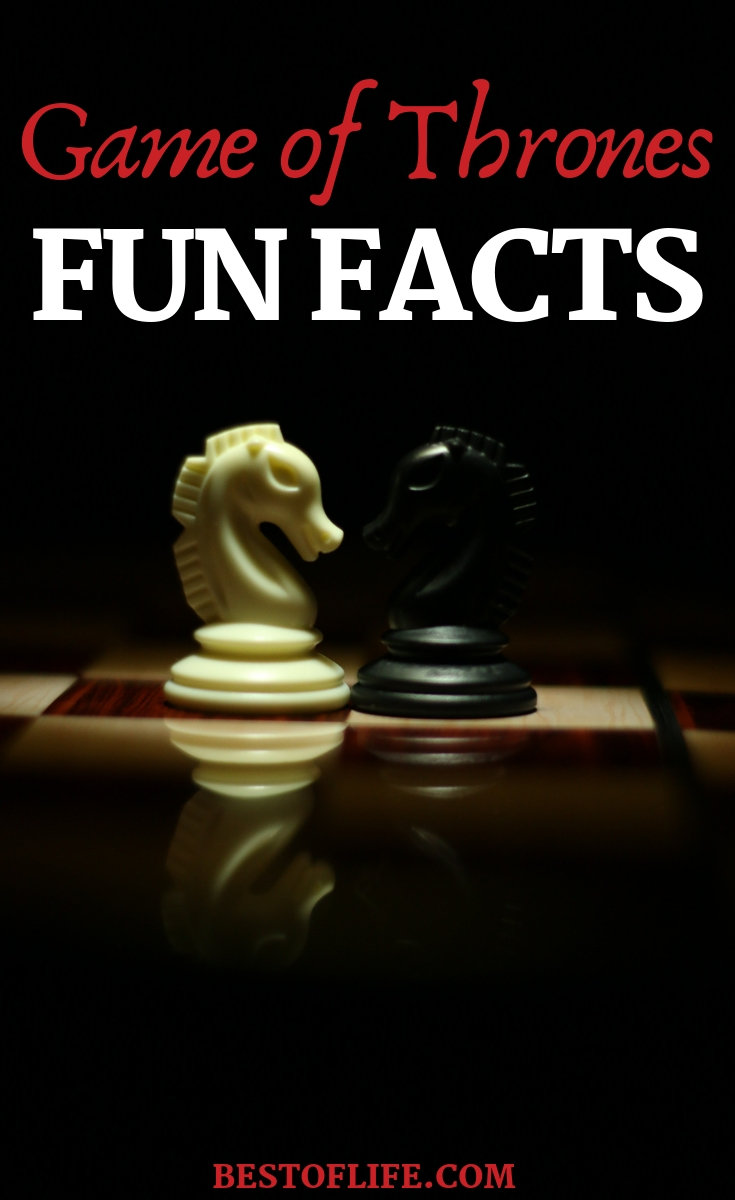 More Entertainment
40+ Game of Thrones Party Food Ideas
10 Netflix Shows to Binge Watch as a Couple
Netflix Shows 2019 | Best Shows to Watch for All Ages
Netflix Documentaries for Crime Solving Addicts