This site contains affiliate links. Please read our Policies for information.
United Kingdom, Aug. 29, 2017/ Best of Life PR/–Over 90% of people who try to lose weight and live a healthy lifestyle will fail. Research suggests that the reason for that failure is due to using a diet or workout routines that can't be kept up long term. Another reason for that failure could be due to weight loss strategies and workout routines that require too much time and effort. Jessica Revell, author of LIFE Fit Program-Lose It ForEver! May have the solution.
LIFE Fit is a new book by Author Jessica Revell who has worked with hundreds of clients to help them gain a healthy lifestyle.
Jessica Revell has worked with busy moms across the country to help them realize their health goals. Revell's works include simple adjustments that are easier to maintain and ensure long-term goals. During her work with her clients, Revell realized that this information should be shared with the world. That realization has led to Revell writing LIFE Fit: The Process to Lose It ForEver.
LIFE Fit: The Process to Lose It ForEver has a synopsis that states: The process takes you through the famous L.I.F.E. Fit programme. A complete weight loss and body toning programme designed specifically for the busy mum. This book gives you the tools you need to 'Lose it ForEver'.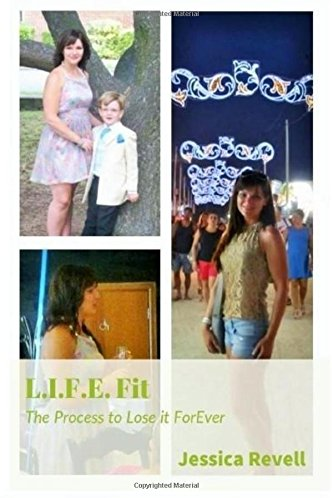 The synopsis continues to say that the programe works thanks to the fact that it doesn't isolate you from your family. Instead, the goal is to create a healthy lifestyle that everyone can and will enjoy. Jessica Revell says, "The vital thing I want to stress is that this isn't some eight week 'starve yourself of carbs' type of program." Revell continues, "These types of radical diets cannot survive the long-term, ultimately fail and destroy a woman's confidence as she ends up back where she started. This program is all about sensible changes that will survive long into the future and steadily bring a woman to a healthy weight, state of health and have her bursting with youthful energy."
LIFE Fit: The Process to Lose It ForEver is available now on Amazon.
About the Author:
Jessica Revell lives in Southend-on-Sea in Essex where she runs her business We Fit Together. As a weight loss coach, Jessica works with Mums and their families in their home helping the Mum achieve her weight loss and body transformation, while simultaneously introducing healthy routines and nutrition to benefit the whole family. Jessica developed her L.I.F.E. Fit programme after struggling with her own weight throughout her teens and early adult life and after having her Son, was tired of following the same trending weight loss tips and so she set about to create a programme that delivers real weight loss results and increased health and wellbeing throughout the home. After years of research and test groups, Jessica's L.I.F.E. Fit programme was created.