Description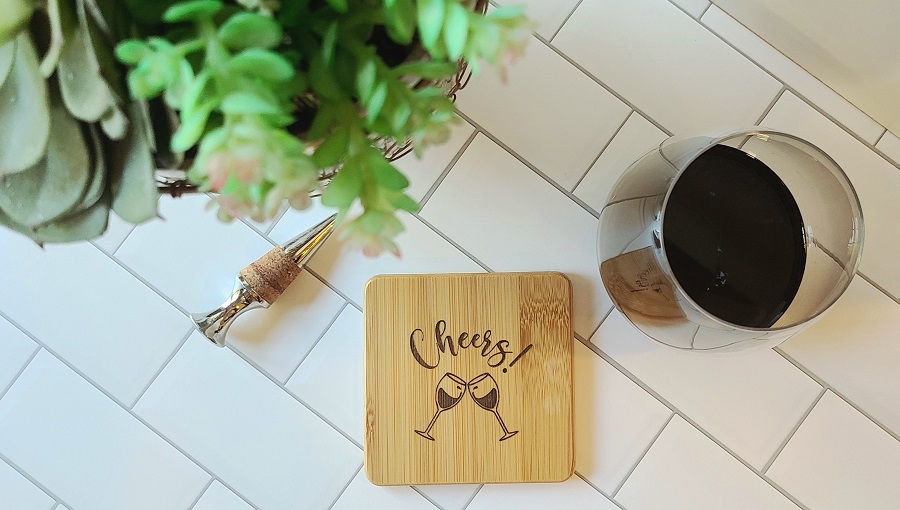 These wooden coasters for cocktails are laser engraved by us. In fact, each coaster is handmade after you've ordered it, you could say it was made especially for you. No matter what kind of drink you're enjoying, if it's cold, it needs our Cheers Cocktail and Wine Wooden Coasters. You can even use these as party supplies to ensure your guests help keep your furniture looking great.
Place these laser engraved Cheers cocktail and wine wooden coasters on any piece of furniture you want to protect. We think these coasters are the perfect addition to any home. Especially since it is the little things like these that bring the home together.
You can use these laser engraved wooden coasters yourself or give them to a friend who loves to host as a unique gift. Either way, these coasters are a great find, hand made in the USA, and come from a small, family-owned business.
Laser Engraved Cocktail and Wine Wooden Coasters Design Options
Cheers
Where Liberty Dwells there is my Country
God and Country
America is another name for Opportunity
The American Dream
Personalized – Custom Design of your Choosing! Please be sure to add notes to your order and email your hi res vector image to [email protected]
Cocktail and Wine Wooden Coasters Features
Price is for 1 coaster
Mix and match between all of our custom laser engraved designs to make your own set
Made with natural bamboo
Hand wash only
For custom personalized orders, please add your notes to your order and email [email protected] with your order number and design vector image.
More Cocktail Ideas
Sailor Jerry Rum Drinks: Best Drinks with Rum | These laser engraved coasters would work perfectly with some rum cocktails.
Best Beer Cocktail Recipes | List of Beer Cocktails | Beer is great, cocktails are better, beer cocktails are AMAZING!
How to Make a Charcuterie Board | Your new laser engraved coasters would go perfectly with a charcuterie board.