Description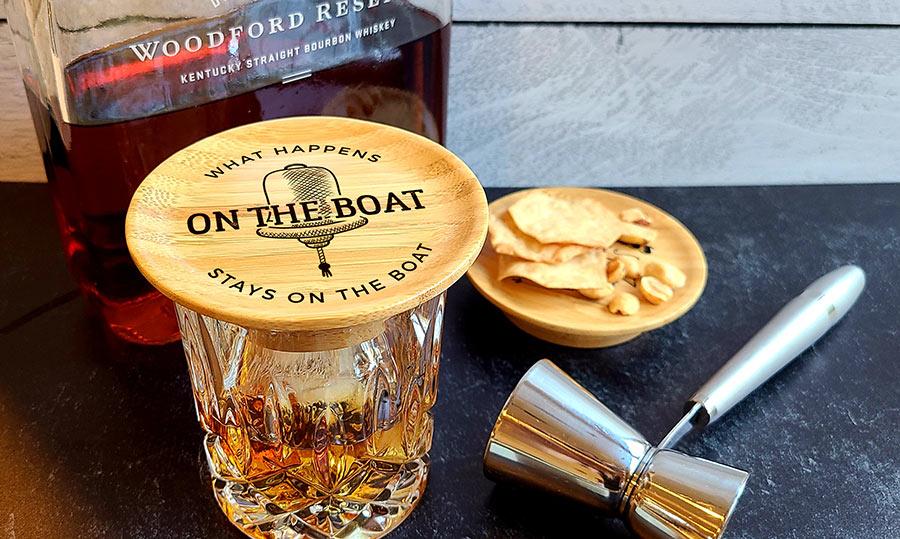 The wine glass toppers you know, and love, have a new look – cocktail glass toppers! These toppers are the perfect addition to any social event. These toppers are slightly lighter with a higher gloss than the wine glass toppers and made with eco-friendly bamboo. The biggest difference is that these toppers fit on a wider variety of glasses. You can use these toppers for cocktail glasses, beer glasses, wine glasses, even water glasses and coffee mugs if you want.
Cocktail Glass Toppers Features
LASER ENGRAVED appetizer plate that fits on your cocktail, wine, or beer glass
Carry food with your drink and keep one hand free for socializing
Nestles inside the rim of your glass
Can be used as a DRINK MARKER OR COASTER
Mix and match designs
Keep bugs out of your drink while outdoors
Dimensions | 4-inch diameter, 2.75-inch bottom ring, and .875-inches tall
Fits most glasses
Sold individually
Laser engraving is done by our family right here in the USA
We have an extensive list of designs to choose from below. However, you can also create a custom design. Simply email your design to [email protected] after ordering.
34 cocktail Glass Toppers Designs
Alcohol. Because no good party starts with a salad.
Knock, Knock. It's Gin o'clock.
Whiskey Bar
Life is Short. Buy the Good Alcohol.
Let's Get Nauti!
You can't control the wine. You can adjust the sails.
Not all those who wander are lost.
Good Friends, Good Wine, Good Times.
A Meal without wine is called breakfast.
Guns, Whiskey, Steak and Freedom
What Happens on the Boat Stays on the Boat
Cheers with two glasses
Cheers with a splash of wine
Rose all Day
All that I am or Ever Hope to Be I owe to my Mother
My Favorite People Call Me Mama
Salut with a splash of wine
Let's Wine about it with a couple drinking together on it
Let's Wine about it with a woman enjoying her wine
Land of the Free Home of the Brave
America is Another Name for Opportunity
Where Liberty Dwells
God and Country
It's Wine O'clock Somewhere
Save Water Drink Wine
There's Always Time for a Glass of Wine
I'm One Glass Away from Saying What I Really Think
Kiss Me I'm Irish
Luck of the Irish
Horseshoe Luck
St. Patrick's Day
Celtic Tree of Life
Kiss Me I'm Drunk or Irish
Custom