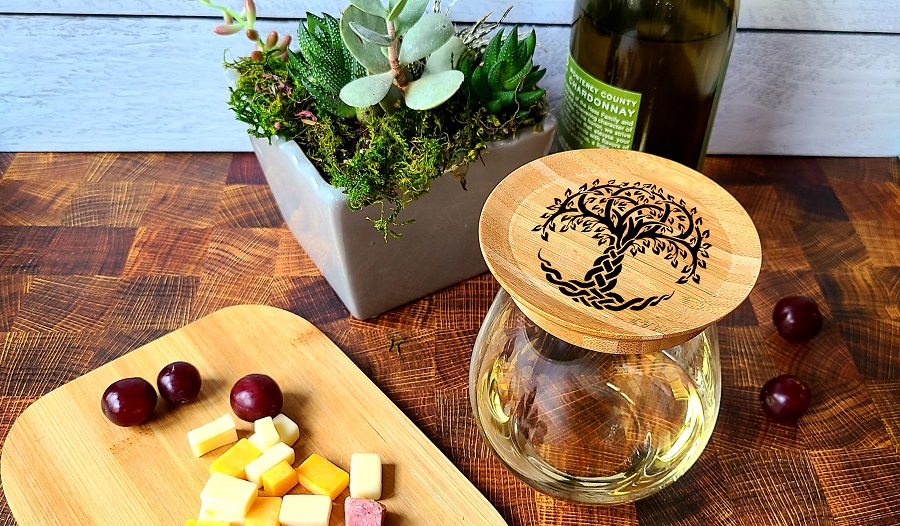 Our St. Patrick's Day inspired Irish wine glass toppers are designed and handmade just for you. If you love celebrating Irish heritage or simply the fun of St. Patrick's Day traditions, these wine glass toppers are perfect for you! We have six variations to choose from: Kiss Me I'm Irish, Luck of the Irish, Horseshoe Luck, St. Patrick's Day, Kiss Me I'm Drunk or Irish, and the Celtic Tree of Life.
These laser engraved wine glass toppers are an easy and fun way to keep your hands free while enjoying your wine and appetizers. They also make a great drink marker for parties if you mix and match from the various designs we have. They serve as a small snack plate that you can carry with you. The plate can sit on a table on its own or on top of your wine glass.
Nestle your wine glass topper onto the rim of your wine to hold your apps, keep the bugs out, and keep your hands free. We love our wine glass toppers for mingling and enjoying wine with friends!
If you are looking for a unique gift, these St. Patrick's Day Irish wine glass toppers are perfect! Plus you're supporting a small family owned business in the USA. God Bless the the Irish and all Nationalities that make the United States of America great!
Irish Wine Glass Toppers Features
Sold Individually – Price is for one wine topper
Handmade in the USA by our family – slight variations to be expected
Made of Bamboo
Fits most standard wine glasses
Size: 4-inches in diameter | 2.75 inch diameter underneath
Glass not included
Wine not included 😉
More St Patrick's Day Party Ideas!
St Patrick's Day Quotes to Celebrate the Irish Spirit
Green St Patrick's Day Cocktails