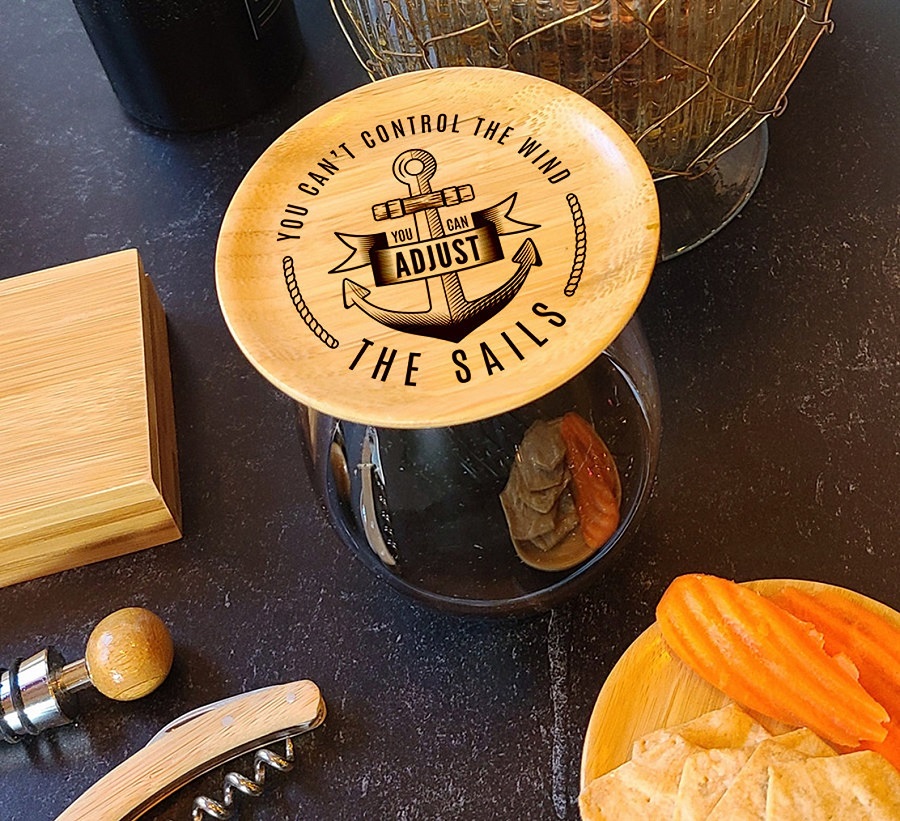 Cocktail glass toppers help protect your drink while also giving you a plate to carry finger foods…and it becomes a drink coaster after. Our Nautical Themed cocktail topper appetizer plates are slightly lighter and have a higher gloss tone when compared to our wine glass topper appetizer plates. Our cocktail toppers are still made from eco-friendly bamboo. Each topper is designed to fit snuggly on the inside lip of your glass, and they fit a wide variety of glasses for cocktails, beer, wine, even water glasses and coffee mugs!
Nautical Themed Cocktail Topper Appetizer Plates Features
APPETIZER PLATE ENGRAVINGS are done by our family at home with a laser engraving machine
Carry appetizers and snacks right on your drink to keep one hand free
Can be used as drink markers as well
Finished snacking? Use the toppers as coasters
Dimensions | Approximately 4-inch diameter fits around standard wine glass rims, about 2.75-inches in diameter
Mix and match the designs
Keep bugs out of your drinks while enjoying the outdoors
Makes great gifts
Handmade from bamboo in the USA
Sold Individually – price is for one wine glass topper
Nautical Themed Cocktail Toppers to Choose From!
Best Captain Ever
Boat Hair Don't Care
Hubby
Nauti
Not all those who
On the Boat
Wifey
Can't Control Wind
Cocktails to Enjoy with your Cocktail Glass Toppers