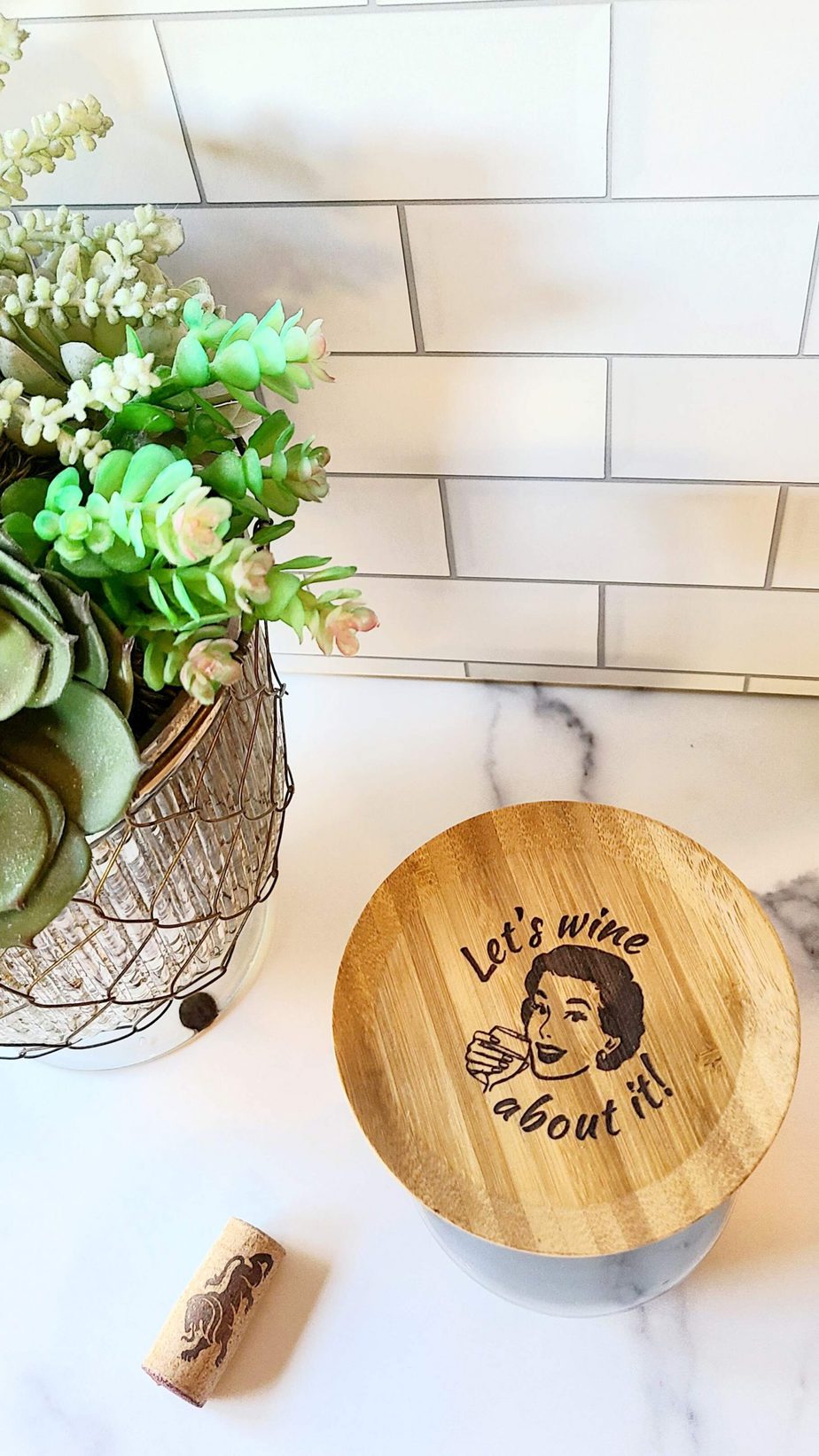 Our custom made wooden wine glass topper appetizer plates nestle onto the rim of a standard wine glass to hold your appetizers and keep your hands free while mingling. It's a mini plate for the top of your wine glass that becomes a coaster when you are done! Perfect for mingling and sharing your love of wine with others!
Our custom engraved wine glass toppers are a fun drink marker, too! Mix and match designs and use them when entertaining so everyone knows which wine belongs to them. Simply use these fun wine glass topper appetizer plates to cover your wine, enjoy small appetizers, and then use it as a coaster for your drink when you are done snacking.
An added perk?
They keep the bees and bugs out of your wine when sipping outside and are a well loved hostess gift! Wine glass toppers fit a wine glass rim of 2.75 inches or smaller and are 4 inches in diameter on top.
We have 22 wine glass toppers to choose from!
Cheers
Cheers with a splash of wine
Rose all Day
My Favorite People Call me Mama
All I am or Ever Hope to Be I owe to my Mother
Salut for an Italian flair
Let's Wine about it with a couple drinking together on it
Let's Wine about it with a woman enjoying her wine
Land of the Free Home of the Brave
America is Another Name for Opportunity
Where Liberty Dwells
God and Country
It's Wine O'Clock Somewhere
Save Water Drink Wine
There's Always Time For A Glass Of Wine
I'm One Glass Away From Saying What I Really Think
Kiss Me I'm Irish
Luck of the Irish
Horseshoe Luck
St. Patrick's Day
Celtic Tree of Life
Kiss Me I'm Drunk or Irish
Custom (you email us a graphic & we'll make it reality – it's just that easy!)
We now offer the option of engraving your favorite graphic or phrase! Have an image or an idea in mind? Just email us before or after purchase and we'll let you know if it will work. (If for some reason we can't make it work, we'll immediately refund your purchase!) Custom graphics work 99% of the time without issue, the other 1% is usually a simple tweak here or there to fine tune it for engraving. We've never had a custom order that has turned out anything but extraordinary!
Email: [email protected]
Wine Lovers Themed Wine Glass Topper Features
Sold Individually – Price is for one wine topper
Handmade by our family
Made of Bamboo
Fits most standard wine glasses
Size: 4-inches in diameter | 2.75 inch diameter underneath
Glass not included | Wine Not Included 😉
More Wine Ideas
10 Best Red Wines Under $30 | Mid Priced Red Wines
Wine Etiquette Tips and Ideas to Enjoy Each Glass