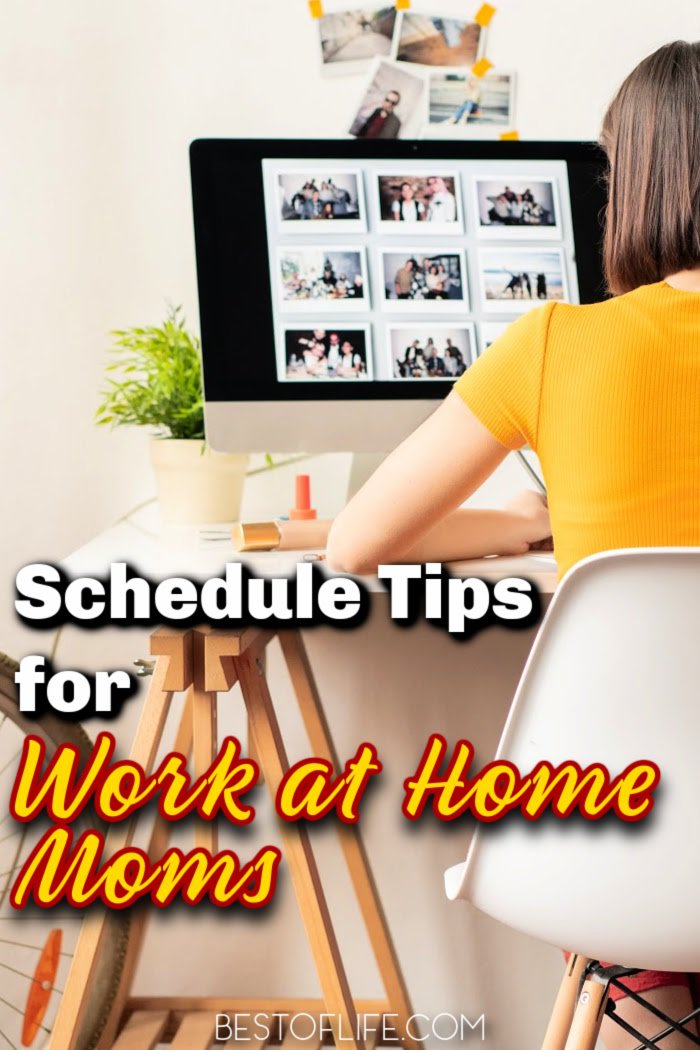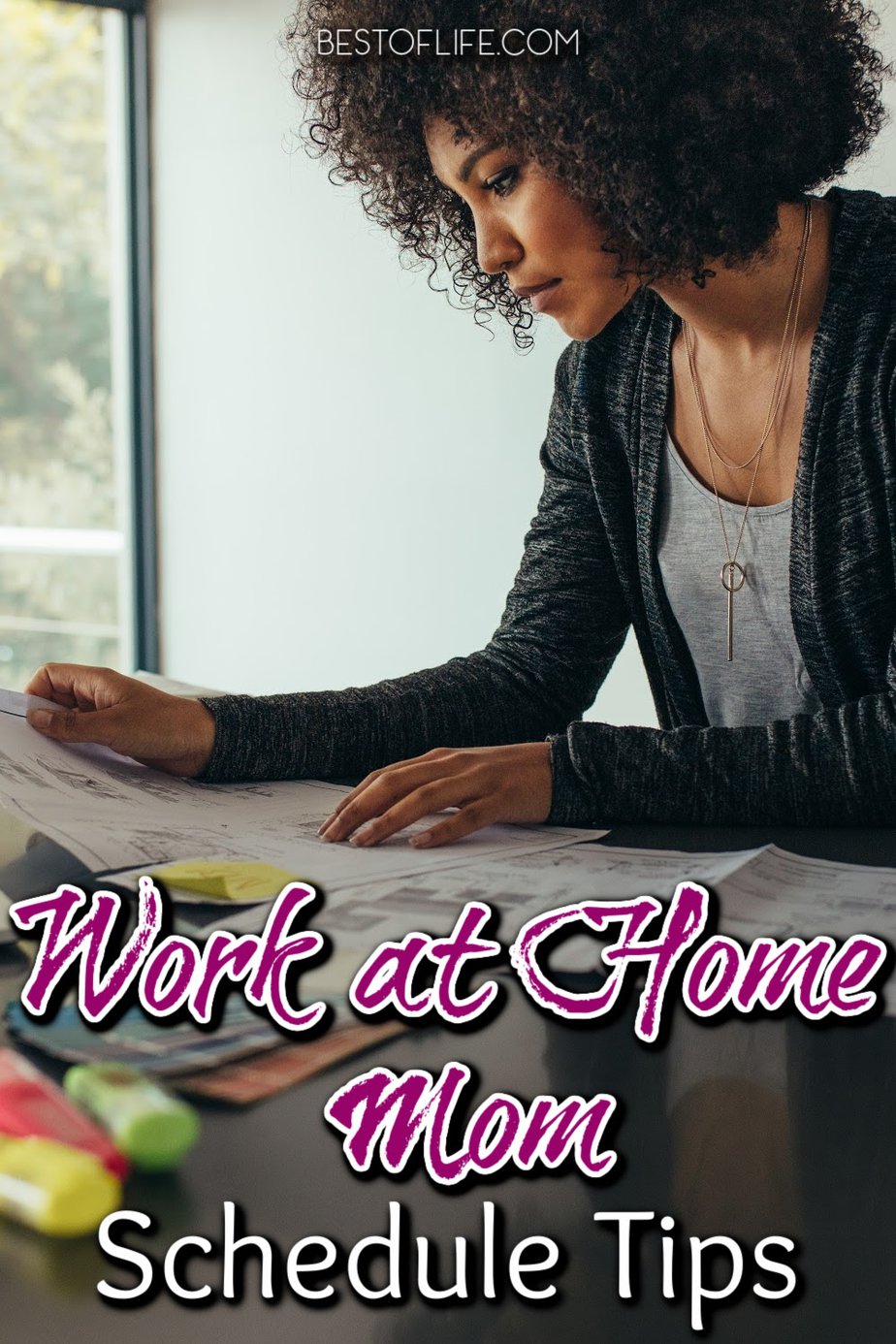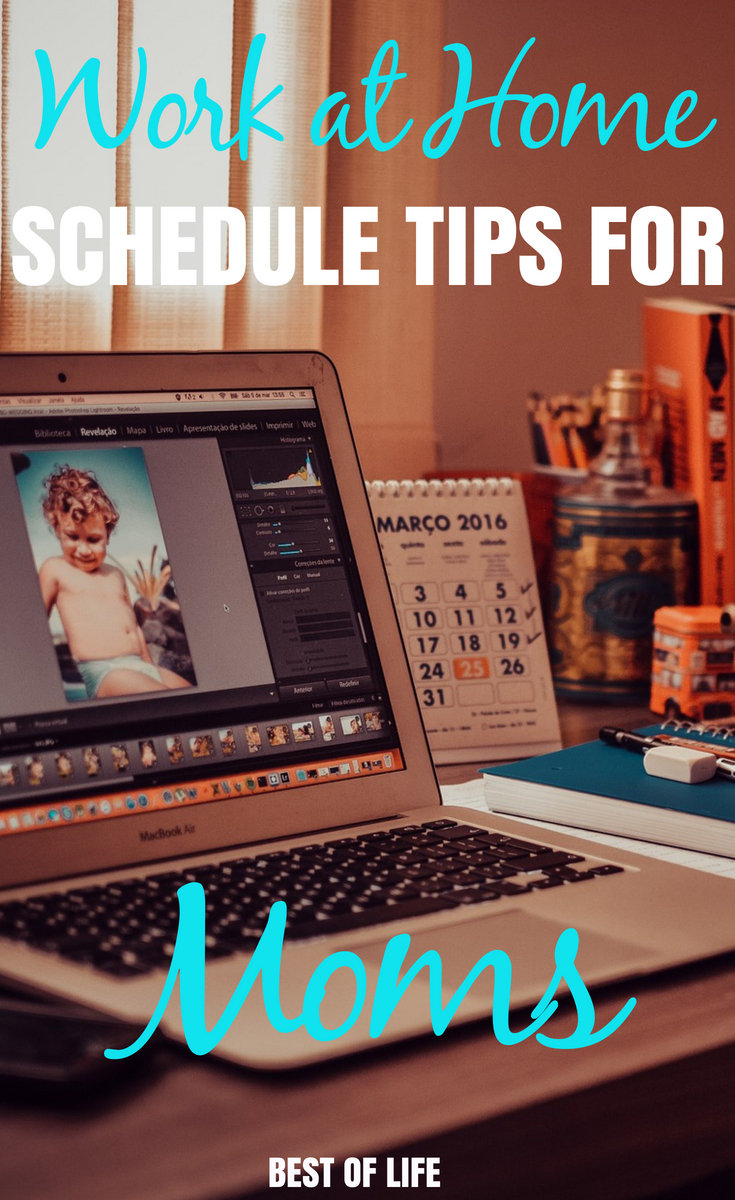 These days, more and more moms are being given more flexible work situations, which of course helps tremendously when juggling the ever-present, ever-changing demands of motherhood. This is why it's important to check out these work at home mom schedule tips to be as productive, effective, and happy as possible while you work at home.

If you work from home, you can be happier and more motivated each day as long as you use the best work at home mom schedule tips.
Working at home can be a wonderful way to juggle the responsibilities of motherhood while still bringing in an income. With these work at home mom schedule tips, you will discover ways to balance your work schedule and stay productive.
Work at Home Mom Schedule Tips | Set Your Hours
When you work from home, it's important to stay disciplined to your schedule. Set your work hours ahead of time and stick to them. Whether you plan on working from 8-5 or broken up throughout the day, decide up front what your hours will be.
Don't end your day early just because you aren't feeling productive. Likewise, fall into the habit of working too far beyond your designated hours all the time. Since your workplace is also your home, it's important to be extra vigilant about setting boundaries and sticking to them.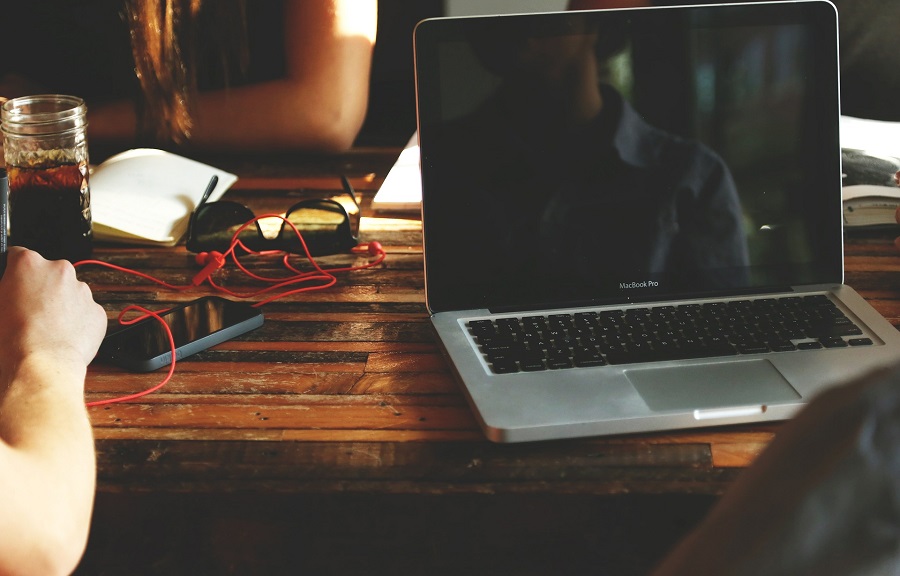 Work at Home Mom Schedule Tips | Designate a Separate Area for Your Office
On the topic of setting boundaries, you'll find that your work schedule is much more protected when your workspace is. Designate a separate area of your home for your office (preferably an area that has a door).
This will help you to be most productive during your work hours, while also delineating your "work time" from your "home and family time". Just be sure to set your desk up with everything you need to be successful, and make sure it has adequate lighting.
Work at Home Mom Schedule Tips | Create a Work Environment that Supports Your Job
Once you've decided where your "office" will be, consider how you can adjust it to support your specific job. Whether your work requires an atmosphere of peace and calm, or of creativity and energy, you'll find that your space plays a significant role in how you feel while working.
Another factor in the feel of your environment is music. Invest in a good pair of headphones and find the right playlist to help you carry out the job at hand.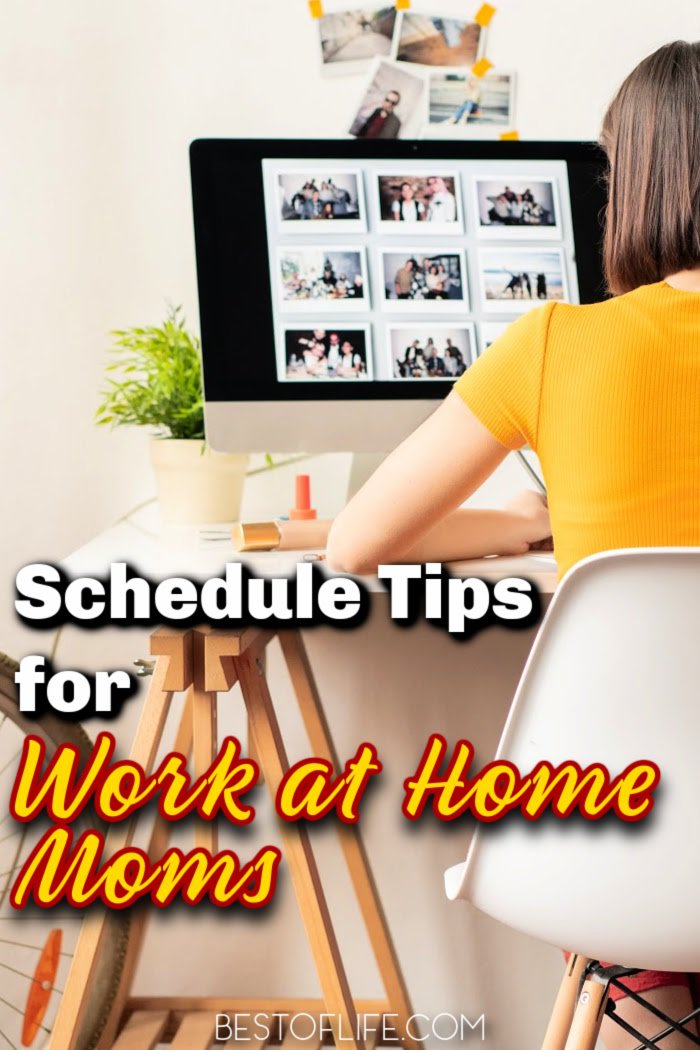 Work at Home Mom Schedule Tips | Get Dressed
Now that you have your work schedule and "office" set up, it's time to focus on your daily routine. It begins by waking up and getting dressed. All that talk about telecommuters working in their pajamas all day?
Overrated and unproductive. Your first job is to get dressed in the morning. This will help you think more clearly and feel more productive. If you want to take it a step further, put on a pair of shoes. Doing this will really signal to your brain that it's time to work.
Work at Home Mom Schedule Tips | Pack Your Lunch
In addition to getting dressed, it's important to pack your lunch for the day (or at least plan it out in advance). If you don't, you'll lose momentum around lunchtime wondering what to eat midday. This tip is especially important for full-time working moms, but can also be useful for part-timers. Another important tip: Remember to drink plenty of water.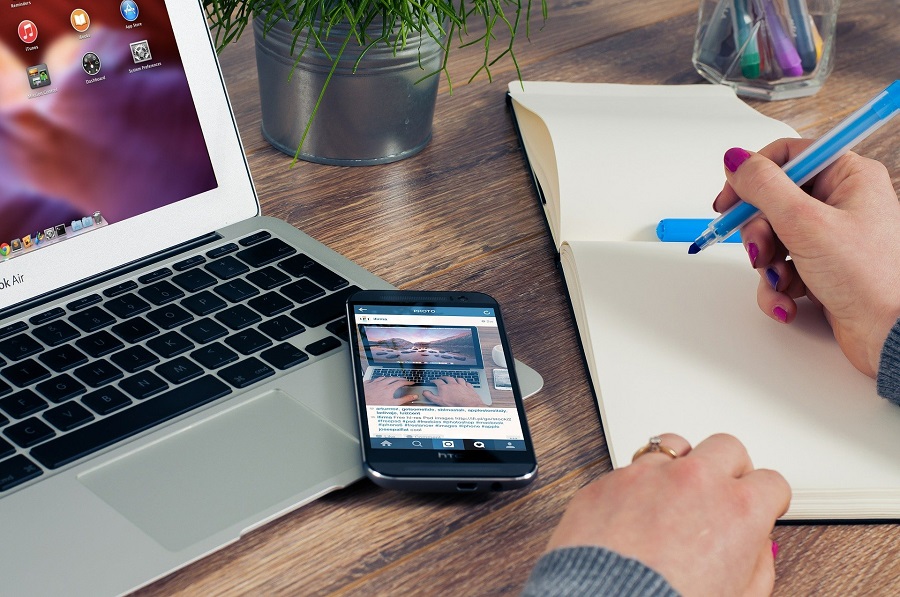 Work at Home Mom Schedule Tips | Identify Your Priorities
Once you arrive in your "office", start by identifying your top 2-3 priorities for the day. This will help you stay focused on those and be less likely to get distracted by emails or other matters.
Work at Home Mom Schedule Tips | Set a Daily Agenda
In addition to identifying your top 2-3 priorities, you should also draft out a rough schedule for when you'll focus on each priority. For example, perhaps you check emails between 9-9:30, and then focus on Priority 1 between 9:30-11:30. By having a firm plan in place, you'll be more likely to stick to it and stay focused throughout the day.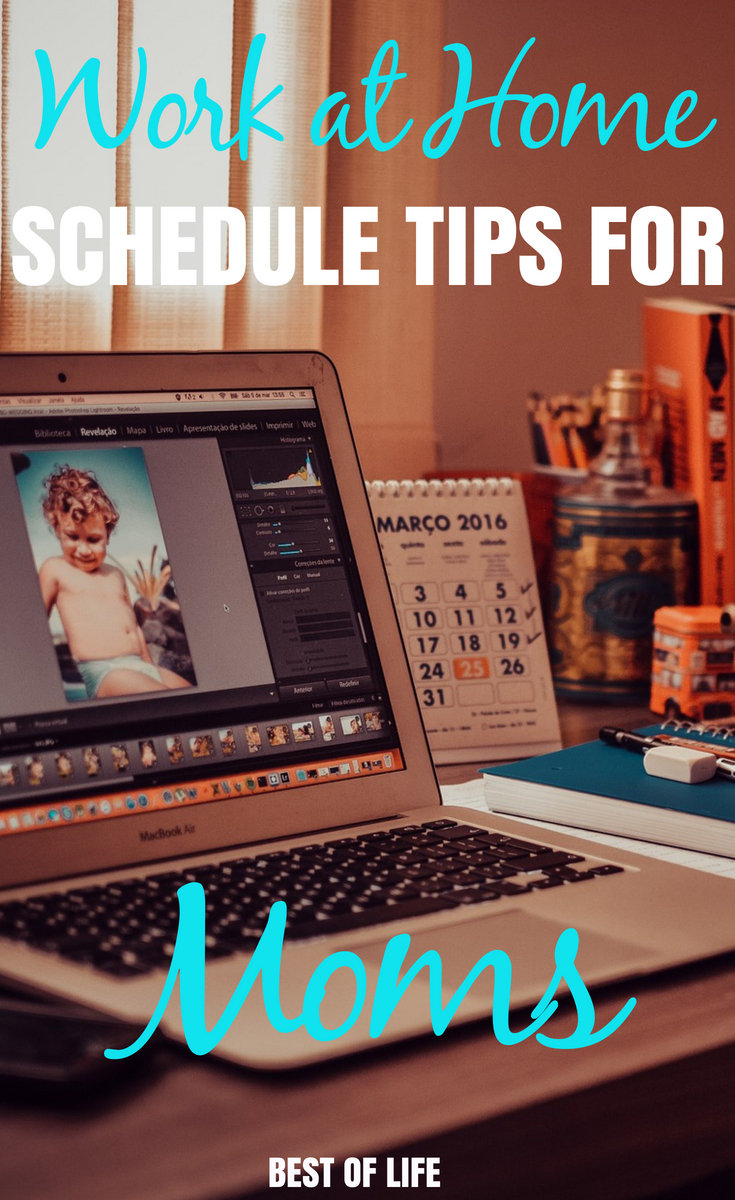 Work at Home Mom Schedule Tips | Consider Your Body's Internal Clock
While setting your hours and planning your daily schedule, consider your body's clock. For example, if you feel most energized and productive in the morning, make sure you leverage that while planning your schedule, by tackling the most challenging tasks or highest priorities first.
Likewise, if you feel most energized after lunch, reserve that time for the tasks that need it the most.
Work at Home Mom Schedule Tips | Set Time Aside for Yourself
When you set your hours, be sure to build in time for yourself. If you work from home, it's easy to feel guilty about not working when you have a minute of downtime. After all, your office is right there. If you decide in advance what time belongs to you, you can stick to it free of guilt.
Work at Home Mom Schedule Tips | Track Your Hours
When your workday is done, one of the most important things you can do is review how it went. In addition to tracking your hours, it's also important to record everything you completed or partially completed that day.
Many find bullet journals to be useful here. With this, you will start to see patterns in your work habits, feel accomplished at the end of the day, and pick up where you left off the next day.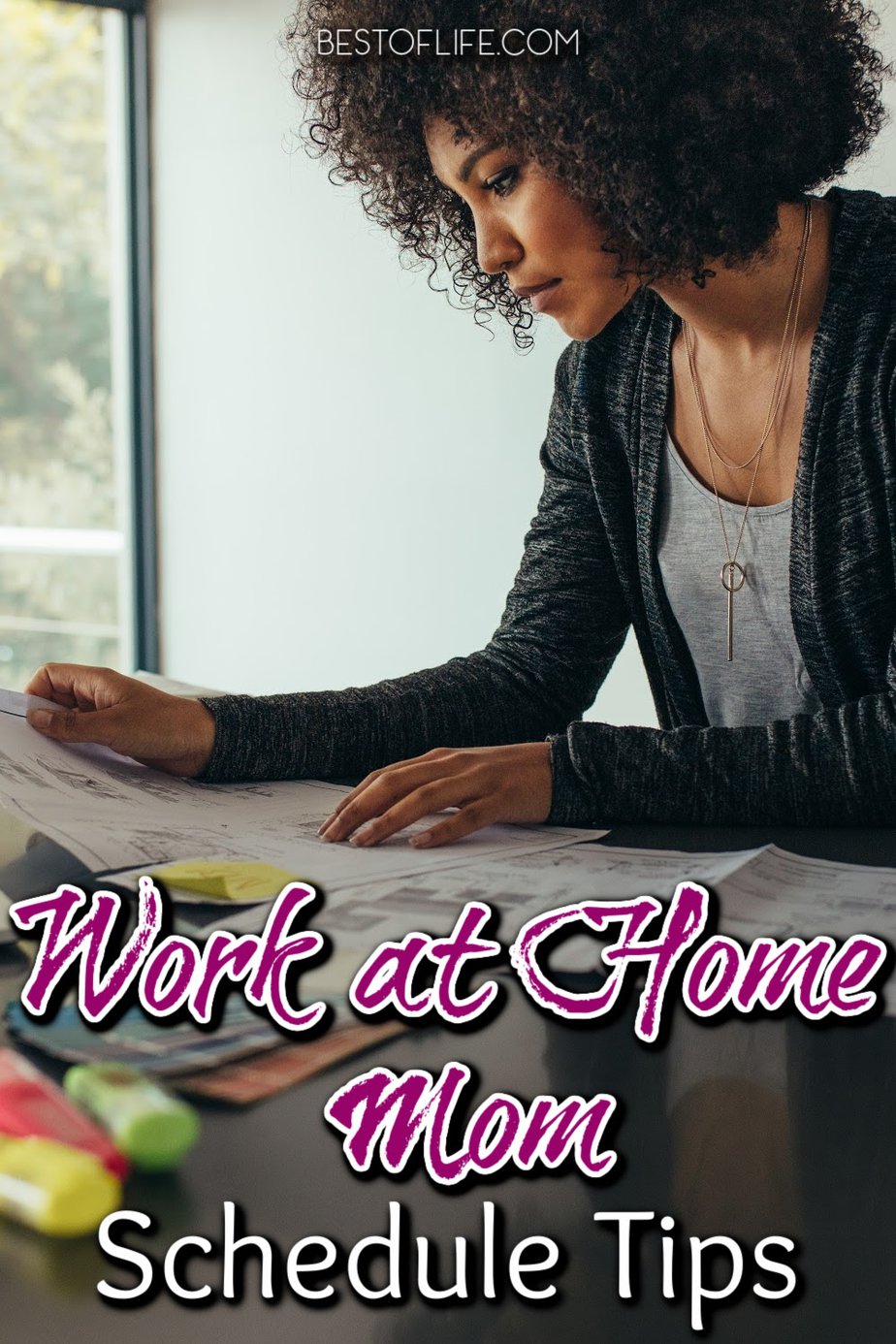 More Productivity
Best Tips to Make List Loving a Priority and Get S*it Done
What Can You Do in 2 Minutes to Boost Productivity?
Best Time Management Tips for Students, College, Work, and Life
How to Work Smarter to Get Time Back in Your Day