How Long Does it Take Jello Shots to Set?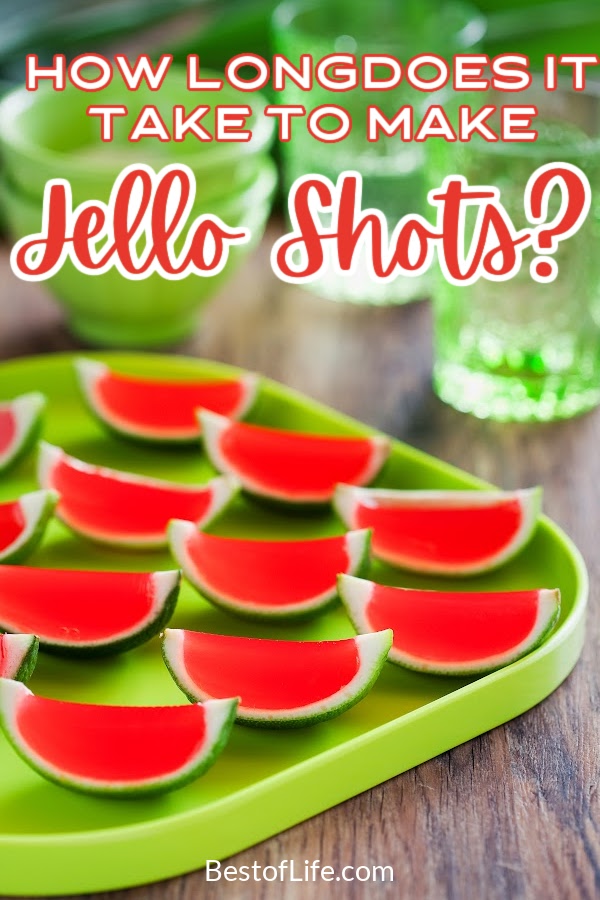 Any cook knows that you completely change the cooking time when you add an ingredient that isn't normally there.
That extra ingredient could make the recipe more watery or drier. Jello shots don't suffer much from the added drink but you may ask yourself, how long does it take jello shots to set?
Jello shots are fun to bring to any party where there will be legal drinking. But making jello shots is not as fun as enjoying them. You not only have to make jello but you also have to add the fun. How long does it take jello shots to set?
It's important to know the answer to this question when making jello shots for your next party! The basic directions for making jello are as follows: Stir 1 cup of boiling water into gelatin in a medium bowl for at least two minutes. It must be two minutes or else the jello may not be well blended enough to properly set.
Stir in 1 cup of cold water and then refrigerate for at least 4 hours. That is all you have to do to make basic jello. There are hacks to even that recipe that speed up the setting process by more than half. Stir ¾ cup of boiling water into gelatin in a medium bowl for 2 minutes.
Then, add ½ a cup of cold water and 1 ¼ cup of ice and stir until the mixture thickens. Then, all you have to do is refrigerate for 30 minutes to 1 ½. Things get even more different if you plan to add fruit to your jello. But how long does it take jello shots to set?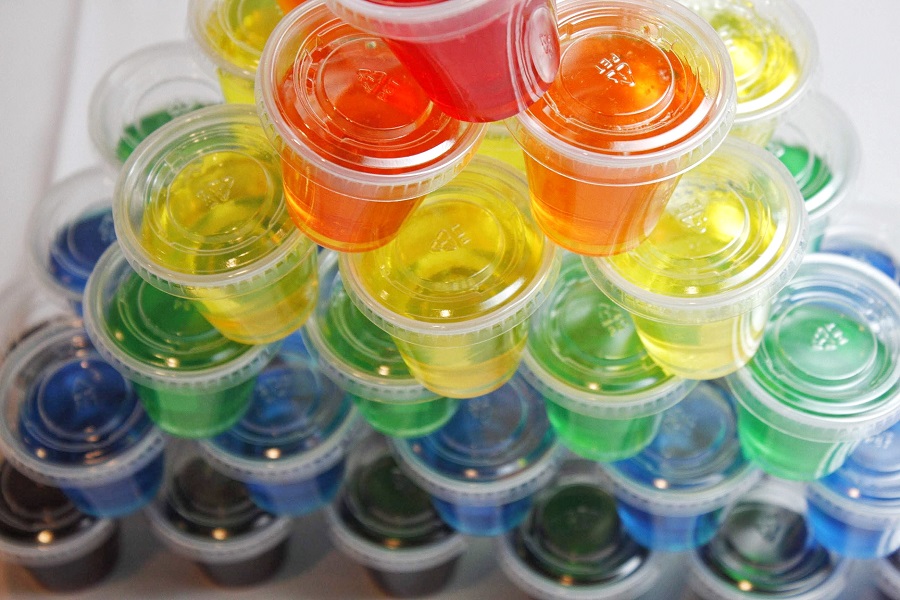 How Long Does it Take Jello Shots to Set | The Basics
Make sure you follow the recipe exactly if you're using a recipe from the internet. The recipe is there to guide you through the entire process and if it's been posted you can be sure it's been tested. But in general, jello shots with ingredients that are 1:1 ratio of the drink you choose and water require two to four hours to set.
But not every recipe is the same and could require a different amount of time. It is also important that the jello shots stay in the refrigerator, undisturbed for the entire amount of time. That means it may not be a good idea to save these recipes for the last minute.
It would be a valiant effort to put the shots in the freezer to try and speed up the process. But that won't work, instead, you'll just get a layer of frozen water on the top, and possibly freezer burn.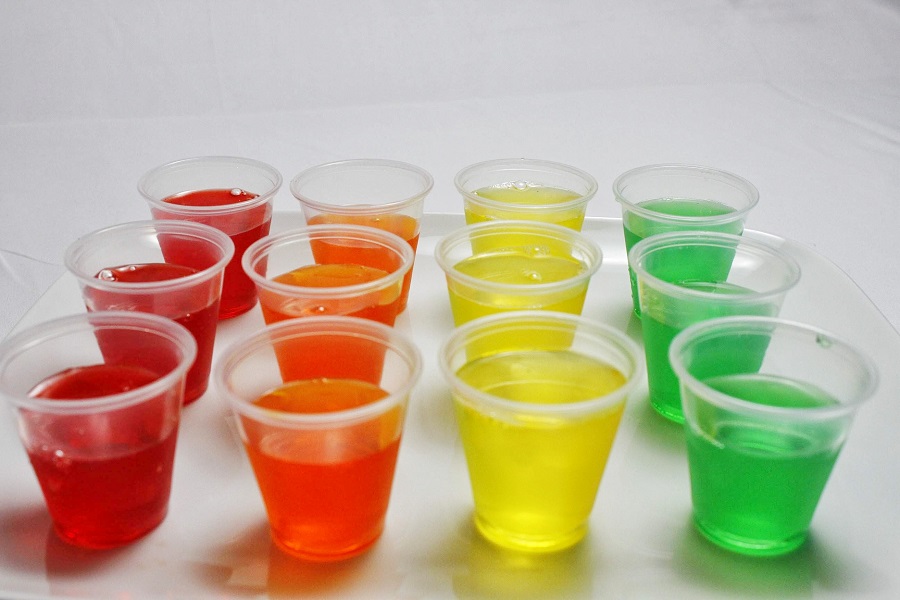 Adding Fruit
Some people like to add fruit to their jello shots. But again, how long does it take jello shots to set when you add fruit? Well, the type of fruit makes a big difference. Most people will opt for tropical fruit like pineapple or kiwi. The problem is, tropical fruit contains an enzyme called bromelin and that will keep the jello from setting.
However, you can still use a special trick to add tropical fruit to your jello shots. Heat kills bromelin altogether. Heat up the fruit before you add it to the mixture you can do this by boiling the fruit. Just be sure to cool it down again before adding it to the mixture.
The amount of time will be determined by how well the fruit was heated up and how much of the fruit you add to the mixture.
Stronger The Better The Longer
A lot of people want to make their jello shots stronger. Again, we would recommend following whatever recipe you found online to the "T". But there are ways to make your jello shots stronger. The question is, how long does it take jello shots to set with more of the drink?
Well, unfortunately, the highest ratio you can go with the best results is 1 part water 1 part of the drink. You could try to add a little more if you'd like but it will take longer to set. Too much of the drink and the jello won't set at all. At least not with the drink integrated into the jello.
You will need to let the jello set for the maximum amount of time, 4 hours if you use a 1:1 ratio of water: drink. If you want to try more of the drink you will need to go with the old trial and error method.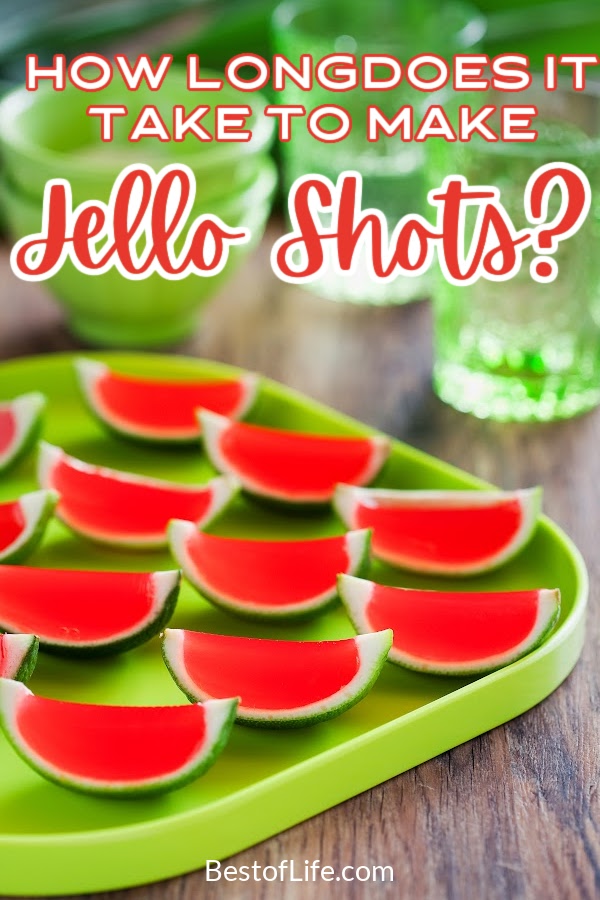 More Cocktails
How to Make Jello Shots QUICK | There is waiting for Jello shots to set normally, and then there is trying to speed up the process.
How to Make Jello Shots with Vodka | Vodka is perfect for Jello shots because it is clear which means the color of the Jello will come out bright and vibrant.
31 DIY Boozy Gifts for Wine Lovers | Sticking with the theme of booze, wine is a great gift for any occasion and requires very little effort, even if it's DIY.
Sparkling Rosé Gummy Bear Recipes That Are Perfect for Parties | Speaking of mixing alcohol with booze, sparkling Rose gummy bears anyone?
Bulk Mai Tai Recipes | Mai Tai Recipes for a Crowd | Mai tais are fantastic for summer events or tropical themes and they can easily be made for a crowd.