15 Free Things to Do in Las Vegas for Couples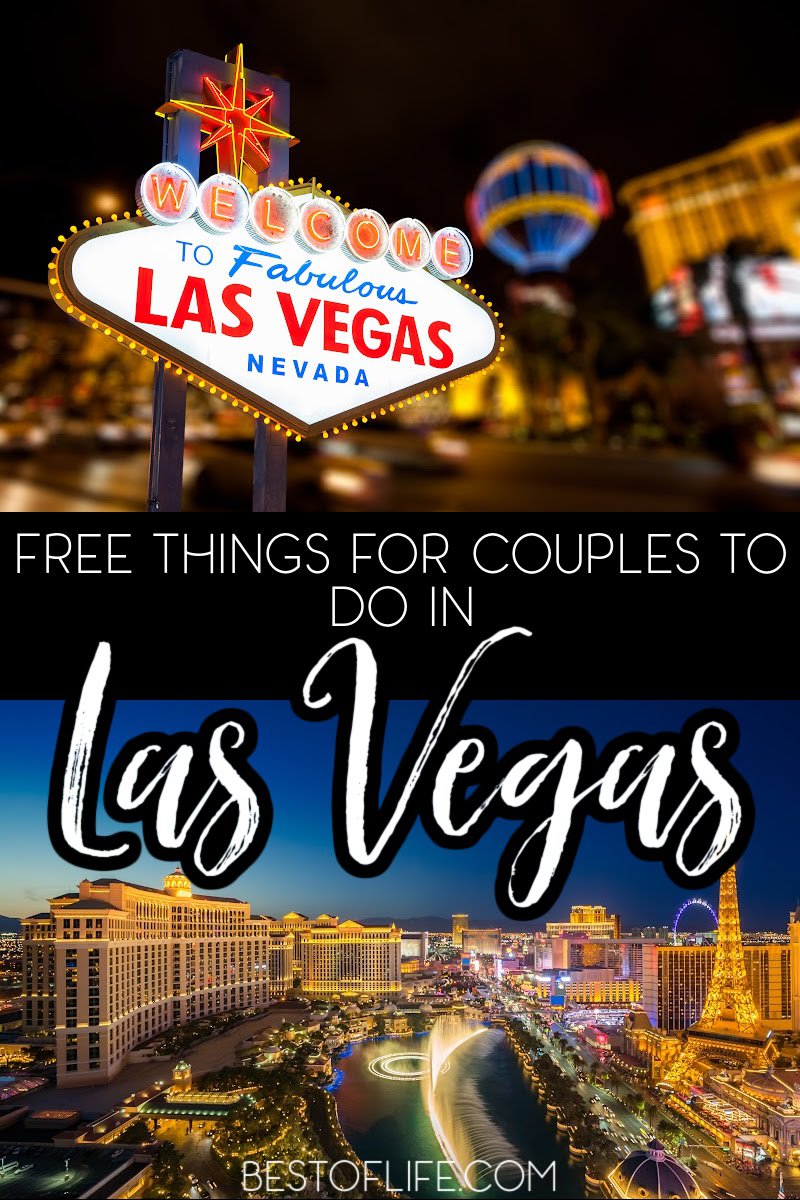 There is plenty to do for couples visiting Las Vegas. The only downside is the pricing. In Las Vegas, things can get expensive. There are free things to do in Las Vegas for couples that will be just as fun, relaxing, and exciting as anything else. The best part is, you will not need to be scared to look at your finances afterward.
Las Vegas is many different things. People travel to Las Vegas for celebrations of all kinds, to gamble, to relax, to be entertained, and of course, to enjoy a romantic getaway. There are many different free things to do in Las Vegas for couples that are amazing.
You just need to decide which you will do. When you think of Vegas, what do you see? While everyone sees it as a party city, Las Vegas is so much more than that. There are different ways to experience Vegas and you never have to stick with just one.
You can enjoy a show with someone you love and then head to dinner. Or, lounge by the hotel pool with some cocktails. Whether your trip to Las Vegas involves the casinos or the hot desert sun, no one has to stick with just one form of vacation in Vegas.
There are even free things to do in Las Vegas for couples. Some people feel like, if it's free, it must not be that great. But when it comes to your Las Vegas visit, everything can be great.
Free Things to Do in Las Vegas for Couples
Simply walking in a park is nice, and going for a walk around the block is cool too, but in Vegas, your walk is different. There are so many different casinos with different themes and you'll want to see them all. Use the various walking bridges, crosswalks, and special sidewalks to walk through as many casinos as you want.
The goal is just to get a feel for Vegas and enjoy all of the sights.
Free Things to Do in Las Vegas for Couples | Visit Venice
While looking at all of the casinos and incredible hotels, be sure to stop at the Venetian. Here, you'll find the Grand Canal Shoppes. If romance is what you're looking for, you'll find it here. You could walk the shops, window shop, take photos, stand on a bridge, and watch the gondolas.
You may even forget that you are in Nevada if you stay long enough.
Free Things to Do in Las Vegas for Couples | See Flamingos
Did you know that there is a wildlife habitat at the Flamingo? Want to take a guess as to what animals you'll see there? There are 15 acres of foliage, islands, and waterfalls that you can explore. There are fish, turtles, and of course, flamingos, and it is open daily to the public.
This wildlife refuge will act as a break from the bustle of the strip.
Free Things to Do in Las Vegas for Couples | Atlantis
The Forum Shops is a great place to shop but you don't have to spend money to see some amazing things. In fact, there is a fountain with marble statues that come to life. These statues tell a story about the fall of Atlantis. The show includes sound effects, water elements, and even fire.
Free Things to Do in Las Vegas for Couples | Take a Hike
People don't often think about the outdoors in Las Vegas but you aren't too far away from some amazing places. Red Rock Canyon is a great place to go and take a hike. There are 19 trails that are safely marked with different levels of difficulty.
The canyon is roughly half an hour away from the strip so it's not hard to get to. Plus, you can enjoy a full day there without spending a penny.
Free Things to Do in Las Vegas for Couples | Chocolate
Chocolate is very romantic, and tasty. You can enjoy chocolate in amazing ways in Henderson, Nevada. Henderson is just outside of Las Vegas and that is where you will find Ethel M Chocolate Factory. This factory is open to the public and you can take a free self-guided tour of the factory while they make fresh chocolate.
Free Things to Do in Las Vegas for Couples | A Million Dollars
Have you ever seen a million dollars, stacked nice and neatly in real life? Binion's in Downtown Las Vegas has exactly that and it is on display for the public. You can take a photo with one million dollars, real money, at Binion's.
Free Things to Do in Las Vegas for Couples | Golden Nugget
Speaking of cool photo ops, the Golden Nugget Casino has something truly amazing that you can take a photo with while you visit. There is an actual nugget of gold that is the world's largest gold nugget. In total, the nugget weighs 60 pounds. Yes, that's 60 pounds. Of solid gold.
Free Things to Do in Las Vegas for Couples | Heating Up
Hiking the Red Rock Canyon is fun, but hiking near the Hoover Dam is not for everyone. This hike is for the more experienced but is worth putting in the work. While these hikes are not permitted during summer due to heat, it's fine to hike in the chillier winter because this hike takes you through multiple different natural hot springs.
Free Things to Do in Las Vegas for Couples | Hunt The Murals
To celebrate the 100-year history of Las Vegas, murals were painted all around the city. Make a day out of hunting down all of the murals with your loved one. The murals come in different sizes and shapes, textures and themes. You could get a list of them all online but it would also be fun to just search for them on your own.
Free Things to Do in Las Vegas for Couples | Contain Your Excitement
What is so interesting about Las Vegas? It is the many different themes clashing together to make something beautiful. Container Park is a shopping mall of sorts that was built using shipping containers. At the front of the shops is a giant praying mantis, so you can't miss it.
At night, that praying mantis shoots fire out into the air. That alone is worth seeing but wonder the shops and just soak in the awesomeness that shipping containers can become.
Free Things to Do in Las Vegas for Couples | Friday Block Party
Every first Friday of the month, the Downtown Art District hosts a block party. This party is filled with live music, performing arts, visual arts, and so much more. If your visit falls on the first Friday of the month, be sure to head over to the Downtown Art District to experience this free festival.
Free Things to Do in Las Vegas for Couples | Catch a Dream
Inside the Wynn, you will find a lake that is surrounded by pine trees and has a floating head. Well, not really, but there is a show called Lake of Dreams every night on the lake. The show has water, music, holographic lights, and so much more. You can view the show from many different spots in the hotel and you will surely enjoy it.
Free Things to Do in Las Vegas for Couples | Circus Circus
Shows are a big draw to Las Vegas and at Circus Circus, which means putting on the greatest show anyone has ever seen. But if you don't want to spend a lot of money on tickets for the show, watch it for free. Inside Circus Circus is an arcade where they have performers put on a show at different times all day long.
The first show is usually at 11:30 am so you can check it out whenever you want.
Free Things to Do in Las Vegas for Couples | Fremont Street
Fremont Street is another shopping strip that is off of the actual strip. While you won't be coming here to spend money, you certainly will be entertained. Fremont Street is filled with things to do and see, and you don't have to spend a dime to enjoy it. There are vendors, street performers, along with an awesome music and light show.
More Travel Tips
Best Travel Destinations for Skiing in the USA | Going skiing is fun but there are places that are just better for skiing that you can visit right here in the US.
Free Things to do in Orlando Besides Theme Parks | Orlando is known for its theme parks, but those parks aren't the only things in Orlando to fill your time.
21 Things to do in La Jolla California | California is filled with beautiful places to visit and La Jolla is one of them.
Free Things to do in Miami for Couples | Couples can travel to Miami for a weekend of fun that only adults would enjoy.
15 Free Things to do in LA as a Couple | Los Angeles also has plenty of activities for couples to enjoy, most of which cost a good amount of money. But there are some that are free and they are just as fun.