Quotes for Kids to Motivate Them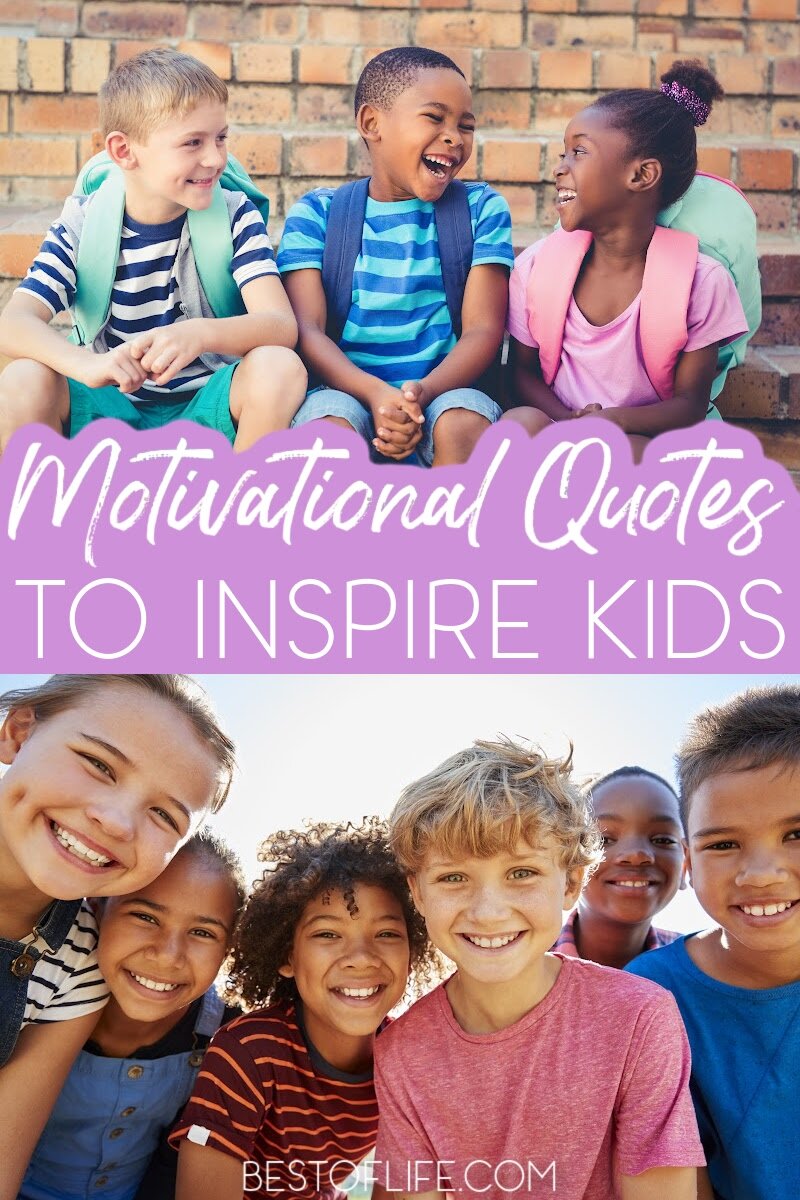 We have all been there. We hit a wall, we can't go any further, we need some motivation! What you might be surprised to know is that kids have the same issues. One of the best ways to motivate kids is with some great quotes! These quotes for kids will help you motivate and inspire the young people in your life.
Sometimes it can be tough to encourage kids to be motivated and inspired without pushing them too hard. One of the great ways we like to inspire our kids is by traveling with them! We get outdoors. We see the amazing world all around us.
When we travel we get to take in the beauty of the world and inspire them to live an adventurous life. The best quotes for kids are the kind that motivates them, inspires them, and helps them use their brains! It's important for kids to get a sense that they can do anything when they're inspired to work hard and make it happen!
These quotes for kids are great for doing just that, they are perfect for instilling confidence, making them smile, and best of all motivating them to reach their goals.
Quotes for Kids
"If you can dream it, you can do it" -Walt Disney
What is more motivational than knowing anything is possible! With some hard work, determination, and perseverance you can achieve anything that you mind can think up!
"The more that you read, the more you will know. The more you learn, the more places you'll go." -Dr. Seuss
Another good one from a classic source! Reading is the key, education is so important. During those long school years, it can seem like a pointless journey. This is one of the best quotes for kids because it reminds them that learning can take them places they've only dreamed of until now.
"Do the right thing even when no one is looking."
This speaks so much to the character we want to instill in children. This quote will help motivate them to make good choices even when you are not there to help them do just that.
"No act of kindness, no matter how small, is ever wasted." -Aesop
It costs nothing to be kind. Teaching kids that they should always be kind is important not just for right now, but for the future of all mankind. We are raising the next world leaders right now. We need them to know that kindness matters even in the smallest instances.
"Mistakes are proof that you are trying."
We all know that mistakes and failures are going to happen. For kids, mistakes feel like the end of the world. This is one of the great quotes for kids that will help motivate them to keep trying even after they fail or make a mistake.
"It's not how many times you get knocked down, it's how many times you get back up."
Speaking of quotes for kids that help them keep pushing forward…
"Do the best you can until you know better. Then when you know better, do better." -Maya Angelou
It's okay to not have all the answers right now. Learning and growing is part of life. It's important that once you do learn and grow that you use that to further your journey in this world! We need to use quotes like this one to inspire kids to always be doing better even if it's only a little bit at a time.
"Always remember, you are loved."
What could be more motivational for a kid than a little reminder that they are loved! It's never a bad time to remind your kids that you love them no matter what. When they feel loved and secure they can dream big and achieve greatness!
More Quotes
Quotes About New Beginnings for Students | Kids experience new beginnings quite often which could be why they are dramatic sometimes. But there are some quotes that can help.
Best Quotes About Getting Older | Getting older doesn't start to suck until a specific age and it differs for everyone. But quotes can help with that too.
Graduation Quotes from Parents | Graduation is a very meaningful part of our lives, it might be the biggest change we experience for years. The words you use as a parent are important during this special time.
Disney Quotes About Friendship | Disney is great at helping others find the words they need to express friendship with others.
Painted Rocks: Quotes and Rock Ideas to Inspire | Painted rocks were a trend for a while that should definitely be brought back.