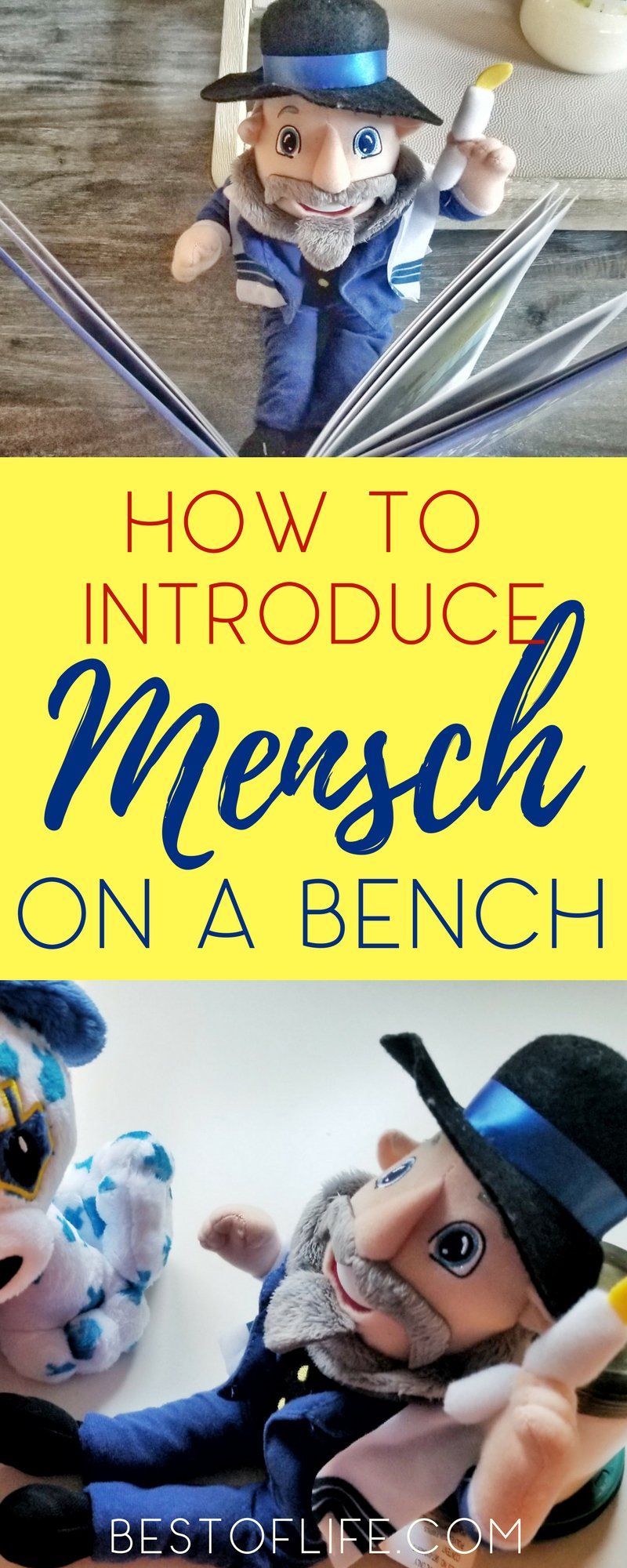 Mensch on a Bench is one of the newest traditions to help make memories and celebrate Hanukkah. How it works is simple – introduce the Mensch to your family, give him a name, and then let the creativity flow every night. But before you can have fun, introductions will be needed. There are many different ways to introduce Mensch on a Bench to your family and you can go as big as you'd like. Of course, you can also go smaller as well. No matter which way you choose, you're sure to have a memorable holiday season.
There is no right or wrong time to introduce Mensch on a Bench to your family. Use these ways to introduce Mensch on a Bench to help!
Be sure you read the Mensch on a Bench rules before you introduce Mensch on a Bench. You will need the Mensch on a Bench doll, Mensch on a Bench storybook, your Menorah, and Dreidel to get started.
Mensch on a Bench gives you all of the tools you need to create a long-lasting holiday tradition for you and your family. But like any tradition, there has to be a starting point, a way for the tradition to get started. The best 3 ways to introduce Mensch on a Bench will help you do just that, jump-start a new tradition. Before you get started though, there are a few things to consider.
Points to Consider Before Introduction
Ages Matter
How old your children are will help you determine the best way for you to introduce your Mensch on a Bench. For example, older children may test you a bit more than younger children, so be prepared to handle those questions.
Plan Ahead
Your Mensch will not want to sit in one spot during the entire holiday season. Plan ahead and think of a few spots and positions you'd like to put the Mensch in during his visit. This way, you won't need to frantically figure things out later.
The Menorah Position
Every night, the Mensch wants to watch over the Menorah. Make sure you place the Menorah in a spot that gives the Mensch plenty of room to enjoy the view.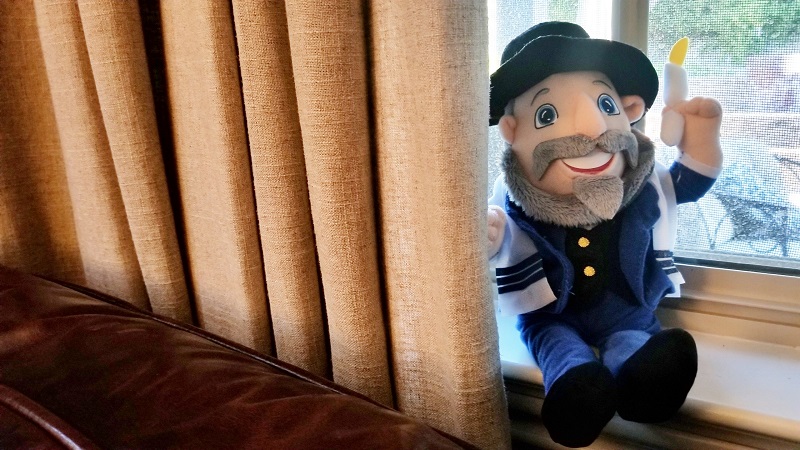 Ways to Introduce Mensch on a Bench
Smile for the Camera!
There is absolutely nothing wrong with introducing Mensch on a Bench in a very simple way. In fact, going simple will give you the freedom to set things up just so, so that you can take a picture of those shocked faces. The set up will be easy, pick a spot in your home where your children will be together in the morning and place your Mensch there. Once they've seen him and you've taken their picture, you can sit them down and explain to them the story of the Mensch. Don't worry, a book is included that will help you with his story.
Bedtime Story Comes to Life
There is a book that comes with Mensch on a Bench that tells his story. Purchase Mensch on a Bench ahead of time and read the story to your children before bed. You'll have to read the story to them the night before you introduce the Mensch or just a few days before. Then, when you're ready, you can introduce the Mensch to your children. It will be like a bedtime story come to life right before their eyes.
Gifting an Experience
Another great way to introduce Mensch on a Bench is to give his story as the first gift of Hanukkah. Be sure to leave the actual Mensch out of sight, just give the story first. Then, the next morning, introduce the mensch to your family. This is a fun way to introduce Mensch on a Bench because the excitement of the holiday that is already in your household. It may even help a little with the imagination.