Working from a desk has become healthier with a little help from a special desk known as a standing desk. Standing desks allow the blood in our bodies to circulate better and inherently promote better health. But for those of us who want to take our health even more seriously, there are special workouts for standing desks.
Standing desk exercises can help you increase your calorie burn while working, as well as stretch and tone up!
Standing desk exercises have become a great way to workout while you work. Spreadsheets and emails can still be completed while you promote health in your legs, back and even your abs.
Some standing desk workouts can be conspicuous but others are a little less hard to hide from co-workers or bosses. Luckily, there is nothing wrong with staying healthy, as long as you're also getting work done.
Thanks to the standing desk, and a little extra help from products like the Wurf Board, health is just a few movements away.
Lateral Calf Stretch
Using the Wurf Board, adjust your weight to one foot. Rotate your other ankle to the side until you start to feel the stretch in your calf and hold. After a few seconds, stand like normal and switch ankles.
Heel Lifts
This is one of those standing desk exercises that we may do naturally. Simply stand with your feet at hip-width and lift your heels as high as possible.
Using the Wurf Board will help make this standing desk workout even better. Hold the position for at least one second, reset and repeat.
Hamstring Curls
Hold onto your desk for stability and bend one knee so your heel touches your backside. Set that foot back down and repeat for about 10-15 reps.
Repeat the process with the opposite leg and you'll be strengthening your hamstrings in no time.
Pushups
No one enjoys doing pushups on the dirty floor but you don't need to. Place your hands on the edge of your desk, make sure the desk is sturdy enough to support your weight. Then stretch your legs out behind you until you're at an angle and touch your chest to the desk. Push away from the desk and repeat, you're doing desk pushups.
Walk in Place
One of the easiest standing desk exercises is the walk in place workout. Simply lift your knees up to a 90 Degree angle one at a time. Not only will this movement help you burn calories but it has been proven to stimulate brain activity.
Lateral Step
Stand with your feet about hip-width apart while on your Wurf Board. Slowly step off of the Wurf Board with one foot and then back on. Step off with the other foot and then back on. Repeat this motion for 10-15 reps per foot.
Straight Leg Heel Drives
Hold onto the desk for stability and lift one leg straight back and return to the Wurf Board. Switch legs as you shift your weight back to the other foot.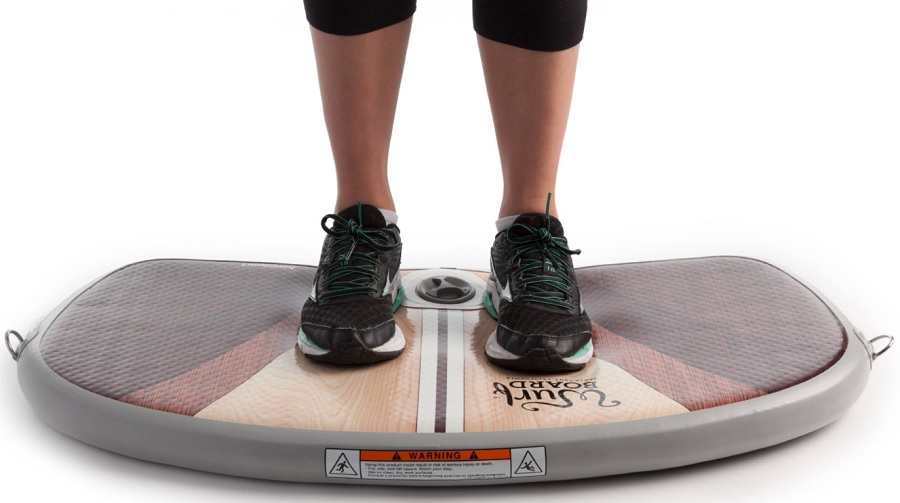 Lateral Leg Raises
Similar to the last exercise, you'll be lifting one leg at a time. But this time, lift your leg straight out to the side instead of behind you.
Single Shoulder Rolls
Stand as straight as possible and slowly rotate one shoulder backward and then down. Switch it up by also rotating forward and down. Repeat that movement for 5-10 reps and then switch shoulders. This will improve posture and help you relax.
Back Extension
Stand on your Wurf Board with your arms at your side and then slowly extend them up above your head. Tilt your head and back backward and hold for a few seconds. Slowly return to the beginning position and repeat for 5-10 reps.
Gluteal Strength
One of the most discreet standing desk exercises you can do is to contract your glutes. Contract and hold for a few seconds then release. Repeat as many times as you'd like throughout the day for a firmer backside.
Squats
This standing desk workout is more obvious than most. Stand with your feet hip-width apart and bend at the knees. The goal is to make your thighs parallel with the floor and then stand back up. Repeat this movement for 5-10 reps.
Stand on One Foot
Simply shift your weight to one foot and lift the other just above the ground. Hold this position for as long as possible and then switch feet. Try and keep track of how long you can hold the position and try for longer each time you do this exercise.
One Foot Circles
This standing desk workout is just an iteration of the last. Do as above but make tiny circles with the foot that is lifted just off the ground.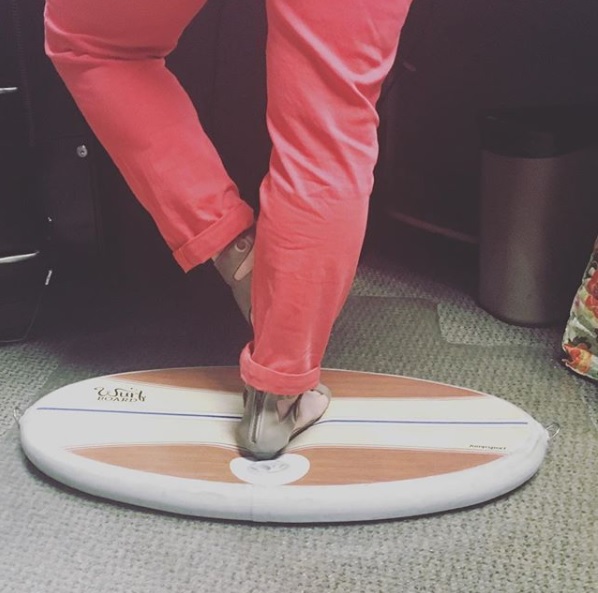 Chin Tucks
Stand in a neutral position and bring one arm up with your hand on the back of your head. Slowly tuck your chin in towards your chest while applying pressure with your hand. Hold the pose for a few seconds and return the neutral position.
Self Hug
Stand in a neutral position on your Wurf Board and stretch your arms straight out at shoulder level. Bring your arms in to hug yourself and stretch them back out again. Repeat this movement for 5-10 reps.
About Wurf Board
A Wurf Board is a smarter floormat that allows you to stand in more comfortable positions. You can adjust the firmness of the Wurf Board to whatever you feel is more comfortable.
Some Wurf Boards are flat, inflatable designs while others are curved, spring designs. Each design is meant to help promote better circulation while at a standing desk and allow for more movements.
These movements are known as standing desk exercises and they can help you workout out while you work.