29 Healthy Dinner Recipes for Easy Weight Loss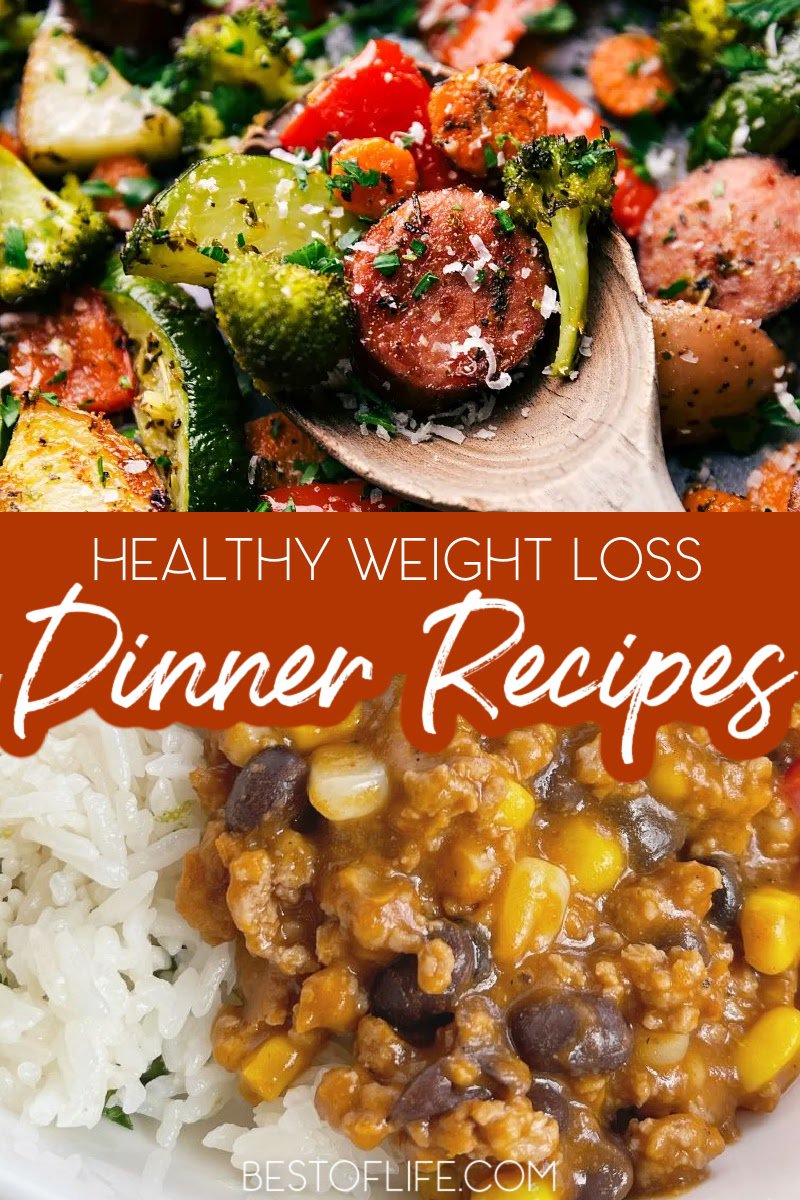 Every meal should be as healthy as it can be, especially if your goal is to lose weight. Weight loss is a battle that is often fought in the kitchen, during breakfast, lunch, dinner, and every snack in between each meal. Use healthy dinner recipes that are easy to make to help your weight loss journey easy.
Living a healthy lifestyle requires dedication to your body and your life. As part of a healthy lifestyle, healthy recipes are key. The best healthy dinner recipes will not only make cooking easier and tastier, but they will also help make weight loss easier.
Weight loss isn't the easiest thing to do, there are many ways to fail. People often fail due to lack of meal planning and resources. However, success is possible for everyone, as long as they have the right tools. The best weight loss tools include things like mental dedication to losing weight, healthy recipes for every meal, and physical activity.
Healthy dinner recipes can now be added to your weight loss tool belt and with these recipes, we're all one step closer to success.
The Best of Life Recipes
There are plenty of healthy dinner recipes on The Best of Life for you to choose from. You can even mix and match any of the recipes you find here to make a complete meal. Eating healthy is easier when you have delicious recipes you can enjoy.
Instant Pot Creamy Sausage and Kale Soup
Whole30 Instant Pot Beef Stew Recipe
Instant Pot Whole30 Vegetable Soup
Whole30 Instant Pot Teriyaki Chicken
Instant Pot Chicken and Vegetable Soup
The Best of Life Magazine Recipes
One major issue with eating healthy dinner recipes more often is time. We are trying to manage our time as easily as possible but the clock keeps moving and we just can't catch up at times. But we need to schedule our priorities, not prioritize our schedules. Health is a priority we should all be focusing on more often.
Chicken Broccoli and Rice Casserole
Chicken Chili with Roasted Peppers
Healthy Dinner Recipes | Meal Prepping
Not all healthy dinner recipes work as meal prep recipes. But you can almost meal prep anything. Basically, meal prep is what we once called "left overs" but with a fancier generational twist. The twist is that you organize your leftovers in a way that allows you to grab a container from the fridge with the perfect amount of food for one.
Turkey Taco Burrito Bowls | Together as Family
Italian Sausage & Veggies | Chelsea's Messy Apron
Lemon Roast Chicken and Asparagus | Salted Mint
Crispy Honey Orange Glazed Salmon | Cafe Delites
Vegan Red Thai Coconut Curry | Lauren Caris Cooks
Buffalo Chicken Stuffed Sweet Potatoes | Not Enough Cinnamon
Healthy Dinner Recipes
These recipes can be enough to get you through a month of healthy eating. In fact, you may even end up finding a few recipes that you love. You can use your favorites over and over again. However, you may find that you ended up eating healthy for an entire year by doing that. One year down, the next ones will be easier.
Chicken Parmesan Zucchini Boats | The Wholesome Dish
Lemon and Basil Baked Salmon | Evolving Table
Zucchini Noodles with Creamy Avocado Pesto | Eat Yourself Skinny
Cheesy Pea Soup with Roasted Pea Croutons | Wallflower Kitchen
Oven Fried Chicken | Cakes Cottage
Sausage and Butterbean Casserole | My Fussy Eater
Tips for Healthy Eating
The number one tip for eating healthy dinner recipes is to dive in and get it done. Unfortunately, we use excuses like time, finances, and skills to avoid eating healthy. But our health is the best thing we can invest in every second of every day. In fact, you can invest your time, and money into your cooking skills so you enjoy it more.
Roasted Parmesan Broccoli | Taste and See
Greek Turkey Meatball Gyro | Joyful Healthy Eats
Spinach Lasagna Roll-Up | Food Curation
Creamy Chicken Tortellini Soup | A Spicy Perspective
Chicken and Bacon Pasta | Julia's Album
More Health and Wellness
25 Easy Paleo Recipes for Beginners | Eating healthy doesn't have to have a title. However, you can give it a name like Paleo and follow that plan to help you find your way.
25 Meal Prep Chicken Recipes / Meal Plans with Chicken | Chicken is one of the easiest proteins to cook with at home. In fact, you don't need skills to cook chicken.
Easy Whole30 Breakfast Recipes for when you are Short on Time | Whole30 is another title you can give your nutrition plan. However, you may want to stick with this one if your goals align with the plan.
25 Healthy Smoothie Bowl Breakfast Recipes to Start your Day | Smoothie bowls make the best breakfasts. In fact, these are as simple to make as toast.
Best Vegan Breakfast Casserole Recipes | Delicious Vegetarian Breakfasts | Eating vegan is a good way to eat healthy. Unfortunately, it is not for everyone, but everyone can try it out.