Super Bowl Party Decorations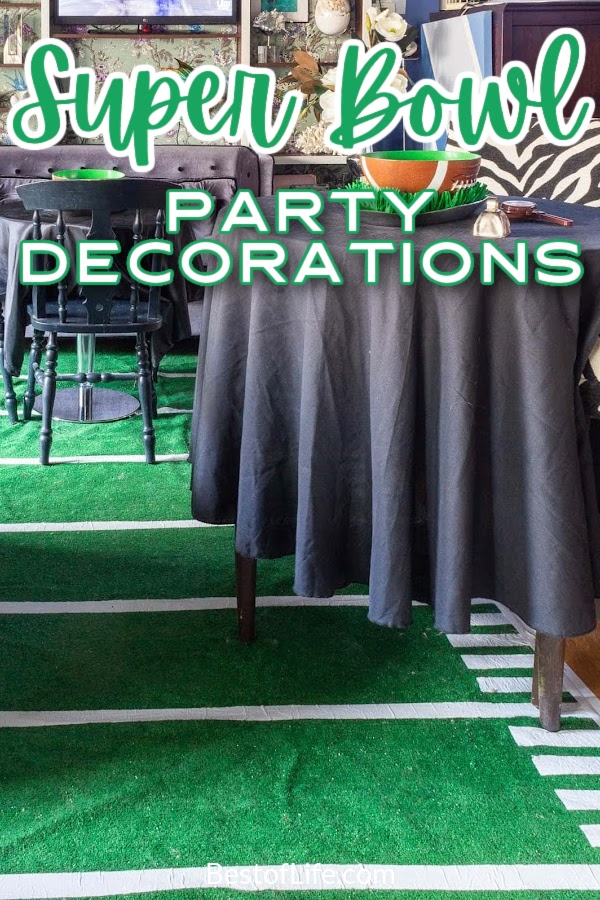 The Super Bowl is a big deal here in the US, and that means parties everywhere. There are a few Super Bowl staples like beer, wings, and chips with dip. But we can take things to the next level by adding some Super Bowl party decorations to the mix.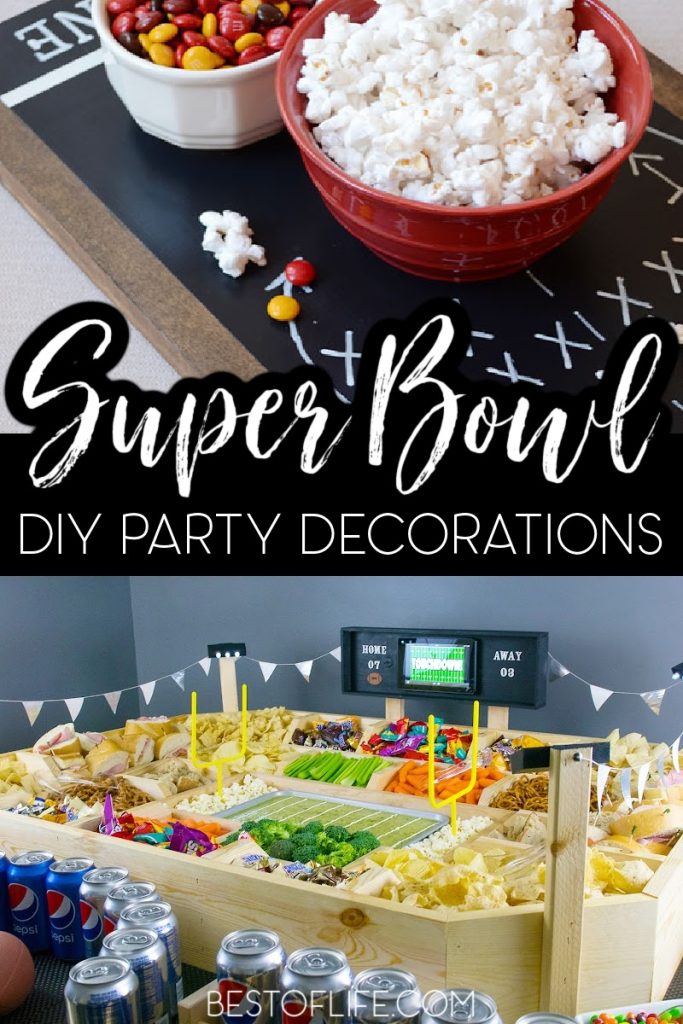 Super Bowl party decorations should be more common than they are, but hosting a game day party means we are in control. We all want our favorite team to be in the Super Bowl but don't always get our way.
It doesn't matter, though; we still celebrate the game because it is exciting to watch. We invite all of our friends and some family to the house and put out a spread of food. The food is easy; chips, dips, and anything that can be grilled will get the job done.
We can't forget to make some wings, either. In fact, wing shops usually prefer you to order days ahead. Drinks are also simple, no need for anything fancy; beer and soda will be perfect.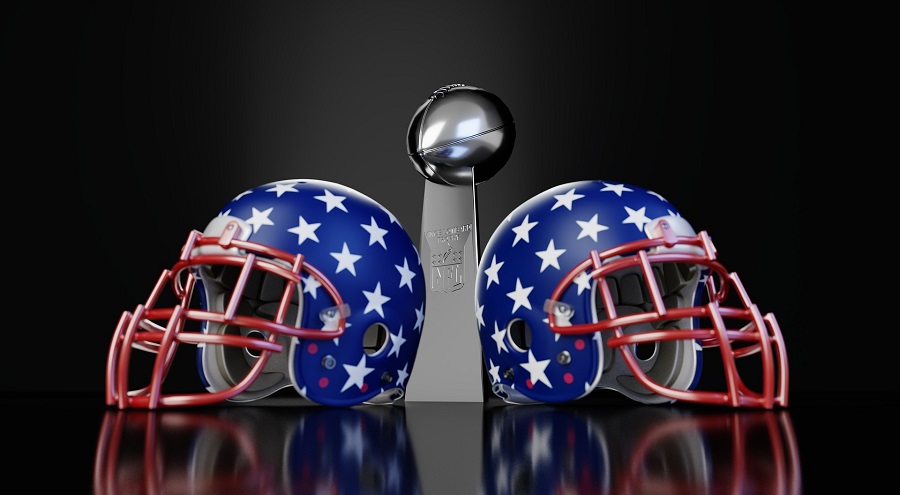 But there is something missing from the average Super Bowl party, and that's the decor. We have decorations up for just about every party we throw, like birthday parties, anniversary parties, and especially holiday parties.
The decor helps set the mood and adds to the ambiance of the festivities. The question is, why don't we create that ambiance for Super Bowl parties? Decorating for a game day party is simple; the theme is already given to us, and there's plenty to use.
Footballs, football fields, and even the referees give us the colors and ideas we can utilize to take our parties to the next level. There will be cheering, there will be yelling, and there may even be some tears depending on if your team made it to the game or not.
But the decorations you use will tie everything together for a better experience.
DIY Football Field Area Rug | Entertaining Diva
Yard Line Garland | Salty Canary
Snack Stadium | Nifty Mom
Treat Holders | Printable Crush
Drink Station | Craftaholics Anonymous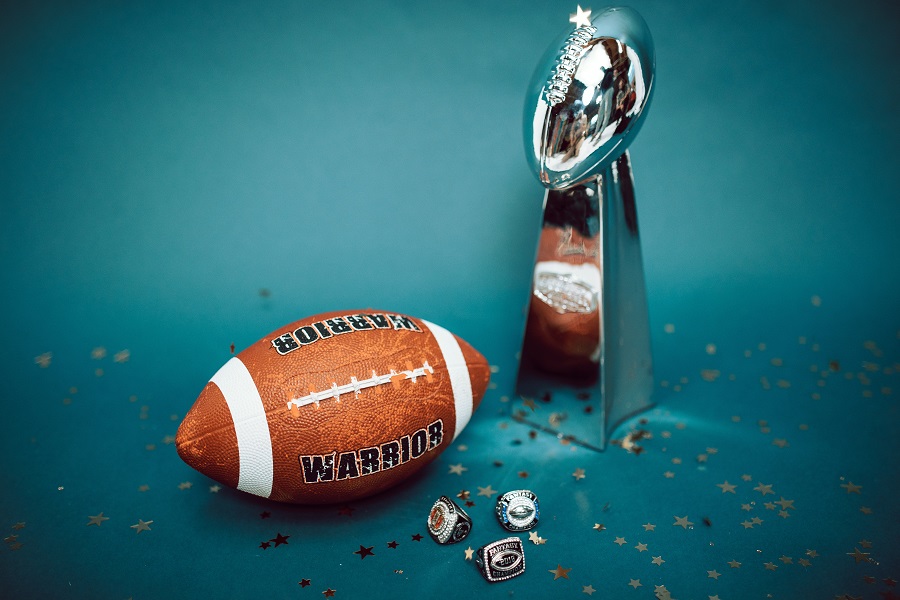 Super Bowl Party Decorations
Decorating for the Super Bowl is simple, and it doesn't even have to cost you much money at all. You can DIY many of these decorations and customize them to fit this season.
We may need to wait until we know what teams are playing to add those pops of color. But we can get started ahead of time with the basics of game day. Greens, whites, browns, and blacks are the colors you will want to utilize the most.
Then use the team colors for a pop that stands out during the game.
Football Mason Jars | Mason Jar Crafts
Hot Dog Bar Signs | Big Dot of Happiness
Field Party Table | A Night Owl
Vintage Decor | Anders Ruff
"Playing Field" Centerpiece | Hostess with the Mostess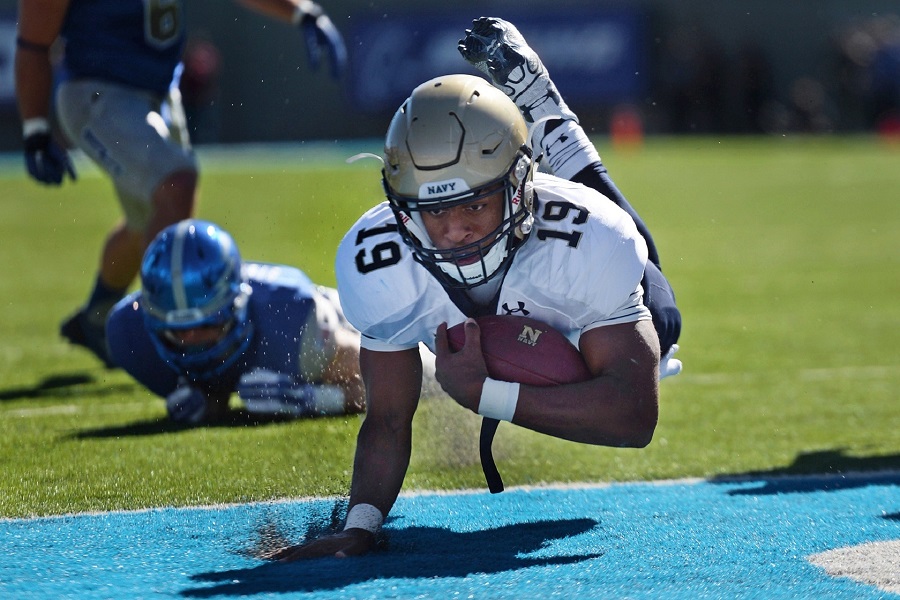 Tips for Hosting Super Bowl Parties
The Super Bowl party decorations will help you set the stage, but there's still a bit more you can do. The goal is to make this party as awesome as possible, as it may be the first big celebration of the year.
Seating is important; this is not really that active of a party. People will want to have a place to sit down to watch the game. A Super Bowl drinking game could make things very exciting; just make sure everyone has a safe way home.
In fact, start the party ahead of the game by hosting a tailgating event before the actual party kicks off.
DIY Football Field Table Cover | Created by V
Paper Chain | The Centsible Life
DIY Football Banner | Oh So Lovely
DIY Football Tray | Story Piece
Printable Football Food labels | Paper Trail Design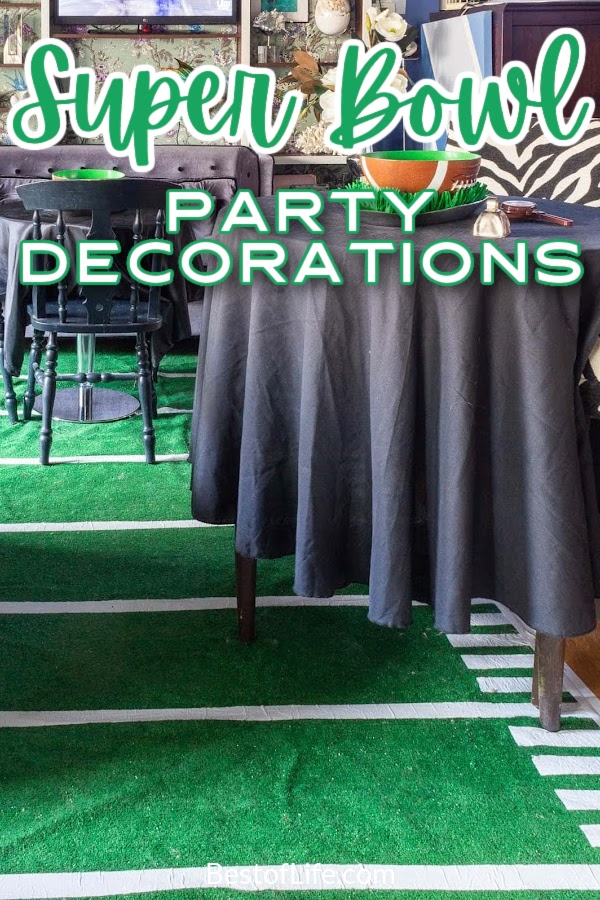 More Game Day Ideas
Buffalo Chicken Dip Instant Pot Recipes that are Perfect for Game Day. | Halloween has pumpkin spice, Christmas has peppermint, and the Super Bowl has buffalo sauce.
51 Football Game Day Food Ideas. | Game day food is the most important aspect of a game day party.
Beer Dip for Pretzels | Game Day Dip Recipes. | Beer is just like buffalo sauce, except for the drinks instead of the food.
Super Bowl Party Drinks and Cocktails for Game Day. | Super Bowl parties without kids are so much better, especially with these drinks.
Rockin' Game Day Recipes. | Keep your guests happy with as many food options as possible.