Super Bowl Party Food | Recipes for Game Day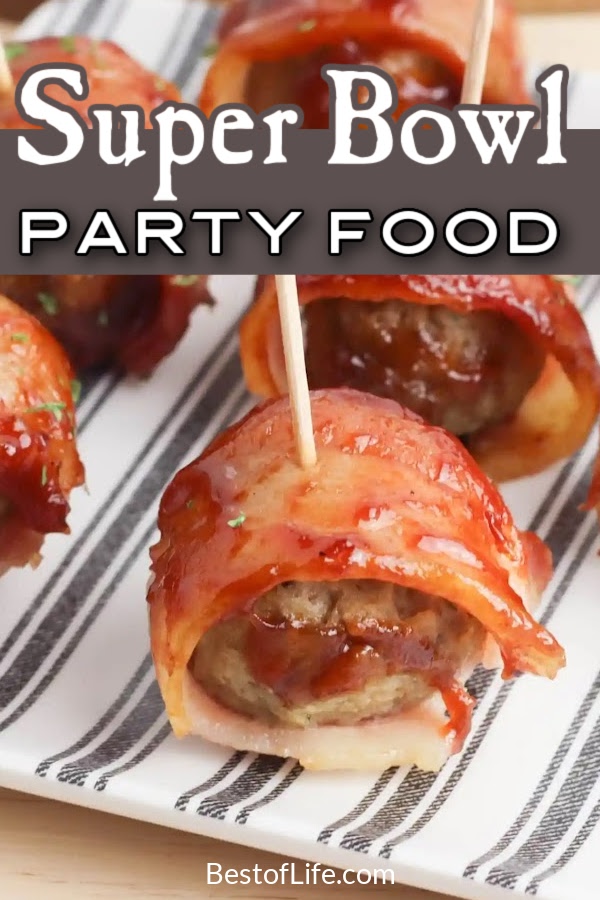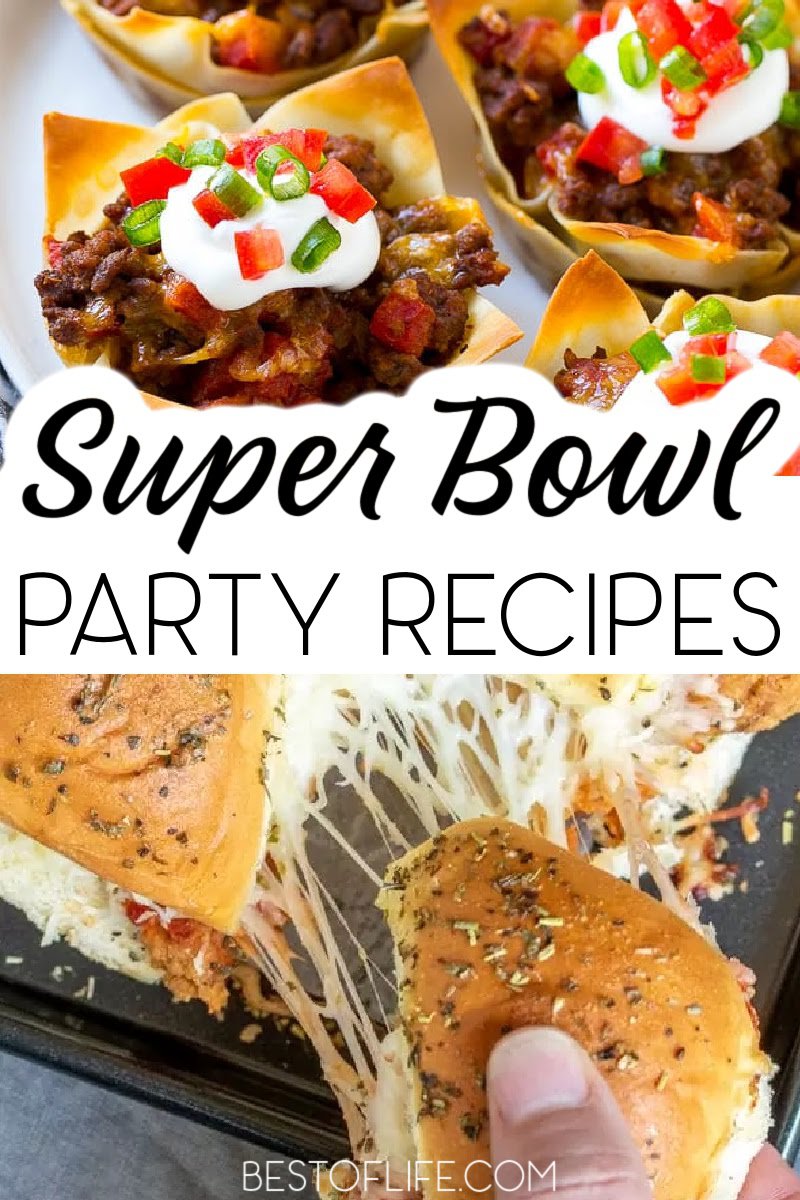 Hosting a Super Bowl party means putting together a good spread to keep everyone energized. Luckily, the menu filled with Super Bowl party food is pretty simple to put together. We aren't going for health, we're going for flavor, and that means a lot of junk food!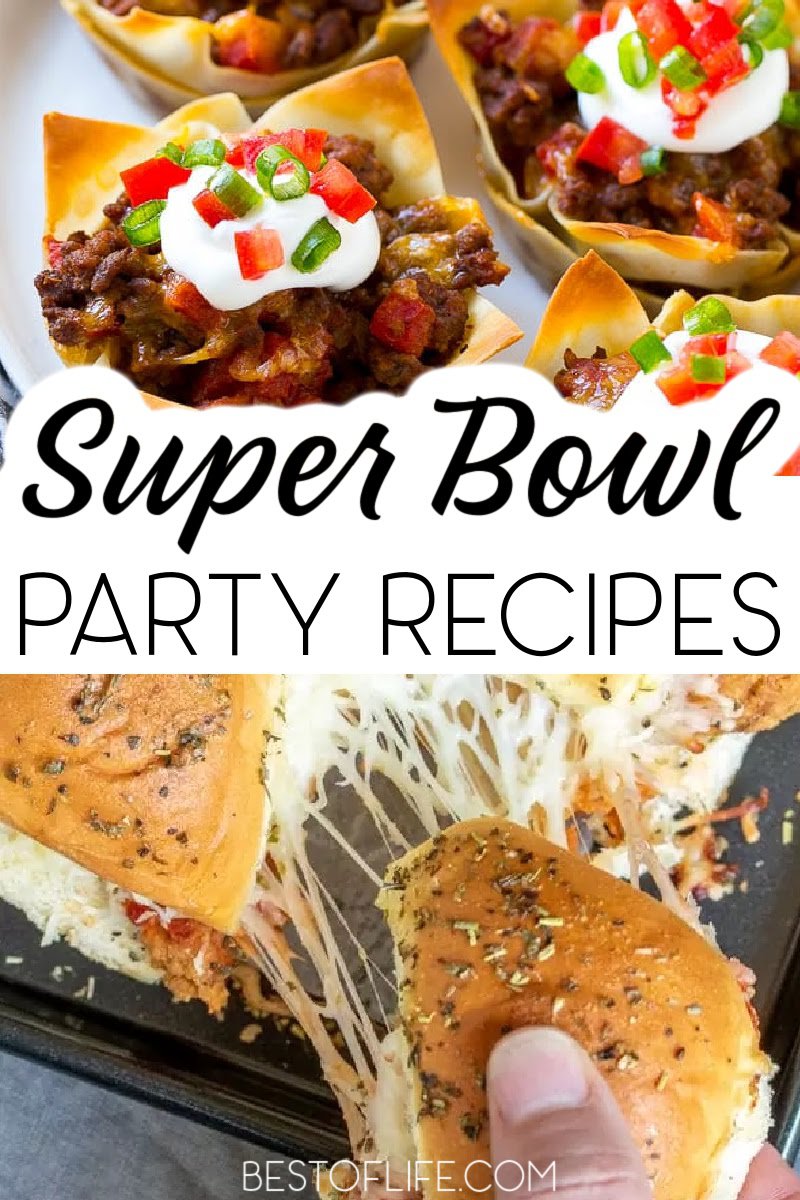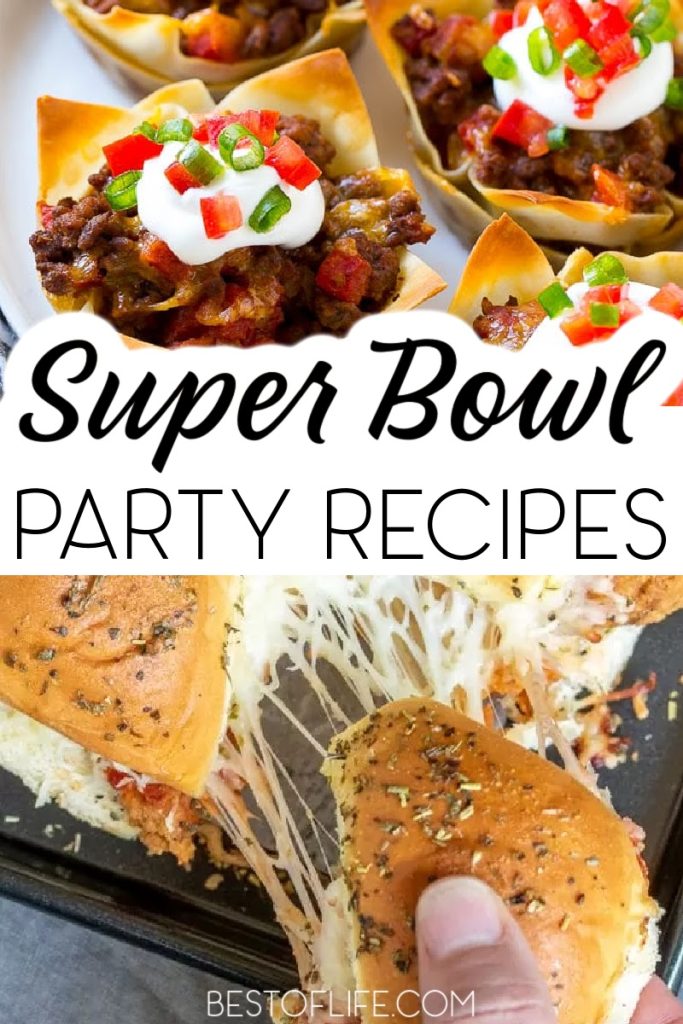 The best Super Bowl party food is not healthy party food; it is finger food for parties that packs a lot of flavor. Party food ranges depending on the type of party. You usually want to have some appetizers, a main course, snacks, and desserts.
But Super Bowl parties require far less planning and a lot more napkins. We're talking buffalo wings, chips, dips, sodas, and beers. That's really all you need to meet people's expectations of a game-day party menu.
However, we aren't just trying to meet those expectations. Instead, we're trying to go above and beyond to create an impressive and memorable Super Bowl menu. Of course, we want to include the basics; a football party without wings has no business being called a football party.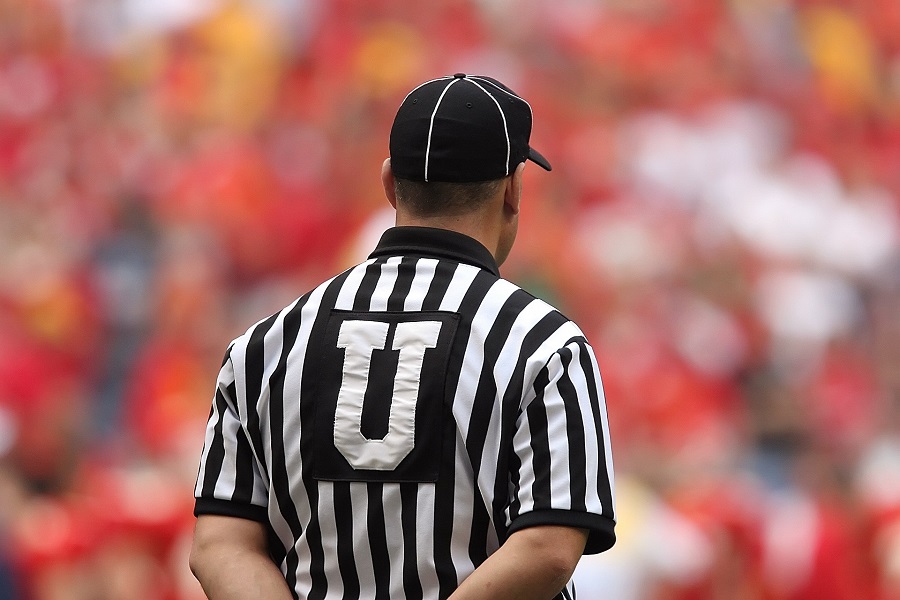 Chips and dips are also pretty much mandatory for a Super Bowl party. You can add a dose of health with the veggie sticks that come with the wings. But health is not the goal here. Instead, we are looking for flavorful things that everyone loves, keep us energized, and are super affordable.
The drinks are simple; beer and soda are all you need. You can include some cocktails in there if you'd like, but not many people will miss them if you don't have them. Instead, put that focus on the food itself.
The food will be what people are talking about during the halftime show when no one's paying attention to the game or commercials. That is why we want to use the best of the best Super Bowl party food.
Otherwise, fights may break out over whos team is winning, losing, or should've been at the dance altogether.
Instant Pot Chicken Wings | Best of Crock
Homemade Soft Pretzel Bites | Two Peas & Their Pod
Pulled Pork Pastry Puffs | Plain Chicken
Chicken and Waffle Sliders | Food Folks and Fun
Cheesy Loaded Tater Tots | Savory Experiments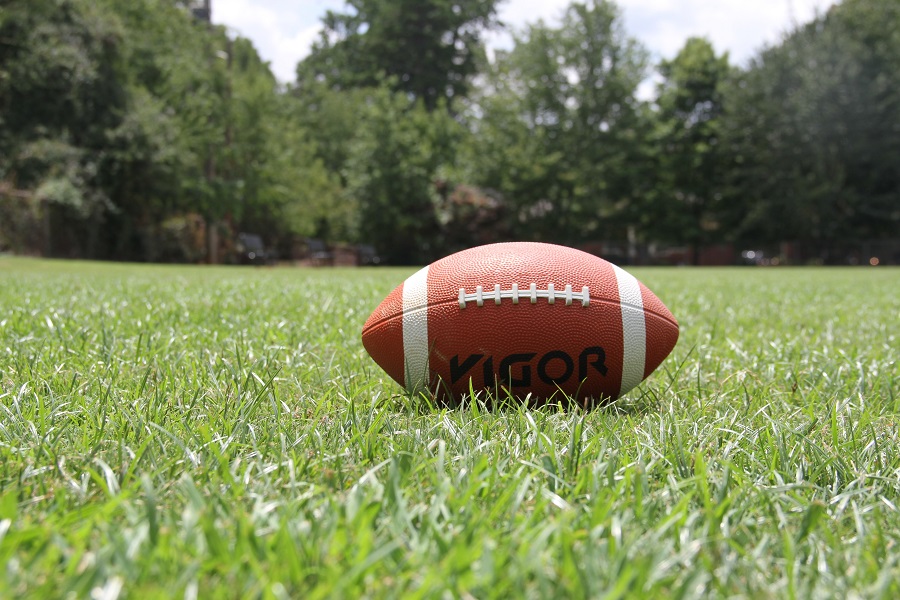 Super Bowl Party Food
These recipes are very simple and can be made for a crowd. The important thing is that you don't go overboard with any single recipe. Try to aim for a variety of food that people can choose from during the game.
Don't try to make more of a single dip, instead, make a few different dips. The same could be said for just about any recipe on this list. You don't want to make a ton of buffalo wings when you can have different flavored wings available.
Garlic Pizza Bread | Spicy Southern Kitchen
Bacon-Wrapped Meatballs | Fun Money Mom
Asiago and Spinach Artichoke Dip | The Chunky Chef
Beef Taco Cups | Dinner at the Zoo
Jalapeno Popper Dip | House of Nash Wats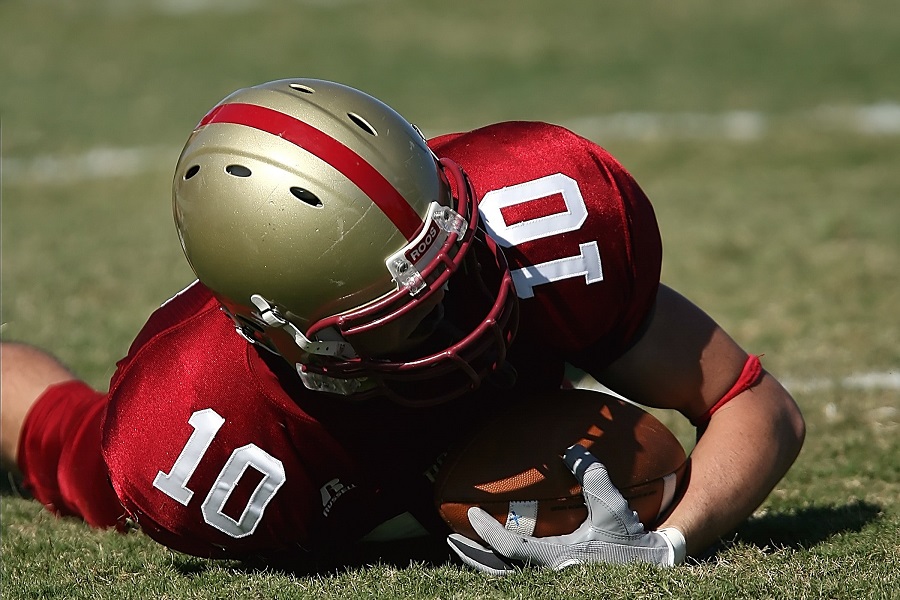 Super Bowl Party Spread
There are a couple of things people don't think of when hosting a Super Bowl Party. The spread should be easily accessible and within viewing range of the television. That may mean moving the table to a better location or moving a spare TV into the serving area.
The thing is, people don't want to miss out on seeing that big play that has everyone cheering form the other room. Make sure to keep things easy for your guests, they will thank you for it later. Another thing is seating.
This isn't the type of party where people will be up and about for most of the day. Instead, everyone wants to have a good seat for the game. Don't give them a reason to fight over the couch, make sure there's enough seating.
7-Layer Dip | Ahead of Thyme
Garlic Parmesan French Fries | Life in the Lofthouse
Chicken Parmesan Sliders | Home-Made Interest
Buffalo Chicken Ceasar Wonton Bites | Frugal Foodie Mama
Pretzel Dogs | The Slow Roasted Italian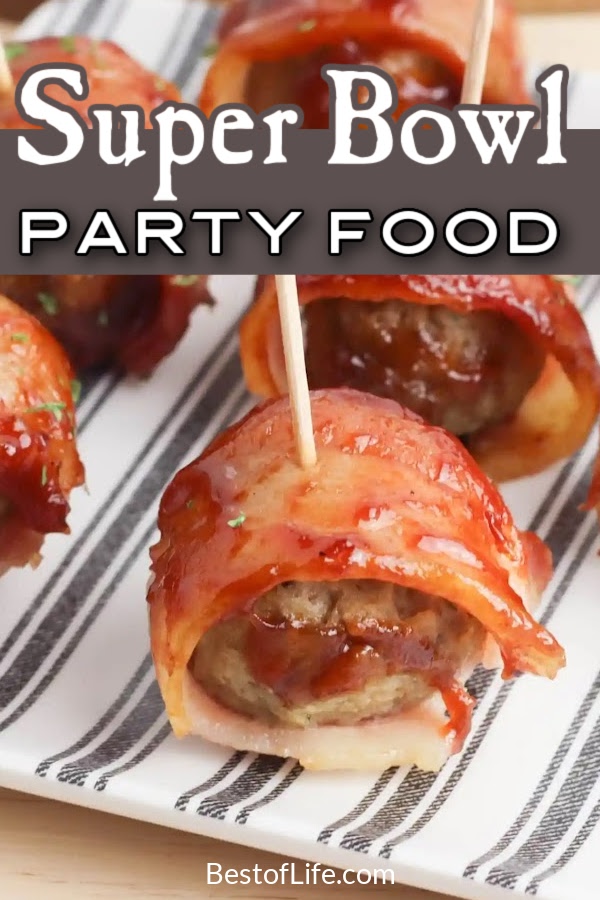 More Game Day Ideas
Beer Dip for Pretzels | Game Day Dip Recipes. | Beer dip is a perfect idea for Super Bowl parties because it combines two of the staples.
51 Football Game Day Food Ideas. | There are still plenty of recipes you can use to build out the perfect menu.
Buffalo Chicken Dip Instant Pot Recipes that are Perfect for Game Day. | The Instant Pot can really make a difference when preparing food for parties.
Rockin' Game Day Recipes. | Rock your game day with a couple of recipes that go above and beyond.
Super Bowl Party Drinks and Cocktails for Game Day. | You really shouldn't skimp on the Super Bowl party drinks.