Baby Boy Nursery Ideas | Cute DIY Baby Room Ideas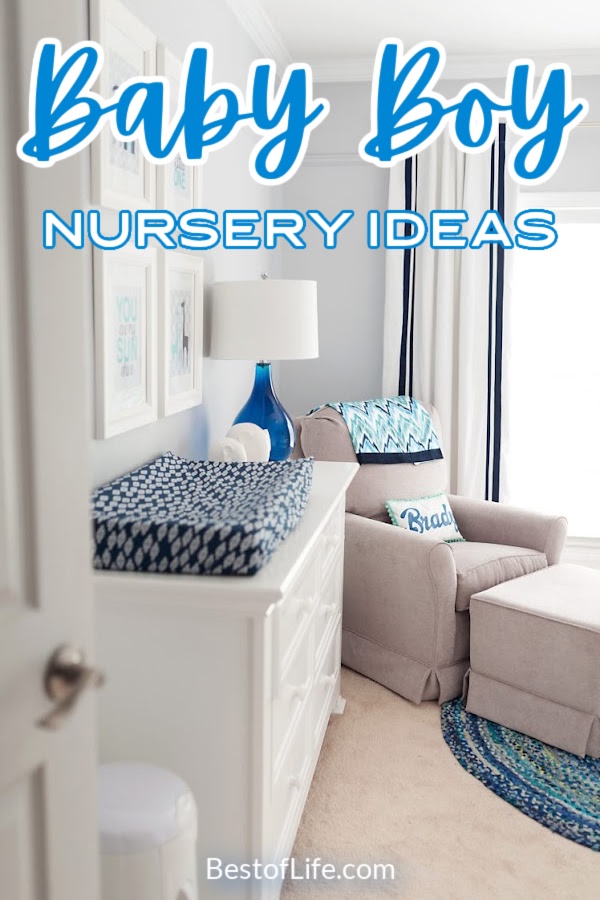 You can start decorating the nursery with a very specific theme once you know the gender. There are tons of baby boy nursery ideas and baby girl nursery ideas that you'll need to sort through. However, if you're having a boy, we can make it easier to find the best baby boy nursery ideas.
Having a baby is an exciting stage in life for many of us. One of the most exciting things is finding out the gender of the baby. Some people don't want to know the sex of the baby and be surprised and that's fine, for me, I'd want to know.
There are so many aspects to decorating a nursery. You need the furniture, the decor pieces, and of course, you'll want some personalized elements as well so it doesn't feel like a stranger's room! Having a baby boy is one of life's greatest gifts. These baby boy nursery ideas will help you make his nursery everything you dreamed of.
Many of us already have an idea of the theme we want to go with for our nurseries. Disney is one of the many boy nursery ideas but it isn't the only option. There are so many ways to decorate a nursery for a boy that it can be challenging to find the right one for you.
Luckily, the best ideas are easier to find since they're piled up below! Whether you want DIY nursery ideas or pre-made nursery decor items, there's an easy way to go about it all. Welcome to the joys of parenthood hope you're ready for the downside too.
Woodland Nursery Design | Caden Lane
Lil Man Cave Wood Sign | Rusticly Inspired Signs (Amazon)
Grey and Blue Nursery | Inspired by This
Little Boy Blue Nursery | Project Nursery
Beige and Gray Boy Nursery | Decor Pad
Storybook Nursery | Okie Olio
Baby Boy Nursery Ideas
There are so many ways to decorate a nursery for a boy. You can use blues, whites, greys, greens, and so many other colors. But now is your chance to choose a few of your child's favorite things.
In fact, you can decorate with themes like sports, Disney, animals, food, whatever you want, and maybe, your child will enjoy them too.
Come Fly With Me Nursery | Keepin' Up with The Dunphys
Modern Navy | The Vintage Rug Shop
Neutral Design for Boys | Happy as We Know it
Blue and White Design | Style Room
Outdoor Nursery | Angel Denise Photography
Tips for Nurseries
The most important tip to keep in mind is to decorate the room for yourself. Your baby is not the one who decides how the room is decorated or organized. Parents need to consider safety first, then ease of use.
In fact, parents will be using the things in the room far more often than the baby. Make life easier on yourself by organizing and decorating the room with childish themes but make sure you can easily get around the room and enjoy being in there as well.
After all, the last thing you want to do is have to walk back and forth just to change your baby's diaper.
Black and White Woodland | Fawn Over Baby
Super Mario | Baby Center
Toy Story | Living Lullaby Designs
Lost | M and J Collection
Nautical Nursery | My Keep Calm and Carry On
DIY Faux Barnwood Accent Wall | Sugar and Spice Makes Everything Nice
More Parenting Ideas
Unique Gender Reveal Ideas | You can know the gender and still have a gender reveal party. You just need to keep it a secret from everyone else until then.
Best Tips for Working Moms to Save Time and Sanity | Working moms know that staying motivated to get everything done is not only something to do, it is a skill.
Hilarious Parenting that Keeps it Real | Parenting is not always easy, but laughing at the difficult times makes it slightly easier than without laughter.
Quotes for Kids to Motivate Them | Parents aren't the only ones who might need motivation from time to time. Kids can use some encouraging words as well.
DIY Science Experiments for Kids at Home | Keep your kid's mind working as often as possible with the help of some at-home experiments for kids.