Best Pokestops in Orange County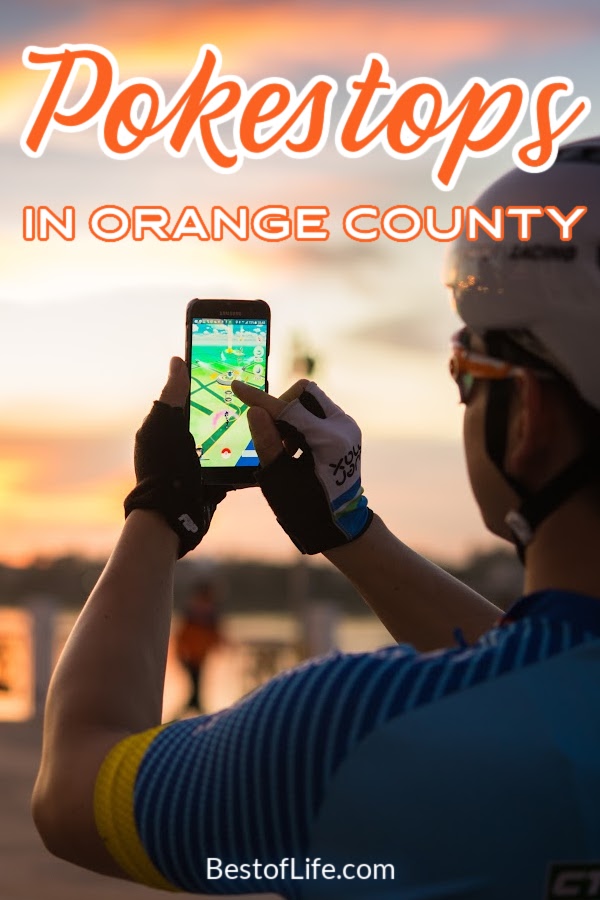 If you are an active Pokemon Go user, then you probably know what a Pokestop is…if not, I'll explain! Pokestops are the places scattered throughout the game that you can visit to gather supplies and hidden surprises. Finding Pokestops is easy; finding the best Pokestops in Orange County just got a little bit easier.
Pokemon Go is alive and well; after bursting onto the scene not too long ago, it has gained popularity among children, adults, and millennials alike! Finding Pokestops in Orange County is a breeze with these tips! These Pokestops are useful for gathering necessary supplies but they also serve another purpose.
Pokestops can be outfitted with a Lure Module which creates a draw for Pokemon in the area; setting up a Lure Module at a Pokestop can help you catch lots of extra Pokemon. These are the best Pokestops in Orange County.
There are a few things you need to get started: a smartphone, the Pokemon Go app, a portable battery pack, and most importantly, you will need common sense! It never hurts to have a comfy pair of walking shoes and a GPS or location-savvy friend!
Pokestops in Orange County | Orange County Great Park I 6990 Marine Way, Irvine, CA 92618
Parks are a great place to look for Pokestops in Orange County. There are also a ton of Pokemon just waiting to be caught at some of these places! Parks typically have a lot of grassy areas, and some also feature historical plaques and statues that are Pokestops in the game!
Fry's Electronics I 3370 East La Palma Avenue, Anaheim, CA 92806
Fry's is just off the 405, and it has 4 Pokestops right next to each other, with an additional 2 Pokestops just 200m away. That's a grand total of 6 Pokestops in one general area. You can gather a lot of supplies by just hanging out in that one general area.
Another option is to partner up with some PokePals and set up some Lure Modules on these Pokestops; you can get lots of supplies AND catch a bunch of extra Pokemon!
Cal State Fullerton I 2575 Yorba Linda Boulevard, Fullerton, CA 92831
Cal State Fullerton is a great place to look for Pokestops in Orange County. There are several Pokestops in the area and they normally have people activating Lure Modules! You might remember me saying ten times that Lure Modules are the best way to take advantage of hanging out at Pokestops!
Chapman University I 1 University Drive, Orange, CA 92866
While we're talking about universities, I can't overlook Chapman University's campus. There are a bunch of Pokestops scattered throughout the campus, and they're all within about a 10-minute walking distance. If you feel like getting some exercise, you can just keep walking this loop and gathering items to build up your pack.
Because this is such a popular location, there is also a good chance these Pokestops will be lit up with Lure Modules, especially late at night!
Disneyland Resort I Disneyland Drive, Anaheim, CA 92802
Like many areas of the country, Pokestops in Orange County are located in popular areas. What better place for popularity and fun than Disneyland! Disneyland is a prime spot to look for Pokestops! There are TONS of them scattered throughout the park.
If you are headed to the park, I'd suggest taking a battery pack so you can hunt Pokemon all day without killing your phone!
The Piers
All of the Piers are awesome spots for Pokestops in Orange County. You can go to whichever one is closest to you or you can make a day of it and just head out to them all! The great news here is that these are really popular locations, with lots of Lure Module activities AND great places to meet other fans of the game.
Anaheim Coves Trail I Anaheim, CA 92806
Anaheim Coves Trail is an awesome spot not just for Pokestops but also for some fun! There are a bunch of Pokestops along the trail and 3 gyms! You can take a break at the gyms and train your Pokemon and, of course, stock up on supplies at all of the Pokestops along the way!
Downtown San Clemente
Downtown San Clemente is a Gym and Pokestop hot spot! There is a cluster of 3 Pokestops near Starbucks and another cluster of 3 near Beach Fire Bar and grill. It's always awesome to find a spot that has a cluster of Pokestops. These two clusters are a great option for gathering supplies, hanging out with other Pokefans, and setting up Lure Modules.
More Things to do
Free Things to do in LA as a Couple | LA is filled with activities for adults to enjoy, but even more for couples to get romantic.
Best Free Things to Do in Orange County | The best things to do in Orange County don't have to cost an arm and a leg.
Best Things to do in San Diego | San Diego is perfect for a family vacation or even a couples retreat.
Free Things to Do in Orange County with Kids | You can even bring kids with you to Orange County and enjoy your time without breaking the bank.
Best Tourist Things to Do in LA | Los Angeles is the city of tourist attractions and in all of the best ways possible.