Netflix Shows to Binge Watch this Summer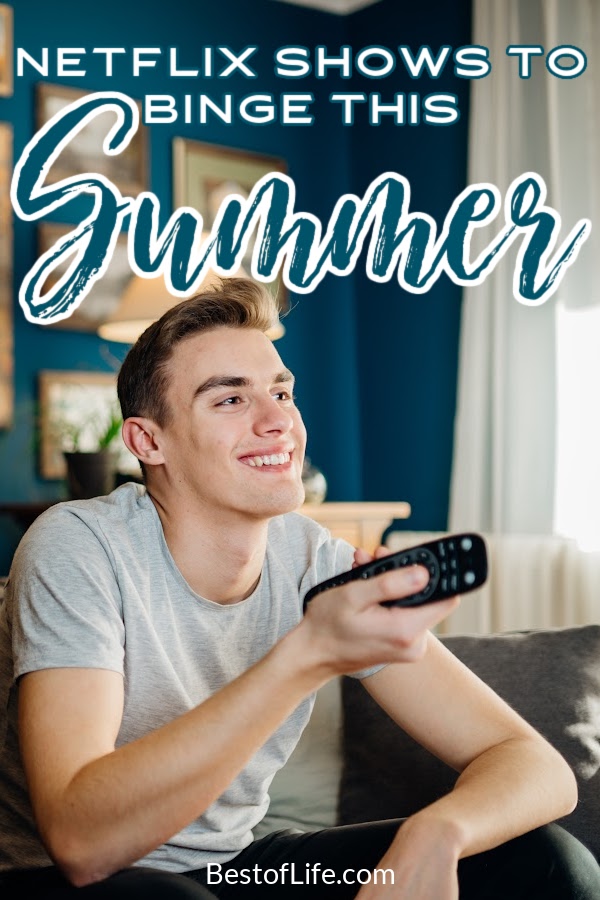 New content is added regularly as well. It can be hard to keep up with all of the content. Consistently adding more content is amazing but makes it even harder. Finding the best Netflix shows to binge watch this summer can be difficult. Luckily, good content will always trend.
Streaming is the most popular way to watch content and Netflix continues to reign supreme. There are so many different shows and movies you can watch on Netflix. Find the best Netflix shows to binge watch this summer and then spend those hot days on other planets, in different worlds, and with friends and family.
Netflix has become known for producing amazing content. Not only does Netflix make great content, but they also cover all different genres. Horror, romance, indie, drama, mystery, there are even shows that double as video games on Netflix.
That means there are new Netflix shows to binge watch this summer. It's not uncommon to finish a show and feel a sense of dread that you need to dig through a ton of content to find the next binge-worthy series. The mix of classic, new and original content will make it easier though to revisit favorite series, start all new ones, and get the most of that monthly payment.
Netflix Shows to Binge Watch This Summer
Orange Is the New Black FINAL SEASON
Orange Is the New Black was one of the first series that Netflix made which also became a phenomenon. Sadly, summer 2019 brings with it the final season of Orange Is the New Black. You will want to be there when we see how each story is wrapped up. Spend your summer attempting to stream the entire series from start to finish.
My Next Guest Needs No Introduction
If you are missing the great Mr. David Letterman, don't worry, Netflix has you covered. The first season of My Next Guest Needs No Introduction was an amazing one. Jay-Z, Malala Yousafzai, Tina Fey, Howard Stern, and Barack Obama were just a few of the guests that needed no introduction.
This season is definitely one of the Netflix shows to binge watch this summer. Melinda Gates, Lewis Hamilton, Tiffany Haddish, and even Kanye West will all be stopping by the show. If you haven't seen the amazing interviews filled with laughter, tears, and a whole plethora of emotions yet, now is your chance.
When They See Us
The great Ava Duvernay makes a huge splash on Netflix with one of the most heart-wrenching stories ever. The Central Park 5 were a group of boys who were accused of rape in New York City. But the story doesn't end with the accusation and the road to becoming the Exonerated 5 was not an easy one.
We know how the story ends thanks to the live coverage throughout the case. What we don't know is what it took for these men to get from accused to becoming a source of inspiration. Warning, tissues will be needed for episode 4 most of all.
Black Mirror
Black Mirror is back for another reflection on where the world of tech is taking us. This season only has a few episodes, so it will be a relatively easy binge. However, Black Mirror is definitely one of the Netflix shows to binge watch this summer.
This season brings star power like Miley Cyrus, Anthony Mackie, and Topher Grace. If you want to be afraid of your smartphone and all of the techs headed our way, binge this show.
The Chef Show
Jon Favreau is probably the dad we all want. This man not only knows Iron Man personally, but he is also a chef. This series, The Chef Show, takes us on an adventure with Favreau as he learns about the lives of real chefs. We will also discover the chef's passions and see a few people you might love 3000.
Marvel's Jessica Jones
Jessica Jones is saying goodbye with the Netflix Marvel cinematic universe ending as far as we know. The final chapter of this series goes back to its star's roots. Jessica has long been a private detective and this season has a bit of that detective noir going on.
Still, there is a bit of superhero tangled in the mystery that you will not want to miss. In fact, you could watch all of the Marvel shows as each one should be considered some of the best Netflix shows to binge watch this summer.
Mr. Iglesias
Gabrial Iglesias makes his Netflix series debut with Mr. Iglesias. This series is brand new and is about a school teacher who is dealing with underprivileged students in Long Beach, California. There is a bit of emotion here but the show is a comedy and there are plenty of laughs.
Not to mention, we get to see Gabriel Iglesias stretch his comedic muscles in a different way.
Stranger Things
Stranger Things is back and the creatures from the upside-down are not finished with Hawkins just yet. This time around, the kids are teens and that means new layers of storytelling are being added to the show. It will be interesting to see what happens between all of the characters.
Will Steve help Dustin find a girl? What's really going on between Mike and Eleven? And what is going on with Billy? These are the things we need to know.
The Dark Crystal: Age of Resistance
Some parents may remember the story of the Dark Crystal. Jim Henson puppets were used in the original movie. The movie wasn't very popular but over time it has grown a bit of a cult following. Now, Netflix brings us back to the fantasy world of Jim Henson with a prequel to the original.
More Netflix
10 Netflix Shows to Binge Watch as a Couple | There are plenty of things to do as a couple but streaming is the new norm.
Netflix Shows for Teen Girls That Won't Make Parents Cringe | Parents may cringe at the things their teens watch, but you won't have that problem with these shows.
Scary Netflix Movies to Watch for a Frightful Night | Getting scared is always a good time and Netflix has what you need to get you there.
Netflix Shows 2019 | Best Shows to Watch for All Ages | You would not be blamed if you missed some of the top-streamed things from years past on Netflix. There's just so much content!
Netflix Documentaries for Crime Solving Addicts | You are about to solve a crime, maybe for the first time ever, maybe not. But you don't want to miss the twists and turns in crime docs.