Instant Pot Bourbon Chicken Recipes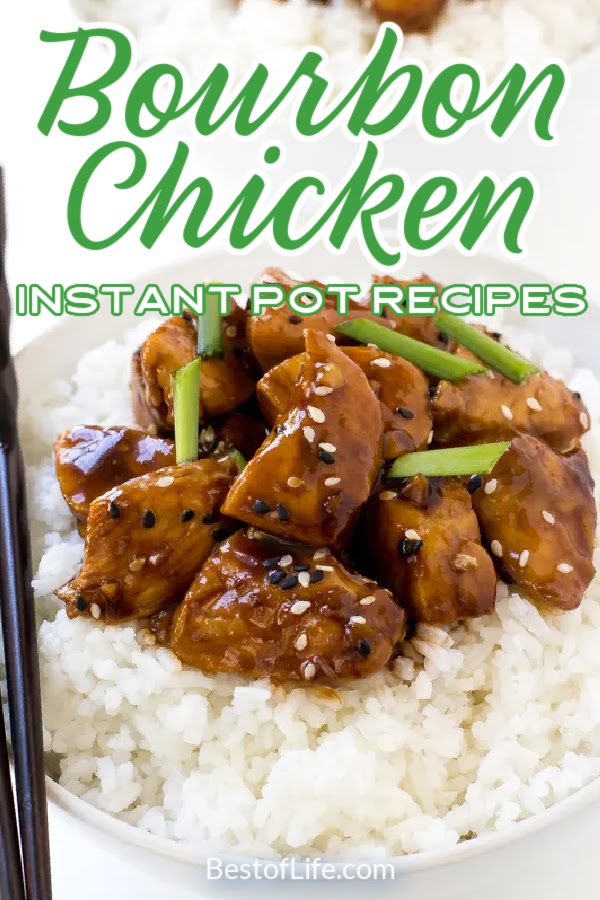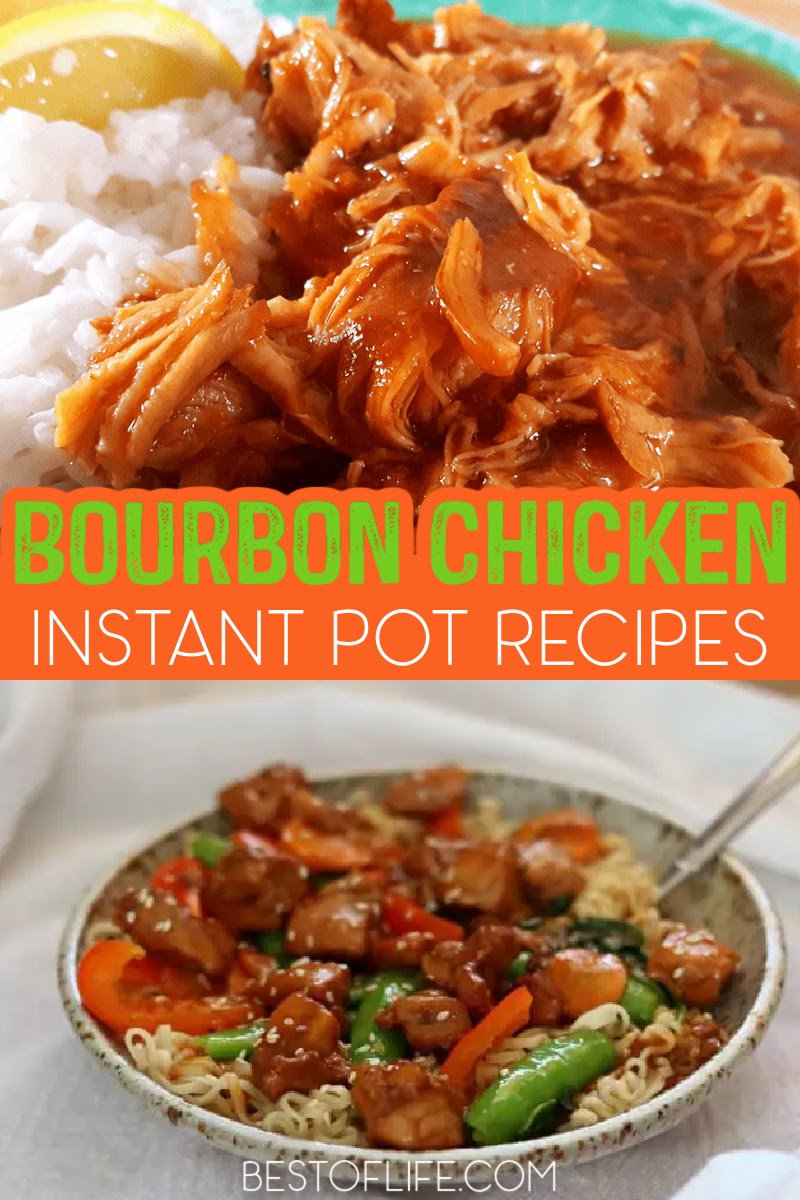 Instant Pot bourbon chicken recipes provide you with a quick and impressive meal without much effort. You could serve the chicken in slices with bread, cubed over rice, or get creative and pull the chicken and make tacos or sandwiches. The possibilities are endless.
Bourbon chicken is any cut of chicken; breasts are most common that are coated in a subtly sweet sauce. The classic version of this sauce is a mix of bourbon, soy sauce, and brown sugar. The combination is amazing and can be made in a few different ways. In fact, one of those ways is with an Instant Pot.
Making Instant Pot bourbon chicken recipes for a family dinner recipe, dinner party recipe, or even as a make-ahead meal will speed up your weekly meal prep. Chicken is such a versatile meat. You can cook chicken with so many different flavors and in so many different methods.
In fact, the idea of everything tasting like chicken should be flipped. Chicken can taste like everything. But the important thing is that it tastes good. These Instant Pot bourbon chicken recipes get the job done. You may never want to eat chicken a different way again.
Instant Pot Bourbon Chicken Recipes
These recipes are delicious and, again, versatile. You can shred it, cube it, slice it or serve it whole. The possibilities are endless, and the recipes are amazing.
Honey Bourbon Chicken | Shugary Sweets
Easy Bourbon Chicken | The Inspiration Edit
Bourbon Chicken and Rice | Eating on a Dime
Shredded Bourbon Chicken | This Ole Mom
Crispy Honey Bourbon Chicken Wings | This Old Gal
Plating is Key
Bourbon chicken is a very popular recipe. In fact, many people may recall having this recipe at the mall in the food court. But these are more than food court recipes. Though, there is a food court recipe as well. These recipe produce chicken that you could turn into a gourmet meal depending on how you plate it.
Ultimately, you will get a delicious bite of chicken that the whole family will enjoy.
Honey Bourbon Chicken Noodle Bowls | 365 Days of Slow + Pressure
Sesame Bourbon Chicken | Tornadough Alli
Instant Pot Food Court Bourbon Chicken | Pressure Luck
Bourbon Butternut Chicken | Gourmet Done Skinny
Classic Bourbon Chicken | Instant Pot Recipes
Try All Instant Pot Bourbon Chicken Recipes
You are more than likely familiar with the benefits of an Instant Pot. You can get fully cooked meals in minutes and without using a microwave. The pressure helps speed up the cooking process, but it also melds the ingredients in amazing ways.
This recipe is all about the sauce. The sauce melds together with the chicken perfectly in a pressure cooker. That makes these recipes among the best Instant Pot recipes.
Bite-Size Bourbon Chicken | Recipe Diaries
Dump-n-Go Honey Bourbon Chicken | Once a Month Meals
Sticky Bourbon Chicken | Travel KS
Bourbon Whiskey Chicken | Love My Instant Pot
12-Minute Bourbon Chicken | Chef Savvy
More Instant Pot Recipes
Whole30 Instant Pot Chicken and Vegetable Soup | Chicken and veggies is a classic soup, but that doesn't mean you have to make it the classical ways.
Pressure Cooker Beef Goulash Recipe | Goulash is way better tasting than it sounds and is easy to make for a family dinner.
Instant Pot Creamy Sausage and Kale Soup | There are plenty of ways to eat kale, but this soup may just be the best way ever.
Instant Pot Healthy Snack Recipes | Snacking is not a bad thing unless you snack on the wrong foods. That is why it helps to have a list of healthy snacks on hand.
45 Instant Pot Crack Chicken Recipes | Crack chicken is considered crack chicken because of how deliciously addictive it is and healthy, too!