15 Whole30 Instant Pot Chicken Recipes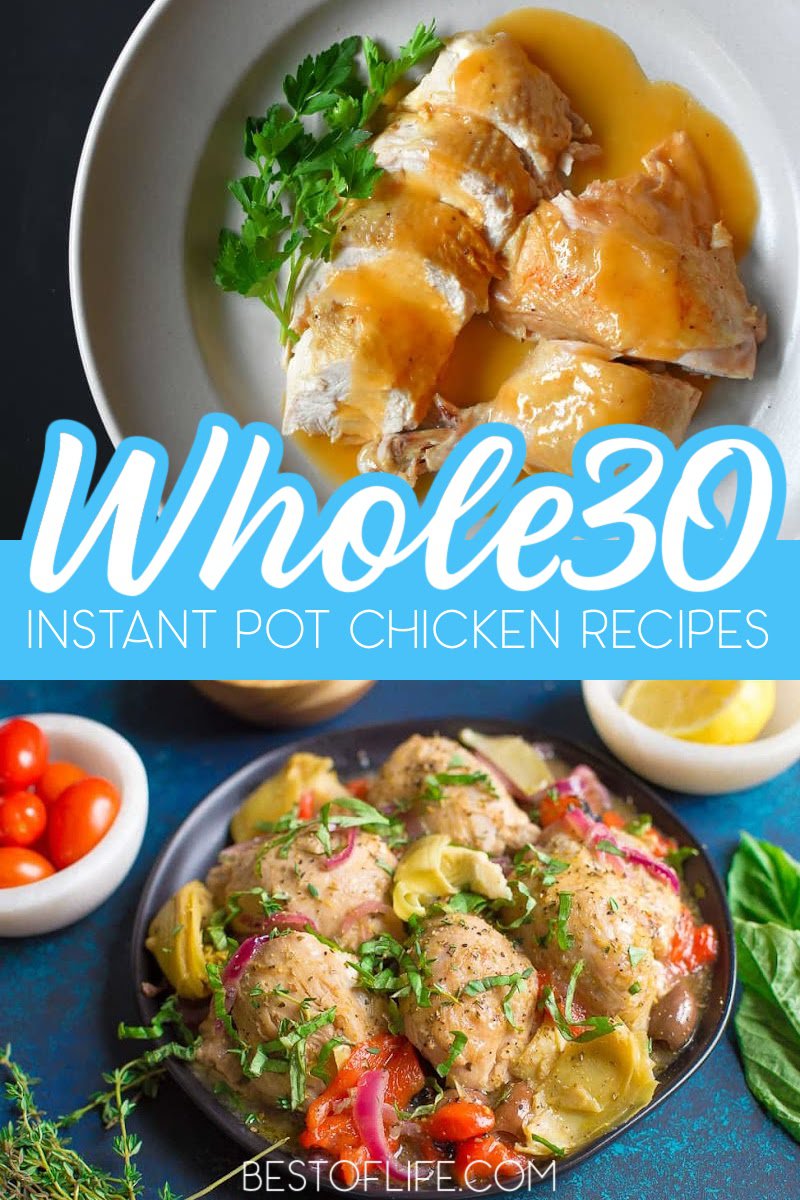 Whole30 is a straightforward elimination diet. For 30 days you will eliminate all forms of sugar, grains, dairy, and legumes. There are a ton of different recipes you can use and there are even some that let you use your Instant Pot. Getting started, you should try the best Whole30 Instant Pot chicken recipes.
There are some incredibly quick and easy Whole30 Instant Pot chicken recipes that are tailor-made for your Whole30, weight loss success! Whole30 is a very restrictive meal plan and requires some level of commitment. Eliminating entire food groups and your daily glass of wine is not easy, and finding new recipes can be a challenge.
Your Instant Pot is an incredibly useful tool for Whole30. Soups, stews, meat, and vegetables cook in a fraction of the time and these recipes save you all the planning and research. Your work will be even easier if you prep your vegetables ahead of time.
If you are starting your Whole30, you will need a variety of compliant meal and snack ideas. Since so much of Whole30 is protein-based, there is a tendency to fall into chicken boredom. But with these Whole30 Instant Pot chicken recipes, your meal planning rotation won't suffer.
Instant Pot Bone Broth | The Best of Life Magazine
Instant Pot Chicken Tikka Masala | Tasty Thin
Instant Pot Chicken Curry Thai Basil Recipe | Clean Eating Recipes
Classic Chicken Soup / Slow Cook and Instant Pot | Lexi's Clean Kitchen
Instant Pot BBQ Chicken | Paleo Running Momma
Whole30 Overview
Whole30 is a nutrition plan that you can follow to help you with weight loss and healthy living. You will not drink and will not eat processed foods. What you will eat is a ton of vegetables, quality meats and seafood, eggs, nuts, seeds, and healthy fats. Removing the processed foods will have the biggest impact on your health.
Instant Pot Chicken and Gravy | Nom Nom Paleo
Pressure Cooker Chicken Soup with Kale | The Domestic Man
Instant Pot Lemon Garlic Chicken | Predominantly Paleo
Chicken Shawarma – Instant Pot or Slow Cooker | Slender Kitchen
Slow Cooker or Instant Pot Greek Chicken | Wholesomelicious
Whole30 Instant Pot Chicken Recipes
Chicken is such an easy meat to use for cooking. Chicken takes on flavors pretty well so you can have something like a salsa chicken one night and then shwarma the next. But you can also throw in an Instant Pot to make things even easier.
Pressure Cooker Chili Lime Chicken Thighs | Tasting Page
Instant Pot Green Chili Chicken Chowder | All the Nourishing Things
3 Ingredient Pressure Cooker Shredded Chicken | Wholesome Yum
Instant Pot Salsa Verde Shredded Chicken | Everyday Sarah Jane
Instant Pot Salsa and Spinach Shredded Chicken | The Natural Nurturer
More Whole30 Recipes
Easy Whole30 Breakfast Recipes for when you are Short on Time | Whole30 doesn't start at lunchtime every day. Instead, it starts with breakfast.
Best Whole30 Breakfast Recipes | Starting your day off on the right foot is a big help in making sure you stay on the right path throughout your day.
Whole30 Lunch Recipes for a Healthy Diet | But we do have to make it to lunch and we will need some healthy recipes for lunch as well.
Whole30 Dinner Recipes for Weight Loss | Dinner is the last step for most people, though there are some more recipes that can help you reach your goals.
Best Whole30 Snacks to Carry with You on Work and Travel | Those recipes are snacks, healthy snack recipes that fit into a Whole30 diet.