15 Unicorn Birthday Party Decorations to Make a Party Magical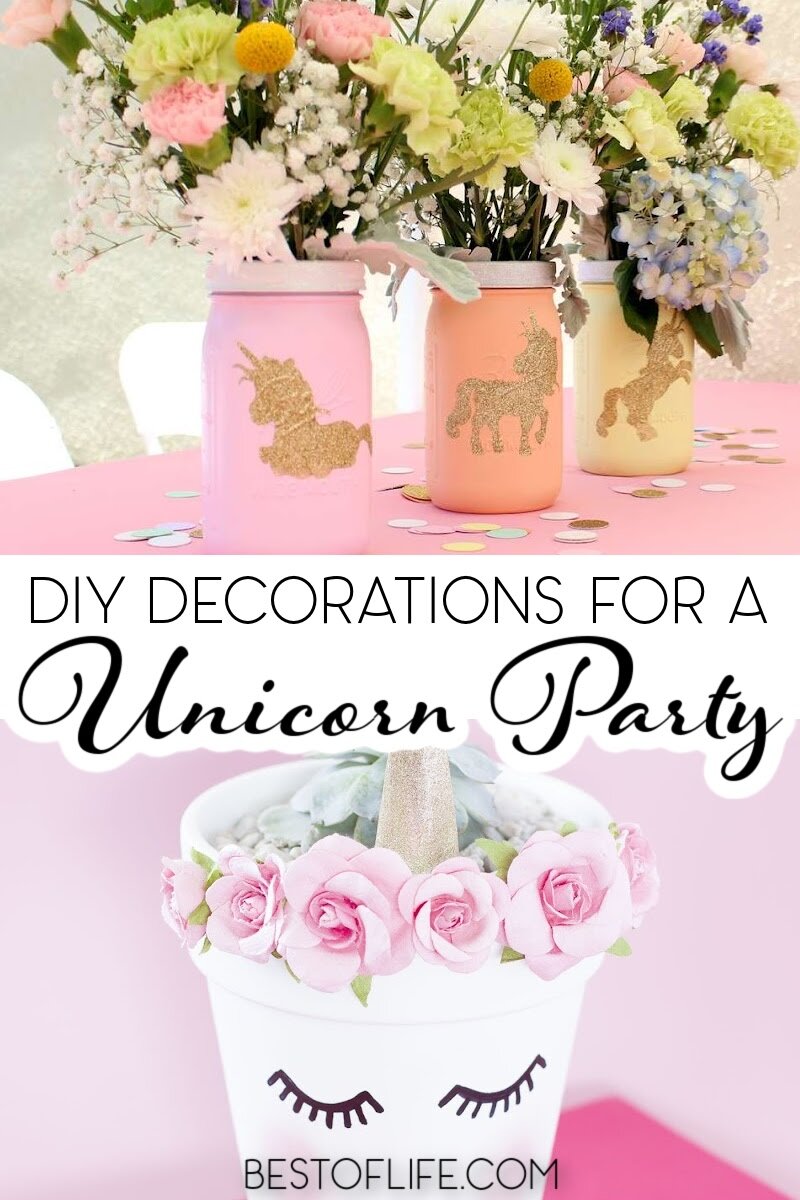 A unicorn birthday party is what most girls will want this year, and there are many ways parents can make it happen. Some of the best ways won't even require you to do too much, either.
Birthday parties come every year, and for children, birthday party themes change every year. It's up to parents to stay up to date with the times and throw the best birthday party for kids they can throw.
One of the newest trends to hit schools across America is the unicorn craze. Parents can throw the best unicorn birthday party by using some very simple, very easy birthday party ideas with a magical twist.
What makes a birthday party theme? Sure, there are unicorn plates you can buy at the store, unicorn napkins, utensils, a unicorn party sign, and pretty unicorn tablecloths. However, the decor is what will bring the birthday party theme to life.
For a unicorn birthday party, the decor will be magical, mystical, and filled with pinks, purples, and baby blues. The best part is most of the decor can be DIY unicorn birthday party decor.
No need to run to the store and buy out the aisle; just make the decor yourself and impress every child (and parent) with your decorating skills.
Unicorn Birthday Party Decorations to Make a Party Magical
Unicorn Birthday Banner | Paper Trail Design
Confetti Clear Balloons | Smart School House
Party Backdrop | Rain on a Tin Roof
Unicorn Headband | Jent by Design
Gift Bags | Tikkido
Unicorn Birthday Party
How you decorate the party will help set the tone for the kids. However, not every piece of decor is on the wall or hanging from the ceiling. party decorations can also be found on the table, on kids' heads, or even on the food table.
Don't be afraid to explore and enjoy your time. There is no reason making any of these decorations should be a pain.
Party Headbands | Bird's Party
Unicorn Party Boxes | Party Delights
Unicorn Pom Pom Centerpieces | A Kreative Whim
DIY Balloon Arch | Tender Mercies Studio
Planter | Best Friends for Frosting
Unicorn Theme Parties
Another good way to theme a unicorn birthday party is with the food itself. You can use specific colors that are associated with unicorns, like purples and pinks. Unicorn parties have become a very popular thing over the last few years.
That popularity has made it easier to find inspiration. In fact, you can use these ideas to inspire more ideas that you come up with on your own.
Unicorn Lanterns | Sophia Loren
Big Unicorn Balloon | Be Happy
Unicorn Dessert Table | Kara's Party Ideas
Unicorn Floral Centerpieces | Catch My Party
More Party Ideas
Summer Decorations for an Outdoor Party to Remember | Summer is a great time to host a party outside in the yard.
Valentine's Day Party Decorations for Kids | Kids would love to feel more included in the celebration of all types of love.
Mermaid Birthday Party Food Ideas for a Colorful Celebration | Mermaids are almost as popular as unicorns for birthday parties.
Halloween Party Food Ideas for Kids | You can make some fun food that kids would enjoy eating during the spooky season.
Easy Edible Cookie Dough Bites Recipe | Edible cookie dough is safe, delicious, and very easy to make.