Vegetarian Party Recipes for a Crowd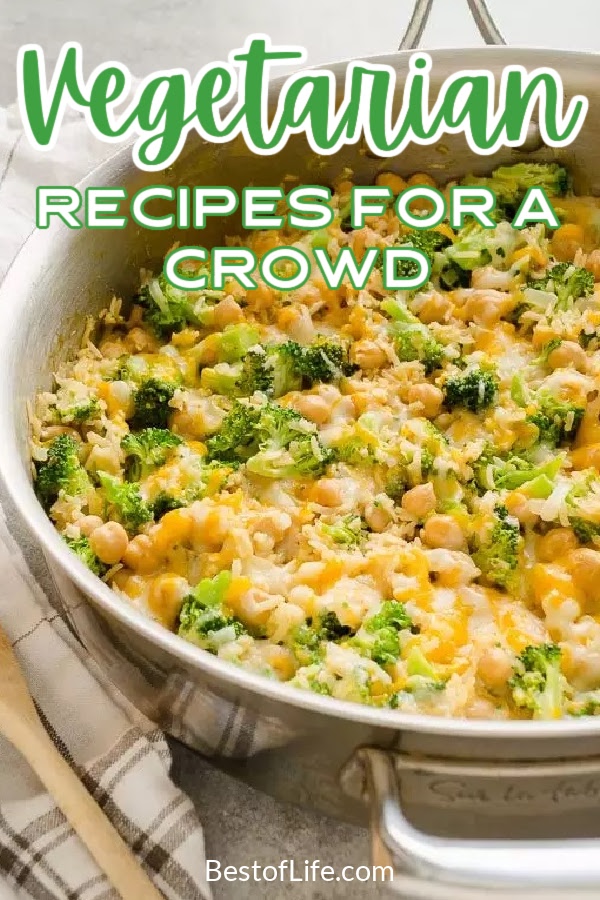 What do you do if you need to make a party recipe for a crowd but it also needs to be a vegetarian option? You need to make a crowd-pleasing offering that the vegetarians will appreciate and the non-vegetarians will devour too. What you need is the perfect vegetarian party recipe for a crowd.
When it comes to party food you just need two things to make it great. Your dish has to be easy to eat and taste good. You don't want to take anything home with you or fill your refrigerator with leftovers. Vegetarian party recipes don't have to be boring trays of veggies and a dip.
You could make some of the best party recipes and still make them vegetarian. A vegetarian party dish doesn't have to mean a cut veggie tray and hummus. Although in some cases that's a perfectly good option, why not explore more tempting and tasty ways to feed a vegetarian party crowd.
These vegetarian party recipes can do that and all you need to do is click. There are also ways to add in other ingredients as well like meat alternatives or cheese alternatives. These options all make it easier to enjoy familiar recipes without breaking any diet restrictions.
Everyone can have a bit of what they want, enjoy the food, and no one will be outside of their dietary restrictions, what could possibly be better than that?
Vegetarian Party Recipes
Vegetarian Mexican Pinwheels | Sprinkles, and Sprouts
Spinach Lasagne Rolls | My Food and Family
Southwestern Veggie Packed Tater Tot Casserole | Tasty
Vegan Sushi | Beautiful Ingredient
Jalapeno Popper Crescent Rolls | Three Olives Branch
Vegan vs Vegetarian Party Food
If you are creating a party recipe for a vegan crowd, you'll want to be sure to leave out any recipe that calls for eggs or dairy. You can also try and substitute vegan alternatives for non-vegan ingredients. There are plenty of substitutes for pretty much anything these days.
Cheese, pepperoni, sausage, burger meat, any foods you can think of have alternatives out there. You can even find premade crusts that will help you stay within the rules and guidelines of a vegan and vegetarian diet.
One-Pot Cheesy Broccoli Chickpea Casserole | Flavor The Moments
Buffalo Cauliflower Taquitos | Contentedness Cooking
Buffalo Cauliflower Bites | Best of Life Mag
Southwestern Pasta Salad | Vegan Heaven
Crispy Baked Mac And Cheese Balls, Vegan/Gluten-Free | Veggies Don't Bite
Vegetarian Party Recipes for a Crowd
These vegetarian recipes will be a hit at any party. They are an easy way to please any type of eater in your crowd. There are recipes here that are traditionally vegetarian and others that have taken a recipe usually made with chicken or another meat, and replaced it with a vegetarian option. You can't go wrong either way.
Vegan Stuffed Mushrooms | Vegan Huggs
Pesto And Asparagus Flatbread With Tahini Dressing | Rally Pure
7 Layer Vegan Bean Dip | Simply Plant-Based Kitchen
Roasted Vegetable Antipasto | Panning the Globe
Vegetarian Enchiladas | Healthy Good Recipe
More Party Ideas
Bridal Shower Brunch Games and Ideas | Brunch games are a great way to introduce everyone to each other and to let loose for some fun.
Summer Party Essentials Shopping List | Summer parties require specific things and getting them all together is easier when you have a list.
Mermaid Birthday Party Decorations that are Easy and Colorful | mermaid birthday parties are so much fun and filled with bright colors.
Easter Egg Hunt Party Ideas for Some Hopping Fun | Easter comes with an Easter egg hunt tradition but there is no rule that says we have to keep the tradition exactly the same.
50 Party Planning Checklist Printables | Party Templates | Printable checklists make planning a party even easier, no matter what the theme.