21 Ways to Wear a Jean Jacket | STS Blue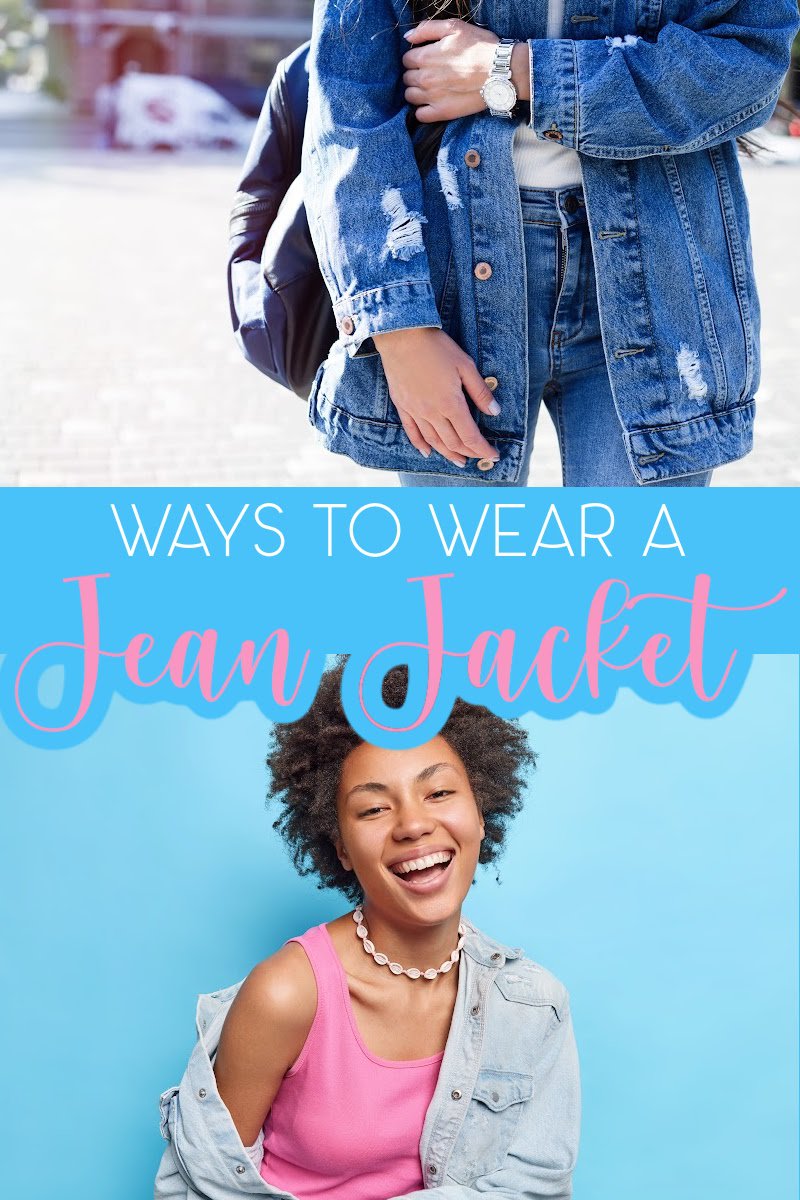 Fall is when things start to cool down, but there's still plenty of suns, so a HEAVY JACKET isn't quite necessary. Jean jackets also come in many different styles that help everyone express their own sense of FASHION. Everyone wants to wear a jean jacket during the fall season, but not everyone knows how to STYLE it well.
When FALL comes around, it's time to bring out the JEAN JACKET. The jean jacket is a staple for fall fashion, and the better the JACKET, the better the style. Jean jackets offer plenty of styles while not overbearing you with unnecessary heat.
Rock the classic jean jacket to look like a fashionista with these style tips on ways to wear a jean jacket! The fall season is here, and that means it's time to switch up your style for the weather. One staple of fall fashion is the jean jacket. STS Blue offers the best jean jacket available this season; the oversized boyfriend-fit jean jacket.
The STS Blue oversized boyfriend-fit jean jacket goes with just about everything you'll be wearing during the fall season. This jacket is not only stylish; it's vintage, comfortable, has fun details, and makes the perfect gift for yourself or someone else. Knowing how to wear a jean jacket is just as important as knowing which one to buy.
What to Wear with a Jean Jacket | Stylecaster
Style Tips on How to Wear a Denim Jacket | Nonagaya
7 Ways to Style Your Denim Jacket | Who What Wear
25 Ways to Style a Denim Jacket | InStyle
Striped Dress Denim Jacket | Mitzi
Maxidress Jean Jacket | Momfabulous
15 In-jean-ious Ways to Pimp Out Your Denim Jacket | Popsugar
Ways to Wear a Jean Jacket
Jean jackets don't work for every season. It's not so much the looks but the function. Jean jackets can be restricting, and sometimes we just want some air. But there are ways to style them that can help with that issue. That is why these different ideas for jean jackets are so important.
Dotted Dress | Jessica Quirk
Button Down | Fashion and Crafts
Colored Pants | The Yellow Door Paperie
Outfits with Denim Jackets | Outfit Trends
How to Wear an Oversized Denim Jacket | Who What Wear
Pencil Skirt | Hair Stylism
Looks We Love | Sheer Luxe
Fashion and Style
There are some people who follow fashion trends perfectly every year. However, style is not about following what everyone else is doing. Style is about expressing yourself with what you have. Here, we have a jean jacket and 21 different ways to wear a jean jacket.
We can use these ideas as a source of inspiration and create our own style. There is nothing wrong with styling the jacket the way you see here. But don't be afraid to change things up here and there to make the style your own.
3 Fresh Ways to Wear Jean Jackets Right Now | The Zoe Report
DIY Ways to Spruce Up on an Old Denim Jackets | True Model
Ways to Wear a Denim Jacket | Classy Yet Trendy
Denim Jacket Style Ideas | An Indigo Day
Denim Jackets for Any Outfit | Good Housekeeping
Things to Wear with a Jean Jacket | Stitch Fix
Jean Jacket Ideas | The Pioneer Woman
More Style
50 Classy Wedding Dresses with Lace | Wedding days are big deals for the people involved in them. But no one is working as hard on this day as the dress.
Fall Nail Designs to Rock Any Outfit | Fall is the perfect time to try out some new artwork on your nails.
Sexy Ways to Wear a Navy Suit | Navy suits have a time and place, but that doesn't mean you can't rock them the way you want when you want.
Colorful Acrylic Nail Designs that Work Throughout the Year | Adding a touch of color to your outfit is easy when you start encompassing your nails into your outfit.
New Years Eve Outfits | New Year's Eve is the best time to go all out with your outfit. Say goodbye to the previous year and hello to the new one in style.