10 Sexy Ways to Wear a Navy Suit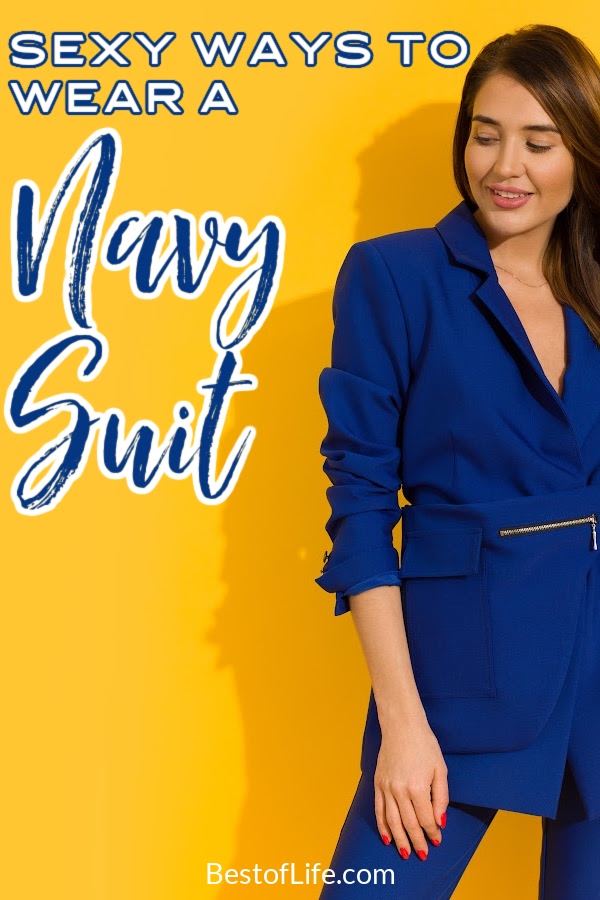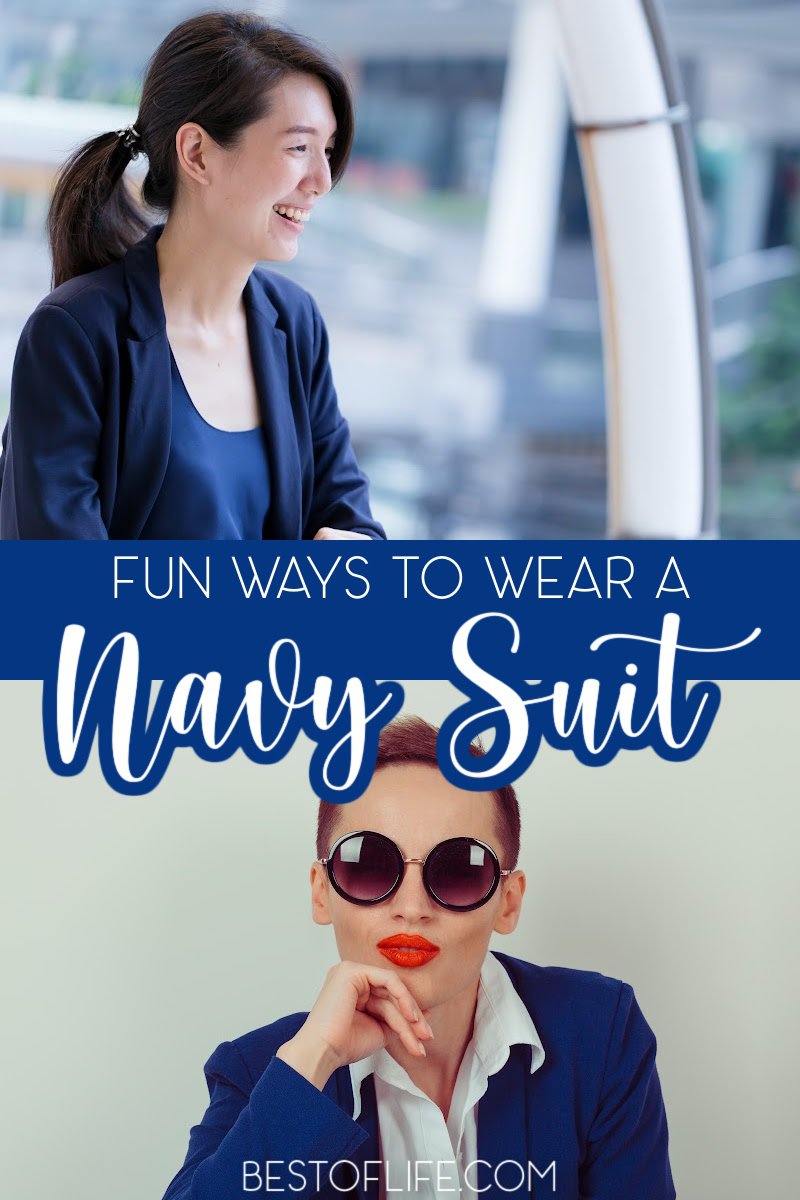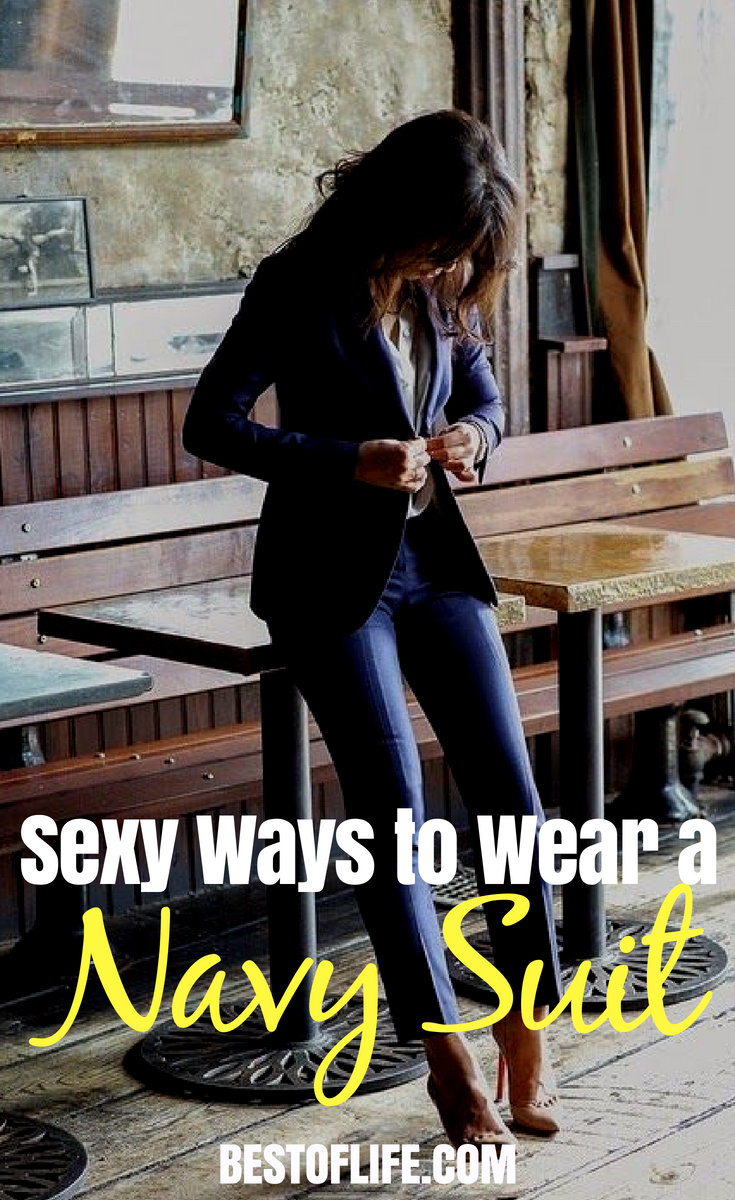 There are many ways to wear a navy suit and each way will portray a different appearance. Even if it is the same navy suit, wearing it a different way will give off a different vibe. But how you wear it will determine which it becomes.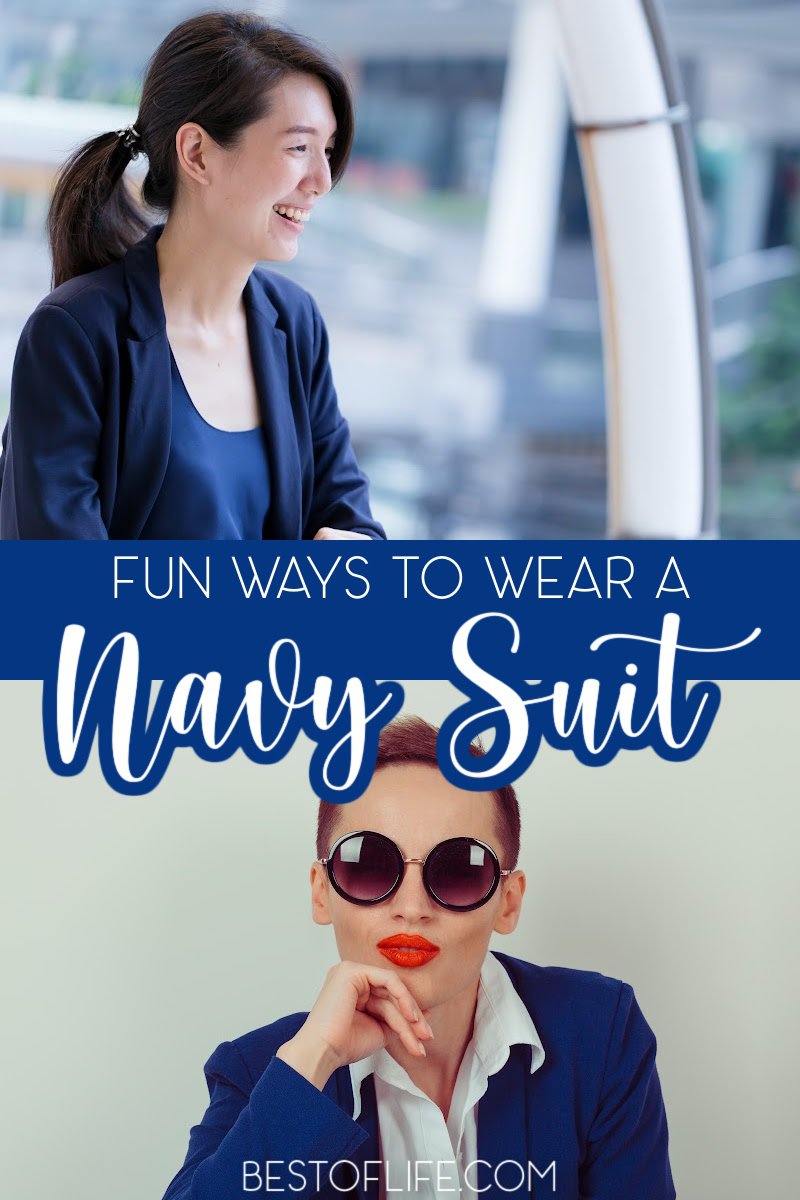 For men and women, a classic, well-fitted, navy suit can say all business during the day and total sex appeal after five. Both men and women can look stunning in a well-tailored navy suit. There are a few different ways of wearing a navy suit to achieve a sexy, yet appropriate look that transitions seamlessly from the office to date night. It all comes down to basics, and not all navy suits are created equal.
Start with a good foundation. A well-constructed, well-tailored suit in a quality fabric will impress everyone from your boss or an important client to your after-work date. From workdays to happy hour dates, here are the 5 things you need to know about wearing a navy suit that screams "sexy".
5 Sexy Ways to Wear a Navy Suit | Men
Fit
It will pay off to invest in a well-tailored suit. A jacket should be just long enough to reach the knuckle of your thumb with your arms at your sides. The shoulder of the jacket needs to fit right at your shoulders.
Style
Both a classic- and a modern-style suit can be super sexy if done properly. For a classic look, your pants should break just at the top of your shoe and your socks should not show when you are standing. For a sexy but more modern look, have your pants tailored to your ankle which is going to make your choice of socks much more important.
To Tie or Not to Tie
What is the sexiest way to wear a tie? Windsor Knot. If you choose the no-tie look, a fitted, crisp shirt is the way to go.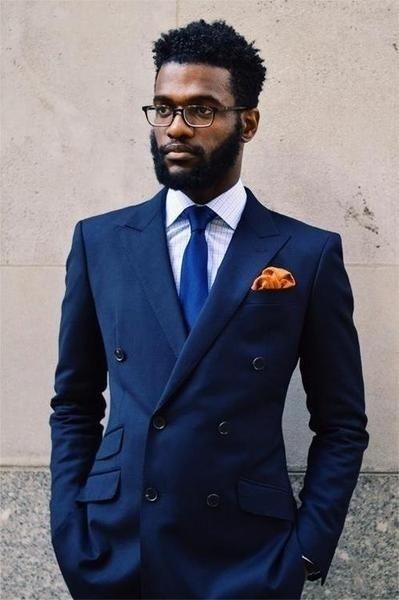 Accessorize
Attention to detail is sexy. A good watch with a metal or leather band is sexy. Sports watches and fitness bands? Not sexy. Add a tie bar, cufflinks, or a crisp pocket square, and watch your sex appeal soar.
Socks and Shoes
For a navy suit to be truly sexy, it must be sexy from head to toe. Your shoes should be high quality in a strong shade of brown with no scuffs or scratches. Socks are where you can add a little personality, which is always sexy. As long as they feel good and stay put, take a risk and mix in color and prints.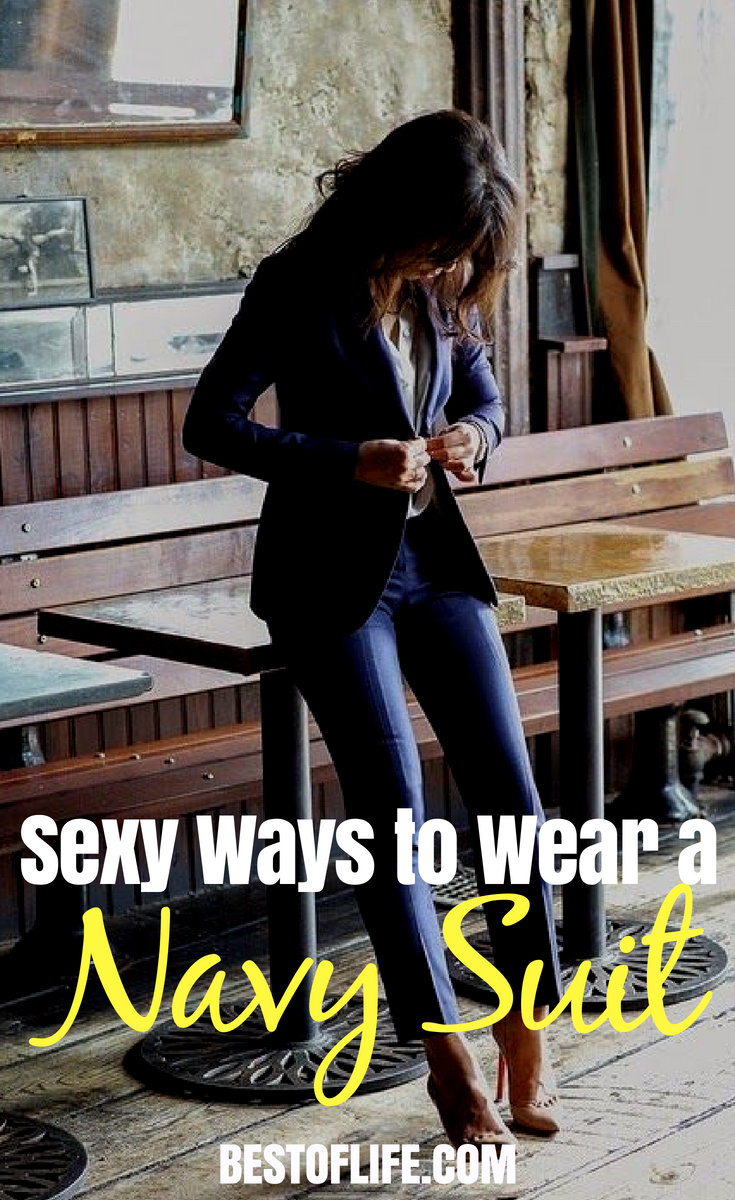 5 Sexy Ways to Wear a Navy Suit | Women
Fit
An impeccably fitted women's suit is inherently sexy. The hem of your jacket should skim your hip bone. Sleeves should hit about mid-thumb and the jacket should maintain its silhouette even when unbuttoned. A little (but not too much) detail adds sex appeal.
Pants or Skirt
The sexiest cut for a pant is fitted (or slim) and hemmed short (just above the ankle). Go for a sleek, minimal look with small or no pockets. If you're opting for a skirt, go with a tailored pencil style that just hits the top of your knee.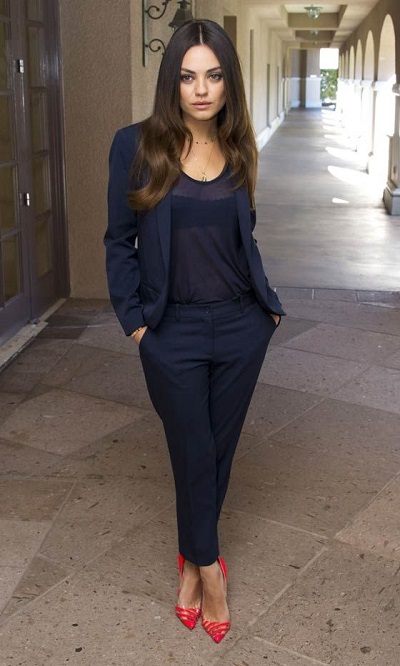 Top (or Topless)
Forget the stuffy, bulky blouses. Achieve a sexy look with a simple silk top. And, if you're really trying to kick up the sex appeal (after hours, of course), ditch the top altogether and button up the jacket all the way. You'll get a deep v-neck cut that is sure to turn heads!
Accessorize
Sexy is about you, not the accessories. When you want to ramp up the sex appeal, keep it simple. Sexy earrings, a strand of pearls, a stylish watch or a statement bag. Pick one or two and stick with it. And don't forget the sexiest accessory of all — confidence!
Shoes and Hosiery
Think pointy toe and mid-heel! The perfect sexy shoe. It creates a beautiful line from your toes up. It's perfect for both the pants and skirt options. As for the dreaded hosiery? You can skip it with pants. With the skirt, sex it up with an ultra sheer navy or tiny, subtle fishnet from a lingerie line.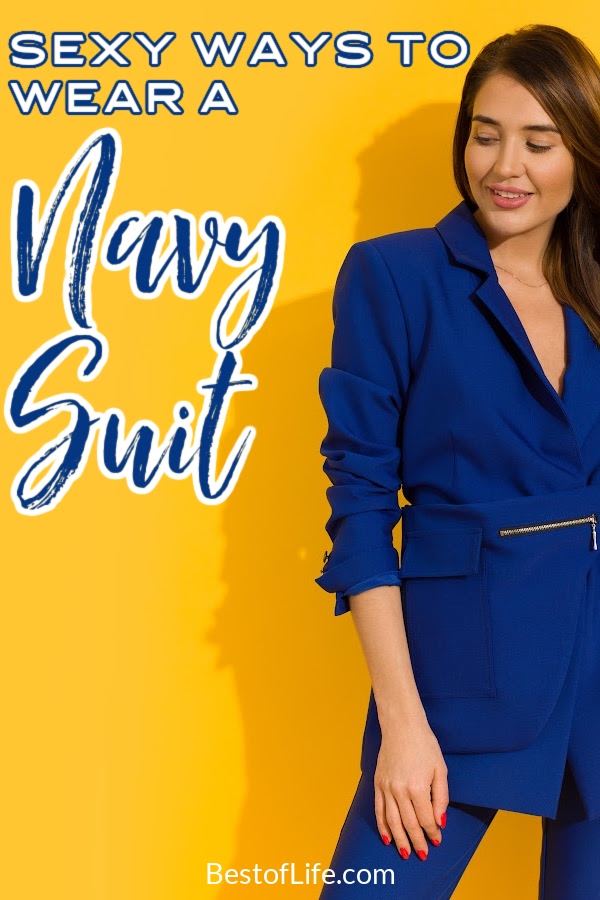 More Style and Fashion
Classy Wedding Dresses with Lace for Your Special Day | No one wants to be told what to wear on their wedding day, but you can take inspiration from others.
Ways to Wear a Jean Jacket | STS Blue | Jean jackets are back! How are you going to style yours?
Fall Nail Designs to Rock Any Outfit | We can't forget about our nails, nails are just as important to an outfit as the outfit itself.
Valentine's Day Nail Ideas | You can even use your nails to get into holiday seasons or celebrations.
Colorful Acrylic Nail Designs that Work Throughout the Year | But you will have an easier time with nails that are good for any time of year.