10 Summer Bullet Journal Ideas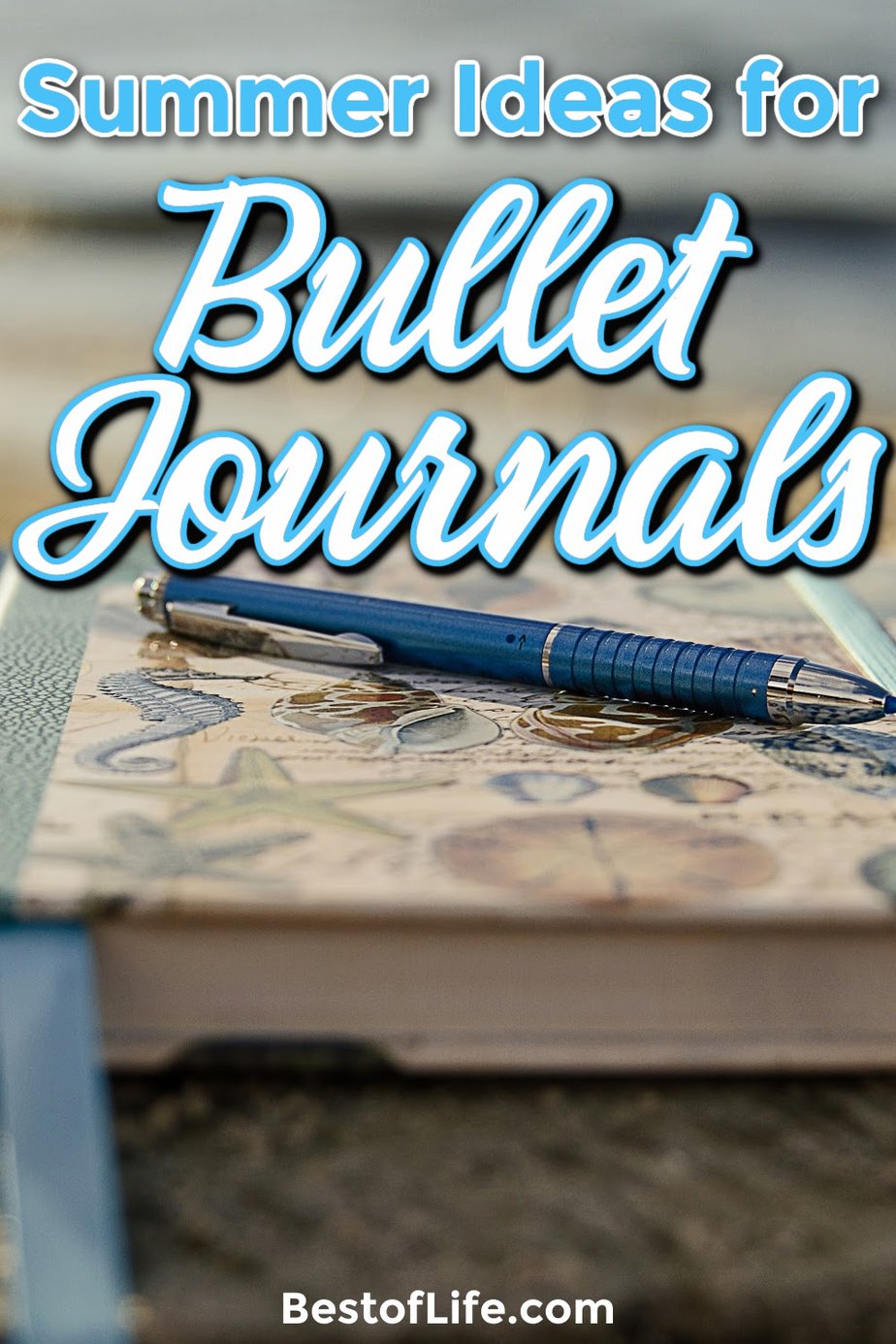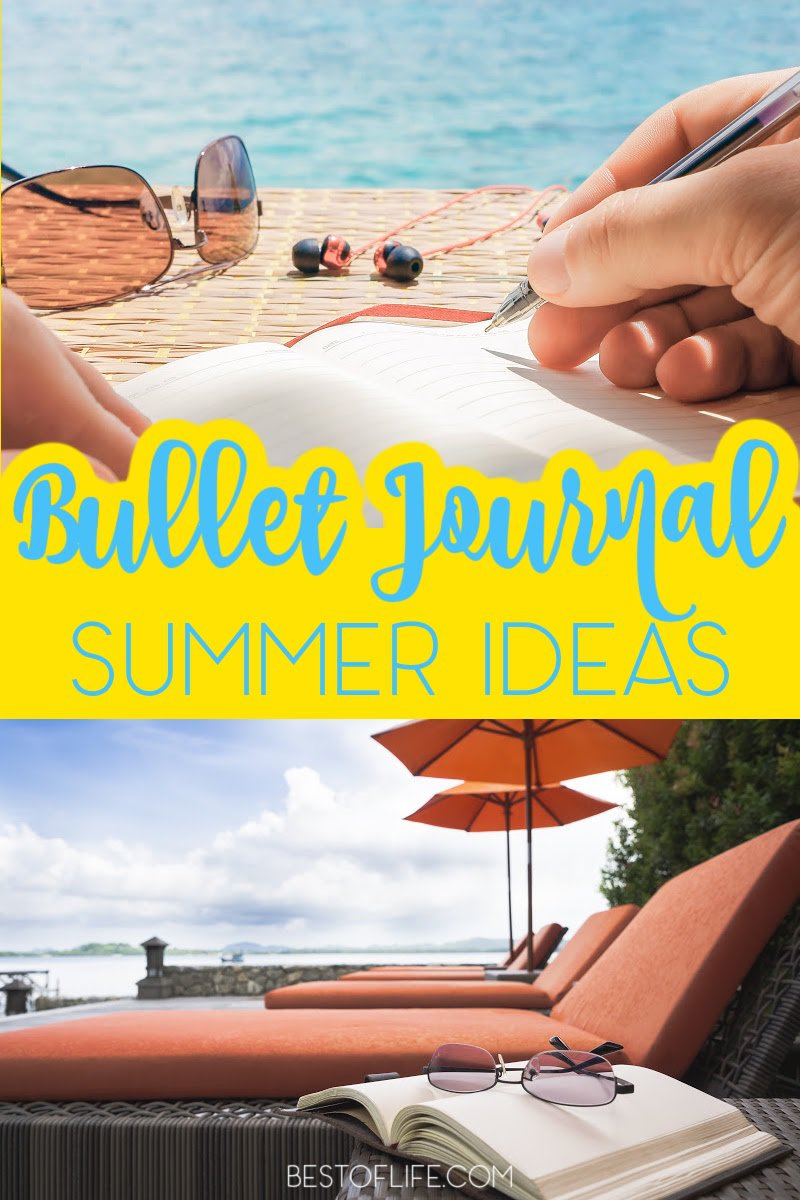 Bullet journals are a great way to stay organized throughout the year. For students, bullet journals can help with their studies and for adults, they can help with work and responsibilities. But what about during summer vacation? Summer bullet journal ideas can help keep your life organized as well as your vacation plans.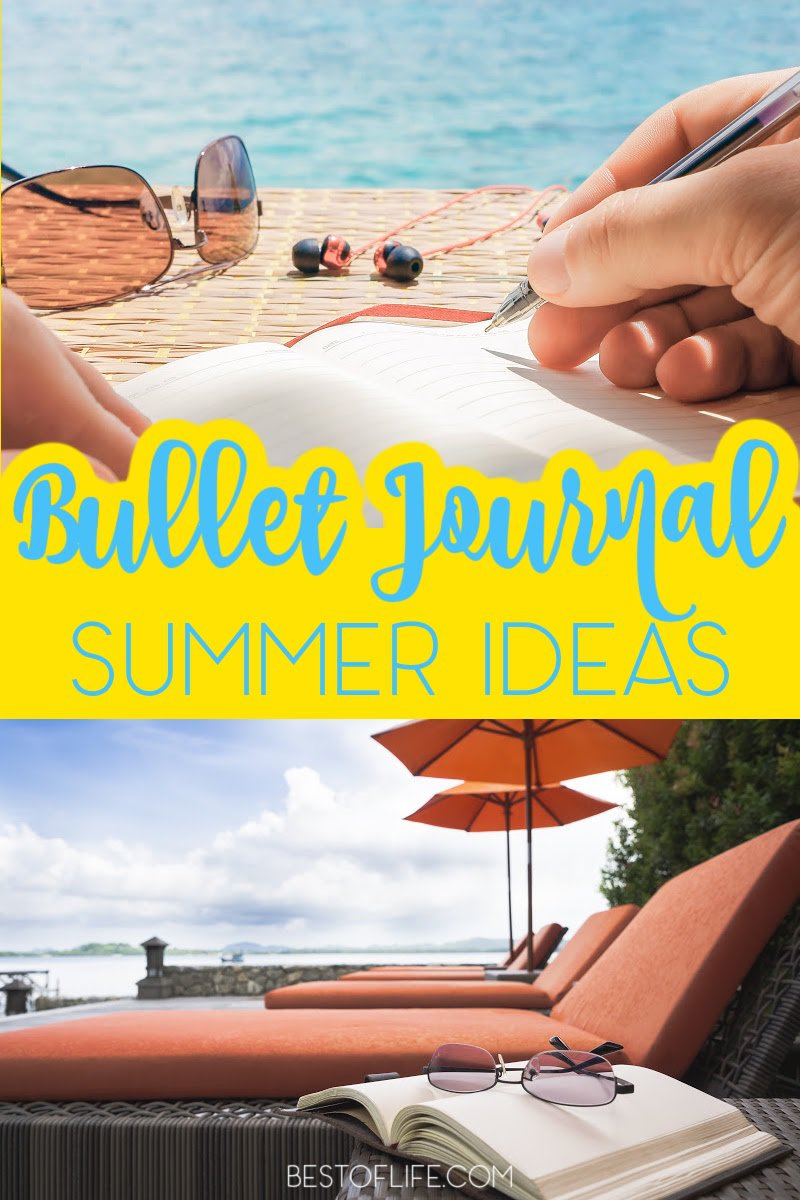 Use the best summer bullet journal ideas to help keep your life in order so you can enjoy the warm weather and your travels. It's easy to see how a bullet journal can come in handy during the holiday season or springtime. But once we hit summer, things get a little different.
For students, there is no longer a need to stay organized in school. For adults, work tends to slow down a bit in most situations as people start taking family vacations and tropical holidays. So, what need could there be for a bullet journal?
Believe it or not, there are many ways to use a bullet journal and summer bullet journal ideas are proof that, even in the laziest of months, a little organization and planning can still go a long way.
Summer Bullet Journal Ideas | Budget
Finance is a perfect fit for bullet journals. The right methods and tools can help you save money, monitor spending, and keep track of goals. Many people tend to spend more in the summer as they have more time for shopping, vacationing, and eating out.
Use a bullet journal to help organize your summer finances so you can stretch that spending money out as much as possible.
Summer Bullet Journal Ideas | Ice Cream Calendar
While there are many things that should be organized in a serious way, don't forget to have some fun with your bullet journal. Ice cream is a popular summer treat, so it's only fitting that a touch of it should be added to your calendar.
We recommend setting up a page dedicated to the different types of ice cream you've enjoyed throughout the summer. Don't forget to decorate your summer months calendar with a few whimsical doodles like ice cream cones, flamingos, or palm trees.
Summer Bullet Journal Ideas | Summer Bucket List
Traditionally, a bucket list is a list of things you want to do before you kick the bucket. We recommend taking a new twist on it by creating a summer bucket list of all the things you'd like to do before fall arrives. A bullet journal is a perfect place for jotting down all the ideas, from visiting the beach to finally indulging that award-winning novel you've been meaning to read.
You can make summer bucket lists for whatever. Some other examples of things to include are swimming at the pool, going to a concert, driving to a new location, or trying out a new recipe.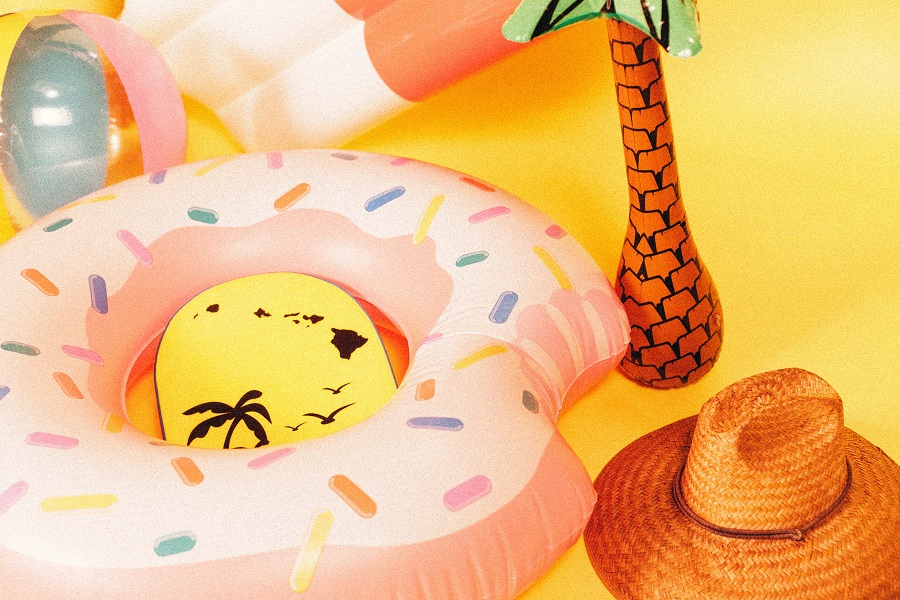 Summer Bullet Journal Ideas | Movie Checklist
Summer is the perfect time to head to the movies or just watch some classics at home. Take advantage of the extra time you have to watch some movies you've always wanted to or rewatch your favorites. Use your bullet journal to keep track of the movies you plan to watch and the movies you've already watched.
Have fun with it and maybe share the list with a friend or loved one so you can work your way through the list together.
Summer Bullet Journal Ideas | Road Trip
Many people use their vacation time to hop in a car and go on a road trip. You can use your bullet journal to plan out your road trip. Include details like where you will be going, where you'll stop along the way, and what you'd like to do while you're traveling.
Here is a fun idea: Make a list of each place you plan to visit and leave a space for someone to sign your bullet journal. At each location, ask someone you have interacted with to sign next to the location you are in. Make sure it is someone you had a good interaction with and feel comfortable asking to do this.
Summer Bullet Journal Ideas | Activities List
Throughout the year, we spend time on our phones, computers, laptops, in front of the TV, or any other screen you can think of. Don't let summer pass you by while you're watching a screen. Make a list of activities to occupy your time without looking at a screen.
Your list might include swimming, hiking, or even camping. As summer goes on, try to check off as many of them as possible. And remember — no screens!
Summer Bullet Journal Ideas | Travel Plans
Maybe, instead of a bunch of smaller trips, you want to take one, big, amazing vacation. Use your bullet journal to help you plan every aspect of your summer trip. You can budget how much to spend per day, how much to save, what activities are offered, and which you want to try.
You can plan ahead for so many things, but save a day or two during your trip for something else. Those two days or the single day you can keep completely plan-free and just let the winds of travel take you wherever they lead.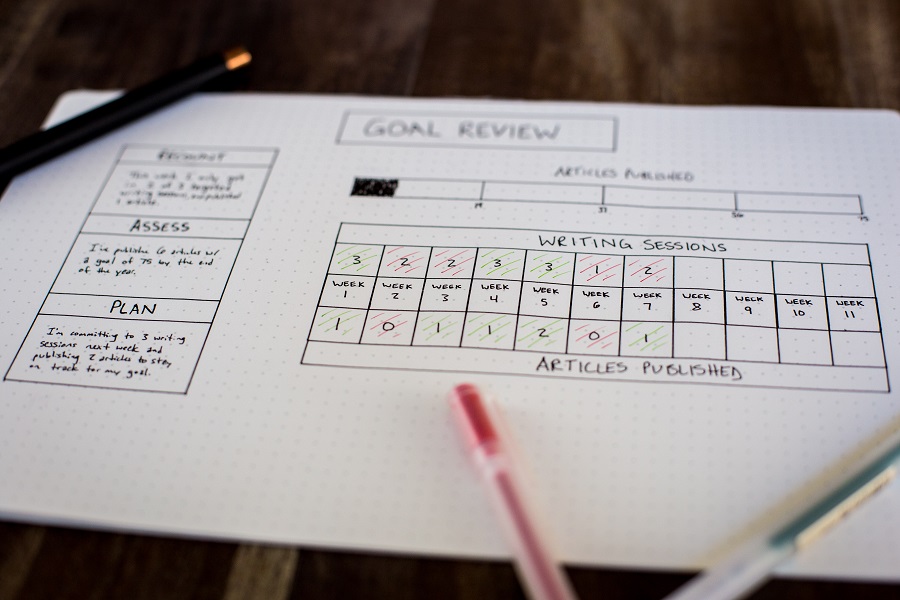 Summer Bullet Journal Ideas | Summer Calendar Spread
Summer lasts from the end of June until September, which means there are four pages of calendar that can be themed to summer. Many people doodle and draw on their calendar to just make it look great. Use those doodles, drawings, and even a few whimsical summer stickers to get into the summer feeling.
Include things like ice cream cones, waves, popsicles, and more. These will help get those summer vibes into the pages of your calendar.
Summer Bullet Journal Ideas | Summer Fitness Plan
Summer is the perfect time to amp up your workout schedule. Use a bullet journal page or two to help you organize your summer fitness plan. Of course, fitness during the summer also means planning for travel and this is a great way to stay on track while you travel.
You can create a schedule for your workouts and a plan specifically for when you travel. You don't even have to worry about where you're traveling. Journals can go with you anywhere.
Summer Bullet Journal Ideas | Self-Care
Summer is the season of self-care in many different ways. Many people travel to relax, have new experiences, and enjoy life. Your bullet journal can help with that by scheduling some me time. Write it down and schedule it so oyu have dedicated time to self-care.
You can take a nap, garden, relax in the bath, or listen to music, for self-care.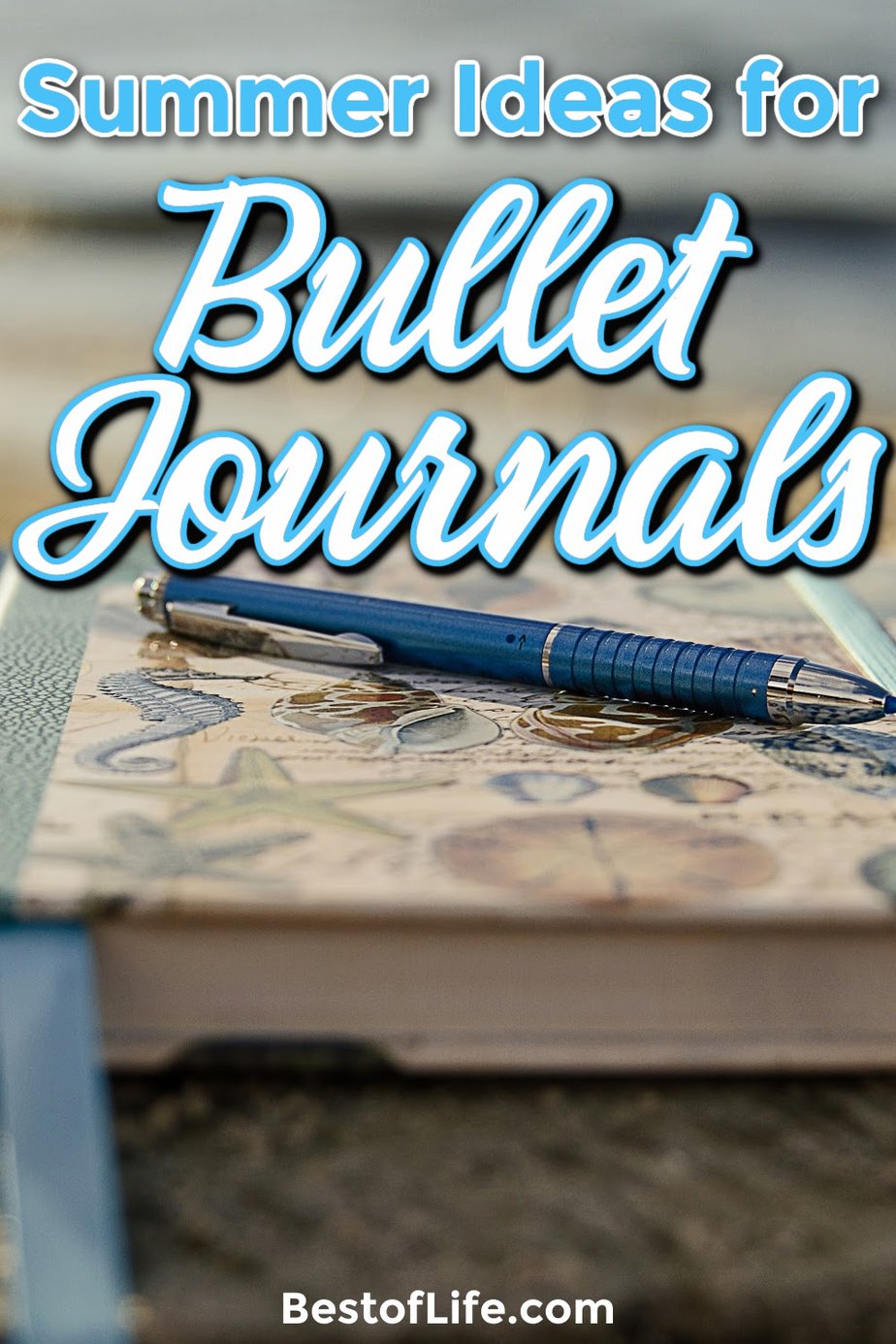 More Bullet Journal Ideas
51 of the Best Bullet Journal Ideas on Pinterest | Pinterest is a great resource for anyone trying to get started or improve their bullet journaling skills.
Bullet Journal Sleep Logs for Self Improvement | Sleeping is very important, but it is hard to keep track of how well you sleep. A bullet journal can make it easier.
Bullet Journal Organization for School | 21 Ideas to Try | Bullet journals are perfect for students who want to stay organized and pass with flying colors.
Bullet Journal Hand Drawn Doodles to Add Creative Flair | You can even doodle in your journal if you wanted to and there are some great ideas for that as well.
15 Printable Bullet Journal Templates | A good place to get started with bullet journaling is with some premade templates.