Best Stranger Things Memes Season 4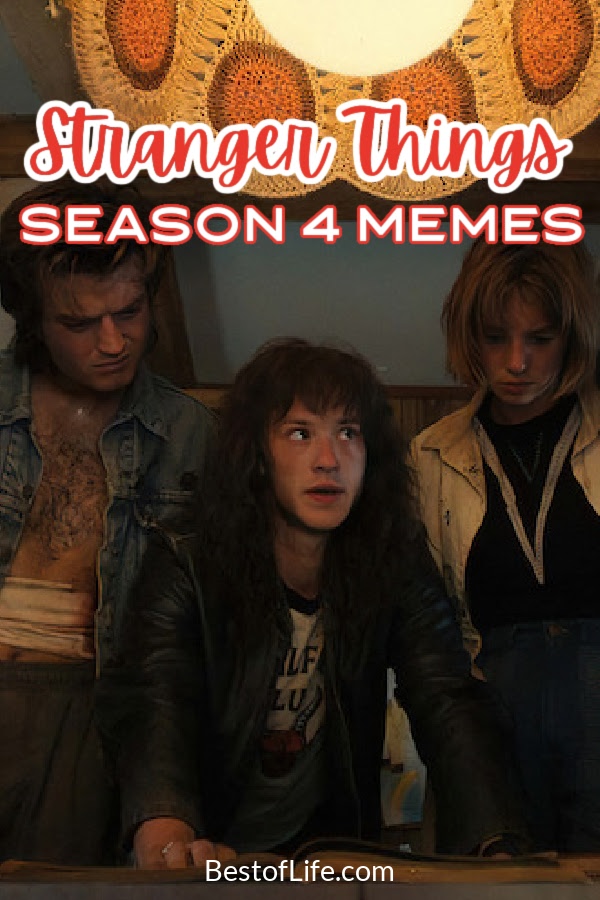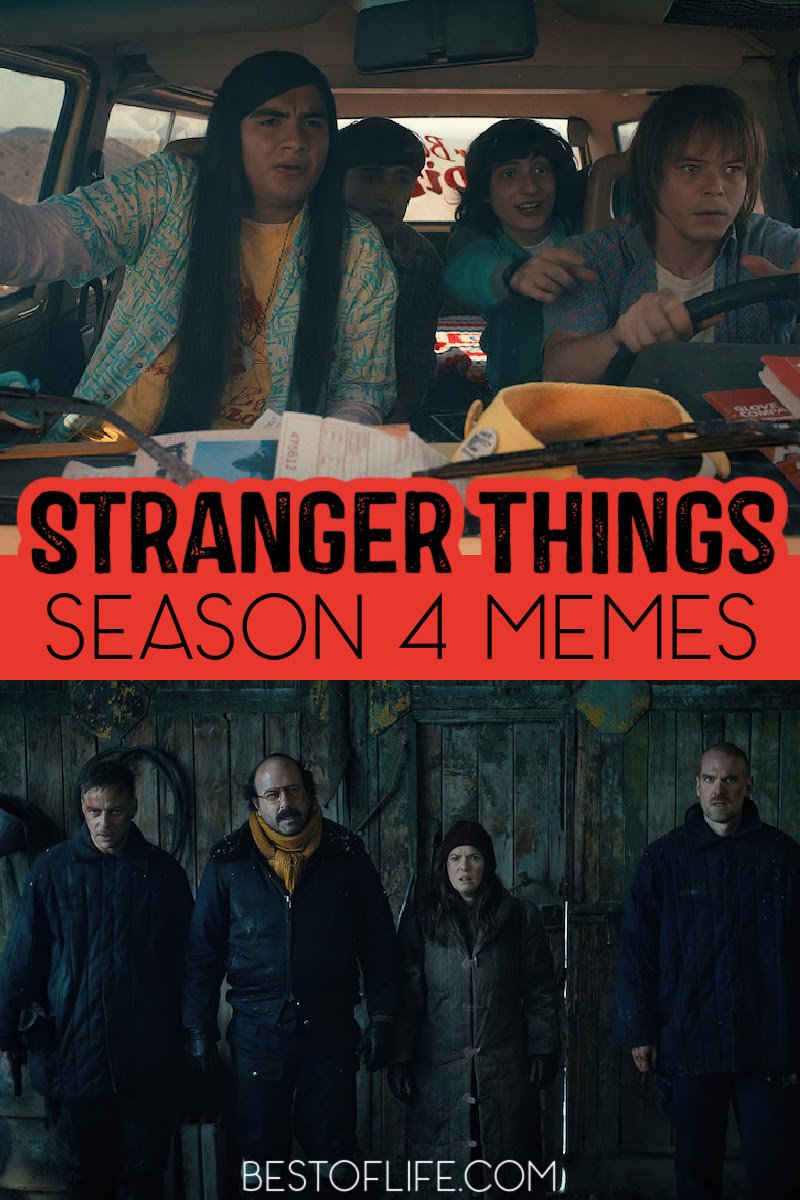 The first thing you should know is that there are spoilers ahead. Season 4 of Stranger Things has taken the world by storm! Everyone can't stop talking about how amazing this season has been. In fact, search for the best Stranger Things memes season 4 and join the conversation.
The best Stranger Things memes season 4 help us understand the enormous emotion this show has brought us all. Last spoiler warning, let's dive into Stranger Things season 4. What a season? This show has been strong since the first episode of season 1.
But television series follows a trend that could be their downfall. Most shows start out well. Writers have all the time in the world to perfect their work before trying to get it turned into a series or a movie. But there is a turn that shows take after the first season and that could be due to schedules.
A good first season means the networks and viewers expect the second season in a year. That means the second season needs to be written or mostly written in a short time span. That tight schedule usually leads to the subsequent seasons being less than.
But we had some world events that allowed the Duffer brothers to have plenty of time to edit and perfect the writing for season 4 of Stranger Things. They used that time to take us on a roller coaster of emotions, making every episode over an hour long and giving most of the characters the things they needed to shine. Max!
Those emotions were a lot to handle and we needed to get them out. We talked with our family and friends about what they thought, watched interviews and reviews, and of course, we tweeted and posted as much as possible.
In fact, we even made THE song top of the charts reinvigorating Kate Bush's music for a new generation. The internet does not stay quiet, it gets loud about any emotion it feels, good or bad. Stranger Things season 4 fell into the former and was praised by just about everyone.
Anyone who didn't like it was basically told to stay out of the conversation. You can see the emotions that people felt summed up in one sentence or even one word in some of the best Stranger Things memes season 4.
Stranger Things Memes Season 4
Let's start off with one of the best additions to the show, Argyle! This character is one of those unsuspecting geniuses. Sure, he spends a lot of his time high in the show. However, he also is the one who saves the day. Argyle decided to use the fridge for the mind battle and if it weren't for him, Max would be dead dead.
There wasn't a single soul on earth that wasn't watching Stranger Things 4 when the first volume dropped. Then, even souls on other planets were watching volume 2 when that dropped. It was just a collective tear-fest that we all can't wait to jump back into for season 5.
The caption team knew there would be Stranger Things memes season 4 or they just wanted to mess with people. They used unique wording to describe the tentacles that move around in the Upside Down. The wording was something like, "tentacles moving wetly" and now wetly is a way to describe things.
Steve is back and the women went bananas yet again. Apparently, hairy chests are all the rage so long as you are fighting of demon bats in another dimension. Well done, Steve, you have yet again made it difficult to compete.
The only person who gave Steve a run for his money this season was the other new addition to the show that matters, Eddie Munson. Eddie started out as an outcast, a weirdo who leaned into the image others projected onto him. But now, he has gone down in pop culture history as the guitarist who played the best show ever.
Here he is again! We just can't get over Steve. Better yet, the internet can't get over Steve. He deserves the praise he gets but now it is getting ridiculous. Time to figure out how to be more like Steve in every day life.
Remember Thanos and Thor? Introducing Nancy and Vecna. Nancy is capable of many things and is a strong woman. But she definitely should've gone for the head. On the other hand, we wouldn't get a season 5 if Nancy had a better shot. At least according to the Stranger Things memes season 4.
There were two villains introduced this season on Stranger Things. However, one of them still has room for reconciliation, the other doesn't. We will give you one guess as to who you should be more afraid of while watching Stranger Things. One hint, this man is the reason Max is in a coma.
These are the things you will need when watching Stranger Things and maybe even looking at Stranger Things memes season 4. You should know why for each item, especially if you're reading these spoilers. Speaking of spoilers.
Eddie is dead and his memory is trashed by all except those who knew what really happened. Bob didn't have the same trashy legacy but he is another hero who died too soon. RIMR Eddie, Rest in Metal Rock.
We all know that she deserved it. She deserved it. Do we think it was the right thing to do? No. But what we deserve isn't always right and she had it coming. We bet you will never look at roller skates the same.
There is nothing from Season 4 of Stranger Things that has us celebrating. Maybe the "Hey, kid" at the end but not much else. Even vecna was on the phone trying to get a therapist to help with all of the trauma that has been caused.
We can start those therapy sessions with trying to not panic every time we see a grandfather clock in real life. That scar is a deep one and understandably so. Maybe we need some more light-hearted Stranger Things memes season 4.
Vecna had one weakness, music. Max was able to use the music to find her way home in Volume 1. The music wasn't able to help thanks to the biggest villain in Stranger Things Season 4 as mentioned above. But Running Up That Hill by Kate Bush was able to find its way back from the Upside Down and onto the music charts.
The one thing we can take away from this season is that the Duffer brothers got very lucky with the talent they chose on day 1. Caleb McLaughlin plays Lucas and he really got to show his acting muscles this season. Millie Bobby Brown has always had the chance to shine but she has shown some real advancement in her skills.
Gaten Matarazzo aka Dustin got real emotional in the best ways during the worst scenes of the show. We thank you Gaten for your amazing work. Sadie Sink, the actress who started the Emmy talk for all of us online. Sadie flexed her skills and showed us that she is going to be an acting force to be reckoned with so long as she keeps going.
More Netflix
Funny Stranger Things Memes for your Day | Let's take a look back at some of the memes from the first season of Stranger Things and a couple from season 4 as well.
Netflix Shows to Binge Watch this Summer | Stranger Things is not the only thing on Netflix, though, you'd be forgiven if you thought it was only Stranger Things at this point.
Netflix Shows 2020 | In fact, there are Stranger Things caliber shows from just about every year since Netflix started streaming online.
Scary Netflix Movies to Watch for a Frightful Night | You can scare the pants off yourself with the help of the horror section of Netflix.
10 Netflix Shows to Binge Watch as a Couple | You can also get romantic with the help of the romance section of Netflix as well.