Office Decor Ideas for your Home Office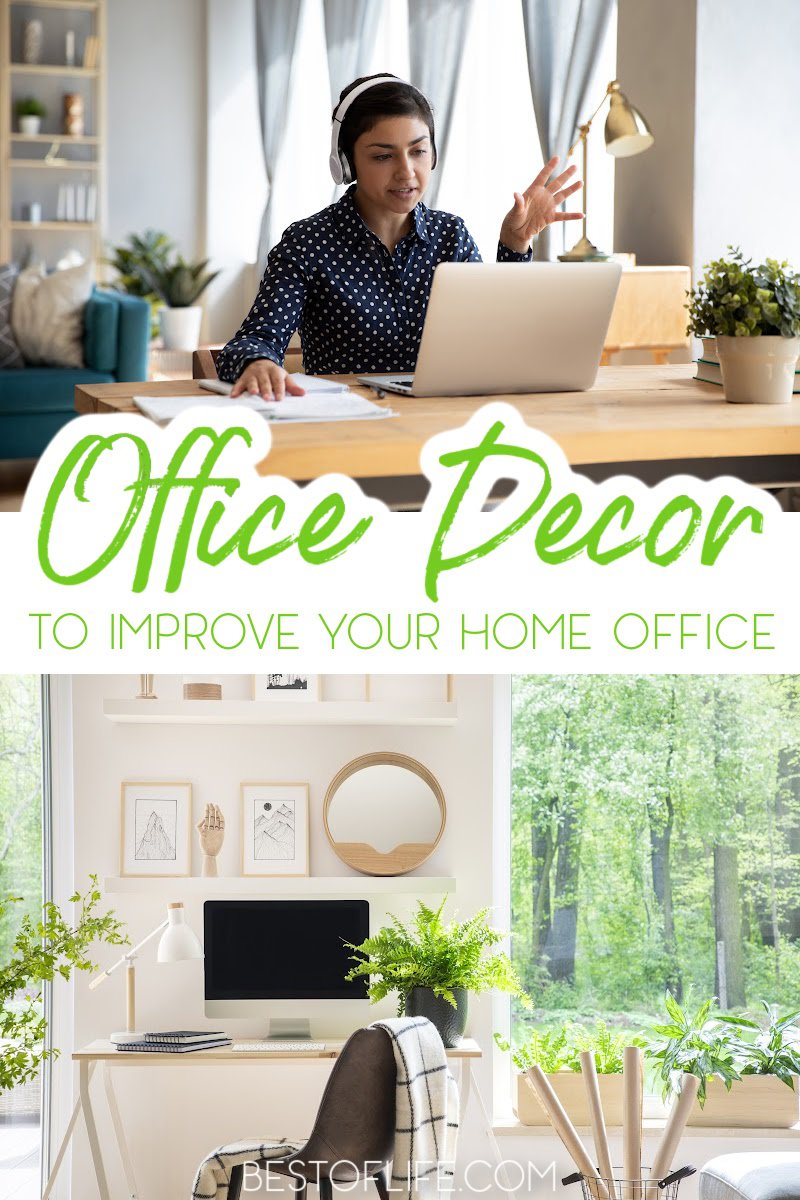 I love that I can redecorate whenever the mood strikes me. Working in a corporate office was never really an option. These are some great office decor ideas for your home office that will help you make the most of your space while also keeping things looking great!
One of the best things about working from home is the home office. You can decorate your office the way you like. Office decor ideas for your home office are great for keeping your productivity AND comfort levels high. When looking for office decor ideas for your home office you have to incorporate your own style combined with functionality!
It's never a bad time to spruce things up. When paint just won't do it, you need some office decor ideas. I like that changing out simple elements can give the office a whole new look. These ideas are all available online. With a Prime membership (or even a trial membership) you could have these gorgeous and totally useful pieces at your doorstep in two days! Try Amazon Prime 30-Day Free Trial
.
Office Decor Ideas and Design Inspiration
Home Decor Ideas for the Office | The Best of Life
Dry Erase Board and Desktop Tray | Two Twenty One
I have to have a bulletin board. Notes and pins and reminders. I like to hang stuff up without messing up my walls. I also really don't like having a bunch of clutter on my desk. A modern bulletin board helps me keep my office decor ideas on point without looking so much like an office.
The great thing about bulletin boards today is that they are so modern-looking. You can hang one up and when it is unadorned you can still stand to look at it!
Clip Board Wall Art | Craft O Maniac
Beach House Home Decor Ideas | The Best of Life
One of the best ways to keep your office functional and beautiful is through organizational elements. You can always use more organizational pieces, there are so many modern, chic, and classic-looking pieces. They add function to your space while also giving it a pop of color, a fun design, and lots of useful storage!
DIY Fringe Photo Garland | Homey Oh My
Snow White Whistle While You Work Sign | Liz On Call
I'll be the first to admit that sometimes the walls are my last focus. I need a comfy chair, a beautiful desk, a printer that works ALL OF THE TIME, and a fast wireless router. When I finally look up I realize that my walls are bare! Posters and prints are a great way to spice up the walls.
You can pull together all of the office decor ideas with a few simple prints on the wall. Posters and prints can be framed and hung up to show off your own personal style.
Acrylic Wall Calendar for the Office | The House of Wood
DIY Instagram Gallery Wall | Popsugar
Office Chairs
Office chairs are a big part of the overall aesthetic of any home office. You can change the whole look and feel of the office by swapping out your desk chair. There are so many great options now that you don't have to go with the typical, black, plain, utilitarian, chair.
Choose something modern or something classic, find something with extra support or added height. The possibilities are endless.
Desk Lamp DIY Tutorial | Decor and the Dog
DIY Standing Desk | Creative Green Living
One of the main focal points of any home office is the desk. When I'm searching for office decor ideas I always fixate on my desk. I try and decorate the office to revolve around the desk. When I need a big, new, makeover I splurge on a new desk. This gives me a focal point to focus my new decorating around as well!
Iron Mesh Mood / Message Board | My Paradissi
Industrial Wood Office Shelving | Moodish and Main
Home Office Changes | My Full House
More Decor Ideas for the House
Beach House Home Decor Ideas for a Coastal Retreat | Decorating your home as a beach house without being near the beach isn't as hard as you may think.
DIY Whiskey Barrel Planter Ideas | Whiskey barrels can make a big difference in your front or back yard.
Halloween Decorations for a Spooky Party | Decorating is more common during the holidays, first up is Halloween!
Elegant Bridal Shower Decoration Ideas | We also decorate our homes for special occasions like a bridal shower for that special someone.
Summer Decorations for an Outdoor Party to Remember | You can also use seasonal decor to help amp up your parties to a whole new summer loving level.