DIY Whiskey Barrel Planter Ideas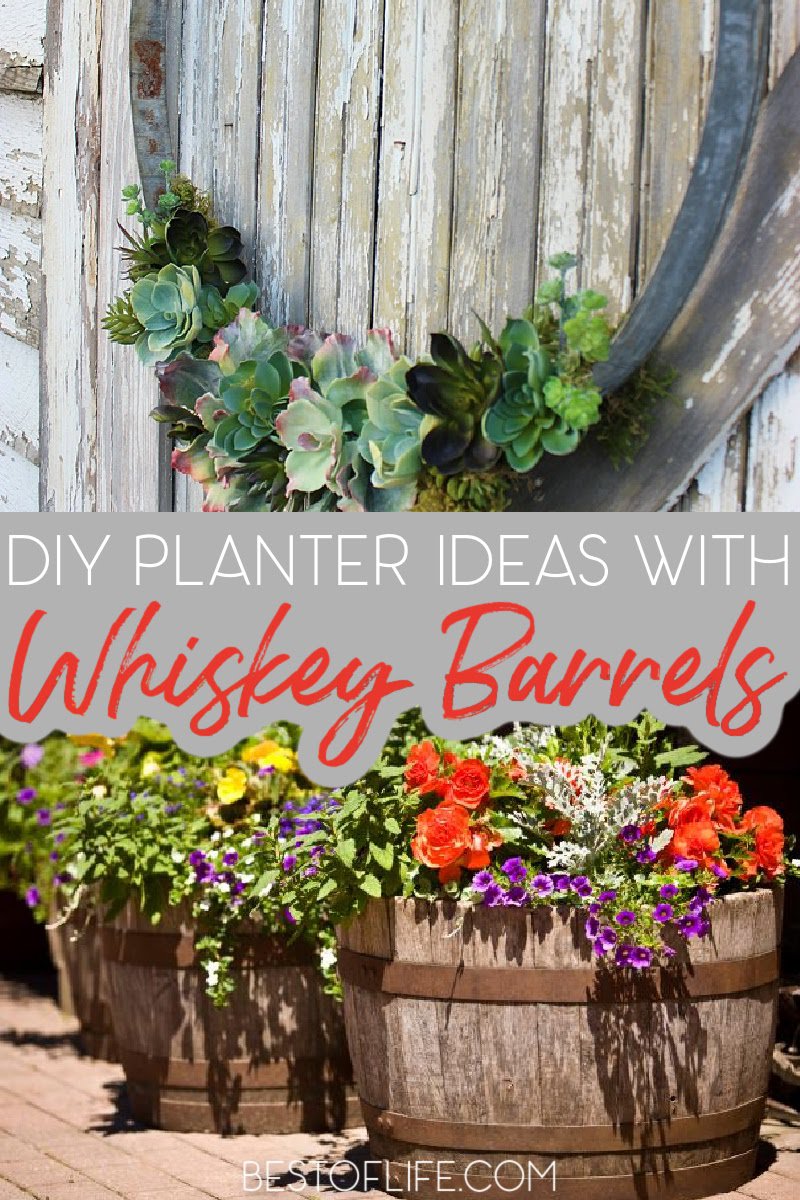 There are so many different DIY whiskey barrel planter ideas out there that it is easy to see why they're so popular. While you may think whiskey barrels are so popular is because of the size, it's actually for the look. An old barrel in the garden offers a classic vibe that will lend any garden a touch of charm.
As far as custom planters are concerned, the most widely used may just be the whiskey barrel. Take your DIY craftiness to a whole new and exciting level with DIY whiskey barrel planter ideas for your front or backyard gardens.
Whether you're the gardening type or are simply looking to start a new hobby, there are plenty of fun ways to dress up your outdoor space. Whiskey barrels make for amazing planters for many different reasons. Not only are they large enough to support plant growth, but they are the perfect way to upcycle something old while adding a charming farmhouse vibe to any outdoor space.
To top it off, there are plenty of DIY whiskey barrel planter ideas to choose from. Whiskey barrels are available easy to find at most home supply stores. Once you get the barrel, the crafting can begin. And really, the options are endless.
While some of these projects are perfect for beginners, others are a little more advanced. Likewise, some projects lend a rustic vibe while others add a dash of magic and whimsy.
Planter Posts for String Lights | DIY Network
Wine Barrel Ring Succulent Wreath | This Grandma is Fun
Classic Barrel Container | HGTV
Wine Barrel Garden Sink | The Owner Builder Network
Birdhouse Planter | Houzz
DIY Whiskey Barrel Planter Ideas
Whether you're looking to plant some beautiful flowers or invite a little wildlife into your yard, a whiskey barrel can make it happen. Of course, you will need to get creative with how you use it or decorate it, or even deconstruct and reconstruct it to fit your specific look.
Whiskey Fire Pit | Tauni Everett
Spilled Flower Pot | Cosmic Poison
Fairy Garden | Crows Feet Chic
Wine Barrel Goldfish Pond | Andy Smith
Barrel Ring Garden Art | Home Talk
DIY Garden Ideas
Remember, there is nothing wrong with the classic look of a whiskey barrel cut in half and filled with beautiful plants, but why stop there? You can DIY your way to a beautiful garden that looks like it belongs in a magazine somewhere.
DIY Whiskey Barrel Mint Garden | Chicken Scratch NY
Spilled Garden | Southern Patio
Wine Barrel Garden Prep | Hitchhiking to Heaven
Bamboo Wall | The Danger Garden
More DIY
DIY Mesh Easter Wreaths and Centerpieces with a Pop of Color | Easter might be one of the brightest holidays of the year; filled with spring colors that you can use for decor.
DIY Gender Reveal Ideas that Don't Cost a Fortune | Gender reveal parties might get out of hand sometimes. But you can celebrate and do it safely with these ideas.
Spring Wreath Ideas for Your Front Door | DIY Wreath Ideas | Remember that pop of color from spring? You don't have to use it only during Easter, you can use it all season long.
DIY Kitchen Makeover Ideas for any Budget | Ready for a kitchen makeover? There are makeover ideas for every budget that will make a difference.
Best Wine Gifts to Give | DIY Wine Basket Ideas | Wine makes a great gift, especially if you do it correctly.