Spooky Indoor Halloween Decor Ideas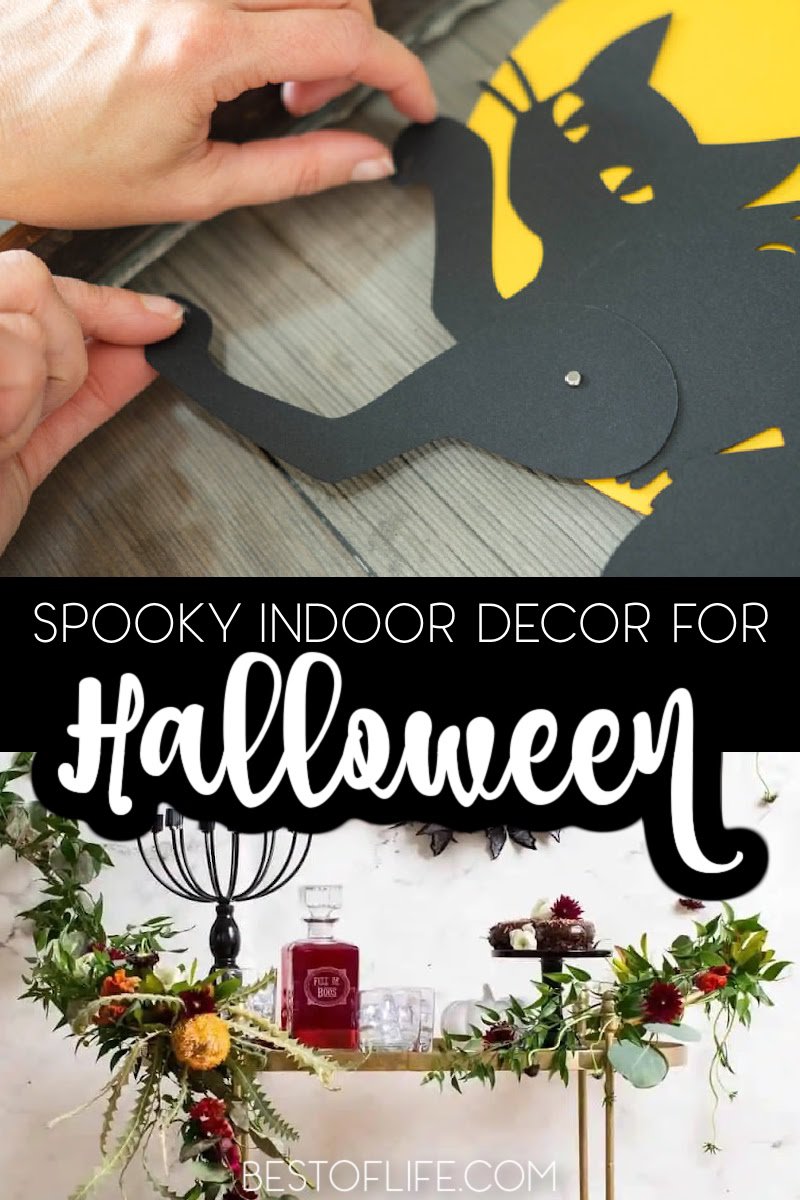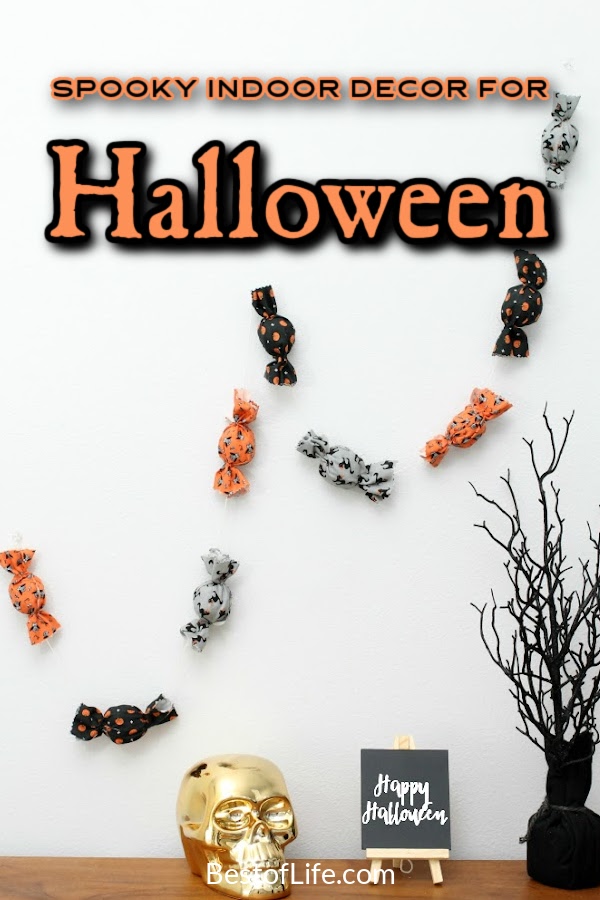 The Halloween season is like any other major holiday that arrives earlier and earlier every year. Usually, this only applies to Christmas, but Halloween fans have helped inspire an earlier Halloween season. Now we just need some spooky indoor Halloween decor ideas to get in the mood.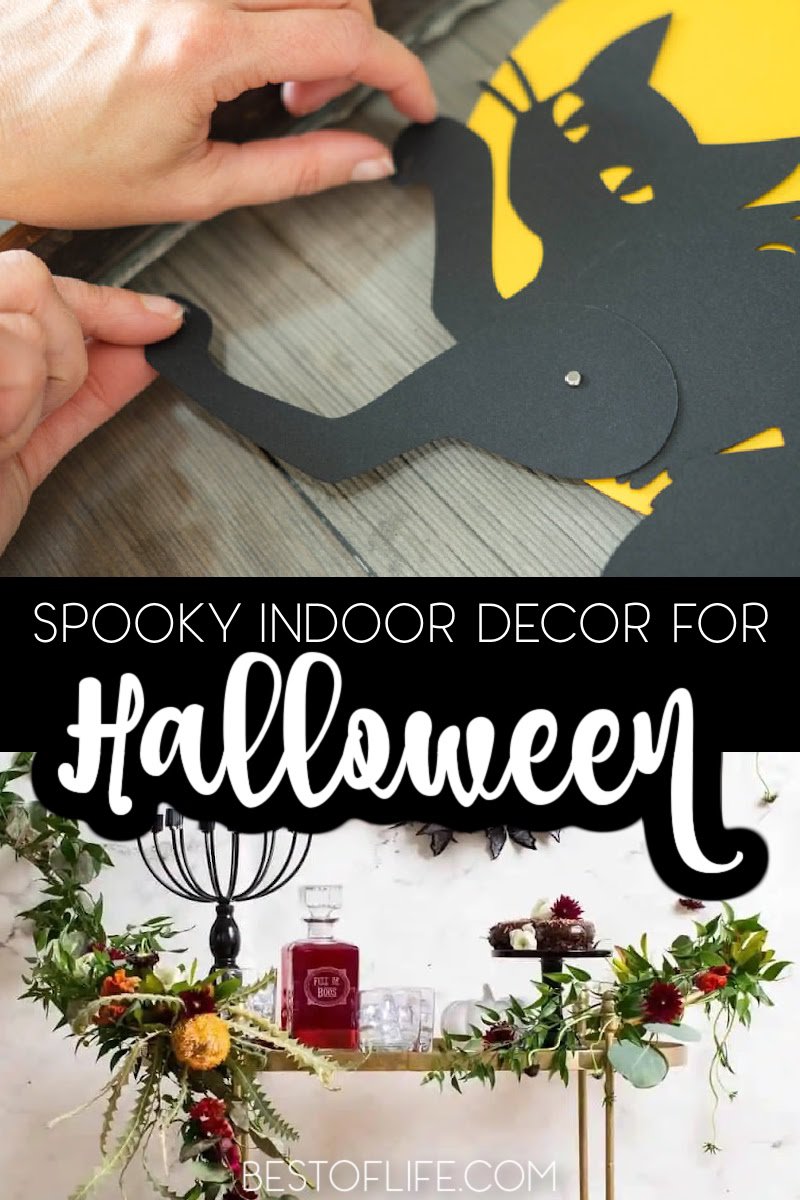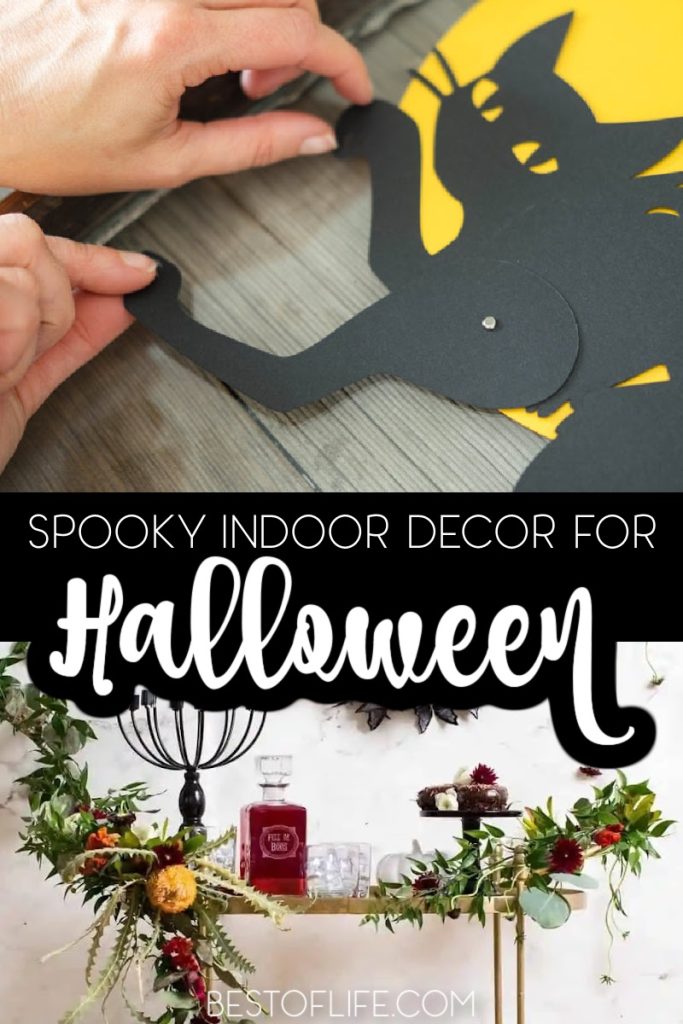 Decorate with these spooky indoor Halloween decorations to create the perfect Halloween party everyone will remember. It is true; holidays always seem to come earlier and earlier every year. However, it's not that the people are getting in the spirit earlier and earlier each year.
In fact, the reason it feels like holidays come earlier each year is advertising. Companies know we're willing to celebrate longer, and it is a great chance to make more money by selling us on holidays for longer periods.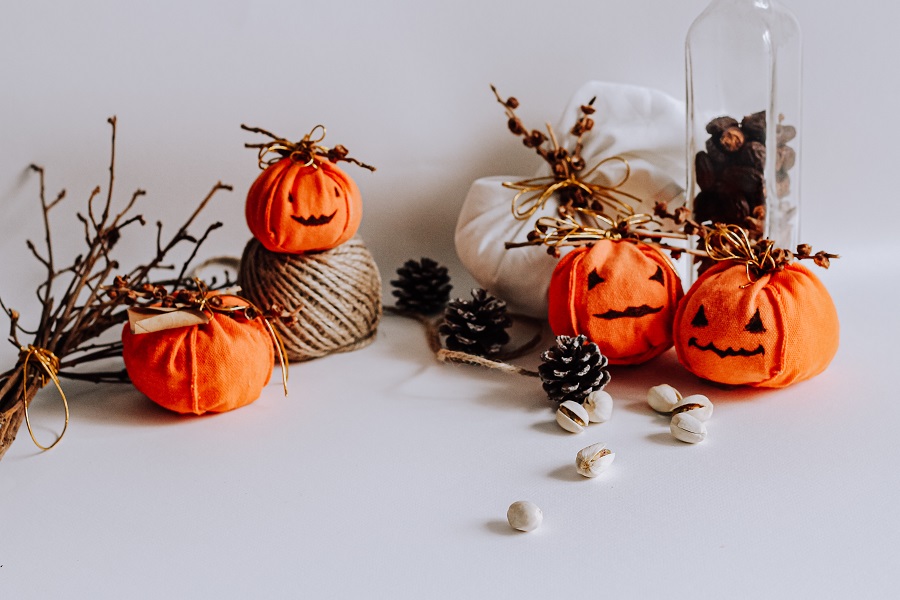 There's nothing wrong with that, but not everyone has the funds to replenish Halloween decor every year. Holiday decor, no matter the holiday, can get very pricey. As of writing this, there is a $379 skeleton online.
That is why we turn to DIY for holiday decor. You can DIY yourself with pretty much any decorative item you'd like. Of course, you will need to put some work in, and that means an investment of time.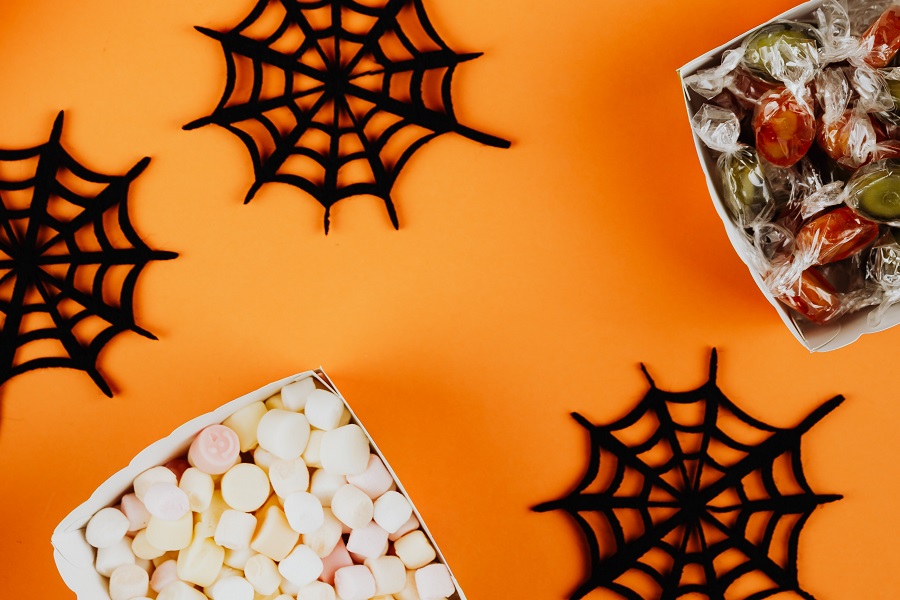 But the end result is worth it when you think about how much Halloween decorations could cost you. You can make both indoor and outdoor decorations as well. But the biggest benefit of spooky indoor Halloween decor ideas will always be the customization options at your disposal.
Dollar Tree Halloween Skull Decor | 17 Turtles
DIY Halloween Craft Candles | House of Dewberry
Distressed Glass Bottles | The Kim Six Fix
Skull String Art | A Beautiful Mess
Trash Bag Spiderwebs | How About Orange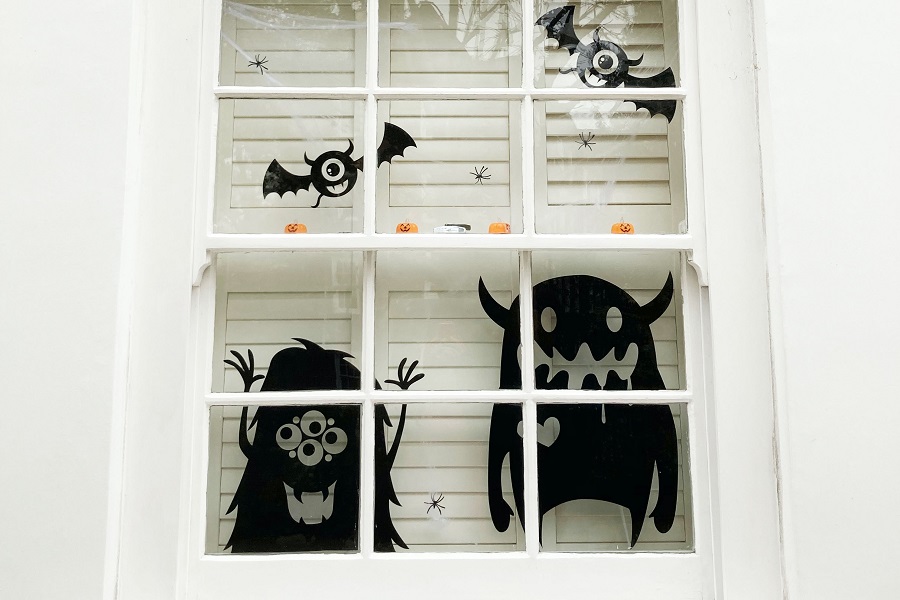 Spooky Indoor Halloween Decor Ideas
Decorating our interior for Halloween isn't usually the focus. The holiday is a mostly outdoor event, so we focus on the outside. People who are hosting parties are usually the ones who will go above and beyond with indoor Halloween decorations.
There are Halloween enthusiasts out there; we see you, we are you. Enthusiasts will go above and beyond indoors; we applaud you. But now we all can add even more spooky decor inside; let's just make sure we can still sleep at night with all the spookiness.
DIY Fabric Scrap Candy Garland | Swoodson Says
Papercut Black Cat | Lia Griffith
Spooky DIY Floral Bar Cart | Sugar & Cloth
Spooky Silhouettes | Make Zine
Stair Mice | Martha Stewart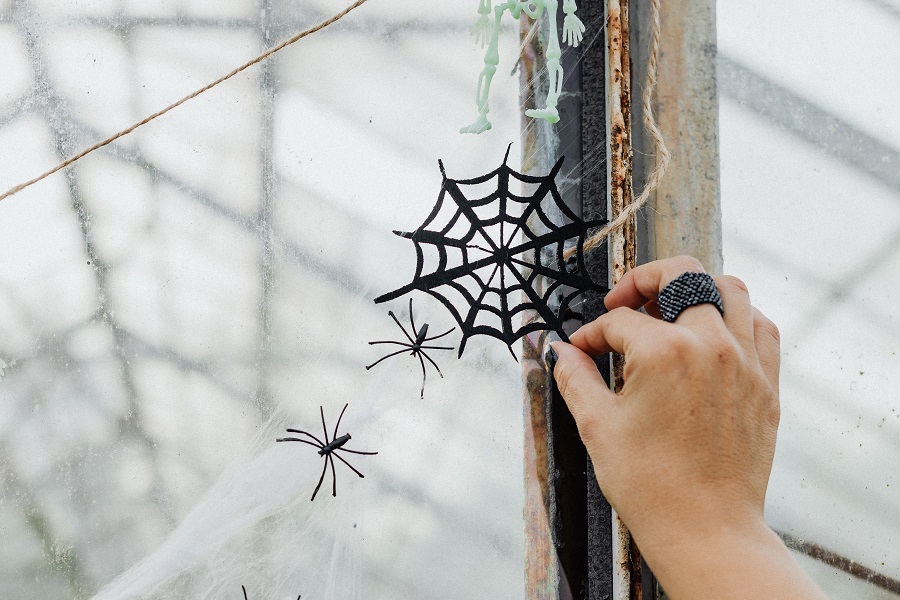 Customizing DIY Halloween Decor
One of the most fun aspects of indoor Halloween decor ideas is that you can customize your way through them. Don't like the colors used in the tutorial? Change them to match the rest of the decor you're putting together.
You can take any tutorial and make it seem like it was one line of work that was designed to mesh together. Create a theme, use more blood, use less blood, add some personal touches, and have fun with it!
Shrunken Heads | Lets Lasso The Moon
Spooky Lighting Ideas | Entertaining Diva
Vintage Halloween Mantel | Lolly Jane
Skeleton Hand Candle Holders | Finding Zest
Wine Cork Pumpkins | My Gourmet Connection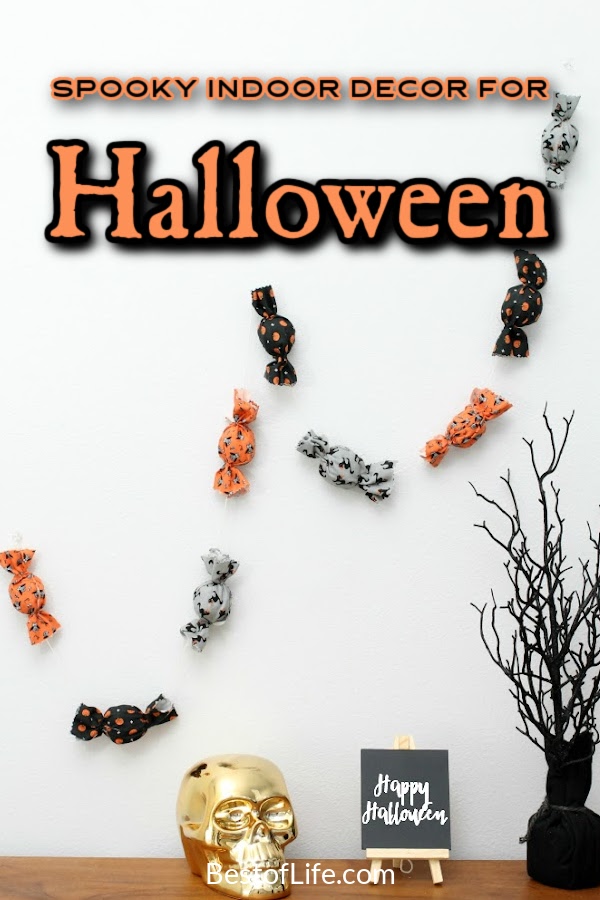 More Halloween Ideas
Adult Halloween Games | Take your Halloween celebration past the usual candy and scares with some games.
Halloween Games for Kids | Let's not forget the kids; unless you're going to an adult-only party. In which case, carry on.
Best Scary Halloween Movies of all Time | Getting in the mood for Halloween doesn't require commercials; it requires some scary movies.
Halloween Letter Board Quotes | You can get modern minimal with some letterboard decor ideas.
Easy Instant Pot Halloween Recipes | The Instant Pot can help you host an amazing Halloween party.