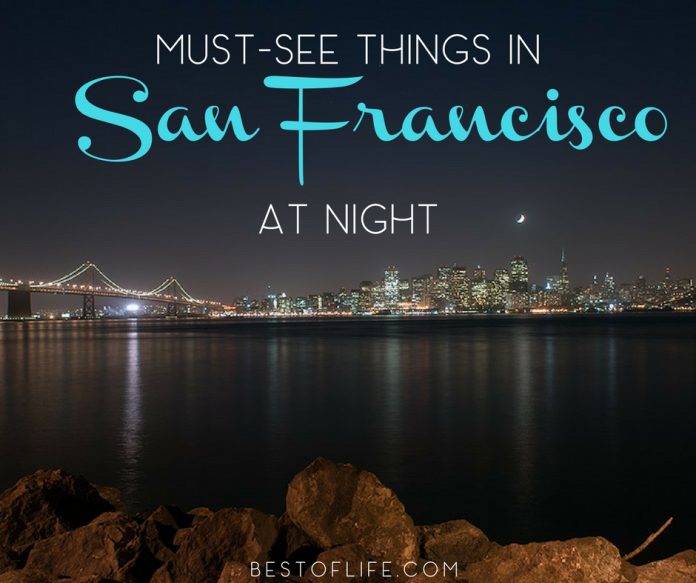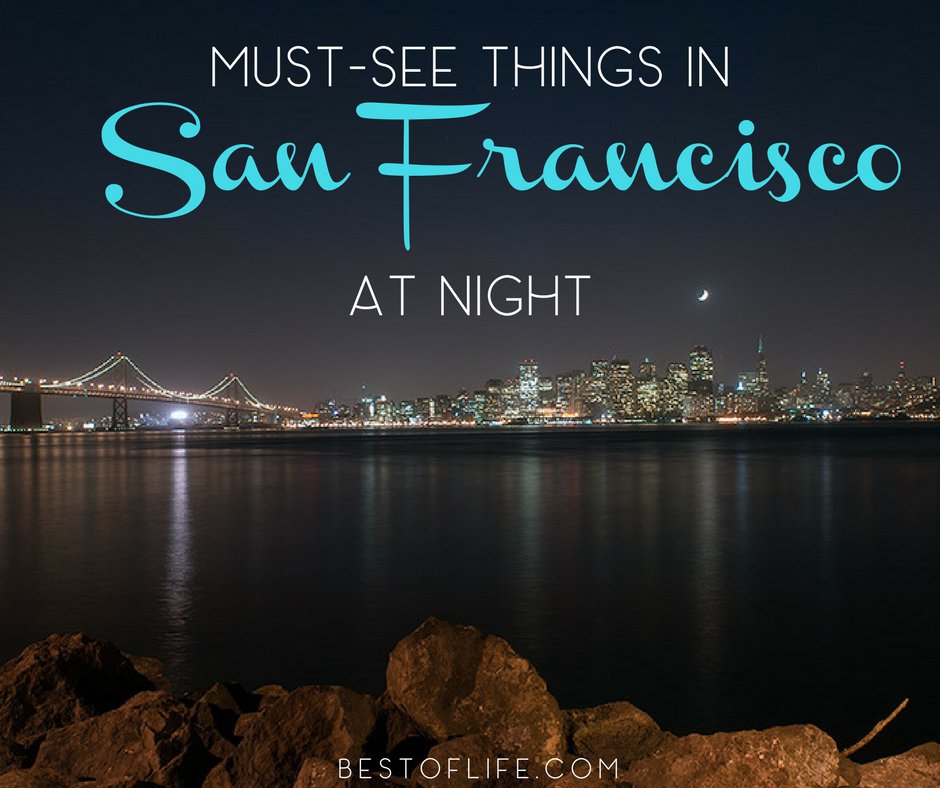 This site contains affiliate links. Please read our Policies for information.
The nightlife in San Francisco isn't like the nightlife in most cities. San Francisco is a city filled with art in its many different forms and at night, art lights up the night, literally. However, if you find yourself in San Francisco during any time of year there will always be something to see or do because San Francisco at night is worth it.
Visiting San Francisco at night gives us all a new perspective on the beauty and art that fills the city all year long.
Many people think any city in California is a hot day, warm night type of city where shorts are mandatory and beaches are filled day and night. However, San Francisco isn't one of those cities.
Seasons visit San Francisco and during the winter months, it can get pretty cold at night. In fact, some know San Francisco as "fog city" and that is a more accurate description.
However, San Francisco at night simply shouldn't be missed. The art that comes to life in the city during the day takes on a new light at night. So grab that cup of San Francisco Bay Coffee and enjoy your evening.
See the Bay Lights
There are many different bridges in the Bay Area, each filled with traffic during rush hours and at any given time on the weekends. For those that don't know, rush hour in the Bay Area is from about 6 am to about 9 pm Monday through Friday.
However, the Bay Bridge has become one of the most popular tourist sites in San Francisco at night. Artist Leo Villareal helped celebrate the 75th Anniversary of the Bay Bridge by covering the western side of the bridge in energy efficient LED lights.
The lights alone are beautiful but they also dance through random patterns and the best viewing spot is anywhere along the Embarcadero between the Ferry Building and the bridge itself.
Alcatraz Tours
Firstly, a tour of Alcatraz cannot be a spur of the moment activity as it's a very popular attraction. Tickets must be purchased well in advance and should be scheduled for any Thursday through Monday night.
Tours go all week long during the day but at night, the tour is even better. At night, there are special activities like a guided tour circling the island, a self-guided tour through the Cellhouse, and amazing views of both the Golden Gate Bridge and the Bay Lights.
Treasure Island
Another island that offers amazing views of San Francisco at night is Treasure Island. Treasure Island is filled with warehouses and not much else. However, for adults, many of these warehouses become party spots with cash bars and DJ's.
But for families or just common tourists, Treasure Island is a great place to take some pictures. Come to Treasure Island before sunset and watch the sun go down and the city light up with the best view in the house.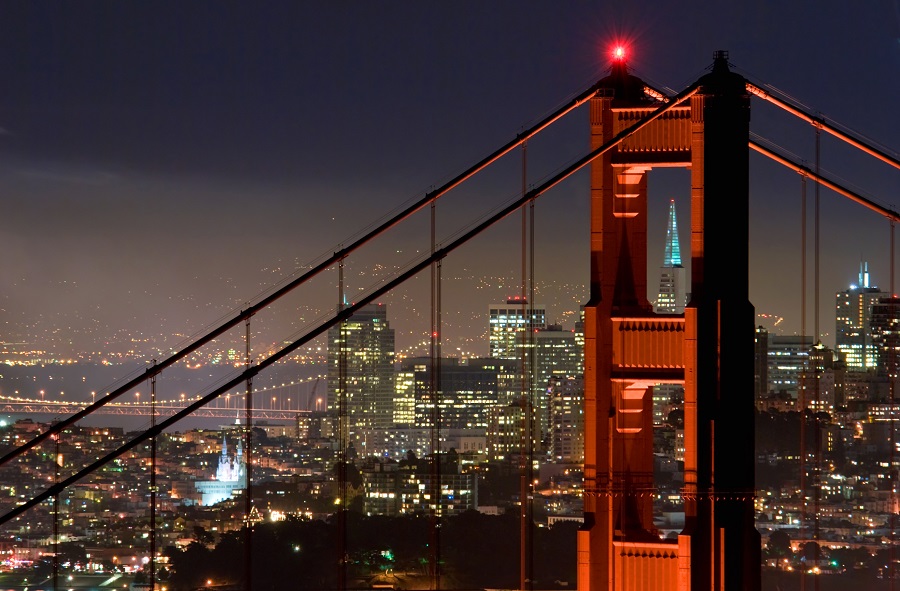 Tour the City
There are many different tours by go-kart, segway, bus, car, foot, and even by taste. These tours are great ways to get to know the city and learn something new, even for locals. However, many of these tours just get better at night.
Ghost hunting becomes very popular as the sun goes down and foodie tours fill the dinner hours. But any tour will be amazing because you'll get to see the lights and art installations shine their brightest.
Union Square
Union Square has a reputation for being the go-to shopping space in San Francisco for tourists. However, that reputation is wrong. Union Square is where you'll find many high-end shops and stores, true.
But you can find these stores in just about any city, anywhere. Shoppers will find better options on Valencia in the Mission District. However, Union Square is still a beautiful part of the city that is all lights and glamour at night. In fact, Union Square has the largest Macy's on the western side of the Mississippi.
Head to the Headlands
The Golden Gate Bridge is a must for first-timers and high on the priority list of veteran tourists of San Francisco. One of the best views of San Francisco at night can be seen from the Marin Headlands.
Drive across the Golden Gate Bridge and exit just past North Vista Point. Drive up the hill and find a place to park. Once there, you will need to find your breath because the view will take it away.
Must-See City Lights
San Francisco at night is made even better thanks to the many different lights and buildings. While bright lights can be seen just about anywhere, there are a few standouts that should be seen during a trip to San Francisco.
Chinatown is bustling and crowded during the day, but at night, it's all yours. Walk through the streets and look up at the lit up lanterns and neon lights. The Transamerica Building in one of the most popular aspects of the San Francisco skyline.
At night, the Transamerica Building is lit up and can be seen from just about any part of the city.
City Hall is a stunning work of architecture and is surrounded by other buildings like the War Memorial Opera House, The Green Room, Asian Art Museum, and the Bill Graham Civic Auditorium.
All of the buildings make for a stunning walk at night. Lastly, Coit Tower is a must-see and can easily be seen from just about any part of the city. At night, Coit Tower is lit up as a beacon of art, family, history, and hope for California.