11 Unique Bars in San Francisco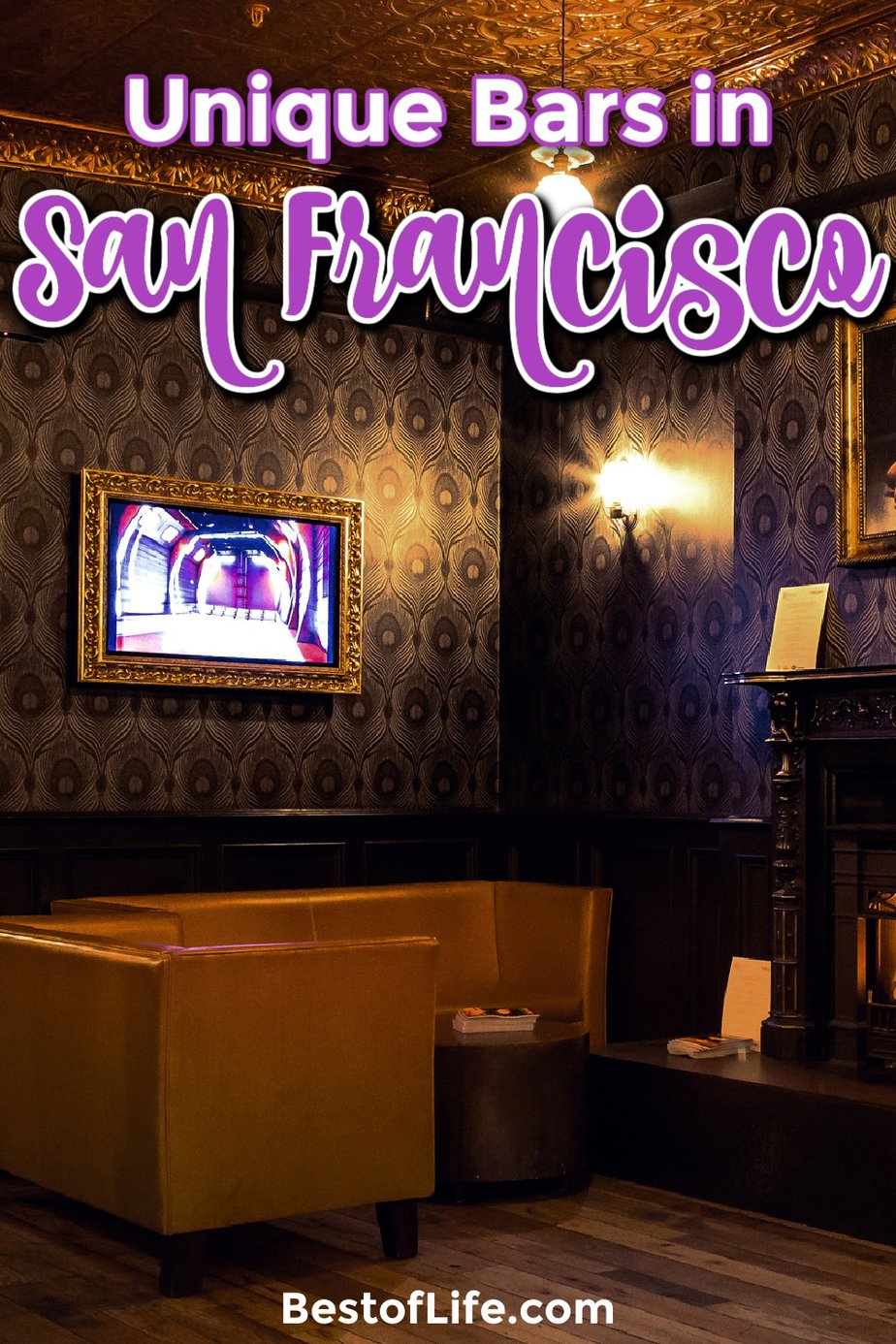 If San Francisco is anything, it's unique. It would be hard to walk around just about any part of San Francisco and not find something unique. The uniqueness flows through everything and is just part of the city. There are even unique bars in San Francisco that are among the best bars in the city.

These bars stand out from others due to their themes or decor, locations, or bartenders, there are even some bars that have activities that make them unique. These unique bars in San Francisco will not only serve you a good drink, but they will also serve you great memories and good times whether you are just visiting San Fran or live in the area.
Going out for drinks in San Francisco gives you a wide array of options. Depending on the night you want to have, you can choose from a fancy night out with pampering at the center of it all or a laid-back night surrounded by friends and music.
No matter what type of night you want to have, you can find it in San Francisco. Just be sure to add some of the best and most unique bars in San Francisco to your list of things to do.
Unique Bars in San Francisco
Armory Club | Mission
One of the things that makes San Francisco such a unique place is the art. Art comes in many different styles and can get a little racy, or even offensive. The Armory Club is decorated with an old Victorian-style decor and many different paintings.
Sounds like a fancy bar, and it is, but the paintings make the Armory one of the best unique bars in San Francisco. The paintings are of women in, shall we say, disturbing poses. Some say the bar's decor was influenced by the actual armory next door, which was used as a fetish porn filming location.
Either way, it makes for an interesting and unique experience.
Aunt Charlie's Lounge | Tenderloin
Aunt Charlie's Bar is a run-of-the-mill bar, nothing too special or unique. Until of course, the drag queen shows start. The entire bar comes to life with drag queens dancing and men shoving dollar bills in their bras. This bar is all about having fun and you will for sure have a great time.
Black Horse London Pub | Cow Hollow
A lot of places in San Francisco are small. Maybe that's because there's just too much uniqueness being crammed into the city. Luckily, we make do with limited space and Black Horse London Pub is a prime example of how.
This pub doesn't have liquor, there aren't any taps, and the bar inside has a scant 8 seats with some standing room behind. Get your beer out of a fully-stocked ice chest and if you want suds, you'll use the nearby keg. That's minimalism for you!
Kozy Kar | Russian Hill
Welcome to the 1970s, still alive and well at Kozy Kar. The decade theme should make this enough to be on the list of most unique bars in San Francisco. However, it's not the decade that's important. Kozy Kar is in love with the worst parts of the '70s like shag carpets and station wagons.
The televisions play vintage shows, but be careful. You may just catch a glimpse of some '70's porn sliced into the middle of a show.
Tonga Room & Hurricane Bar | Nob Hill
When you walk into Tonga Room which is inside the Fairmont Hotel in San Francisco, you'll think two things. First, did this used to be the swimming pool for the hotel? And second, this is really cool. The Tonga Room makes the list of most unique bars in San Francisco due to the large pool right in the middle (which is off-limits to guests).
Instead, there is a "boat" docked on one end of the pool that acts as a stage for the live entertainers.
Radio Habana Social Club | Mission
Radio Habana Social Club is a very relaxed bar. Don't let the decor fool you, everyone here is very nice and so are the people who usually visit. Even with goth decor and headless dolls hanging from the ceiling, the bar is still a very fun place to drink.
Butter | SoMa
Butter is a brightly-colored bar that is hard to miss when you drive by. Nothing about Butter is run-of-the-mill though, and it's easy to see once you walk through the door. Butter is one of the unique bars in San Francisco that takes that uniqueness all the way down to the menu.
Bras hang from the ceiling and Spaghettios are on the snack menu.
Topsy's Bar | Downtown
If you have a fear of clowns, maybe skip this one. If not, Topsy's Bar is the funhouse of bars, literally. The decor is all funhouse-themed with distorted mirrors, clown statues, spring-looking bar stools, and toys in the ceiling. Even the bartenders get in on the act, wearing bow ties and having a fun time.
Monarch | Mid-Market
By all accounts, Monarch is not very different from other bars in the city. The swankiness of the bar is amazing and it is definitely on the fancier side of things. But what makes Monarch earn a spot on the list of most unique bars in San Francisco is the acrobat behind the bartender.
That's right, there is a giant hole framed with a golden circle, showcasing a real live acrobat who performs almost the entire night.
Spec's Twelve Adler Museum Cafe | North Beach
Across from the City Lights Bookstore is one of the most oddly decorated bars in the city. Spend your night drinking and discovering new things that you didn't even know were things. The wall is adorned with stuffed cobras and sarcophaguses, mongooses, and street signs.
You will have a great time discovering what other oddities fill this "museum" while trying to figure out what exactly is going on with these walls.
The Interval at Long Now | Fort Mason
While many of the bars on the list of unique bars in San Francisco have been absolutely unique, The Interval at Long Now is a bit different, a bit normal. But don't let that deter you from the uniqueness of this bar. Here, you'll find a library, a museum, a bar, and some of the most interesting things in the city.
Take a closer look and you'll discover the weirdness of it all. The books were hand-picked to focus on sustaining (or rebuilding) civilization as we know it. The museum also has a mechanical computer that can create a unique sequence of bell sounds every day for 10,000 years. Plus, the bar has amazing drinks.
More Travel Ideas
Best Restaurants in Park City Utah | Park City is a beautiful place to visit, especially for couples and adults who just want to escape the hustle and bustle of life at home.
Things to Do in Hilton Head for Adults | Hilton Head on the east coast is the perfect vacation spot for families but adults can have fun, too.
Best Things to Do in Summer in Upstate New York | New York is more than just New York City, especially in upstate New York.
11 Places to Watch the Sunset in Temecula | Sunsets in California might just be among the best sunsets in the country.
7 Things to do in Delray Beach During the Day or Night | Delray Beach should be on everyone's list of places they want to visit in their lifetime.