This year, Friday June 3rd marks National Donut Day! Whether you love glazed, chocolate, strawberry, jelly filled or desire sprinkles on top, National Donut Day is a day to celebrate the donut lover in all of us. Let's face it – we all love them; some of us are just more willing to admit it than others.
Donuts make everyone happy and bring people together around a simple love for puffy sugary goodness. The donut lover in you will adore these gifts!
Think of a food, any food, and surely you can find someone who dedicates their plate to that food. Today, we're talking about donuts. Donut lovers are everywhere, they're you friends, your family, that coworker who brings them into the office. With so many donut lovers all over the place you may find you're in need of the perfect gifts for a donut lover.
These strawberry sprinkles sunglasses are hard to top!  A great conversation starter for parties, too!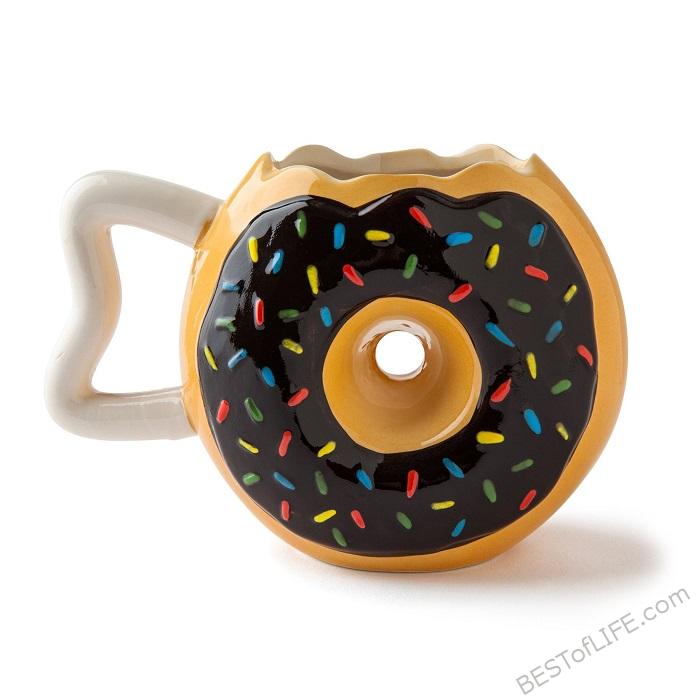 The Donut Mug
Coffee lover or not, this donut mug from Big Mouth is adorbs and rather perfect. Mmmm donuts…
I am a bit bias here.  Our daughter's nickname is Ava Cakes so of course a donut maker named Babycakes would catch my eye. Plus this donut maker makes four donuts at a time – the perfect amount without being too much.
Pass The Donut Flying Food
What a great party favor and perfect for those donut lover friends out there.  This would be great with our backyard BBQ games.
Giant Donut Hole Beach Ball
The small sweet carby goodness of a donut hole is hard to beat but this 20″ donut hole beach ball may just do it.
Float in your pool or at the lake.  Your biggest decision is which flavor? strawberry, vanilla, or chocolate?
What's better than a cute stuffed animal? One eating a donut of course.
Wrap up in this 5 ft square donut blanket and dream of your next donut. Perfect for the pool or beach!
Donut Hole Mug
If you are more of donut hole kinda person this donut hole mug is perfect for you.  Plus, donuts and coffee always go well together.
Save