Best Thing to get at Chick fil A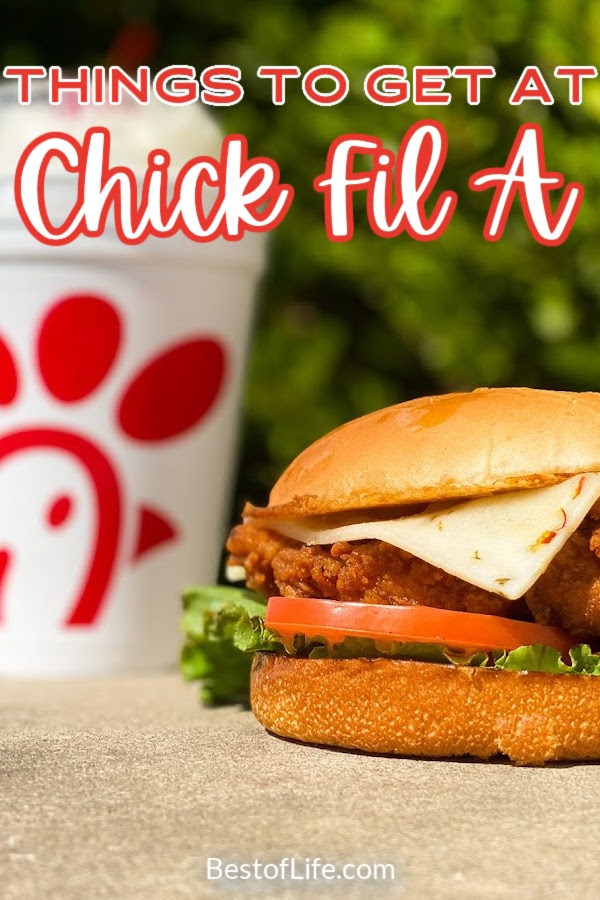 Chick-fil-A is well known for its menu and while it may be somewhat simple it is well known for a reason. They do chicken well. Really well. And give guests a variety of options for how they can enjoy it. If you are dining at Chick fil A and wondering what you should get, we have some well-researched recommendations.
Just what is the best thing to get at Chick fil A? Here are our recommendations for each foodie age group, those who want healthy menu items at Chick fil A, and those who love their grease. It should be said that we don't condone an unhealthy lifestyle, especially when it comes to food.
However, we also understand how difficult it could be to stay away from Chik fil A. It's deliciousness between two buns and it deserves to be tried and tested by everyone. So when you feel the urge to go off that healthy diet or just want to try something new, how about a bit of Chik fil A?
Best Thing to get at Chick fil A
Chicken tenders all the way for toddlers! I love that Chick-fil-A offers a fruit cup as a side with kid meals, too. This is one of our favorite aspects when traveling and trying to stay on a somewhat normal eating routine. Our daughter is nine and addicted to salads so the Chicken Cool Wrap is something she loves as is a salad.
And don't forget you can trade in the book that comes with your kid's meal and get an ice cream cone instead.
Tweens, Teens, and Adults
Around the age of eleven or twelve is when kids are suddenly hungry. All of the time. Enter the Classic Chicken Sandwich. Sometimes the simple things are the best things and the Classic Chicken Sandwich is a great example of just that.
When you have great quality ingredients and put them between a soft amazing bun and well, you just have good stuff. Good stuff that hits the spot no matter how old you are. If I want to enjoy the breaded classic sandwich the Superfood Side is a great side instead of the fries.
Some may think I am nuts for that, but every calorie counts, and a small exchange like that can make a big difference.
Health Conscious
The Grilled Chicken Sandwich is always a good option if you are trying to watch your fat intake or total caloric intake. This is the one grilled chicken sandwich that actually has flavor from any drive-through.
If you are following a strict diet then the grilled chicken nuggets may be your best choice for a protein fix that won't mess with your guidelines. Their salads and wraps are also tasty, but I miss their chicken strip salad.
Sorry, but you can only eat so much grilled chicken, and sometimes adding a few breaded chicken strips to a salad makes all of the difference.
Sweet Tooth Fix
One word. (Well, for me at least.) SHAKES. Oh wait, I changed my mind. Two words. STRAWBERRY SHAKE. Oh. My. Yum. There are fruit chunks that get stuck in your straw. If you are a peach lover like my hubby their Peach Shake is a must-have.
And if ice cream isn't your thing then a Frosted Lemonade will hit the spot! What is your favorite thing to order at Chick fil A? And when you can't get to Chick fil A you can make some delicious at-home options with these great tools!
More Food
Banana Bread Recipes to Make with Kids | You will need a bit more patience than is required at fast food joints when making banana bread from scratch.
Best Burger Recipes For Grilling Out | You can also skip the fast food line by just grilling your own burgers to absolute perfection.
Quick Dinner Ideas | Speed things up in the kitchen at home for a dinner that is made so quickly it feels like you got it at a fast-food restaurant.
Clean Eating Recipes with Chicken | You can also opt for something a bit healthier, made with natural ingredients and nothing artificial.
Instant Pot Goulash Recipes with Spaghetti Sauce | You can also make a dinner that looks like you worked hard on it in a hot kitchen but didn't.