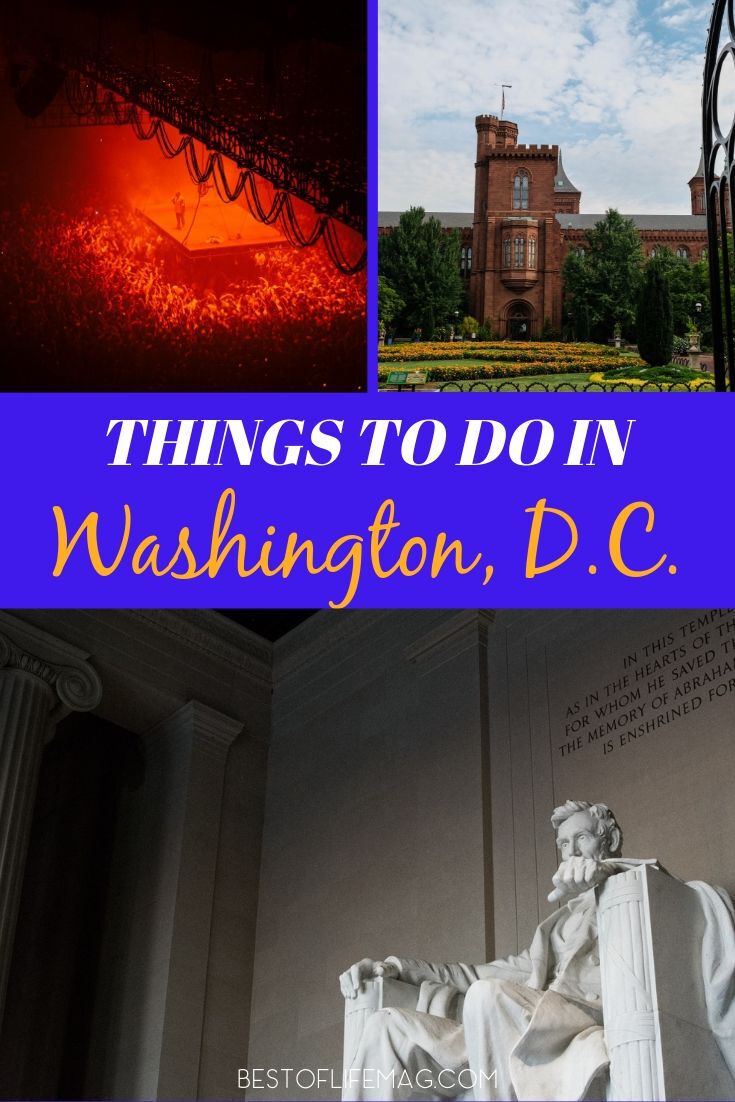 Washington, D.C. is our nation's capital and oh how I love our country. There are so many different monuments to see and historical museums to wander. However, that isn't all Washington, D.C. has to offer. There are some amazing things to do in Washington DC that will take you out of history class. Although, some may enjoy that aspect. You may even find that history has crept into some of the best Washington, D.C. activities. All you have to do now is pack your bags for an amazing trip.
You can take a trip and discover so much by just attending as many of the best things to do in Washington DC as you can find.
Hidden in plain sight among the museums and monuments are some of the best things to do in Washington DC. These activities range in age appropriateness. But each one is just as amazing as the last.
You can experience some amazing food, see the artistic side of our capital, you could even get out and enjoy the nightlife in Washington, D.C. with friends and family.
The beauty of it all is that many of the activities you can do in Washington, D.C. come with a historical backdrop. The time of year can also play a role in finding things to do.
But no matter when you go to Washington, D.C. you will surely have a memorable time.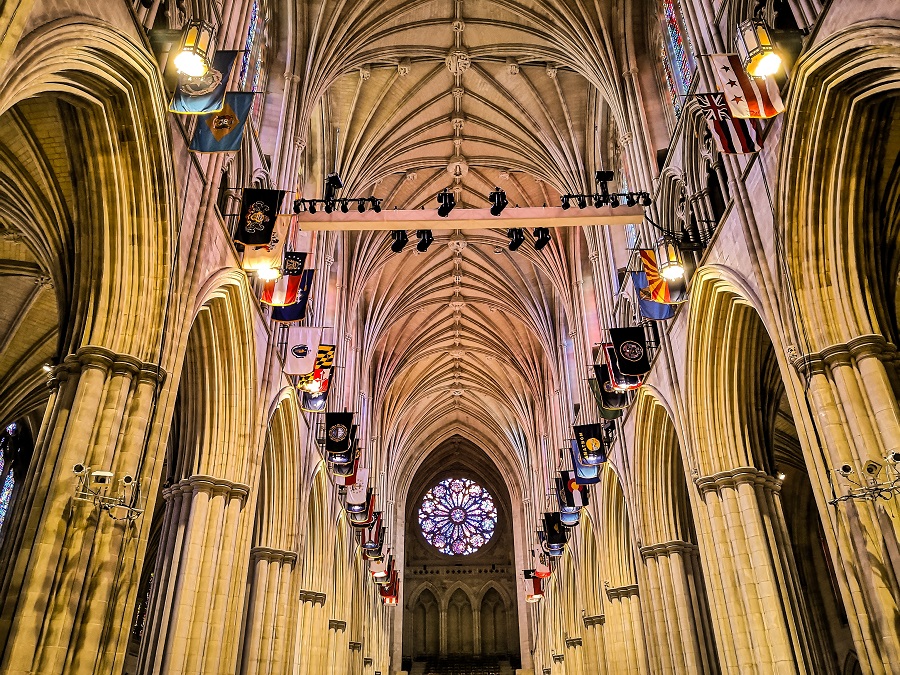 The Tidal Basin
You may have seen the Tidal Basin in movies or T.V. shows. This pond is a 2-mile-long pond that was once attached to the Potomac River. You will surely enjoy the sights of the Tidal Basin no matter what time of year it is. However, the Tidal Basin bursts with color during spring with cherry blossoms and beautiful landscape.
U.S. National Arboretum
Taking a stroll through a garden is always a good idea. Especially when everything is in bloom. The U.S. National Arboretum is just northeast of downtown. Here, you'll find dogwoods and azaleas and so much more. But what most people come to the arboretum to see the National Capitol Columns and the bonsais around them.
Smithsonian's National Zoo
There is no zoo that does things quite as well as the Smithsonian's National Zoo. This is one of the best things to do in Washington DC for all ages. This zoo is home to more than 1,500 animals across 163-acres. Bei Bei is the most popular animal, a panda who was born on August 22, 2015. While the panda exhibit is the most popular, all of the exhibits are amazing.
9:30 Club
Our capital works hard every weekday from 9am-5 pm. But they play just as hard as they work. The go-to spot for locals and tourists alike is 9:30 Club. This club was named as one of the 10 best live music venues in America by Rolling Stone. The club opened in 1980 and has hosted musicians like Nirvana, Red Hot Chili Peppers, Public Enemy and so many more.
The National Mall
We couldn't make a list without mentioning the monuments. The most popular monuments can be found in what is called the National Mall. The name is a bit of an idiom as most people will think of shopping when they think of mall.
However, this is just a name given to an area in Washington, D.C. where the most popular monuments are. The National Mall is about 2 miles long and there are many monuments to see there.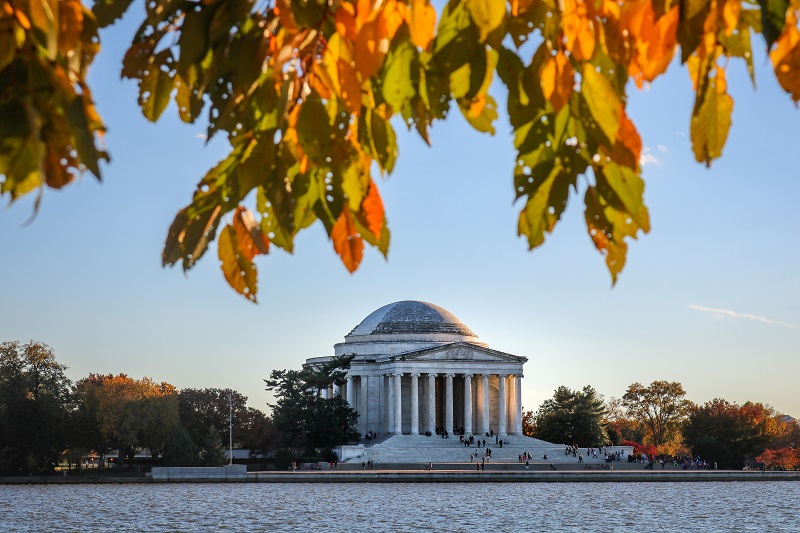 The National Cathedral
The National Cathedral is one of the most popular things to do in Washington DC. This gothic-style cathedral will knock you on your feet as you stare up in awe of its beauty. There are more than 200 gargoyles and grotesques, more than 200 stained glass windows, mosaics, and more. You will not want to miss this sight.
14th and H Streets
Many of us travel to experience new foods and cultures. Washington, D.C. is utterly American which is both good and bad. However, if you head over to 14th street or H street, you will find a whole new world of food.
In fact, there are 16 Michelin-starred restaurants in Washington, D.C. to enjoy. That popularity in dining has an effect on the rest of the eateries around them. You will find fun and innovative dining experiences on both 14th street and H street.
The Wharf
Washington, D.C. is changing a lot and many of those changes can be seen on the waterfront. The Wharf is where you can find even more restaurants. However, there is so much more here to see. Shops, hotels, water activities, parks, and nightlife spots all make up one of the newest attractions in Washington, D.C.
Ben's Chili Bowl
Speaking of restaurants and dining, you can't skip Ben's Chili Bowl. This iconic Washington, D.C. restaurant has been referenced in a few different political drama series. The most popular dish is the chili half-smoke which comes with smoked sausage, smothered in chili and garnished with onions and mustard. You will love every last bite.
Rock Creek Park
Washington, D.C. has a lot of parks. Most of these parks are homes to monuments. But there are other parks for you to enjoy that aren't just a means to an end. Rock Creek Park is a 1,800-acre park. There are 32 miles of trails, some of which are paved. You could go for a walk, run, bike ride, whatever you want, just enjoy the outdoors.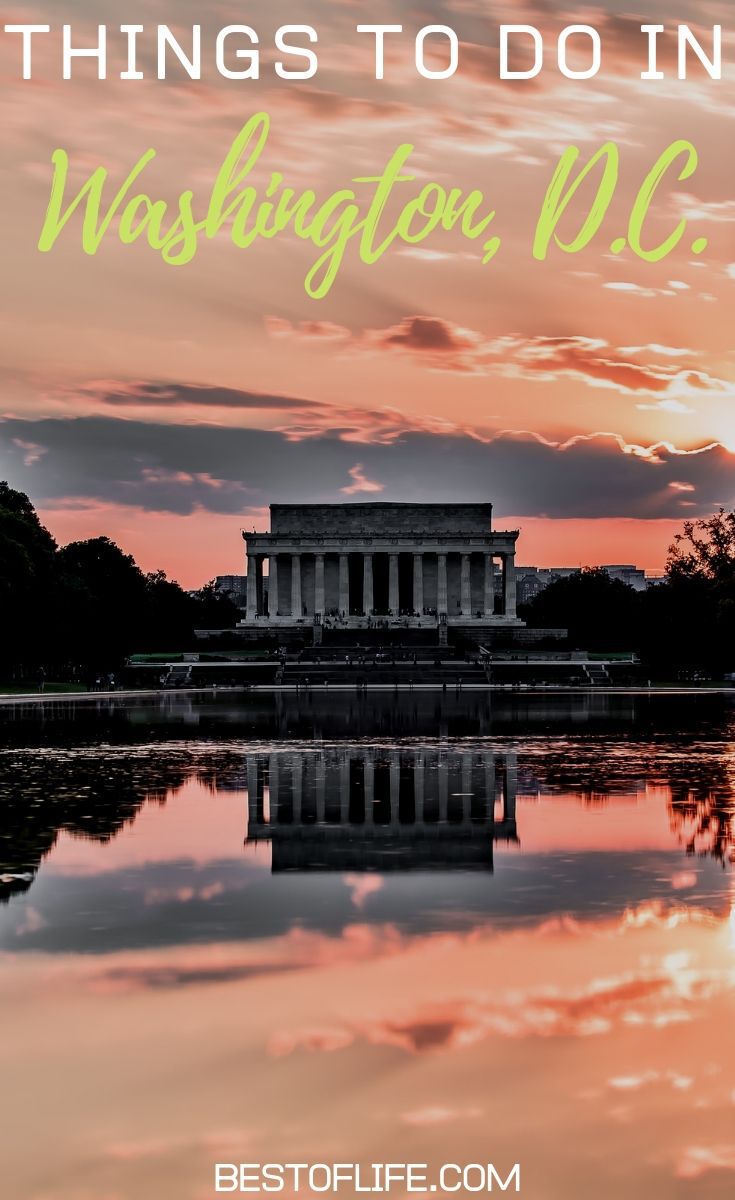 Rose's Luxury
Another restaurant in Washington, D.C. is also one of the best things to do in Washington DC. This restaurant is the child of local chef Aaron Silverman. You will find a unique mixture of southern, Jewish, Japanese, French, Thai, home-style cuisine.
While it sounds like it might be too much, it is actually just enough. This restaurant is so popular that they do NOT take reservations, instead, you need to get there early and wait in line.
Eastern Market
You will need to head to the Eastern Market if you want to eat at Rose's Luxury. But while you're there, check out everything else this area has to offer. There are places to grab a drink or a small bite to eat. But there are also other things to buy and see as well.
Perry's
Seems like a lot of things to do in Washington DC revolve around food. That is because Washington, D.C. has a growing food industry. But Perry's takes it to a whole different, fabulous level.
The best way to describe Perry's is Sunday brunch meets drag shows. You will need to visit Sundays from 10 am until 3 pm in order to take part in the fun but you will want to make sure you get there early.
Mansion on O Street
Washington, D.C. can be a scary place for some people. Here, lawmakers and government officials are working to protect our country and make it liveable. But there is another spooky attraction in the area and it isn't the White House.
Mansion on O Street is a luxury hotel that has 32 secret doors, was built in the 1930s, and was once home to FBI Director J. Edgar Hoover's G-Men. Hence all of the secret doors and pathways.
Eden Center
Welcome to Washington, D.C.'s version of Little Saigon. This part of town is filled with Vietnamese shops and restaurants. People who visit always talk about the parking lot mostly because it is chaotic due to the area's popularity. But also because you can't escape the smell of barbequed pork.
More Things to Do
Best Things to Do in Central Park
Best Things to Do in Hilton Head with Kids
Free Things to do in Orlando Besides Theme Parks
21 Things to do in La Jolla California