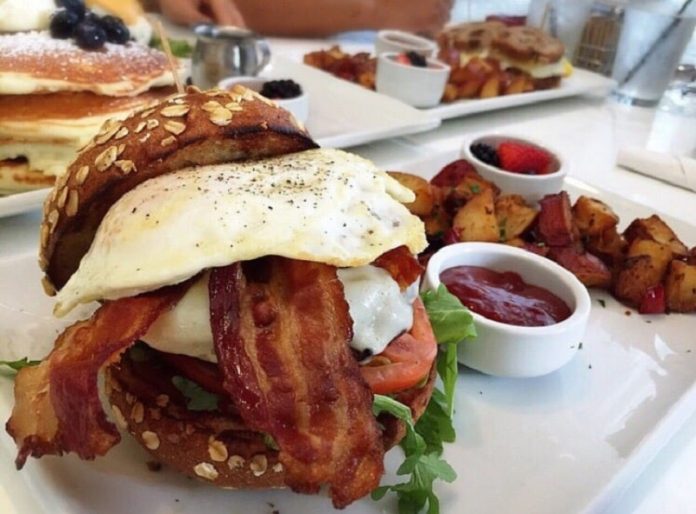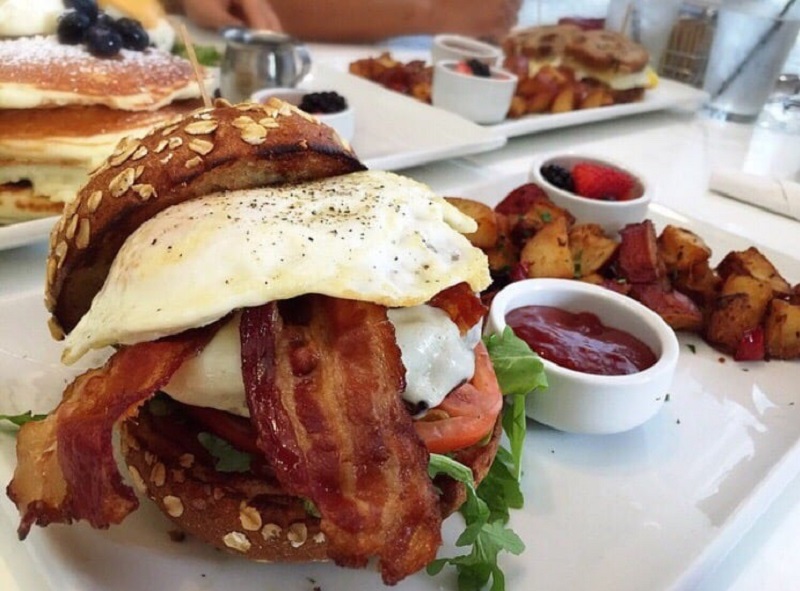 This site contains affiliate links. Please read our Policies for information.
People from all over the world come to Hollywood to catch a glimpse of the glitz and the glam. Chances are you'll end up surrounded by tourists posing for pictures next to their favorite celebrities star on the walk of fame. However, locals will tell you that Hollywood Boulevard is not the real Hollywood. In fact, even the strip may turn out to be less than what you expected. That's not to say that Hollywood isn't amazing, on the contrary, Hollywood is great. You just need to do Hollywood like the locals do. Start your day off right with one of the best casual breakfast restaurants in Hollywood.
Studios like Warner Bros and Universal can be found in Burbank but some of the best casual breakfast restaurants can still be found in Hollywood.
Start your day in Tinseltown with a stop at one of the many casual breakfast restaurants. See the tourist side of Hollywood and then head to Burbank where the proverbial "Hollywood" can really be found.
Eat This Cafe
Many of the breakfasts you'll find in Hollywood will have a Mexican influence. That influence makes for some of the best quick and unique bites. Eat This Cafe is a prime example of the influence with some of the best breakfast tacos in town. These tacos aren't like the ones you may be familiar with from Taco Bell. No, these tacos are served on flat, corn tortillas with scrambled eggs, black beans, roasted corn and more piled on top. You can also go more classic with something like a bagel sandwich or bacon, eggs, and toast.
Farmers Belly Cafe
Right between Hollywood Boulevard and Sunset Boulevard lies Farmers Belly Cafe. This cafe is one of the best cafes in the area. Not only is the food organic and locally sourced but they work even harder to provide good food. Farmer's Belly Cafe buys ingredients from the local farmer's market. Everything is researched to ensure that it comes from a safe and organic place. Try the smoked salmon toast, 9-grain sourdough toast with fresh avocado, seasonal tomatoes, alfalfa, smoked salmon and a poached egg. It's the best toast you'll ever taste.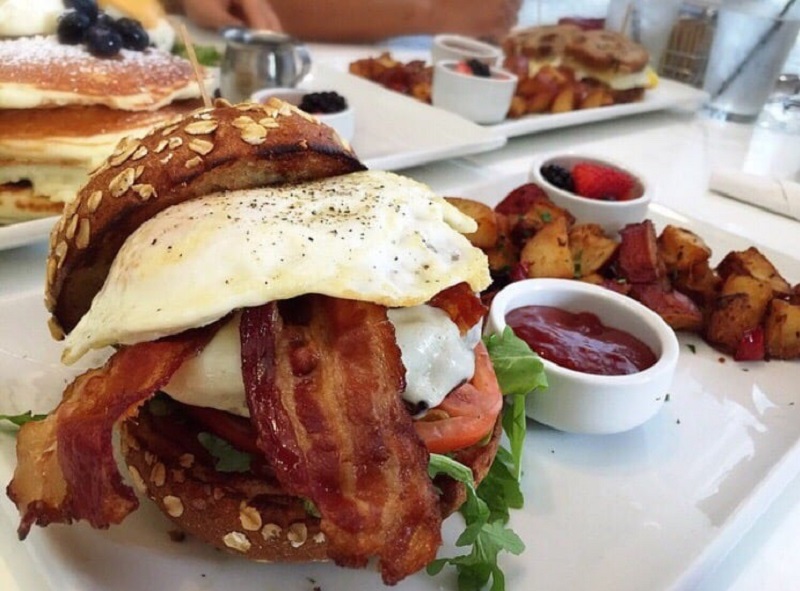 Milk and Honey
Right on Hollywood Boulevard is one of the newest restaurants on the strip, Milk and Honey. Breakfast is a little different here at Milk and Honey as the goal is to make you healthy. There are dozens of different breakfast bowls that offer different bits of health. For example, the Daily Energy Wellness Bowl is meant to be your source of natural, delicious energy. All of the fruit and honey is fresh and organic. In fact, the idea of Milk and Honey is to help you enjoy a healthy meal so you can indulge in the decadence of a heavier meal later in the day.
Grub
On the south side of Hollywood lies Grub, an award-winning restaurant that was started by two gals. Betty Fraser and Denise DeCarlo own both As You Like It Catering and Grub. Both companies provide people with great food and welcome all to their table. Grub can be found in a converted 1920's duplex and it's perfect because the decor celebrates Hollywood. Not only has Grub served and comforted locals and tourists alike, they have also been featured on television shows like "Rachael Ray's Tasty Travels" and Betty has even been on "Top Chef".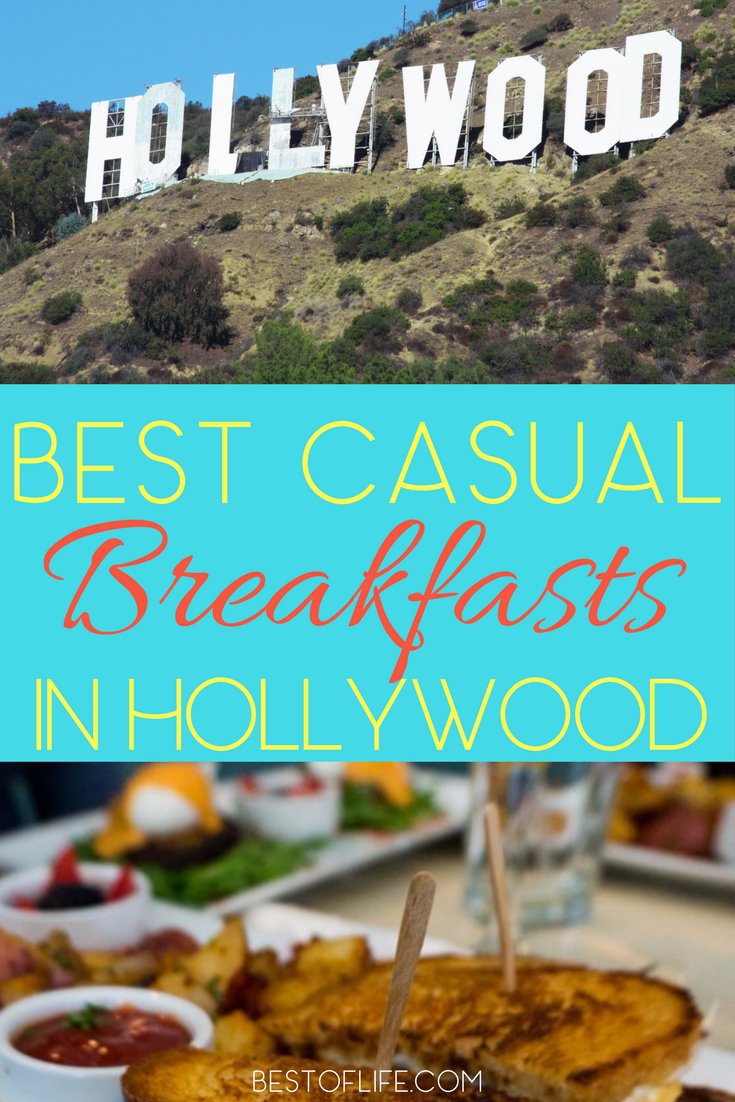 Farmboy Kitchen
Farmboy can be found a few blocks away from Sunset Boulevard in Hollywood. Like many of the other top restaurants in the area, ingredients are handpicked from local farmers and prepared with extra care. One of the most exciting draws of Farmboy Kitchen is the house-made sausages. These sausages are made with humanely raised pigs and seasoned and cased in-house. While the sausage is perfect as a side dish to any breakfast at Farmboy Kitchen, you can enjoy it at home by purchasing the sausage by the pound.