This site contains affiliate links. Please read our Policies for information.
Cruise line private islands have been visited by people from all over the world. However, after recent hurricanes, many are wondering how these islands have fared. A large number of searches as to the state of these islands have proven that people want to know if the islands are still a safe place to travel to, the experts at CruiseCompete say. The good news is that the islands are reporting they are open for business.
Taking a cruise is always an epic trip, but sailing to cruise line private islands in the Caribbean adds a touch of luxury.
The major cruise lines often stop at cruise line private islands for their guests to enjoy. These islands provide a reprieve from the life on the water and give luxuries that some only imagine. Costa Cruises, Disney Cruise Line, Holland America Line, Norwegian Cruise Line and more spruce up the islands, add resort-like features and provide the opportunity for natural adventures. While some worry that natural disasters have taken those luxuries away, reports from the islands say otherwise. In fact, many of the islands are open for business as usual. Don't forget to pack your sunblock, cruise flasks, and flip flops!
Costa Cruises | Catalina Island
Catalina Island is only 1.5 miles away from the southeast corner of the mainland of the Dominican Republic. On that island, provided by Costa Cruises, is a private beach with snorkeling, "beach olympics", volleyball, and even massages. For those looking for more thrilling adventures, jet skis can be rented and day tours explore the island. The culture and luxury found on this one of the cruise line private islands are enough to make it a travel destination all on its own.
Disney Cruise Line | Castaway Cay
One of the best cruise line private islands out there is known as Castaway Cay. Castaway Cay is a private island owned by the Disney Company and is filled with Disney magic around every corner. Disney knows a thing or two about travel and how to make life easy. One example of easy travel is that Castaway Cay has a cruise ship dock that means people don't need to take shuttle boats to and from the island. The island has sections for age groups like Castaway Family Beach and Serenity Bay for adults. There is an area called The Hideout where teens can have fun alone and Scuttle's Cove provides supervised activities for children.
Holland America Line | Half Moon Cay
Half Moon Cay has been ranked as the best private island by Porthole Cruise Magazine. The island is located on Little San Salvador Island in the Bahamas and is 98 percent underdeveloped as a bird sanctuary. The part of the island that is developed has water sports, an aqua park for children, private beachside cabanas and eco-tours. The tours allow visitors to see the island as it is meant to be seen and the tour is done on a boat with a glass bottom. It's the natural state of the island and massive luxuries that make the island a must-see for many.
Norwegian Cruise Line | Great Stirrup Cay
Welcome to the Berry Island Chain of the Bahamas where Great Stirrup Cay may be found through the Norwegian Cruise Line. The island has undergone many changes as of recently that improved upon the already amazing island. New vegetation, expanded beach fronts, a new Tender Pavilion all add to the long list of luxuries. The world's largest inflatable waterslide can be found here as well as cabanas, restaurants and so much more. But There is another private island that Norwegian Cruise Line travels to, Harvest Caye. Harvest Caye offers water sports, pools, lagoons and similar luxuries to other islands.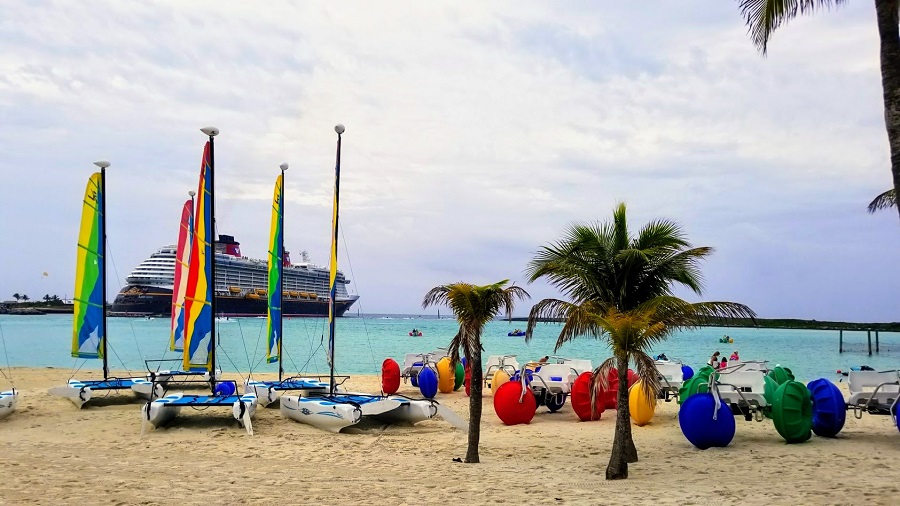 Paul Gauguin Cruises | Motu Mahana
Another one of the amazing cruise line private islands is Motu Mahana, part of the Society Islands. There is a whole world of culture and activities on Motu Mahana. One of the most fun activities is the vanilla plantation tours but there are also the usuals like water skiing, kayaking, and windsurfing.
Princess Cruises | Princess Cays
Princess Cays is approximately 80 miles from Nassau and is one of the few white-sand islands in the world. The waters are turquoise and sunsets and rises make for stunning natural plays put on just above the waters. Head below the ocean level while snorkeling or swimming and get right on top of it with aqua bikes, seaboards, paddleboats and more. After all of the fun and adventure, enjoy some island cuisine and exotic cocktails while you watch the sunset over the waters.
Royal Caribbean International and Celebrity Cruises | CocoCay
CocoCay is one of the only cruise line private islands that is exclusive to Royal Caribbean and Celebrity Cruises. The usual island activities can be found on CocoCay with white-sand beaches and beautiful waters. There are also craft markets, sunken wrecks to explore, shore excursions and bike paths. While CocoCay is one of the best cruise line private islands, there is another island visited by these cruise lines, Labadee. Labadee has undergone some enhancements recently to bring it up to par with CocoCay and they have succeeded. Roller Coasters, aqua parks, lounges and more await visitors who travel to Labadee.
CruiseCompete
Cruisecompete is a website that helps people find their dream cruise with the best deal. Travel + Leisure rated CruiseCompete as one of the top 60 apps and websites for travelers. The Wall Street Journal also called CruiseCompete the best cruise travel site. CruiseCompete.com is a great place to help you find the right cruise with the right cruise line private islands for you, family and friends.