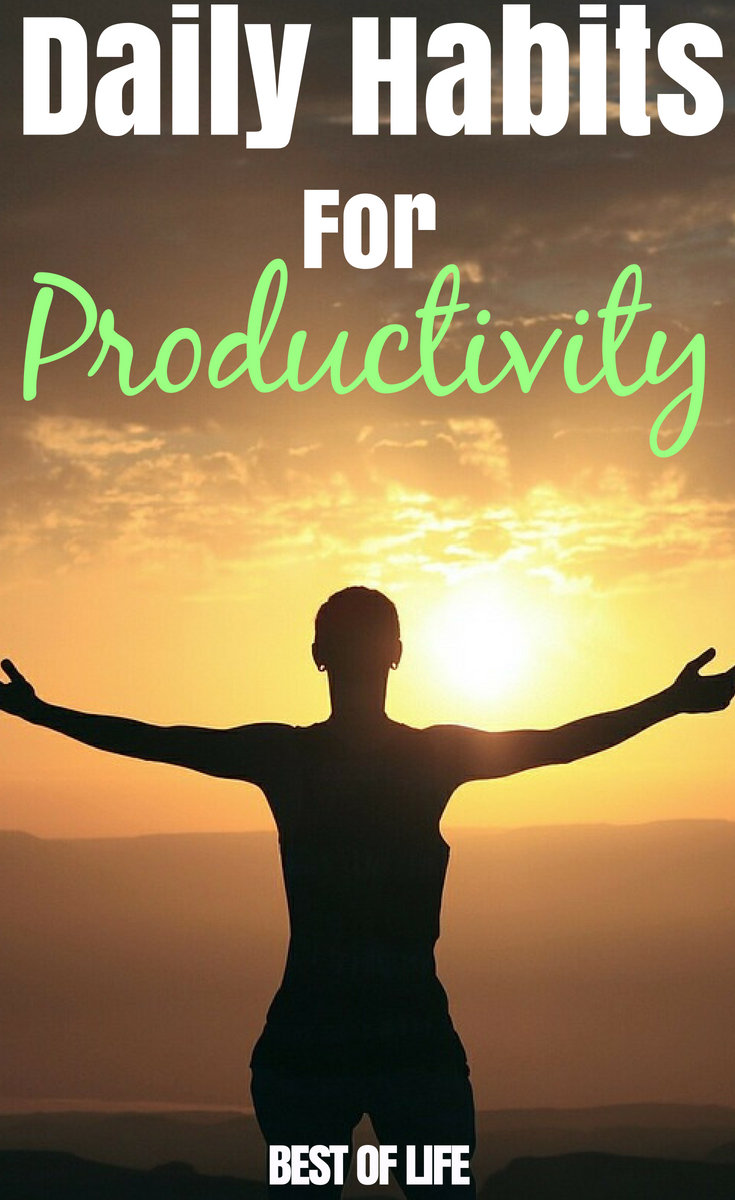 Life doesn't always move the way we want it to and we don't always move the way we want. Sometimes work, family, friends, or life in general can take a lot out of us and we find it hard to stay productive. For those days when we start to feel like we just can't get things done, we need to stay motivated. Some people use music, others use deadlines, but no matter how you stay motivated there some daily habits for productivity you could employ every single day. When you start using productive habits daily, you'll start to notice that productivity comes naturally.
Applying daily habits for productivity to your life can help you optimize your time and achieve your goals both at home and work.
Many of us are working for the weekend and there's nothing wrong with that. After all, life isn't meant to be spent behind a desk; you need to experience the most out of this world that you can and take care of yourself. We should all be aiming to fill our lives with more than just work.
However, work needs to be done and while life isn't meant to be spent in the office, the office is a part of life. To make sure you finish your work, you may need to add some daily habits for productivity into your life. This way, you stay productive when you need to be and then fully relax when the time comes.
Daily Habits for Productivity | Sleep, Sleep, Sleep
We need our mind to do critical thinking most days, but if our mind isn't healthy our work isn't at its best. In the US, 40% of people get too little sleep and if you have to drag yourself out of bed by mid-week then you're in that 40%. It's not about waking up later, it's about going to bed earlier.
If you need to be up by 7 am, aim for lights out no later than 11 pm the night before. You might find it helpful to shut off your electronics for the last 30 minutes of your day, or make sure to block out any light while you sleep.
Daily Habits for Productivity | Work Out
You may find it difficult but it doesn't have to be. A full workout is best, but maybe hitting the gym isn't really your thing. If it isn't, try going for a walk every morning, afternoon or evening. Start out with a walk around the block, then make it two blocks the next week, keep adding blocks every week. This will help more than just blood flow, it will help your overall health.
Daily Habits for Productivity | Take a Break
Breaks are required by law for a reason but there is another reason you should be taking breaks. Stepping away from what you're working on will give you a clearer mind, a fresh set of eyes, and most importantly, keep you productive.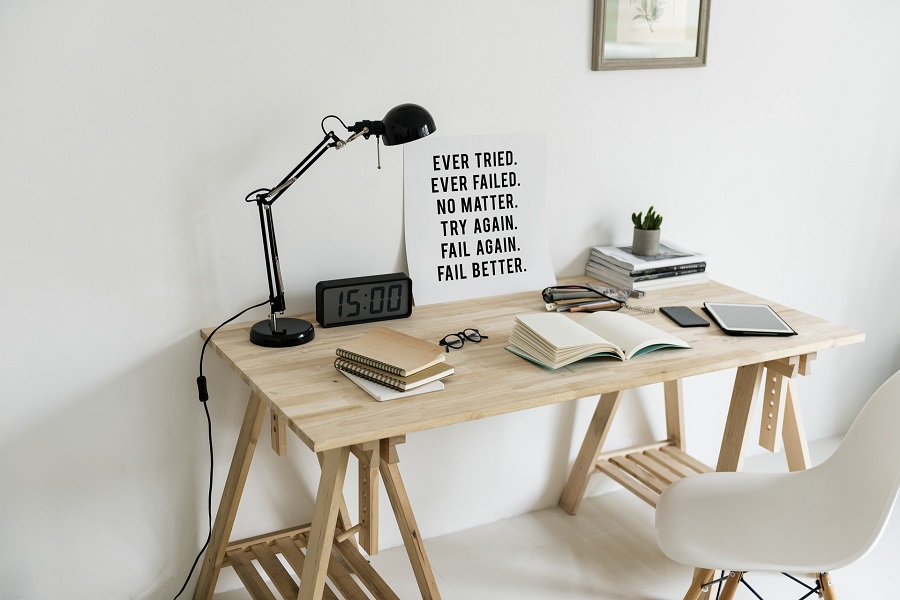 Daily Habits for Productivity | Get Organized
Being productive is easier when you are organized. No matter what projects you're working on, a to-do list kept on a simple notepad or bullet journal can help. Separate the project into smaller tasks and physically mark them done as you go.
It will feel a lot better seeing stages get completed and when you start to get less and less on your daily to-do list, it gives you a boost of energy to get things done.
Daily Habits for Productivity | Reflect
No one is perfect. No matter how hard we try, little mistakes are bound to occur. When these mistakes happen, take the time to reflect on and learn from them.
Knowing where these mistakes were made and figuring out why you made them will help make sure they don't get repeated. When they aren't repeated you can save time from going back and fixing them later.
Daily Habits for Productivity | Limit Distractions
Smartphones have taken over the world and everyone has one. But those phones can easily be a distraction from whatever you're trying to do. Put those phones somewhere safe, leave them in the drawer or in their charging station.
You don't need to do this all the time, but when you're working on something, you'll be amazed at how much more focus you have when your phone isn't right in front of you.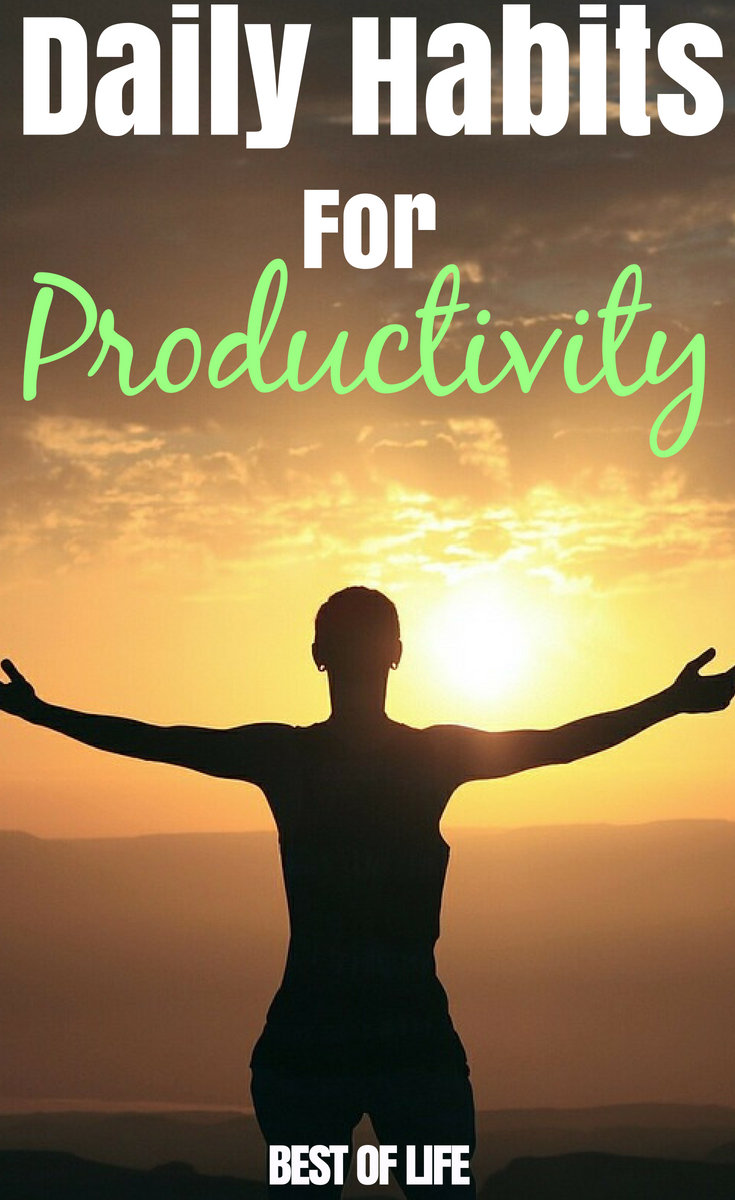 Daily Habits for Productivity | Speaking of Perfection
Perfection is a great goal to work towards but relax, you don't need to be. There is no perfect project, perfect time to start something, perfect product, or perfect body of work. What there will be is someone who strives for greatness and comes close.
But at the same time, trying to be perfect at all times can get exhausting and could also slow you down. Just work to do the best you can and learn from any of the mistakes you make.
Daily Habits for Productivity | Define Success
What is your definition of success? I will bet you it's different from mine, or from the other person reading this. You define your own success and make it happen. Earlier we learned that perfection is something in our own mind and the perfect success is there as well. Don't let others tell you what success is because that will slow you down.
Daily Habits for Productivity | Forget Others
In almost every field of work there is competition. While it can serve as a source of motivation, it can also be entirely disheartening and discouraging. Instead of focusing on the competition in your field of work, just forget about it.
If you make it a habit to focus more on your work rather than the work of others, you will become more successful. If you take a look, just this once, at other successful people you'll see that they aren't worried about what you're doing. That's because they are just focused on what they're doing and getting it done.