Deep Short Quotes about Life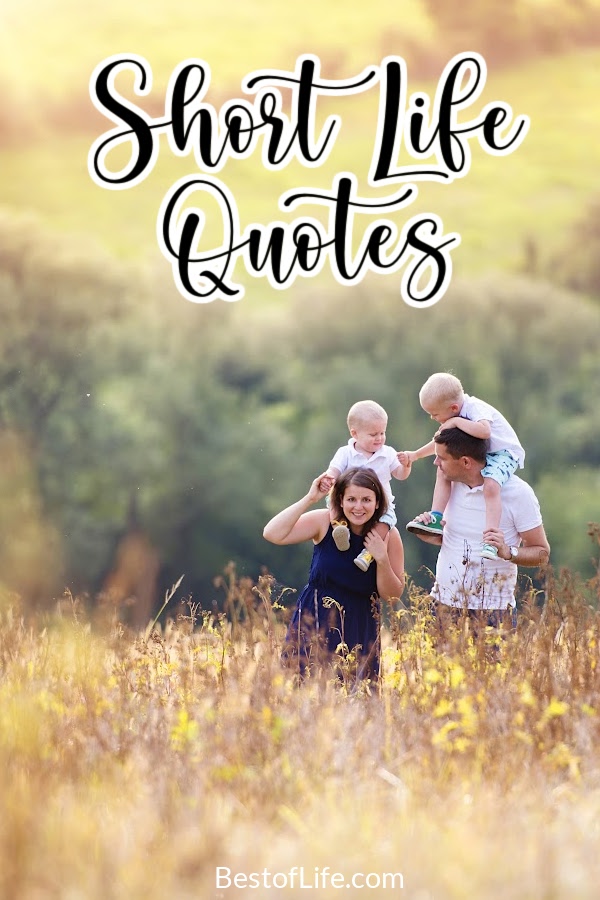 Life is complicated, there are layers and layers that we often miss. We need to take the time to appreciate the things around us, big and small. Deep short quotes about life serve as a reminder to appreciate life a bit more every single day.
Building an appreciation for the little things starts with deep short quotes about inspiring and motivating life. We are told from very young ages that we shouldn't rush growing up, that it goes by so fast. Of course, we don't listen because the future feels so far away.
We rush through our adolescence, dramatically jog through our teens, and then complain our way through our young adulthood. We then realize that went too fast but is it too late? It's never too late. We may not be able to slow time down, but we can appreciate every moment.
We can do our best to look deeper into life and the many things around us that we took for granted before. Rushing through life obviously changes when we reach a certain maturity level, and it's different for everyone. That is why deep short quotes about life are essential.
They remind us of the things we may have lost in the mess that is life. We can use these quotes as often as we need a reminder whenever we feel like life is just beating us up.
Deep Short Quotes about Life
"One day your life will flash before your eyes. Make sure it's worth watching." -Gerard Way
"If you're comfortable with yourself and know yourself, you're going to shine and radiate and other people are going to be drawn to you." -Dolly Parton
"Happiness is not a goal…it's a by-product of a life well-lived." -Eleanor Roosevelt
"I'm a believer in the power of knowledge and the ferocity of beauty, so from my point of view your life is already artful waiting, just waiting, for you to make it art." Toni Morrison
"Count your age by friends, not years. Count your life by smiles, not tears." -John Lennon
"Success is not the key to happiness. Happiness is the key to success. If you love what you are doing, you will be successful." -Hermon Cain
"Life will bring you pain all by itself. Your responsibility is to create joy." -Milton Erickson
"You're never too old to chase your dreams" -Diana Nyad
"Know what sparks the light in you so that you, in your own way, can illuminate the world." -Oprah
"You may not control all the events that happen to you, but you can decide not to be reduced by them." -Maya Angelou
More Quotes
Inspirational Quotes for Parents to Be | New parents are dealing with a big change in their lives that requires a lot of adjusting. But hang in there, it will be worth it…eventually.
Best Quotes About Getting Older | We only enjoy getting older until what? 22? After that, we all just want to pretend getting older is not a thing.
Quotes About New Beginnings | Change happens in life and there is no way to avoid it. But we can look forward to the new beginnings we have ahead of us.
Best Quotes About Change for the Better | Speaking of change, while we may fear it at times, there are also times when we welcome it with open arms.
Quotes About Direction and Purpose | Having direction and purpose is just another part of life but it can actually mean something.