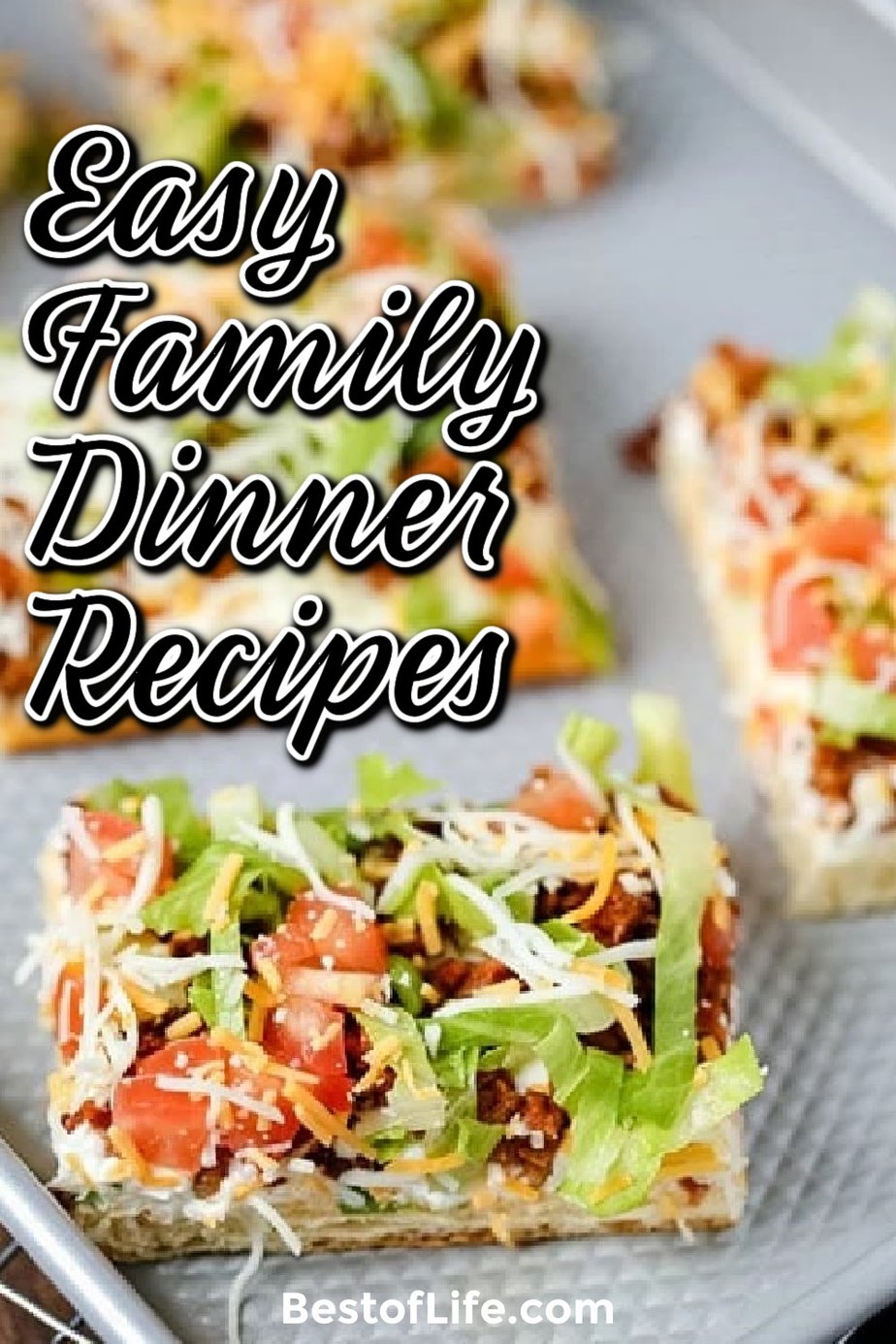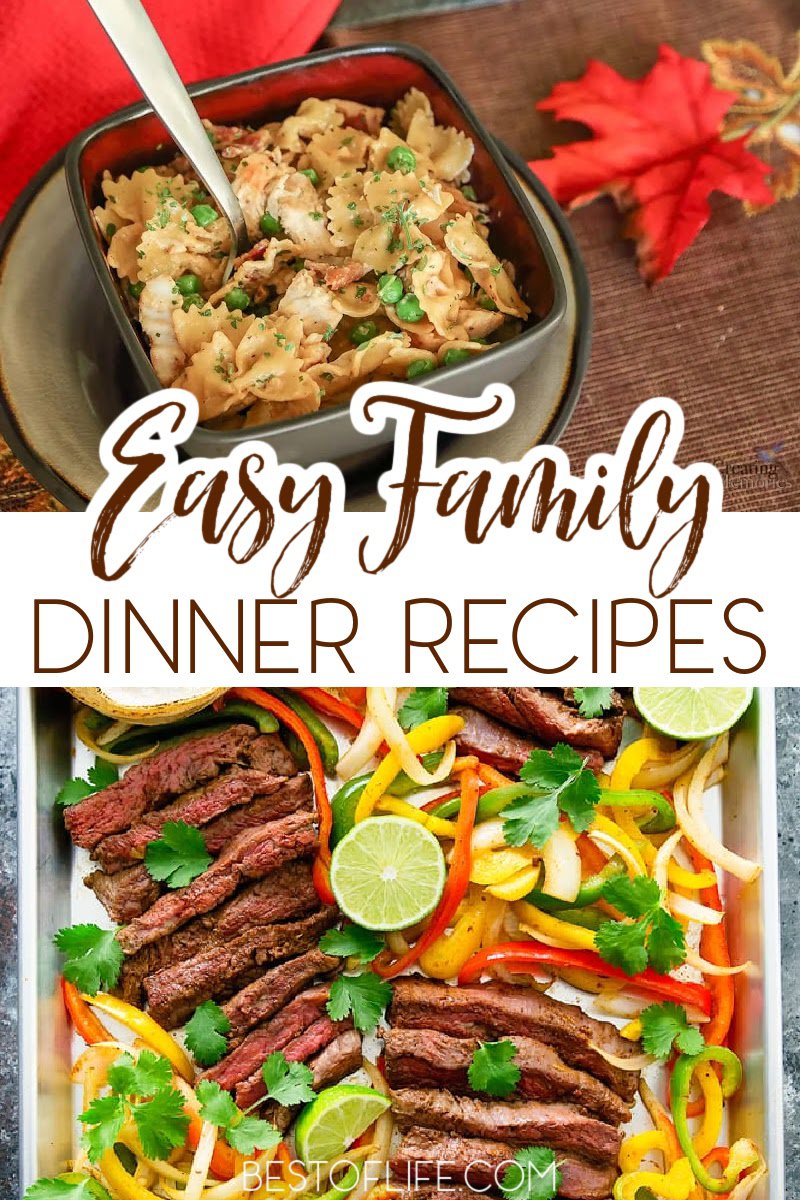 Everyone wants to enjoy a good meal at dinner. One way to keep dinner interesting with the family is to try different dinner recipes as often as possible. When a good recipe is found, save it and use it often but don't be afraid to try something new most nights of the week.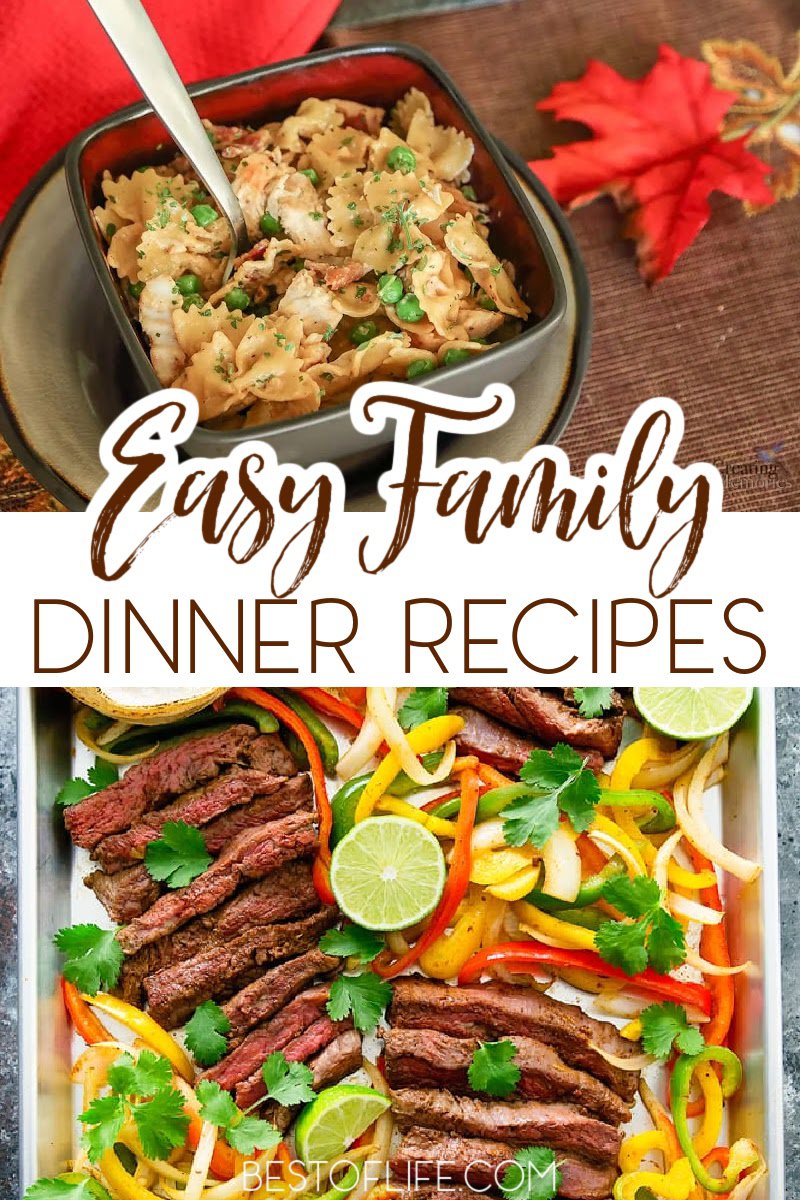 <
The tradition of a family dinner is constantly changing. The table setting may change, and the tradition may differ, but one thing always remains the same. Cooking doesn't have to be a stressful part of your day. You can use a crockpot, other slow cookers, even an Instant Pot or pressure cooker to help make the process simple and easy.
Along with some simple meal prep and organization you can have a great meal on the table even after a long day at the office. Spend less time cooking and more time with your family with these easy family dinner recipes. Easy family meals are key to meal planning!
Dinner recipes can be found in abundance, there's never a shortage of good recipes. The issue most run into is finding good recipes that also don't require a lot of work. Easy family dinner recipes aren't as high in number, especially if you want something amazing.
Most meals that knock your socks off are ones that require hours in the kitchen. But there are a respectable number of easy recipes that will make your family think you've spent the entire day cooking.
Crockpot Chicken Chili with Roasted Peppers | The Best of Life Magazine
Three Ingredient Crock Pot Beef Roast with Vegetables | The Best of Life Magazine
Shredded Chicken and Crackers Crockpot Recipe | The Best of Life Magazine
Easy Chicken Enchiladas Recipe | The Best of Life Magazine
Turkey Chili Crockpot Recipe | The Best of Life Magazine
Easy Family Dinner Recipes
Cooking dinner for an entire family is not an easy task. There is a lot that goes into every recipe, but the more challenging part is pleasing everyone. We all have different preferences and being related doesn't change that. The question is, how do you please everyone without cooking 50 different things?
The answer is not to please everyone. Instead, the answer is to make it easier to cook. This way, if someone isn't happy about dinner, you won't feel as bad knowing you worked so hard on that meal, and they don't want to eat. They can make themselves a sandwich if they don't want what you made.
Sweet Potato Casserole | Princess Pinky Girl
One Pot Teriyaki Chicken, Rice and Vegetables | The Recipe Rebel
Lemon Chicken with Veggies | Lil' Luna
BBQ Chicken Tostadas | Cupcakes and Kale Chips
5-Ingredient Dump-and-Bake Chicken Pot Pie | The Seasoned Mom
Delicious Dinner Recipes
Luckily, these recipes are all delicious! There may be a few fussy eaters out there, but these recipes will please the majority of us. In fact, there are enough recipes here to get you through an entire month of healthy, delicious meals. There is such a wide array of recipes to choose from as well.
Chicken Carbonara | Busy Creating Memories
Avocado Black Bean Quesadillas | Gimme Delicious Food
Taco Pizza | Living Well Mom
Cheeseburger Biscuit Bake | The Gracious Wife
Chili Mac | All She Cooks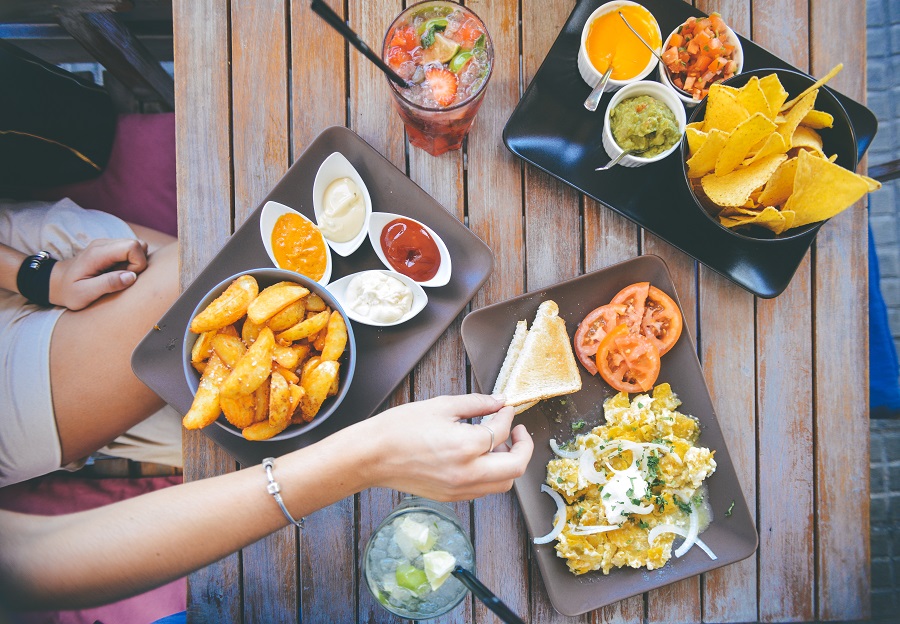 Variety is the Spice of Life
One way family dinner recipes can be easily enjoyed by everyone is by adding a little variety. You don't want to make a variety of things in one night. But having something completely different from the night before keeps things exciting. For example, did you have chicken tonight? How about a pasta tomorrow night?
Cheeseburger Tater-Tot Casserole | The Gingham Apron
Mexican Pizza | Love Bakes Good Cakes
Chicken and Broccoli Pasta | Smart School House
Meatball Sliders | Home Made Interest
Parmesan Chicken Roll-Ups | Written Reality
Spending Time Together
Everyone has a lot to do, especially during school season. But that doesn't mean you can't find a way to get involved in making dinner. This is a great time to spend together, creating something that you will all enjoy. In fact, having a part in making dinner may make the kids more likely to eat it.
5-Ingredient Creamy Taco Alfredo | Good Cook
Slow-Cooker Chicken Burrito Bowls | Kitchn
Classic Stromboli | The Food Charlatan
Vegetable Beef Soup | Smile Sandwich
7 Can Chicken Taco Soup | Together as Family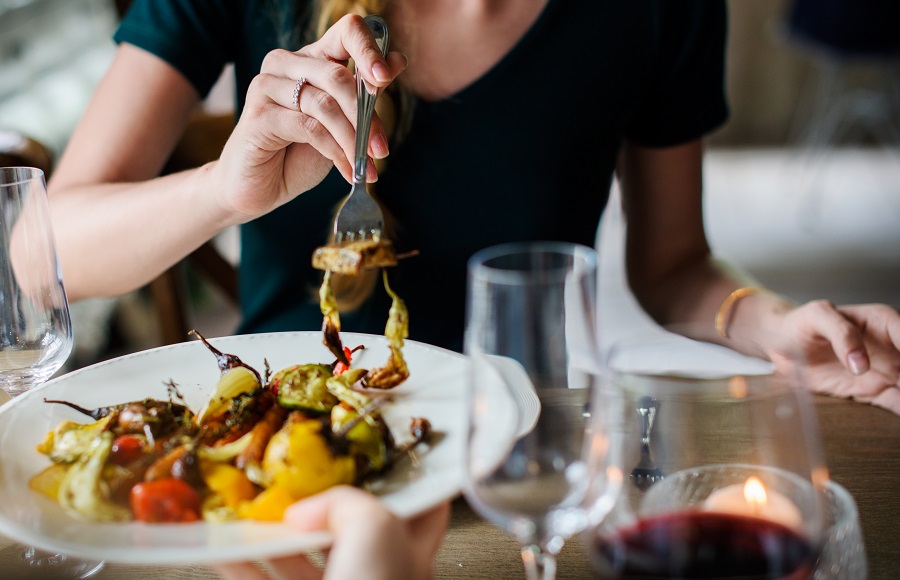 Planning Ahead
Speaking of being busy…time is against us at all times. There just is never enough time in the day to get to everything we want. There are even some things we don't want to do that we luckily, don't have time to complete.
That is why it is important to plan ahead. You don't need to plan out every aspect of life. But knowing what you are going to make every night this week is the least you can do. This will help save you time trying to find a recipe just before you start.
Copycat Chick-Fil-A Nuggets | Budget Savvy Diva
Skillet Sausage and Rice | Favorite Family Recipes
Bacon Chicken Noodle Casserole | Kleinworth Co
Orange Chicken | The Gunny Sack
Sheet pan Steak Fajitas | Kirbie's Cravings
Time to Eat
Family dinner recipes will help you get the meal ready to eat. But there is still more that needs to be done. Use your dinner time with family to catch up on things, teach manners, and reward good behaviors. After all, we bond over food.
Loaded Potato Meatloaf Casserole | This is Not Diet Food
Bacon and Spinach Pasta with Parmesan | Budget Bytes
One-Pan Cheesy Chicken, Broccoli, and Rice | The Girl Who Ate Everything
One Pan Baked Ziti | Tastes Better from Scratch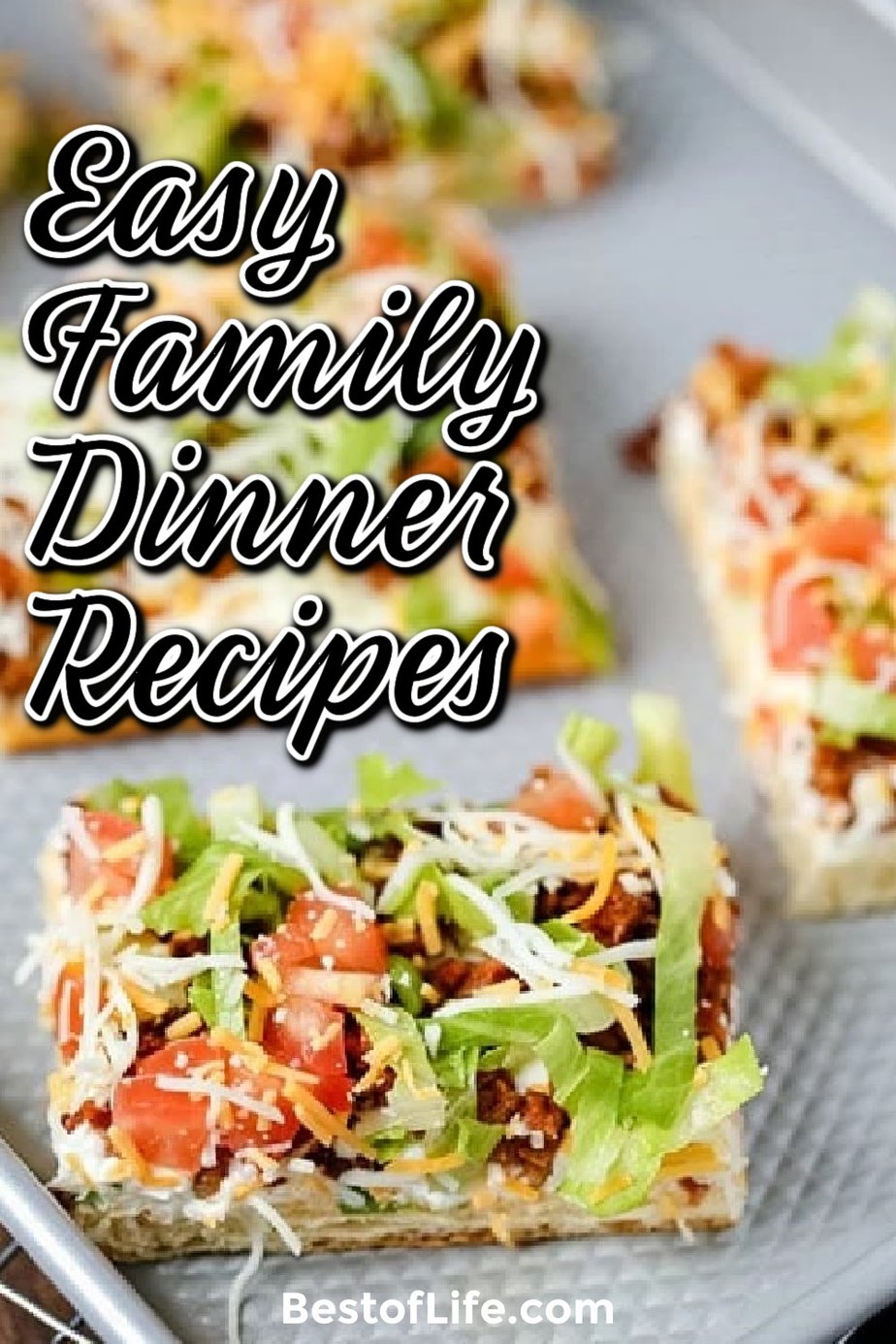 More Fun Recipes
Holiday Party Food Appetizers for any Size Gathering | There are times when we are serving more of our family than we ever thought possible. Holiday season can be stressful, but appetizers will make things easier.
Instant Pot Creamy Sausage and Kale Soup | Want something just for you? How about a delicious bowl of soup to cozy up with?
How to Make Instant Pot Mashed Potatoes | Instant Pots can really make a difference when making side dishes to go with your family dinner recipes.
Football Game Day Food Ideas | Game Day is definitely here and that means it is time for some sporty finger foods that everyone will love.
How to Make the Perfect Mojito: Shopping List and Tips | You can now relax, kick back, and enjoy a refreshing mojito after all of that work you have done today.