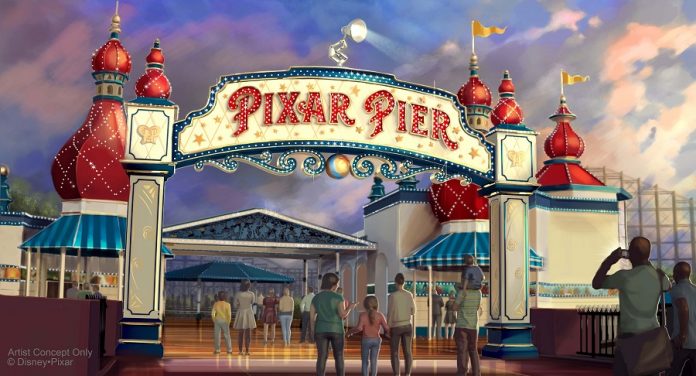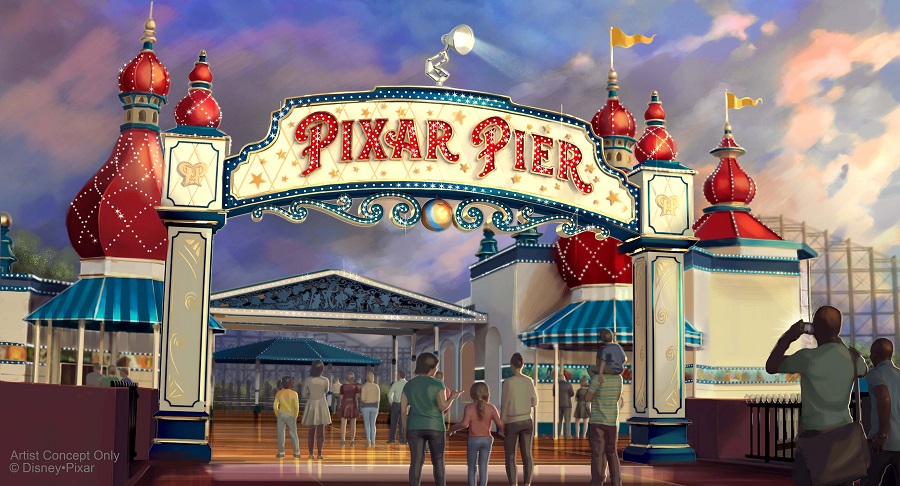 This site contains affiliate links. Please read our Policies for information.
Every year, Disneyland has a new tagline that sets the stage for the theme for the rest of the year. In 2018, the tagline for Disneyland is "Get more…" followed by happy, adventure, memories and more. However, for the beginning of 2018, the tagline should be "Get More…" construction. Pixar Fest 2018, will celebrate everything Pixar this summer.
Pixar Fest 2018 is the celebration of the Pixar themed remodel in California Adventure and there are a few things you should know before you go to the Disneyland Resort.
There are many ways to celebrate Disney movies in Disneyland and now, several new ways are coming to California Adventure. Pixar Pier will celebrate the family of movies made by Disney Pixar.
For example, Paint the Night is returning, giving guests the opportunity to bring out glow in the dark toys to light up the night. While many will see this as the perfect opportunity to pack your day bag and head to the park, there are a few things you should know about Pixar Fest 2018.
Pixar Fest 2018 | Dates
Pixar Fest will get an official start of April 13, 2018. However, not every aspect of Pixar Fest will be ready. Disney has announced that the friendship celebration will start out with a new Fireworks show at Disneyland, Paint the Night will return to the resort, this time at California Adventure, and there will even be a new float added.
Pixar Fest 2018 | Fireworks
During Pixar Fest, the new fireworks show, Together Forever – A Pixar Nighttime Spectacular will hit Disneyland. There has been a photo released that shows projections on the buildings on Main Street.
There will also be projections on Sleeping Beauty's Castle, the Rivers of America, and It's a Small World. The parade will be a story of friendship, a common thread in Pixar classics like Toy Story, Finding Nemo, Monsters Inc., and Up.
Pixar Fest 2018 | Paint the Night
Paint the Night was a smash hit at Disneyland during the Diamond Celebration. The parade is an upgrade to the classic, Main Street Electrical Parade. The parade had a mixture of Disney Classics and Pixar character floats with one of the biggest being from Disney Pixar's Cars.
This year, Paint the Night will return to the resort. However, the parade will not be lighting up Disneyland, instead, the streets of California Adventure will host the parade.
Pixar Fest 2018 | New Float
There will also be a new float added themed around Disney Pixar's The Incredibles in June of 2018. The new float will have Mr. Incredible, Elastigirl, and Frozone will be taking on a new threat, the Underminer. Also on the float will be Violet, Flash, and Jack-Jack showcasing their powers in surprising new ways.
Pixar Fest 2018 | Pixar Play Parade
Pixar Play Parade is getting a few upgrades, new floats, new characters, and new experiences throughout the parade. Some new characters include the Pixar Lamp and Ball, Characters from Up, and Inside Out will also join the fun.
While many know this particular parade has been at California Adventure for what seems like years and years. However, the upgrades will breathe new life into the parade. Not only will new floats and characters improve upon the parade, a new route is coming as well. Pixar Play will be in Disneyland rather than in California Adventure.
Pixar Fest 2018 | Pixar Shorts
Everyone loves the Pixar shorts almost, if not as much as, the actual Pixar movie they're set to watch. Those Pixar Shorts will be playing at the Sunset Showcase Theater in California Adventure.
This will be a great way to take a break and relax your feet at the Disneyland Resort. The shorts will rotate throughout Pixar Fest so everyone will have a chance to see their favorites.
Pixar Fest 2018 | Paradise Gardens
Paradise Gardens will remain throughout Pixar Fest, in fact, there will be new ways to enjoy Pixar movies within Paradise Gardens. A musical troupe will play Pixar classics in Paradise Gardens. There will also be opportunities for kids to get crafty with arts and crafts, and you'll also be able to meet Pixar characters.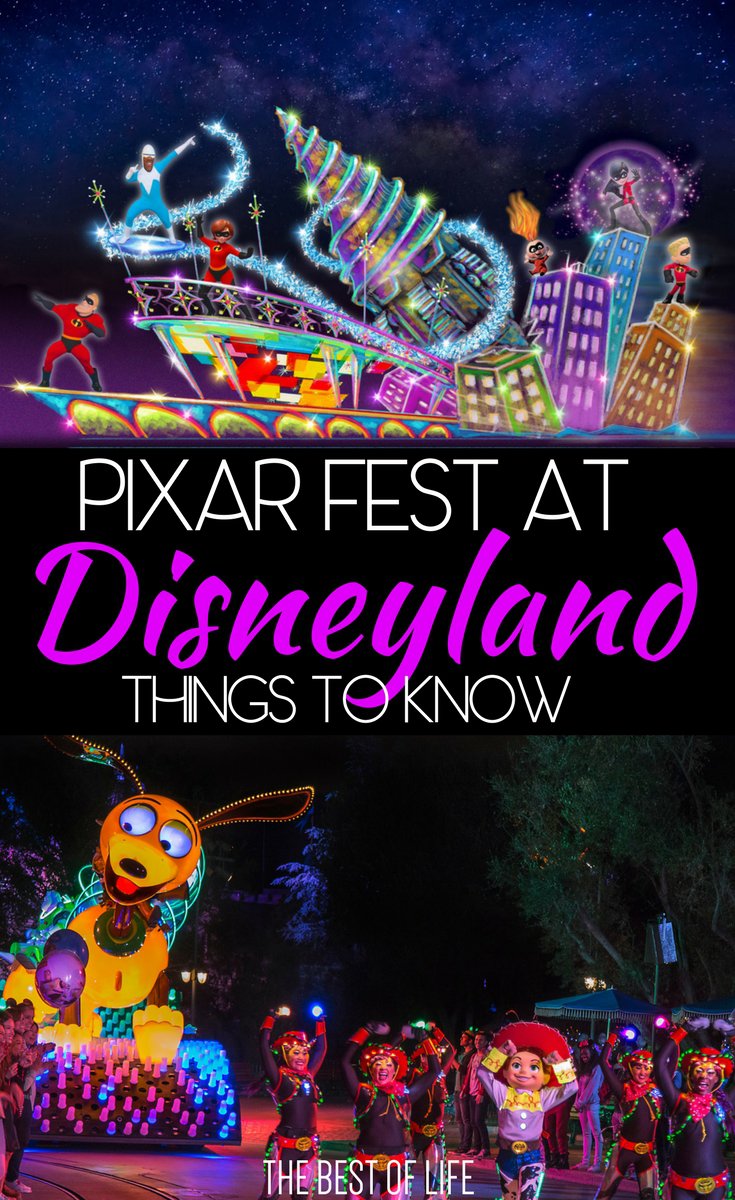 Pixar Fest 2018 | Pixar Food
Not much has been said yet about the food that will be offered during Pixar Fest. However, every Disney fan knows that every theme gets new food offerings in the form of cake pops, cupcakes, drinks, and savory dishes throughout both parks.
You can be certain that Pixar themed foods and beverages will be hitting the parks and some may even become the new Rose Gold Minnie ears.
Pixar Fest 2018 | Pixar Merchandise
Another staple of every Disneyland Resort theme is merchandise. There are already plenty of Pixar themed merchandise throughout the parks and there will certainly be more. One example that has already been announced is an exclusive charm bracelet.
There will be multiple bracelets with a wide selection of charms that will help you celebrate your personal friendships with Pixar.
Pixar Fest 2018 | Pixar Pier
Pixar Pier is the newest addition or remodel, depending on how you look at it, at California Adventure. Taking over Paradise Pier will be Pixar themed neighborhoods.
California Screamin' will be turned into The Incredi-Coaster, Triton's Carousel will turn into Woody's Roundup, and all of the games, stores, and food carts will become Pixar themed. However, it's important to remember that Pixar Fest will begin on April,13 but Pixar Pier will not open until June, 23rd.