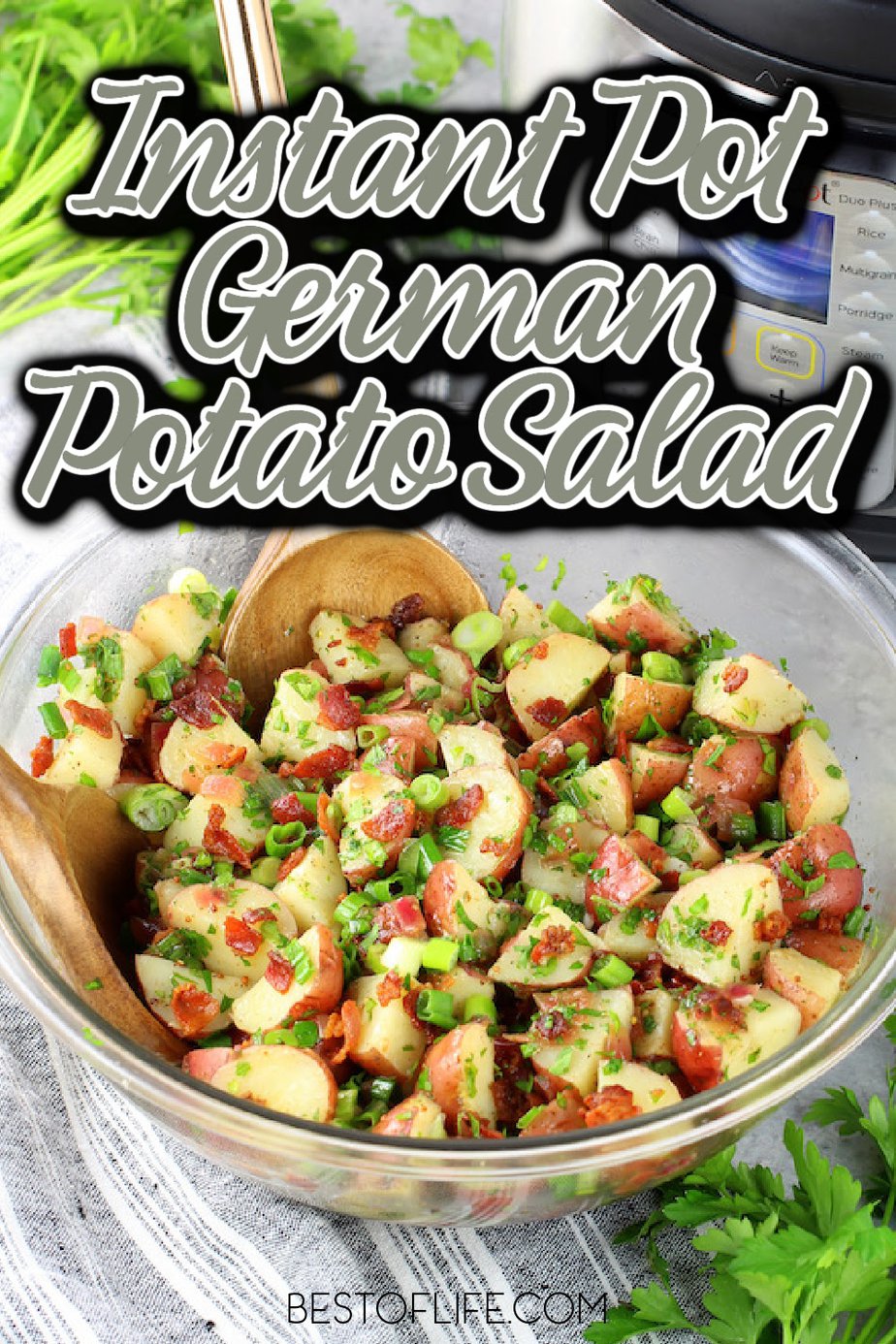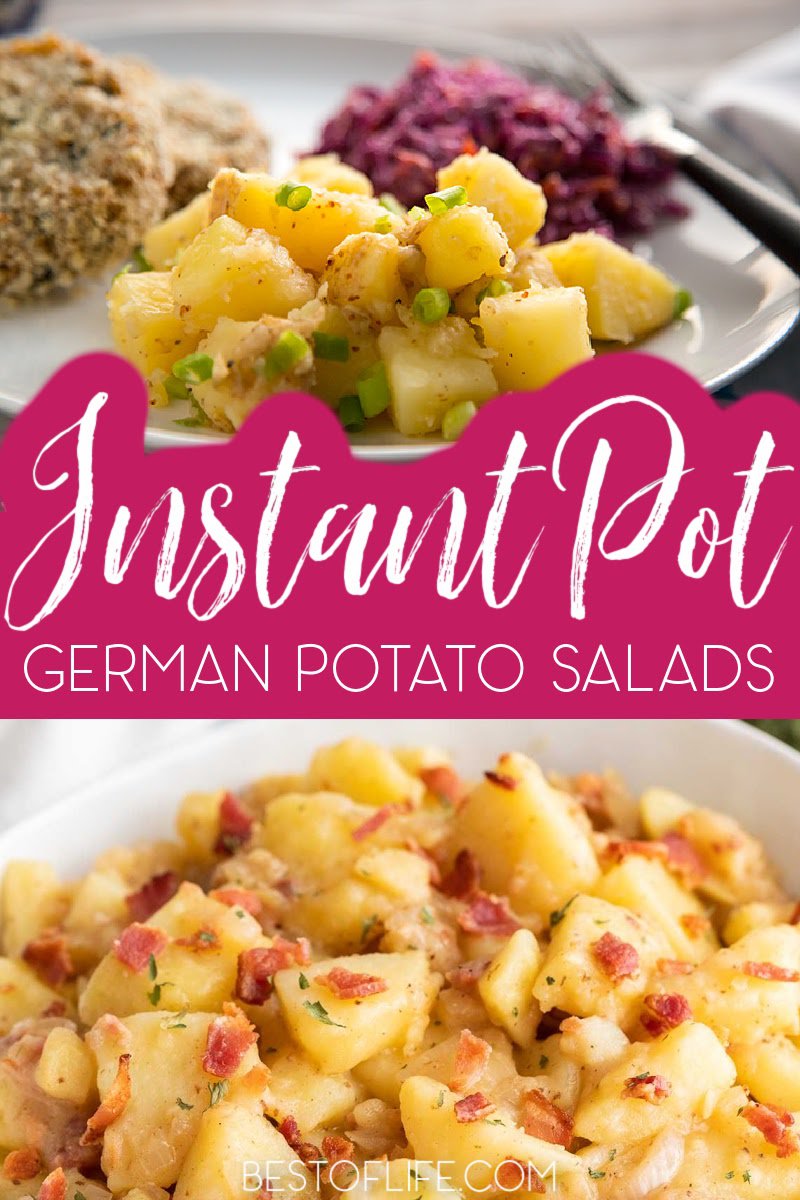 Have you heard of a German potato salad? In fact, you can make your very own Instant Pot German potato salad recipes and enjoy it at home. You could even break out these recipes during your next gathering and wow your family and friends who have not tried it yet.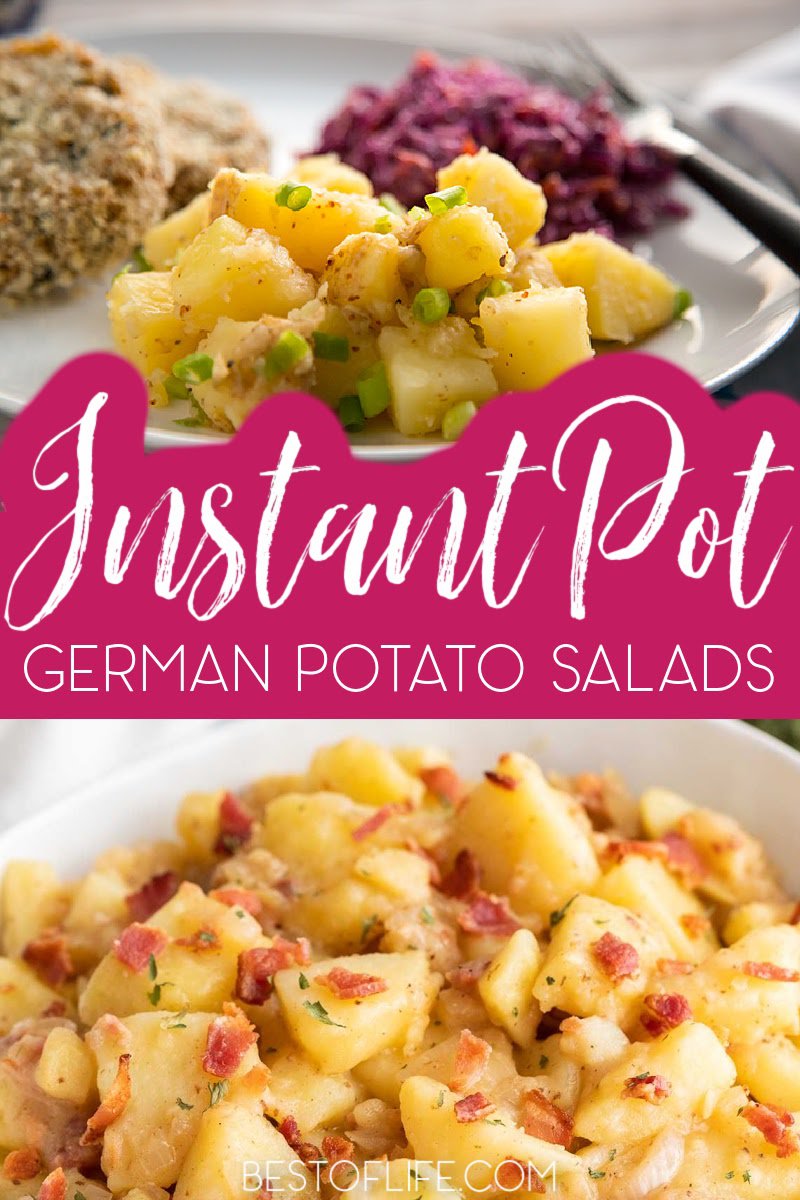 What do you think of when you think of potato salad? Most likely you think of a summer dish during a summer BBQ filled with family and friends. But what about a warm potato salad with a vinegar-based sauce instead of a mayonnaise one?
You can use Instant Pot German potato salad recipes to experience the popular Instant Pot summer side dish in a whole new way. These Instant Pot German potato salad recipes are amazing. You not only get to experience food from another country.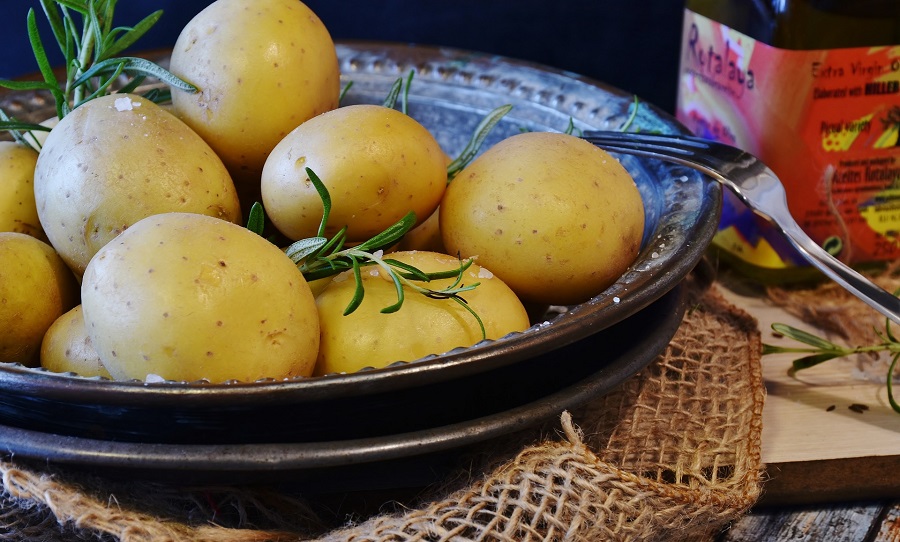 But you also get to try a popular dish in a new way. Instead of a cold side dish you get a warm side dish. But the biggest difference will be the sauce you toss the potatoes in. We are familiar with a mayonnaise-based sauce. German potato salad is made with a vinegar-based sauce.
That means the dish will be more tangy than creamy. You could use the side dish in the same way as the one you are familiar with. However, these recipes might be more enjoyable as a comfort food side dish, rather than a BBQ side dish.
Grandma's German Potato Salad | Mealthy
German Potato Salad with Herbs | Taste and See
Whole30 German Potato Salad | Tasty Thin
Authentic German Potato Salad | Plated Cravings
German Potato Salad with Bacon | Food Lovin' Family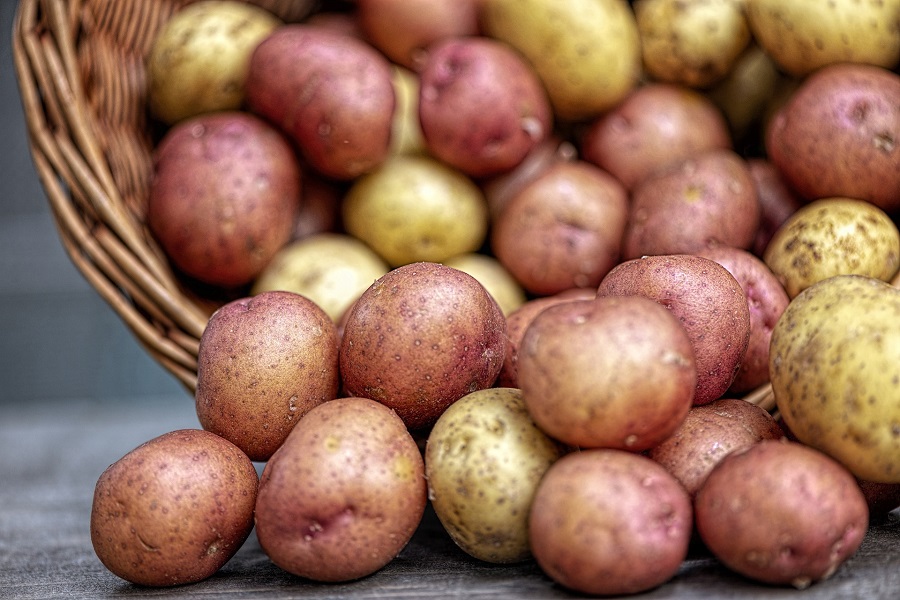 Warm or Cold Instant Pot German Potato Salad
The traditional version of these potato salads is to serve them warm. However, you can serve it cold if you'd like. Just keep in mind that this cooks in hot ingredients so cooling it down will take some time. But the results are worth the extra time.
You could even serve it cold during the summer and warm in the fall for two different experiences. Of course, you may want to test out both methods before deciding which one is your favorite. The different textures and flavors will be as if you made two completely different recipes. Even if you used the same one for hot and cold.
Pressure Cooked German Potato Salad | Pressure Cooker Convert
Bavarian Potato Salad | This Farm Girl Cooks
Classic German Potato Salad | Real Food Real Deals
Vegan German Potato Salad | Fat Free Vegan
Hot German Potato Salad | Tiny Soda Mama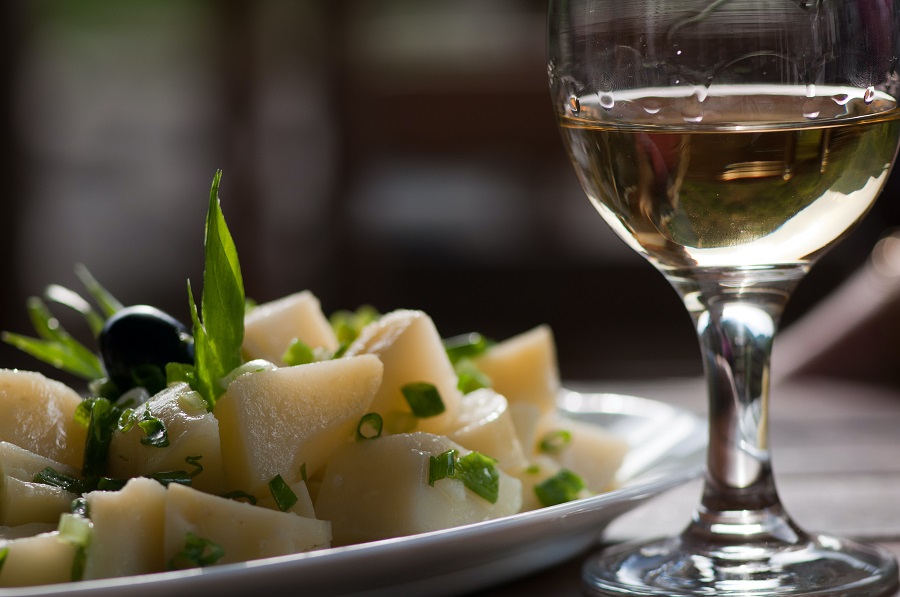 Classic with a Twist
Many of these recipes produce a classic German potato salad. But there are a few that have a twist. You can try the different versions and find out which ones you like the best. Fair warning, you will love multiple recipes and may need to find excuses to make it again and again.
You may not be familiar with German potato salad. However, that doesn't mean it isn't good. In fact, you can use these side dish recipes for BBQ parties or holiday meals. That's how versatile this dish can be when you have so many ways to cook.
German Russet Potato Salad | Copy Me That
Gluten-Free German Potato Salad | The Happy Gluten Free Vegan
Warm andTangy German Potato Salad | Julie's Eats and Treats
The Best German Potato Salad | Simply Recipes
German Potato Salad with Bacon and Red Onion | Kitschencat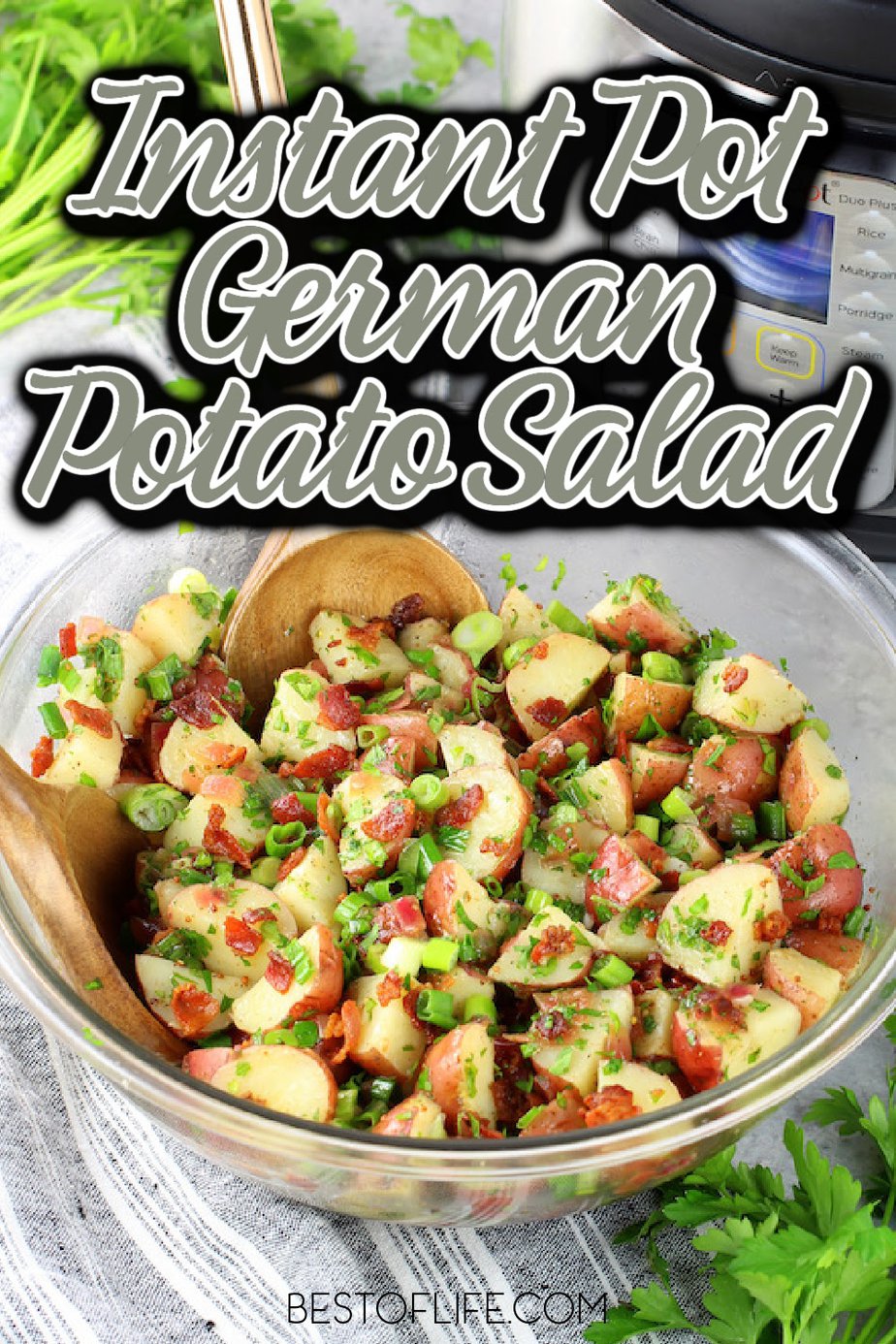 More Instant Pot Recipes
Whole30 Instant Pot Chicken and Vegetable Soup | Chicken soup makes another great side dish that you can cook in an Instant Pot with ease.
Instant Pot Meatloaf and Mashed Potatoes Comfort Food Recipes | You can also make an entire meal with meatloaf and potatoes in your Instant Pot that the whole family will love.
Pressure Cooker Beef Goulash Recipe | Pressure cooking is how Instant Pots work. That pressure helps make some of the best goulash ever.
Easy Instant Pot Lasagna Recipes | You can also make lasagna in ways that you may have never thought of that come out better than the classic oven method.
Instant Pot Corn Recipes for the Perfect Side Dish | But Instant Pots will always be the most popular way to make delicious and flavorful side dishes that compliment your meals perfectly.