15 Backyard BBQ Drinks for an Outdoor Party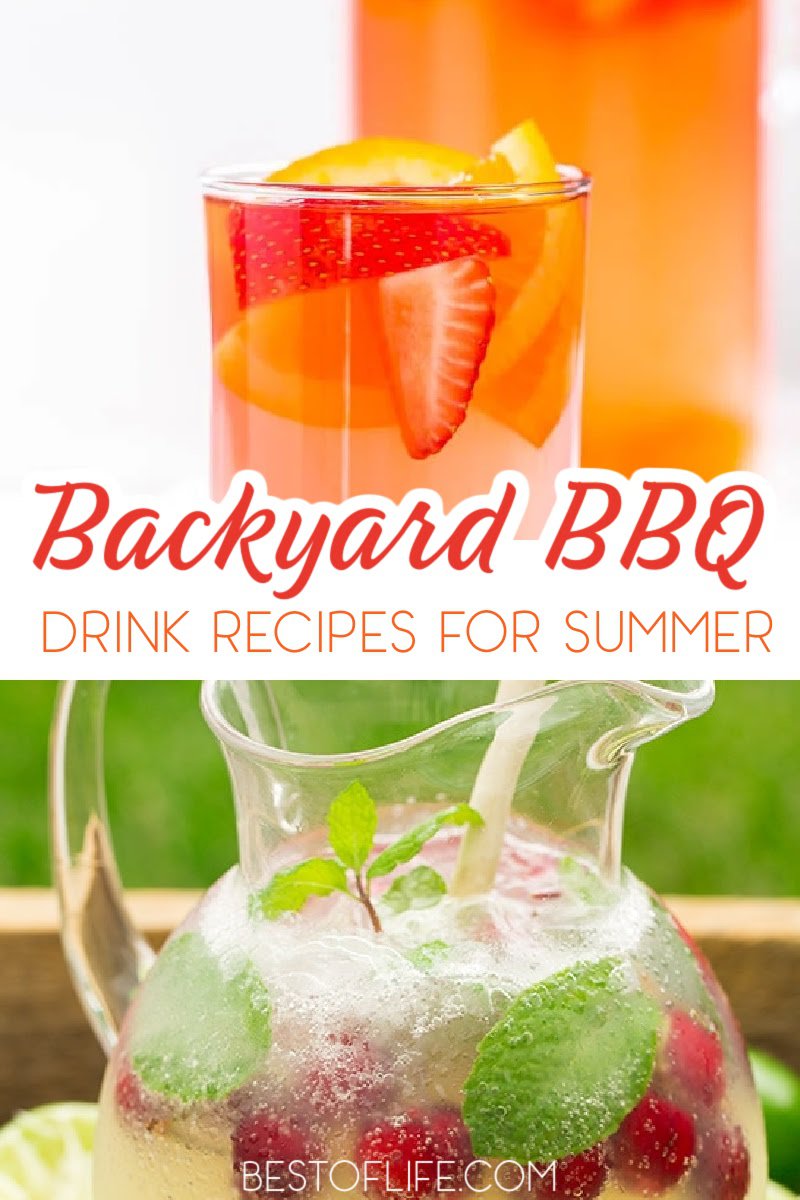 It will be hot outside during a BBQ and the grill will make things even hotter. To stay cool, some can use a swimming pool or some misters. But if you don't have either, you can just make some of the best backyard BBQ drinks for an outdoor party to help keep you cool.
Get our popular summer cocktail recipes ebook for only $2.99! These drink recipes are perfect for any thirsty desire!
Having food cooked over a hot flame is amazing and enjoying the warm summer sun makes it even better. Make some easy backyard BBQ drinks to make sure your party guests stay cool while you cook and enjoy the summer weather.
Stock up on your plastic cups, umbrella picks, and straws! Summer is an amazing time to enjoy the weather but sometimes the heat can become a bit unbearable depending on where you live. We all know the sun can be damaging to our health, but so can the heat!
On hot days, it's important to stay hydrated. Backyard BBQ drinks can help you and your party guests stay hydrated. They can also add a little flavor or fun to your party. And after the sun goes down, you can kick up the heat with spiked summer cocktails.
The most important thing is that you have fun and enjoy summer before it leaves us again.
Low Cal Mojito | The Best of Life Magazine
3 Whiskey Drinks for Summer | Best of Life
Homemade Cherry Icee | Passion for Savings
Sparkling Honey Limeade | Cooking Classy
Sparkling Peach Punch | Carlsbad Cravings
Butterbeer (For All Ages) | Love is in My Tummy
The Best of Life Jello Shots
It is time to get the party started! Shots work really well for kicking things off, but they can be kind of boring. Luckily, you can combine two amazing things together and get one amazing cocktail (?) or snack; however you want to look at it.
Jello shots are perfect for summer BBQs.
How to Make Jello Shots with Vodka
Tequila Jello Shot Recipes to Liven up a Party
Jello Shots with Rum Recipes for Every Party
Backyard BBQ Drinks for an Outdoor Party
There are plenty of drinks that are perfect for summer. In fact, pretty much any drink is perfect for summer. However, you will want it to sound and look good with ice, so hot chocolate and even wine may not be the best bet.
There are still plenty of options for you to choose from, and all of them are perfect for a hot summer day.
Watermelon Layer Drink | High Heels and Grills
Roasted Peach and Strawberry Fizz | Use Your Noodles
Peach Agua Fresca | Little Spice Jar
Tropical Strawberry Lemonade | Averie Cooks
Strawberry Margarita (For All Ages) | Life Straight Up
Virgin Pina Colada | House of Yumm
Keeping Things Cold
The most important thing is that your drinks remain cold. One of the best tips for storing drinks and keeping them cold while you're outside is freezer bags. Freezer bags can be filled with ice, and they will keep the drinks cold.
The melted ice will stay in the freezer bag as well, so you don't have to deal with drying off any can.
Raspberry Fizz | Jo Cooks
Orange Creamsicle Float | Noshing with the Nolands
Sonic Ocean Water | Baking Beauty
Watermelon Lemonade | Pepperbowl
Fizzy Pineapple Punch | The Chunky Chef
More Best of Summer
21 Finger Food Appetizers for your Summer Party | Finger foods make the perfect party food. You can make a variety of them since making them will be simple.
Best Things to Do in Summer in Upstate New York | Upstate New York is a beautiful place to spend summer vacation, for all ages.
The Best Beer for Summer | Yes, there is a beer for summer; in fact, there are a good number of beers that are perfect for summer.
Best Summer Bucket List Ideas | Everyone should have a bucket list, and it should be filled with amazingness throughout.
Best Family Road Trip Movies | Best Summer Movies | Ready to take a family road trip? Maybe these movies can help you get prepared.