This site contains affiliate links. Please read our Policies for information.
Vacation Myrtle Beach (VMB) is one of the largest hotel groups in the MYRTLE BEACH area. Currently, there are 14 OCEANFRONT properties with a total of almost 4,000 accommodations. Many people TRAVEL to this popular destination every SUMMER. The BEACHES, the POOLS, the events and more all bring TOURISTS to enjoy the sun as it shines down. However, one season gets less attention than most, FALL. The fall season at Myrtle Beach is just as amazing as summer for many different reasons.
Myrtle Beach is a popular destination year round and there are so many things to do in fall that make it a must-visit destination.
Visiting Myrtle Beach during the fall is easier thanks to Vacation Myrtle Beach. The hotel group is inviting everyone to visit one of its hotels during fall with special rates. While heading to the beach sounds like a summer activity, VMB offers many different activities and takes advantage of the local events for its guests. Find out why people who visit the area during summer are doing it wrong when you travel during fall.
Enjoy the Weather
Summers are nice in South Carolina but things can get really hot. The fall season brings slightly cooler weather to the area. While things seem to be cooling down, the sun stays out keeping things warm. During the day, you can enjoy the weather on the beach and mild nights lead to great fun.
Warm Waters
There are many different types of waters you can enjoy. Head to the perfectly heated pools at the Vacation Myrtle Beach hotels or head down to the beaches for some natural swimming. No matter which water you choose to dive into, you'll be satisfied.
Go Fishing
No matter what type of fishing you enjoy most, there is an open spot on the waters for you. Pier fishing is allowed, which makes a day of fishing very easy. For the more adventurous types, deep sea charter fishing is also available. With fewer crowds out on the water, your odds of catching your fish are higher.
Kayaking
Everyone is welcome to enjoy the warm waters of Myrtle Beach but there are also Grand Strand waterways for kayaking as well. There are a few different rental companies that offer different adventures while kayaking around the area.
Wildlife
Seeing wildlife is amazing, seeing wildlife at Myrtle Beach is even better. You can take a safari or visit the TIGERS preservation station. If you want to keep with the water trend, head out with Waccamaw River Tours.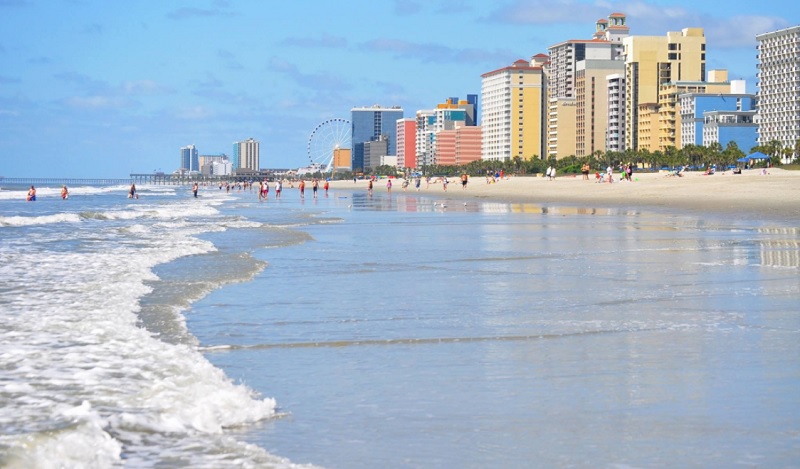 Skywheel
Myrtle Beach has a few different tourist attractions that stay open during the fall. One of the icons of tourism in the area is the Skywheel. The Skywheel is an enormous Ferris Wheel that takes guests high above the beaches below. At night, the wheel illuminates with thousands of LED lights and makes it a perfect photo opportunity.
Sleep with the Sharks
Ripley's Aquarium of Myrtle Beach has a special offering for guests and it's an all-nighter. Kicking the night off is a dive show, scavenger hunt, and other late-night activities. When it's time for bed, you'll set up camp in the Dangerous Reef Tunnel, where the sharks sleep.
Enjoy Your Room
Vacation Myrtle Beach has perfected the art of putting together a cozy room to stay in while traveling. There are one-, two-, three-, four-, and five-bedroom suites available to choose from. Each room brings a level of luxury you can only find with VMB.
Hotel Amenities
VMB doesn't want you to just sleep in its rooms, activities are offered to guests daily. Pools, water parks, lazy rivers, whirlpools, restaurants and more can all be found on-site or nearby. There are also areas of the hotels that let you get active like tennis courts, bowling centers, racquetball courts and fitness rooms.
Swim-Up Bar
South Carolina's first swim-up bar can be found at VMB properties. These bars let you stay in the pool while you order your drinks so the fun never ends. No need to get out of the water just to get a cocktail anymore.
To learn more about Myrtle Beach, visit Vacation Myrtle Beach.