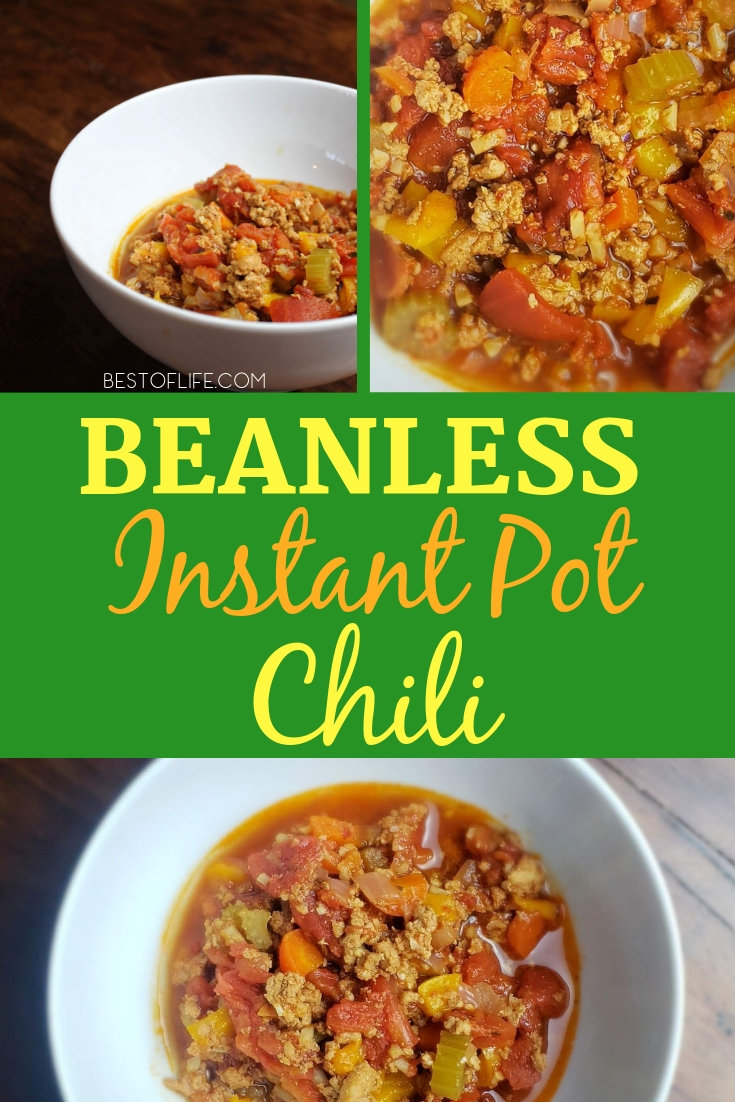 A bowl of chili can be a beautiful thing. This warming comfort food is packed with flavor and is often the star of many summer cook-offs and home cook tastings. To make the best chili, layering of flavors is key. And you no longer have to slow cook over an open fire to obtain that perfection. Instead, you can use a beanless Instant Pot chili recipe to get the same great dish.
The perfect pot of chili for lunch or dinner, family night, or larger gatherings is one you make with the best beanless Instant Pot chili recipe.
With the surging popularity of the Instant Pot, there are thousands of recipes available to home cooks, busy families, and even health-conscious meal preppers that used to be labor-intensive and time-consuming.
This beanless Instant Pot Chili will become a quick favorite for any chili lover, but especially those looking for a satisfying low carb meal that even fits nicely into a Whole30, Paleo, or 2B Mindset meal plan.
Loaded with veggies, lean protein, and spices, you can't go wrong. Plus, with its 10-minute cook time, you can make two batches and freeze one, or put it in meal prep containers to enjoy throughout the week.
This satisfying chili can be used to spice up your breakfast omelet, as a quick and healthy lunch, or a filling and comforting family dinner. It's pretty close to Instant Pot perfection.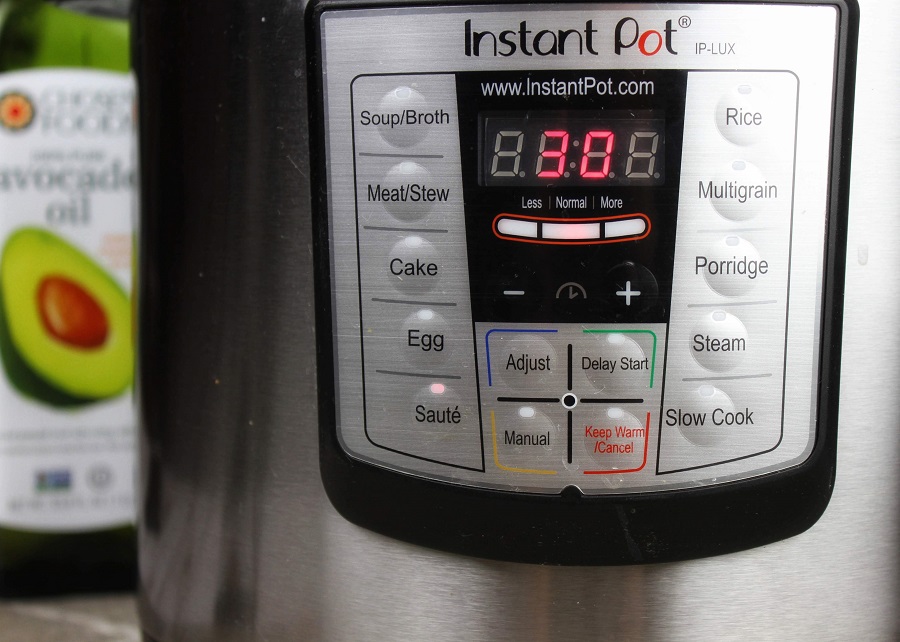 Beanless Instant Pot Chili Ingredients
What goes into a great chili recipe? Most chili recipes use meat as the base. After the meat, you add seasonings and other flavor producers into the mix and let everything blend together into a magical bowl of deliciousness. This recipe is no different. We will be using ground turkey as the base. From there, things like onions, jalapenos, tomatoes, chili powder, and so much more will also be thrown into the Instant Pot and come out as the best bowl of chili you've tasted.
1 lb. lean ground turkey
2 tbsp. avocado or olive oil
2-3 stalks celery, diced
1-2 carrots, chopped (or 5-10 baby carrots, sliced)
1 red onion, diced
1 tbsp. jalapeno, diced small
1 tbsp. garlic, chopped fine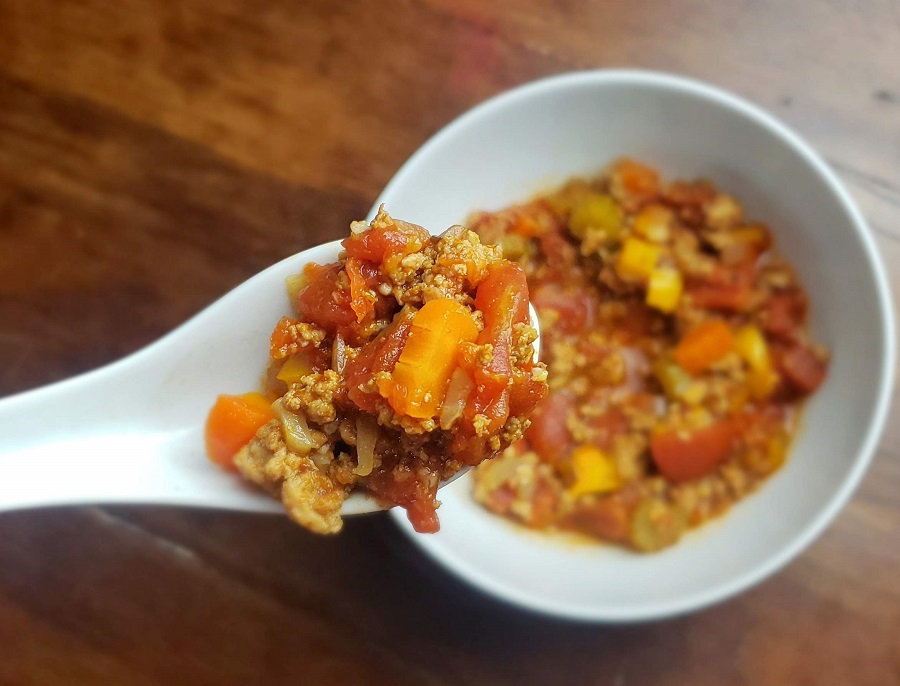 2 bell peppers of any color
1 cup riced cauliflower
3 14-oz. cans diced tomatoes
3 tbsp. chili powder
1 ½ tbsp. cumin
1 tsp. oregano
salt and pepper to taste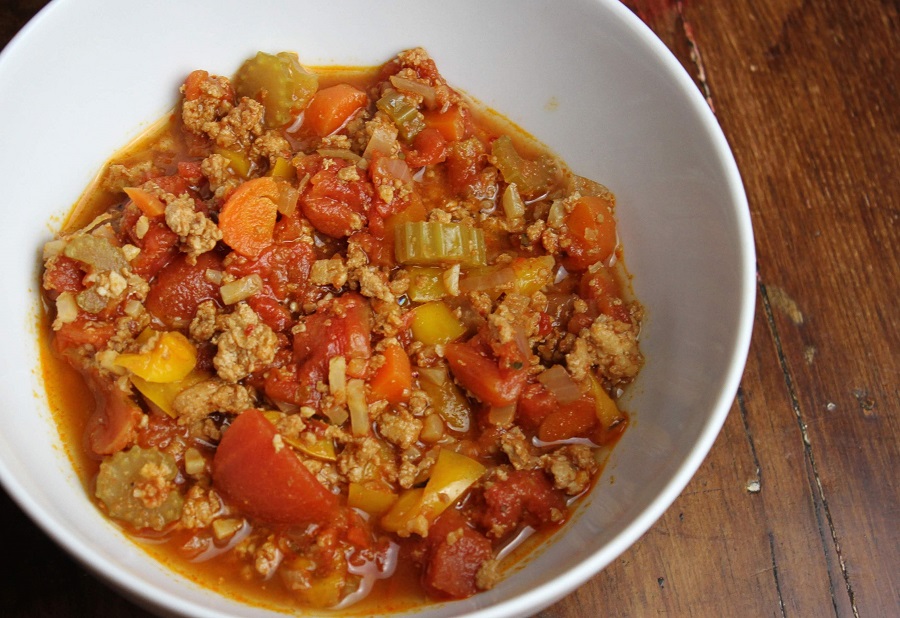 Beanless Instant Pot Chili Directions
Add oil to the Instant Pot and set to Saute. Then add the ground turkey along with a pinch of salt and pepper (optional). Brown the turkey and break up larger pieces with a wooden spoon, about 5 minutes.
Add the celery, carrots, onion, jalapeno, garlic, peppers and riced cauliflower. Stir and saute for about 3 minutes.
Add the chili powder, cumin, and oregano and stir to combine all ingredients. Then add the tomatoes. Stir once more. Turn off the saute mode.
Place the lid on the Instant Pot and lock. Close the pressure valve and set the cooking time manually to 10 minutes.
Once the 10 minutes are up, let the chili release pressure naturally. This part should take no more than 10 minutes. Use the end of a wooden spoon to push the release lever to quick release before removing the lid.
Serves 4-6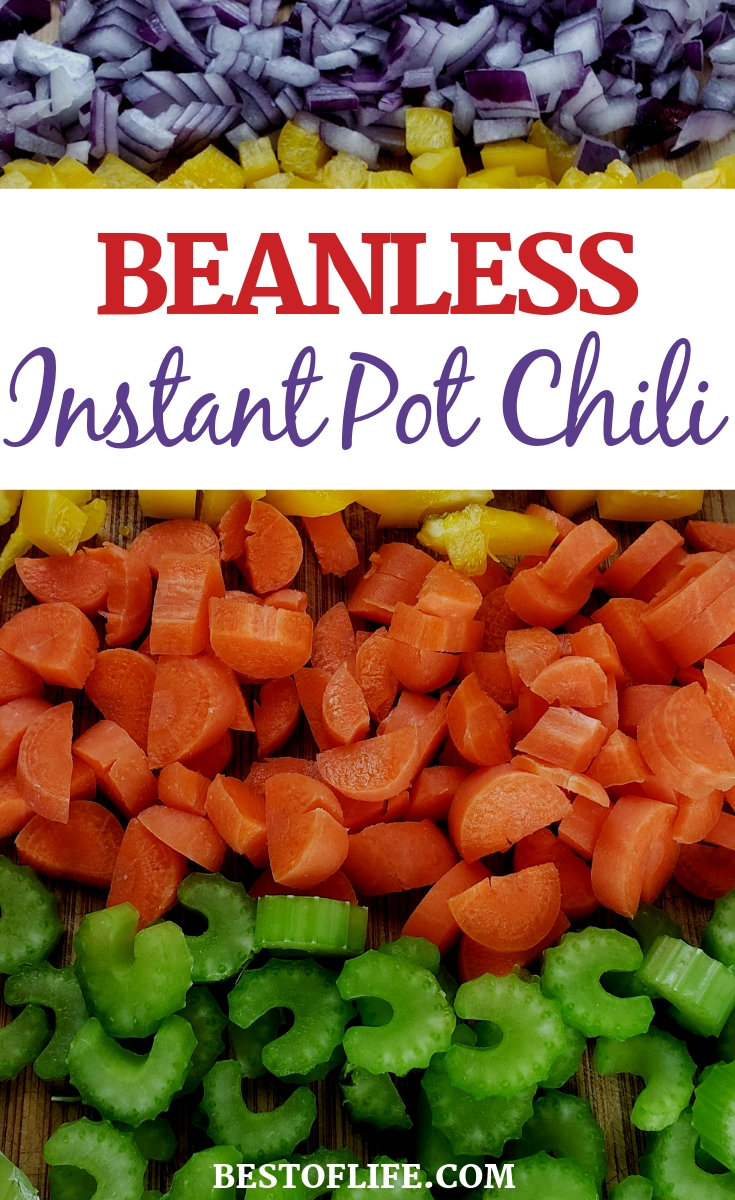 More Instant Pot Recipes
Instant Pot Carnitas Recipes That Are Perfect for Taco Tuesday
Buffalo Chicken Dip Instant Pot Recipes that are Perfect for Game Day
Instant Pot Recipes for Beginners that are FAIL Proof
Easy and Fast Instant Pot Breakfast Recipes