Funny Smartass Quotes About Relationships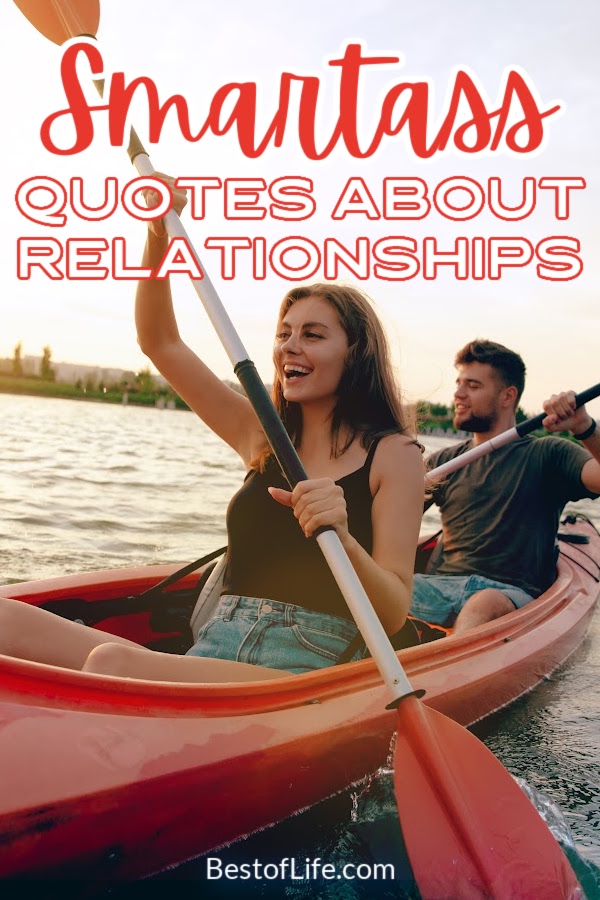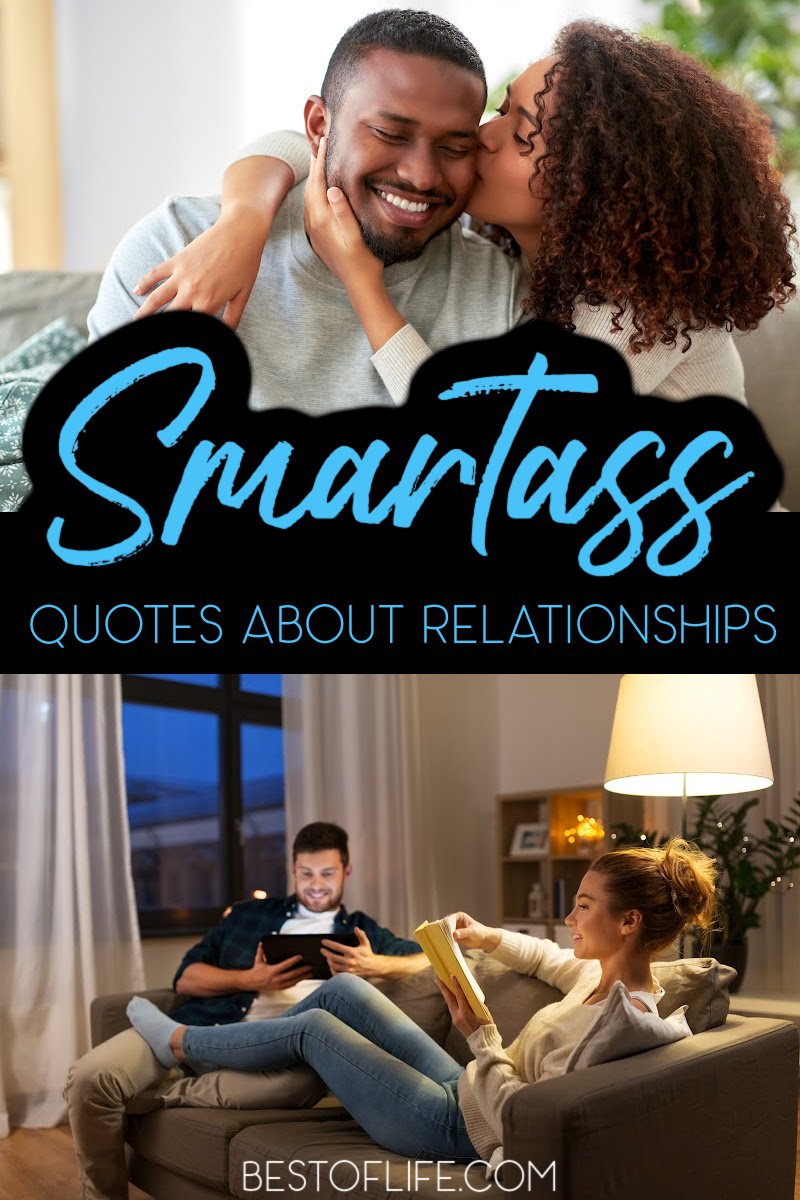 Relationships have ups and downs, just part of spending your time with someone; no matter how long. The ups are great and we will annoy our family and friends with those stories until we're blue in the face. But funny smartass quotes about relationships can help with the downs.
The best smartass quotes about relationships help give you the perfect reaction to the inevitable lows; laughter. There are different ways of dealing with the lows of a relationship. Some people like to go to others and ask for advice.
Unfortunately, that may make you feel better in the moment, but airing out dirty laundry can leave a terrible smell in the air. You may turn your family and friends against the person you love if not appropriately shared. The other option is to keep it to yourself and deal with it alone.
That is another questionable option since you may build up a terrible feeling about the person you care about yourself. The best option is always to talk it out with that person; this way, you both get to unload that stress and grow together. Unfortunately, sometimes that method doesn't work either.
You need to evaluate your anger/frustration/stress and decide if the relationship is worth the effort. It seems like a drastic jump but consider it this way; if you can't talk things out with the person, should you be with the person?
Luckily, time heals all wounds if you can't on your own. In fact, time adds something to the equation that may not be there at first; outlook. You can look back on those times when you were angry and laugh, maybe even with that person that caused the anger in the first place.
You can also use smartass quotes about relationships; just to know that you clearly aren't alone in your frustration. Others have dealt with similar problems; there are rarely issues that haven't been heard of in the past. It just helps to know it is not a problem you are dealing with by yourself.
Funny Smartass Quotes About Relationships
"As a man in a relationship, you have a choice: You can be right or you can be happy." -Ralphie May
"What's the difference between a boyfriend and a husband? About 30 pounds." -Cindy Garner
"Love is a two-way street constantly under construction." -Carroll Bryant
"Love is not having to hold in your farts anymore." -Bree Luckey
"Marriage is like vitamins: we supplement each other's minimum daily requirements." -Kathy Mohnke
"An archeologist is the best husband any woman can have; the older she gets, the more interested he is in her." -Agatha Christie
"What's the best way to have your husband remember your anniversary? Get married on his birthday." -Cindy Garner
"The best way to get most husbands to do something is to suggest that perhaps they're too old to do it." -Shirley MacLaine
"I married 'Miss Right'. I just didn't know her first name was Always." -David Young
"Honesty is the key to a relationship. If you can fake that, you're in." -Richard Jeni
More Quotes
Smartass Quotes About Work | You don't have to hold on to your sarcasm just for your relationship. Let it out a bit at work, too!
Quotes About Surrounding Yourself with Happiness | The important thing about your relationship is that you are overall happy. Happiness is the key.
Best Quotes about Living with Intention | You should have intention with your relationship as well. Of course, there's nothing wrong with a summer relationship or something short and sweet.
Flirty Quotes to Send Him in a Text Message | Getting flirty can help both people in the relationship. You just need to know what to send out to get a great response.
Quotes About Mountains to Inspire Risk Taking | Relationships are risks but risks worth taking. We ut ourselves and our hearts out there and sometimes it doesn't work. But it is stunningly beautiful when it does work.