Graduation Quotes from Parents
Graduation is right around the corner, meaning teens will be moving on to the next stage of their lives. Luckily, there are graduation quotes from parents that you can use to express the feelings you thought might not have words.
The best graduation quotes from parents can help you express your pride, joy, and love for graduates of any year. Graduation season also means that elementary students are moving on to middle school, middle school students are moving on to high school, and college students are starting their lives in the real world.
There are plenty of big changes coming your way, and it could be difficult to find the right words to say. Words carry a lot of weight to them. People say that actions speak louder than words. But words are powerful enough to cause action.
We can use them to inspire and motivate people in ways that really make a difference. That is why graduation quotes from parents are so important. You could help motivate and inspire your child as they move onto the next stage of their lives.
You have been there, you have done that, but now it is their turn to place their stamp on this world. The words you say could make all of the difference.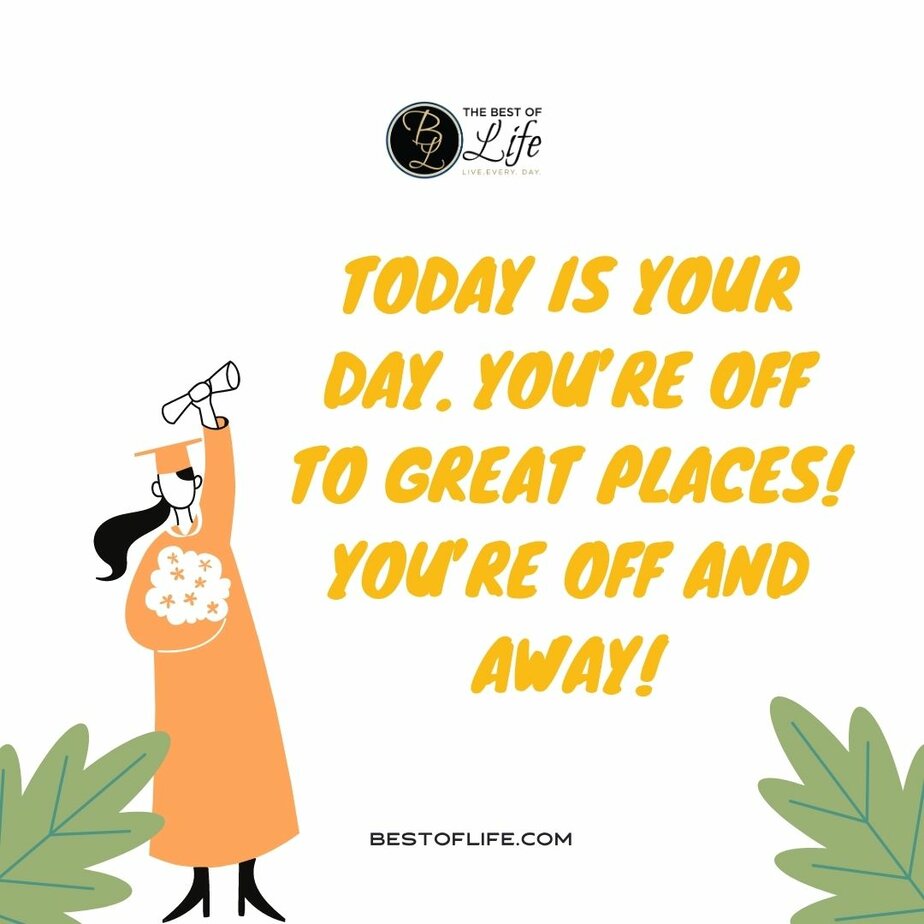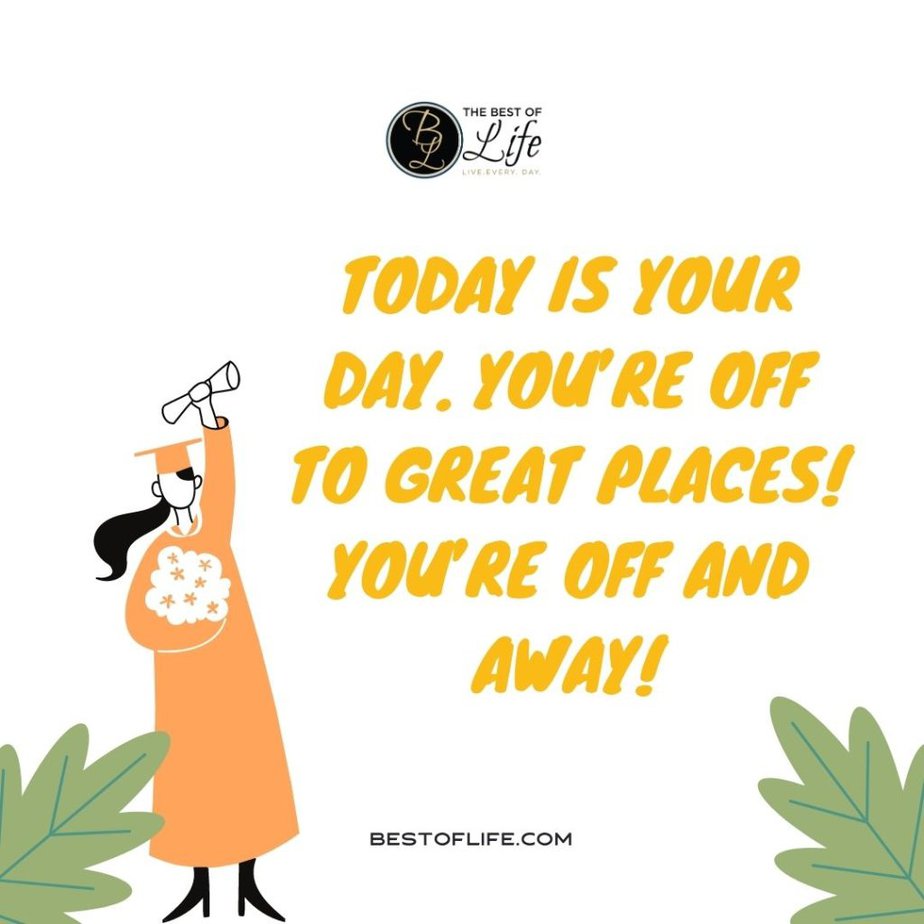 Today is your day. You're off to great places! You're off and away!
Graduation day is an important day; it is a milestone that signals the future is coming and is yours to take.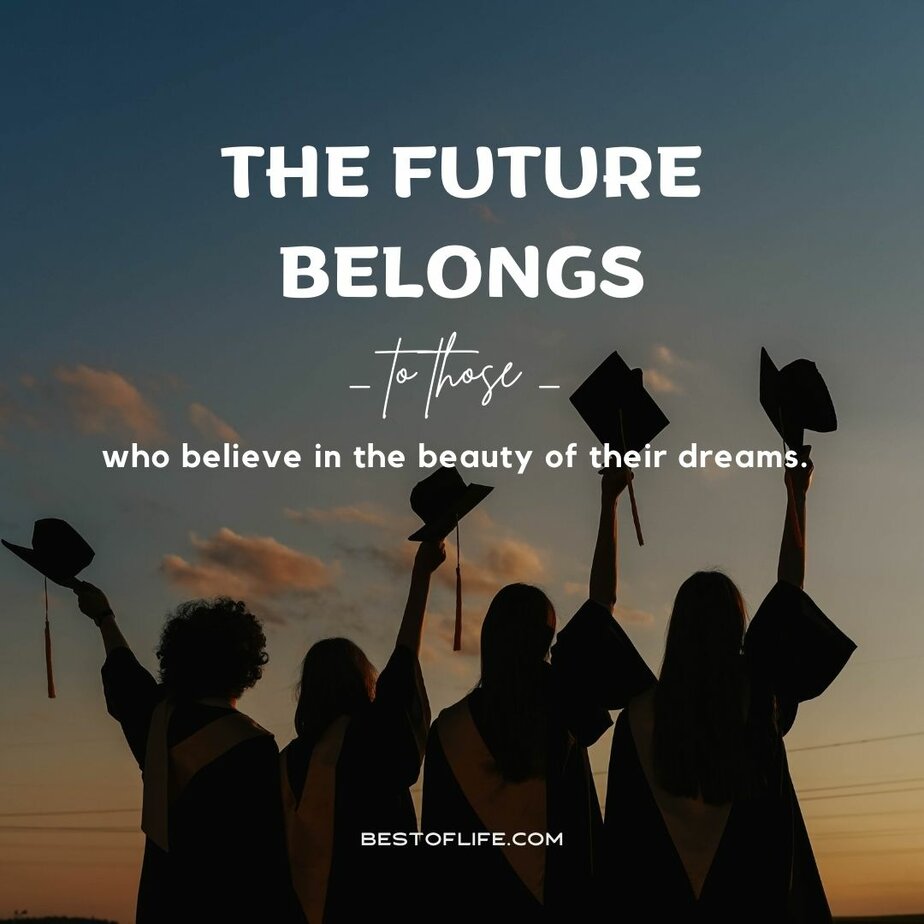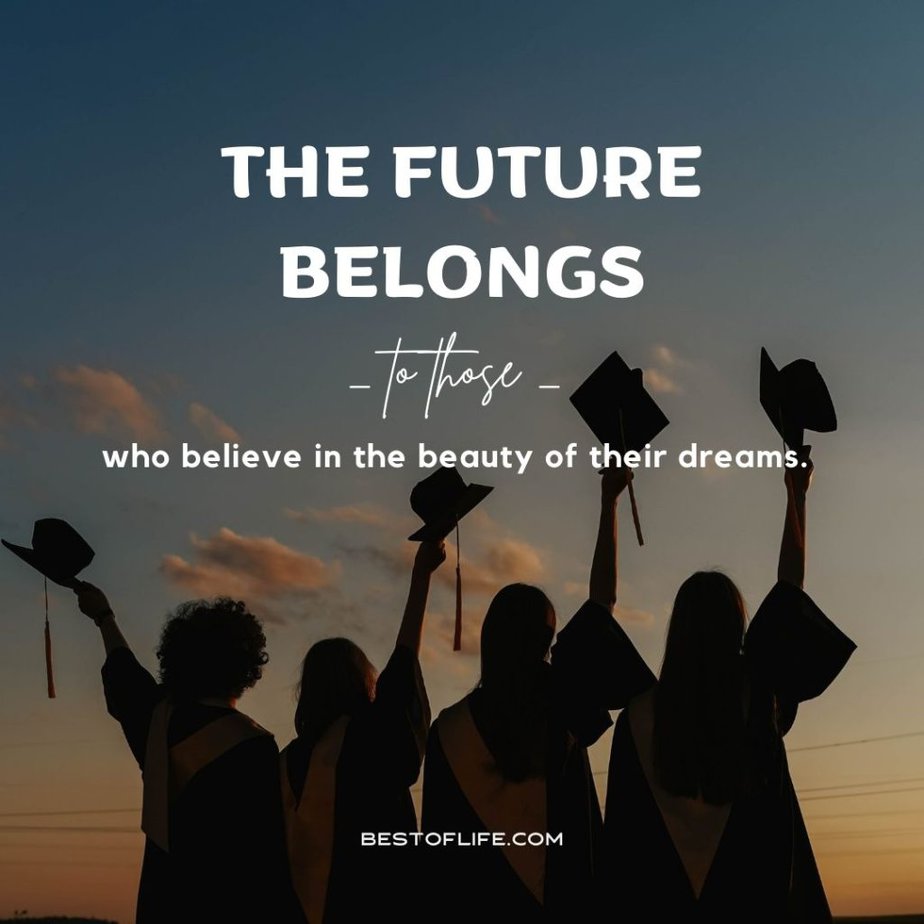 The future belongs to those who believe in the beauty of their dreams.
We often forget our goals as life happens. But we should all make it a point to remember where we started and where we want to go.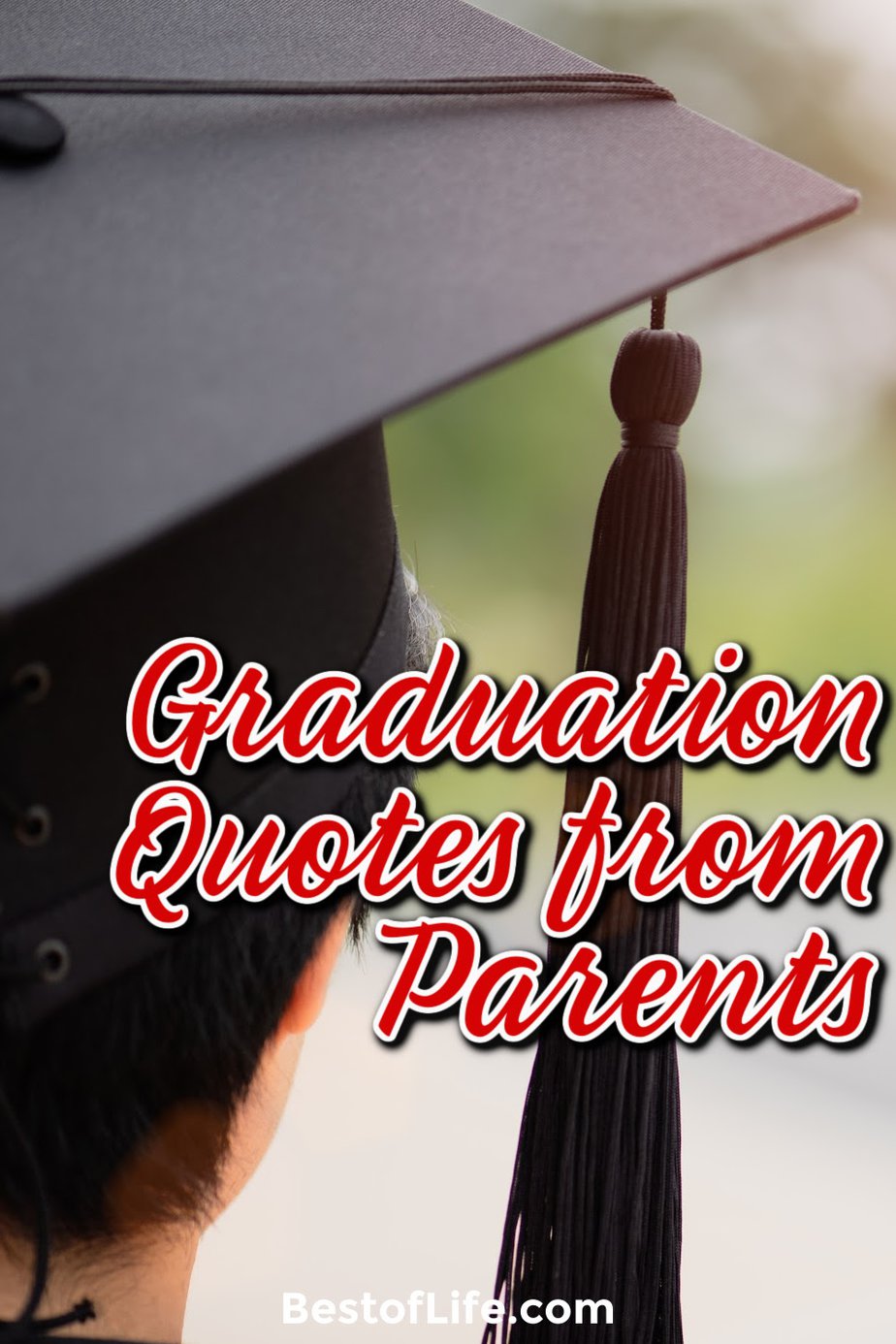 Ways to Share
You can use these graduation quotes from parents in many different ways. Print them out and use them to inspire or write them on a card that you want to give to your graduate.
The goal is to let them know that you are proud of their accomplishment but that the future still lies ahead. It is important to remember that there are still many different accomplishments headed your way, and each one will be worth it.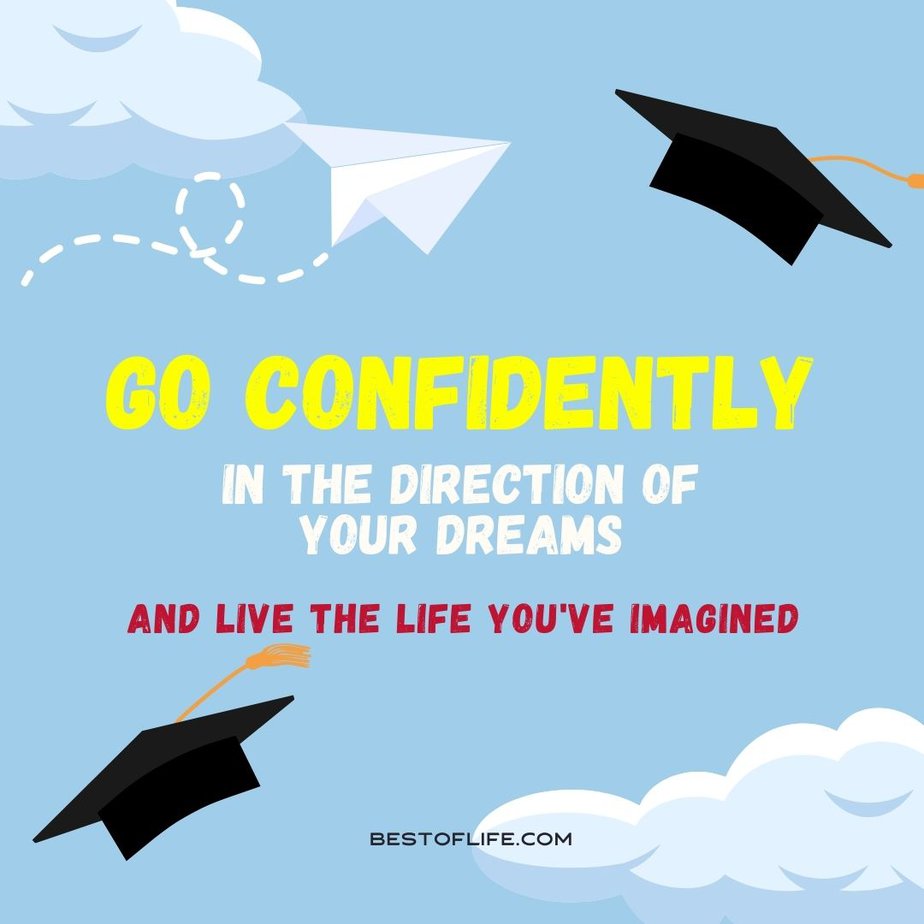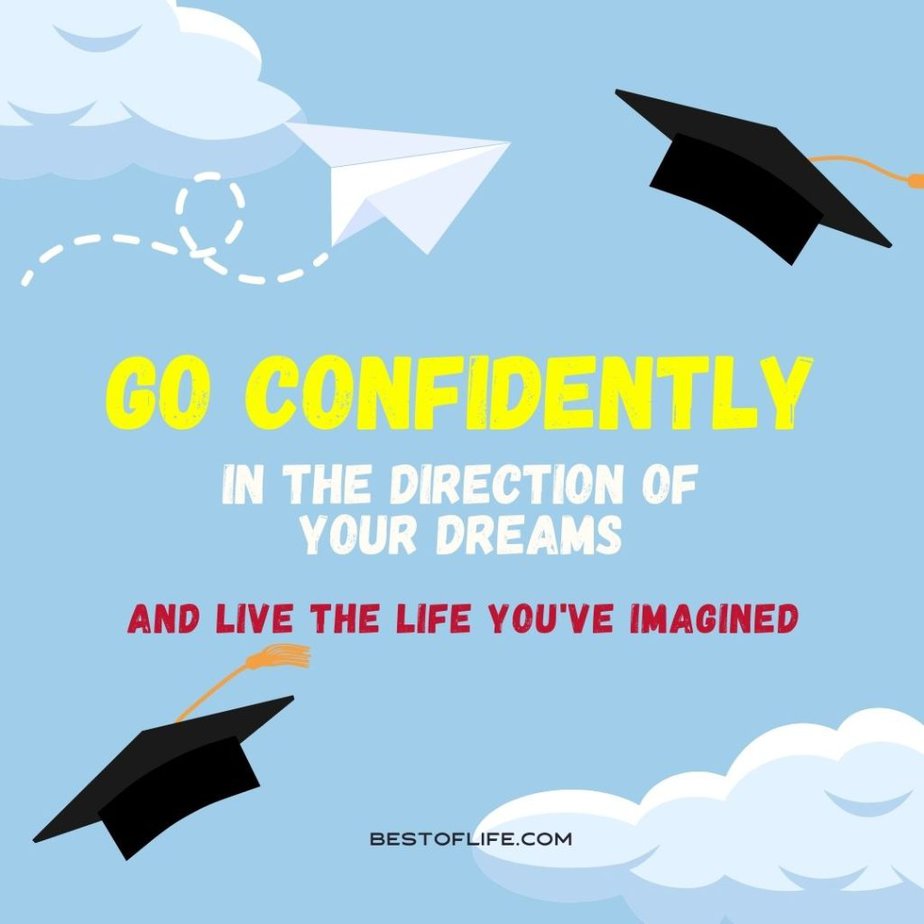 Go confidently in the direction of your dreams and live the life you've imagined.
Confidence is one of the most important things we take with us as we leave school behind for the next step of our lives.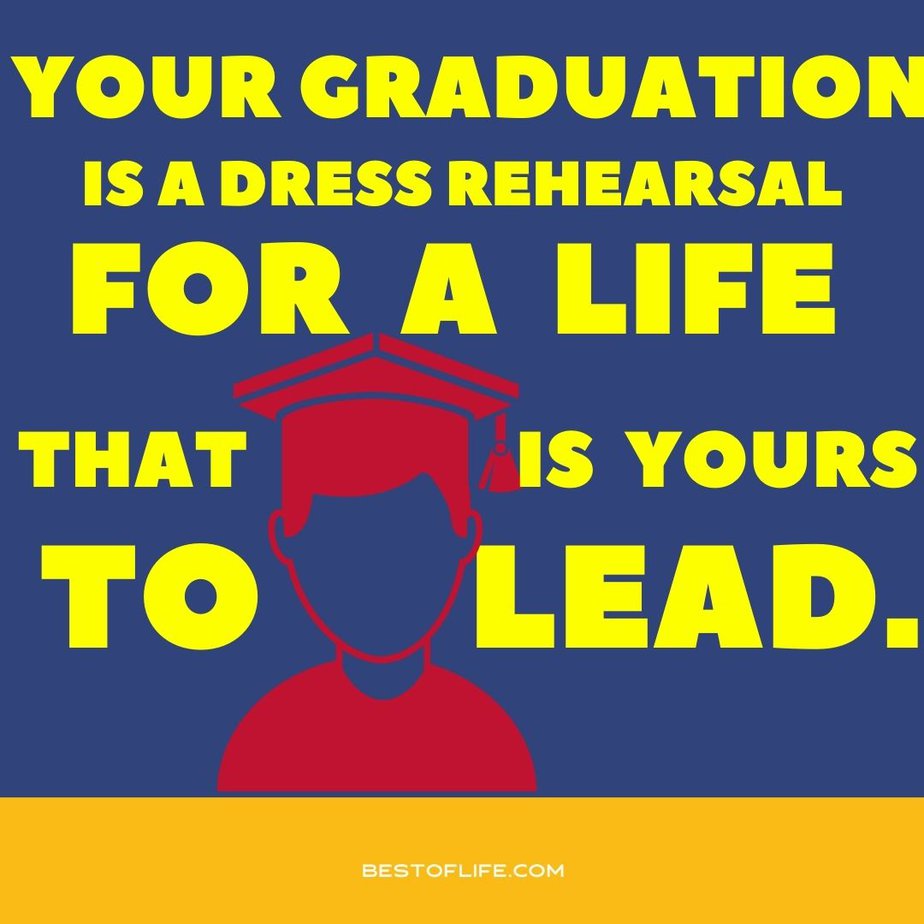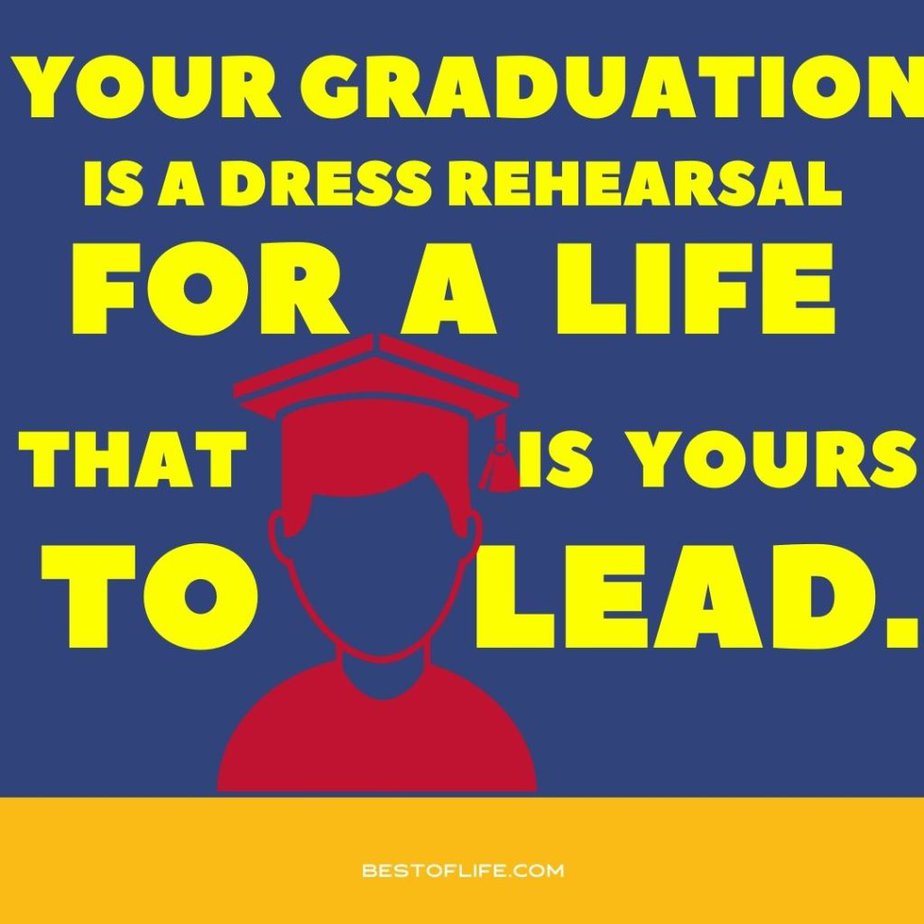 Your graduation is a dress rehearsal for a life that is yours to lead.
We don't have to be leaders all of the time. But we must always lead our own lives to reach the goals we set for ourselves as we leave school.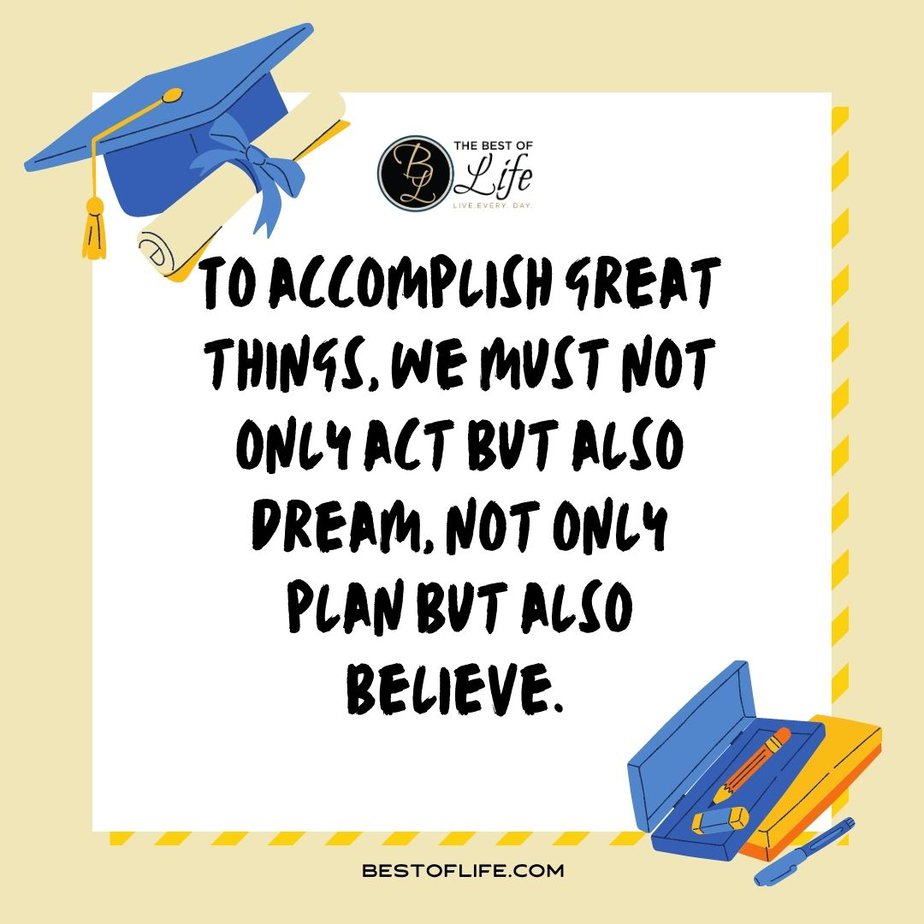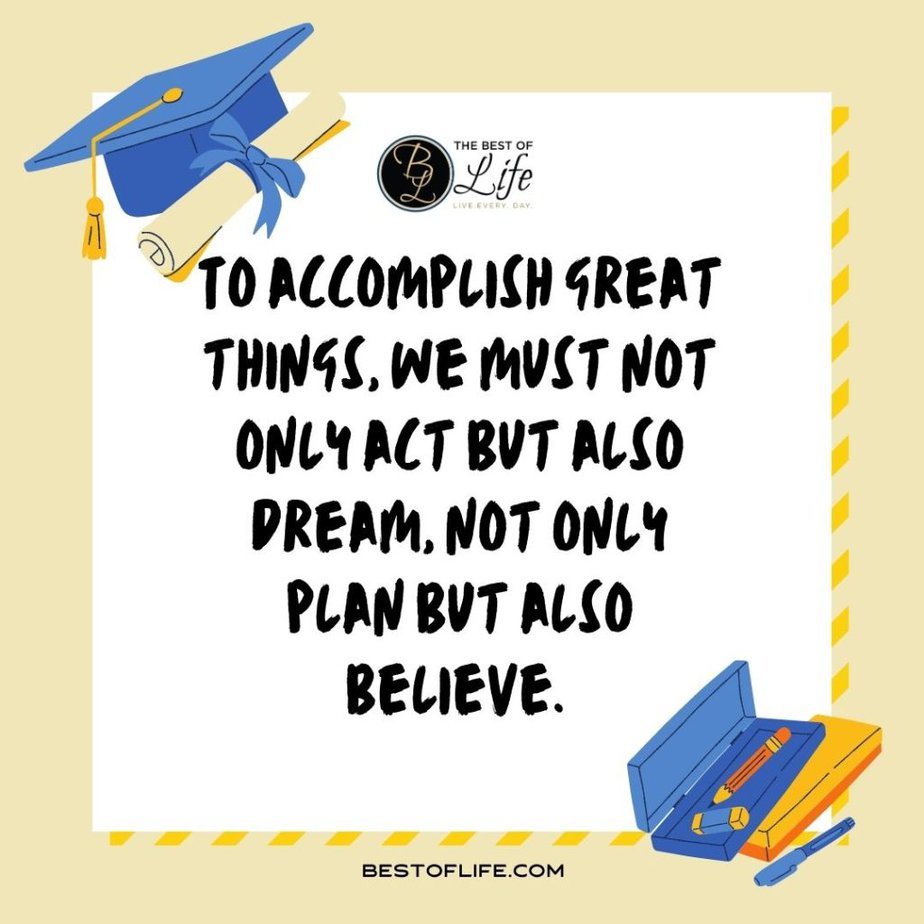 To accomplish great things, we must not only act but also dream, not only plan but also believe.
We believe in our dreams all throughout school, but something happens as we reach adulthood, and we forget them. It is important to use graduation quotes from parents to remind ourselves and our children never to let go of those dreams.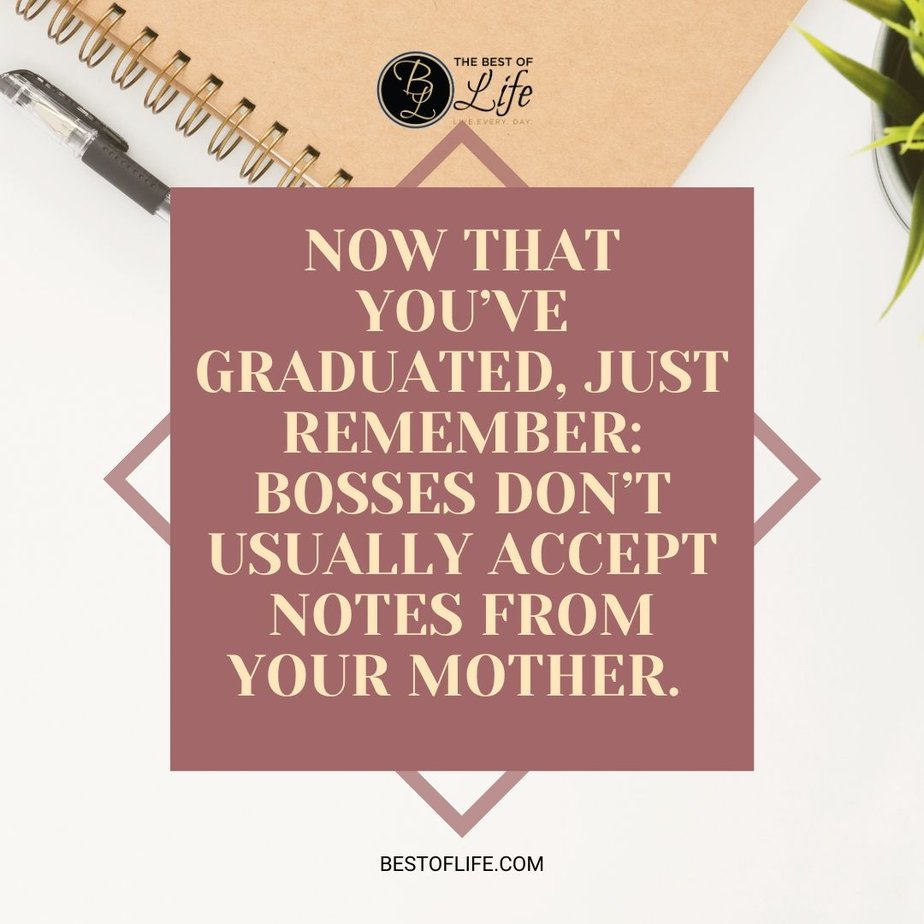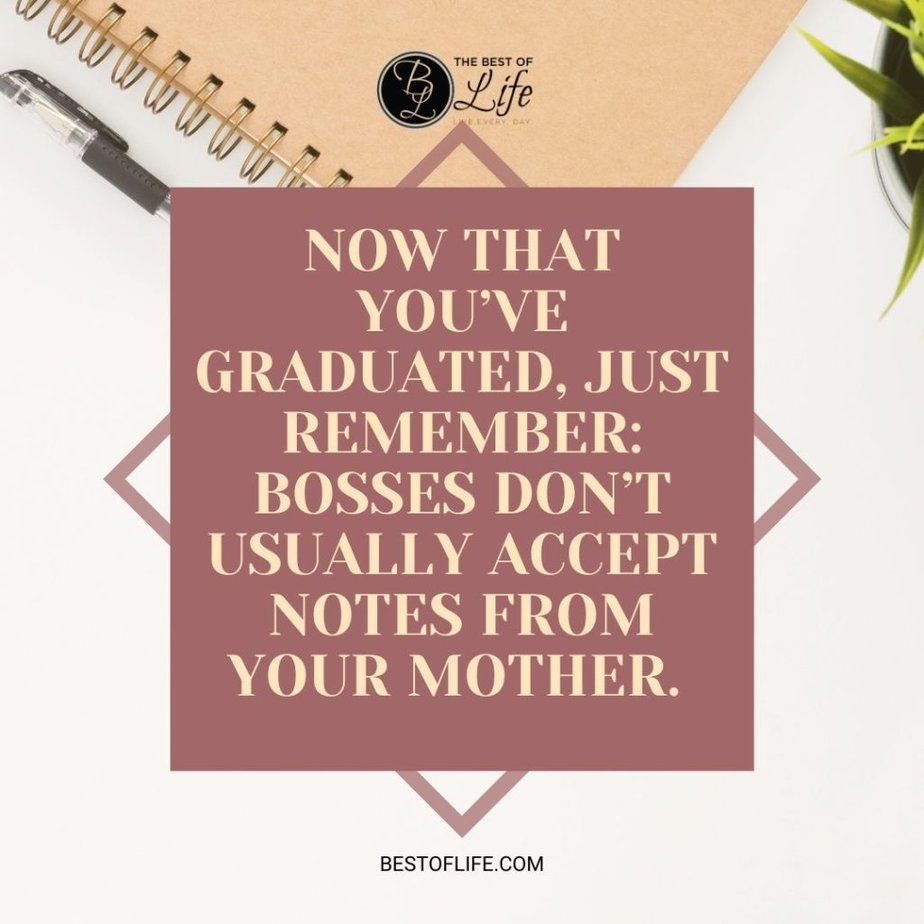 Now that you've graduated, just remember: Bosses don't usually accept notes from your mother.
There is nothing wrong with a little humor as our children walk off that stage and into their futures.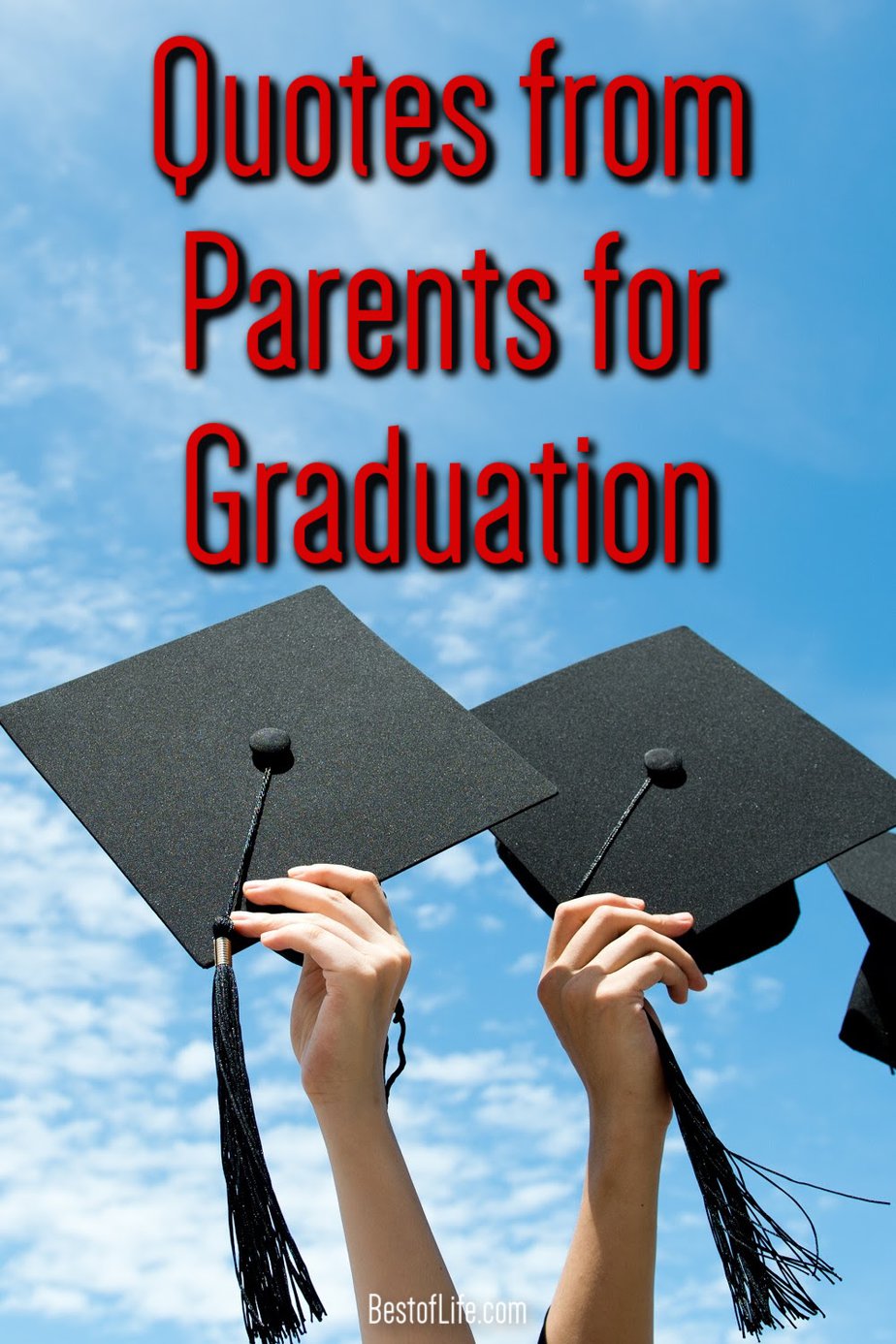 Special Moment
Graduating from any level is a special moment. It signifies your child's accomplishments, be it a kindergarten graduation or a college graduation. That is why it is important to take these moments and give them the acknowledgment they deserve.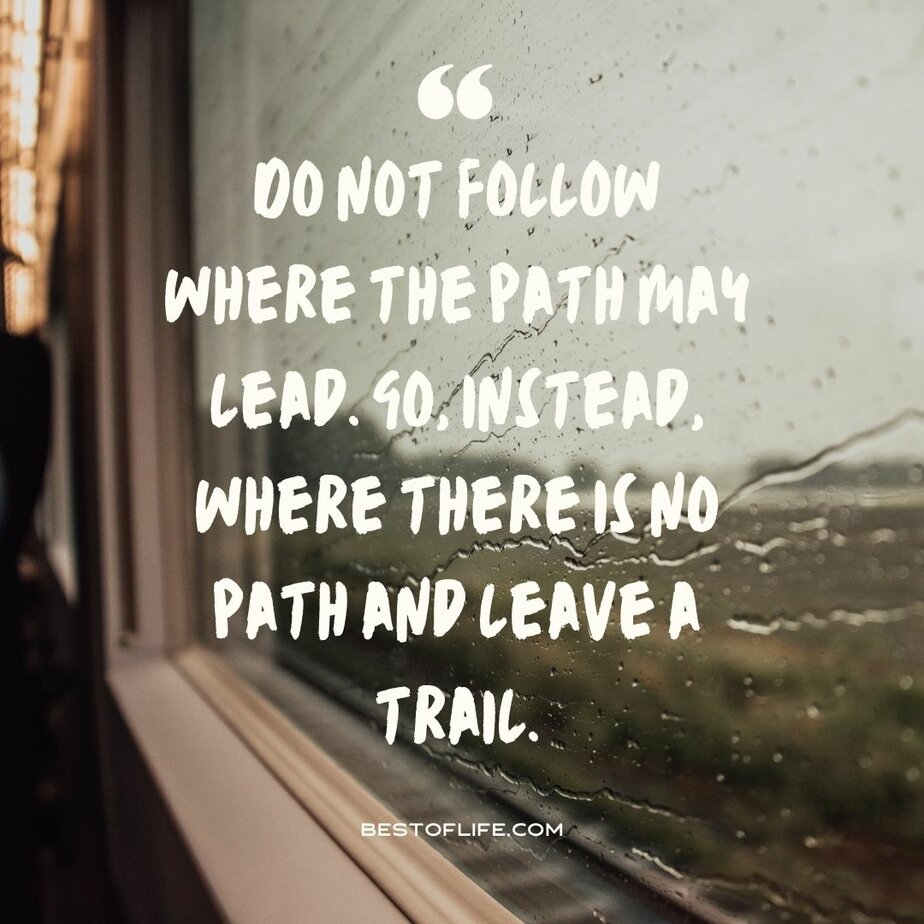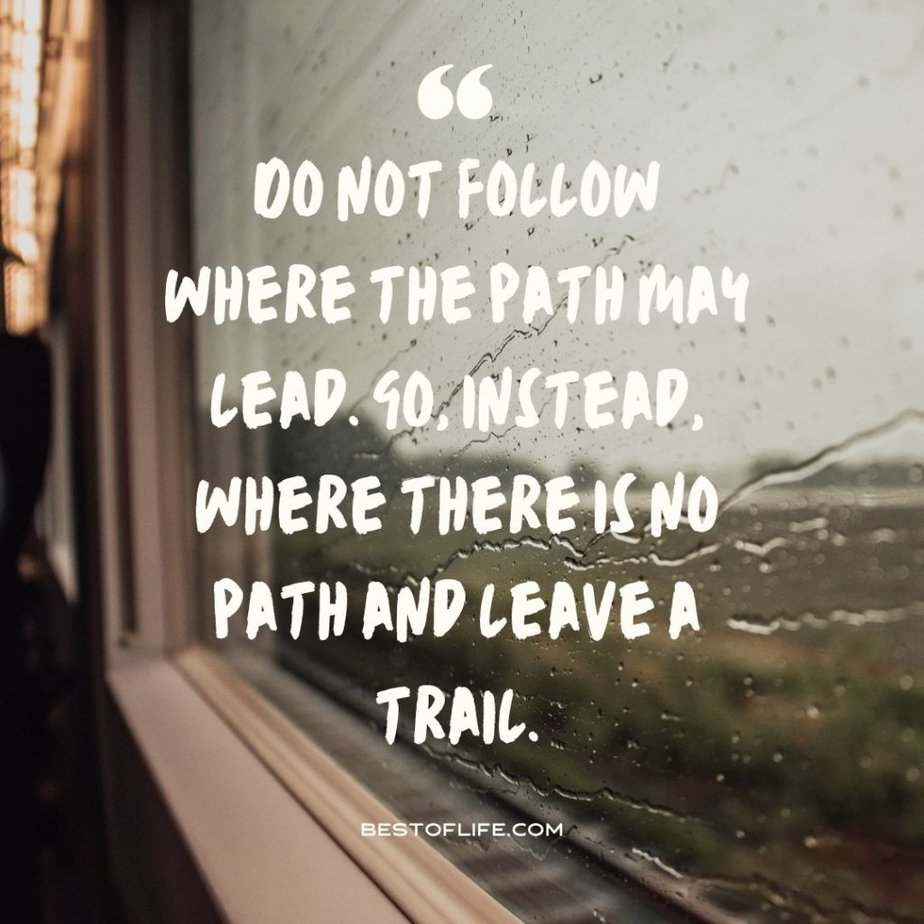 Do not follow where the path may lead. Go, instead, where there is no path, and leave a trail.
The effortless way is to follow others down their paths in life. But this isn't hiking; it is time to trailblaze your way through life. That is a great reminder to make with these graduation quotes from parents.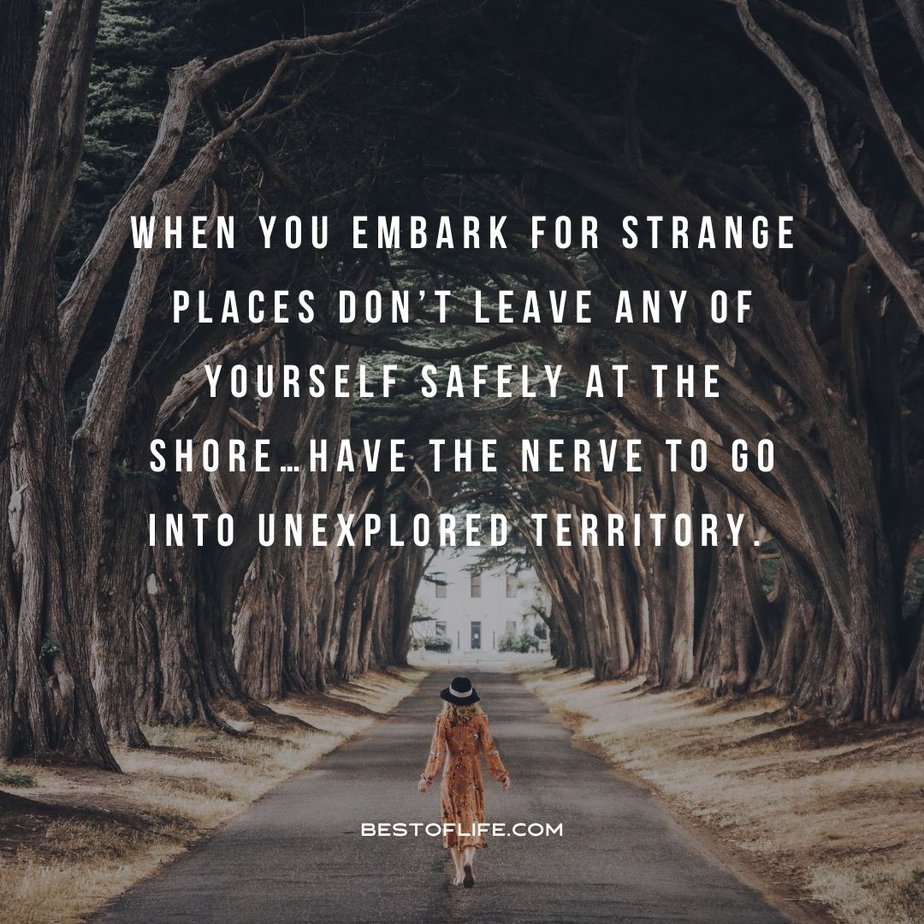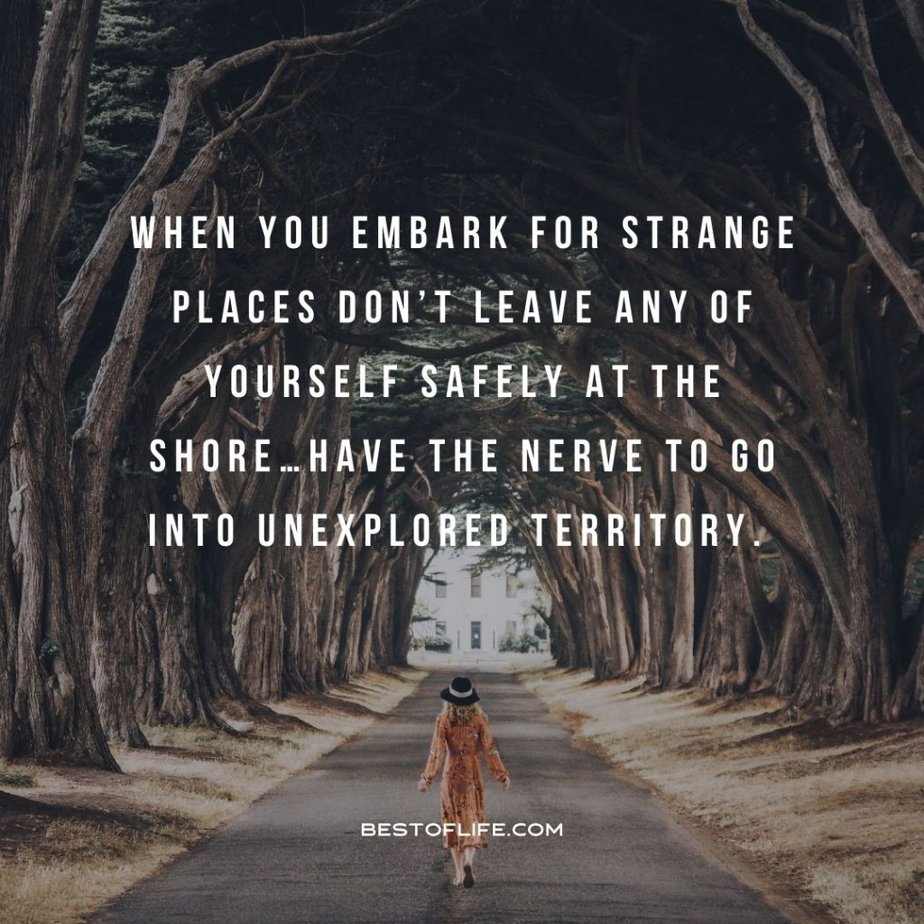 When you embark for strange places don't leave any of yourself safely at the shore…Have the nerve to go into unexplored territory.
This quote reminds us all that doing something halfway isn't doing it at all. We have to have the courage to move forward through life, giving it our all.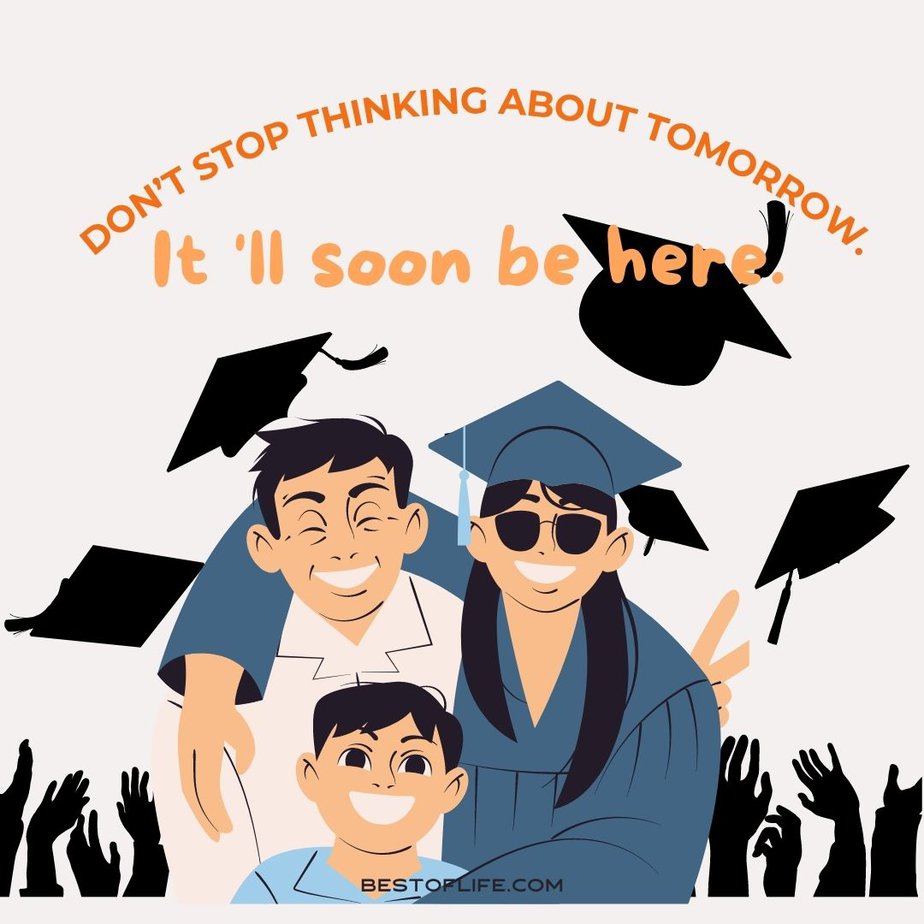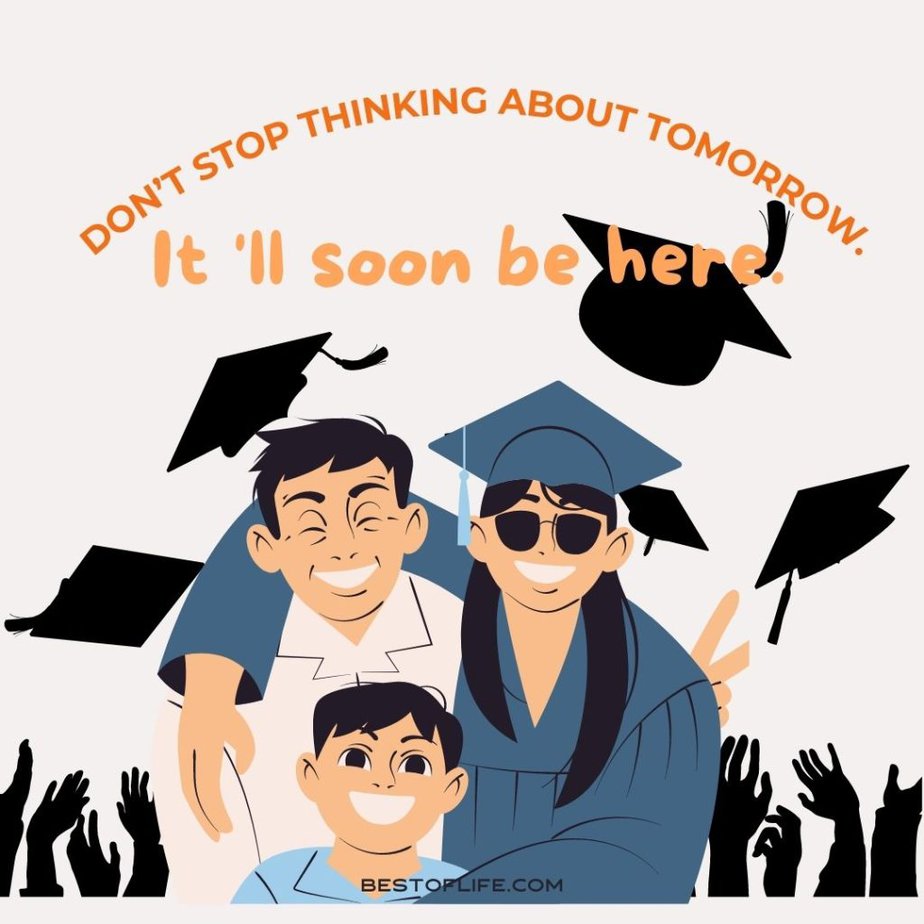 Don't stop thinking about tomorrow. It'll soon be here.
There is no need to give yourself anxiety over the future. But you should try and make sure that every move you make is a step in the right direction.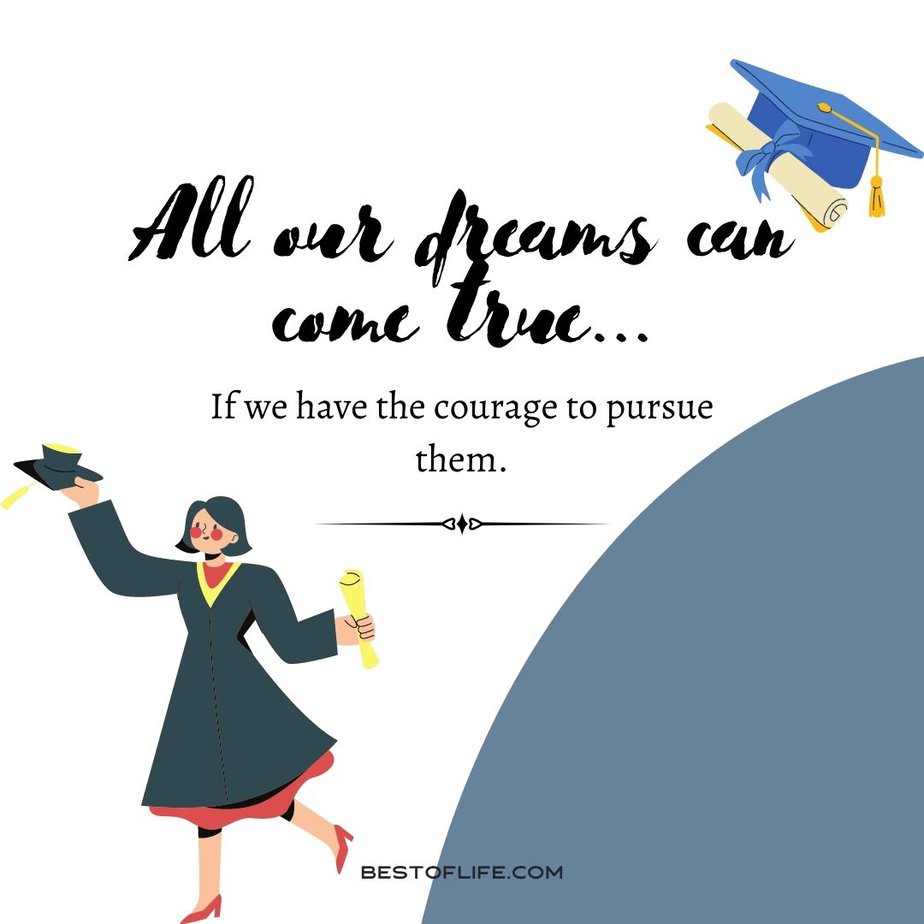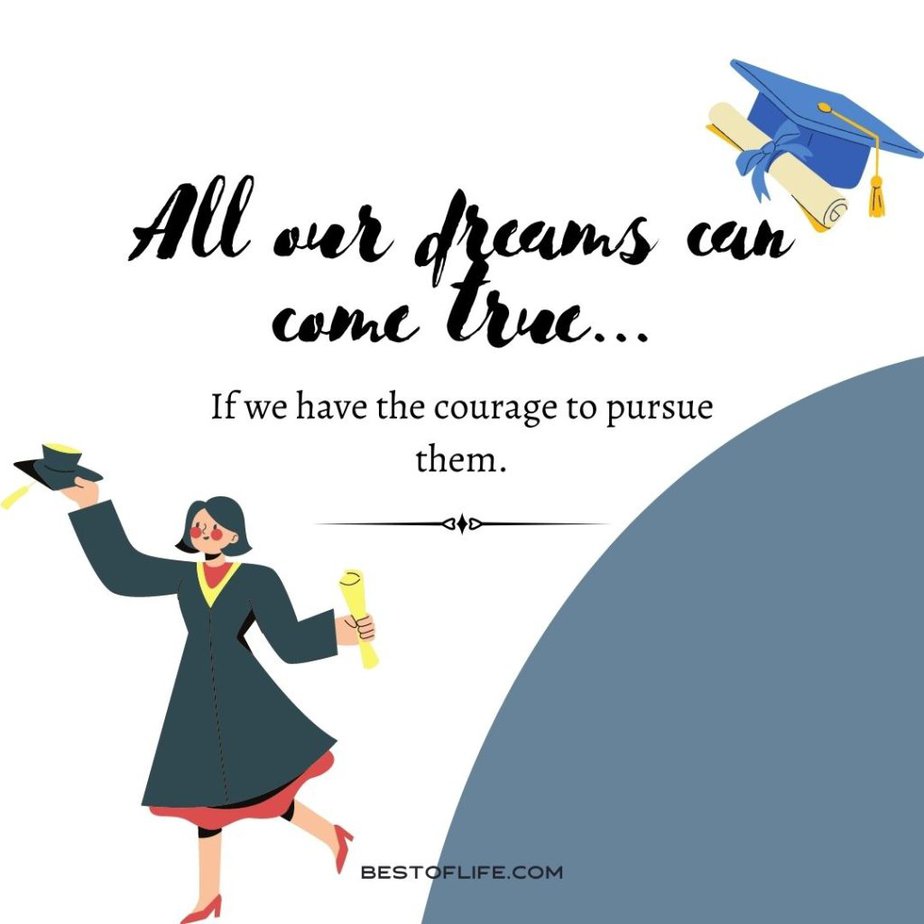 All our dreams can come true…If we have the courage to pursue them.
Courage. It always comes down to courage. Asking for a raise? You'll need courage. Blazing a new trail? That requires some courage. Achieving our goals requires courage. Be courageous.
More Quotes
Best Quotes About Direction and Purpose | Graduates search for purpose and direction as they head off into their futures.
Inspirational Tuesday Motivation Quotes to Keep you Going | Mondays are always a fantastic time, so we need a little motivation on Tuesdays.
Best Quotes About Getting Older | Getting older is not a bad thing, at least not all of the time.
Short Quotes About Happiness To Brighten Your Day | Happy quotes lead to a happier day if used correctly.
Quotes About Surrounding Yourself with Happiness | Why would we want to surround ourselves with negativity when we can be happy?