Halloween Party Aesthetic Ideas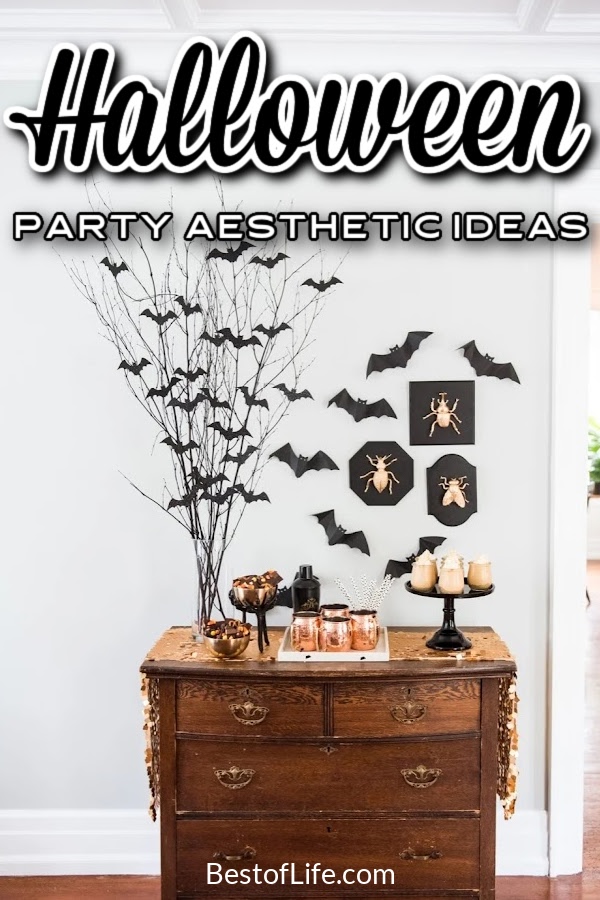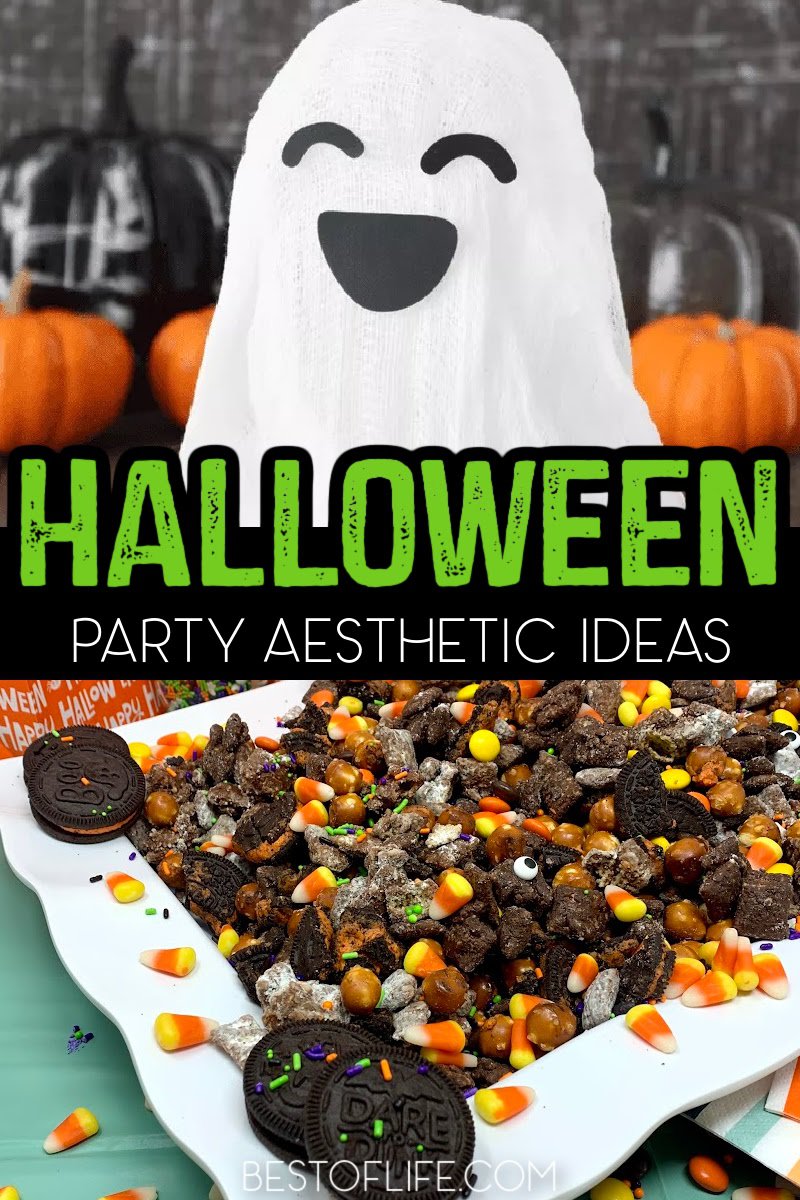 A Holiday aesthetic is very easy to achieve. There are plenty of options for decor, music, and even food to implement an aesthetic. Halloween party aesthetic ideas almost redefine the way we use the word. Aesthetic means a beautiful look, but Halloween is all about spookiness.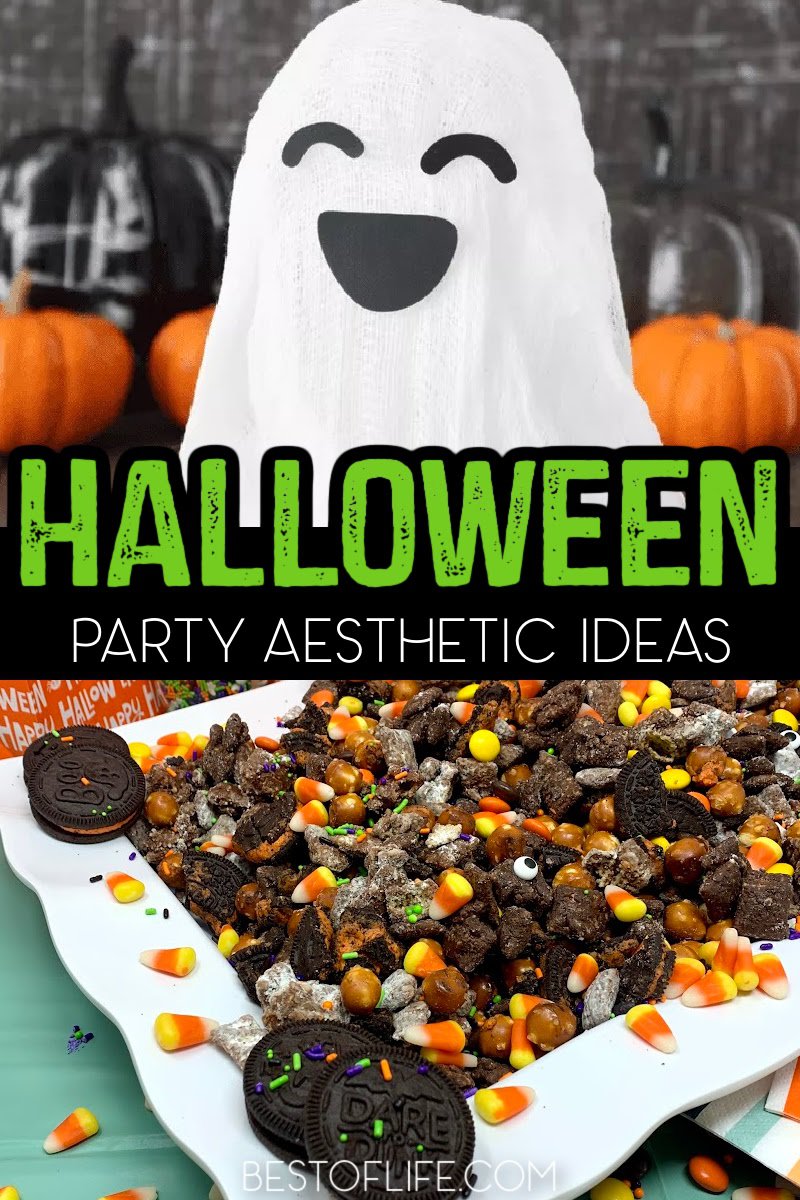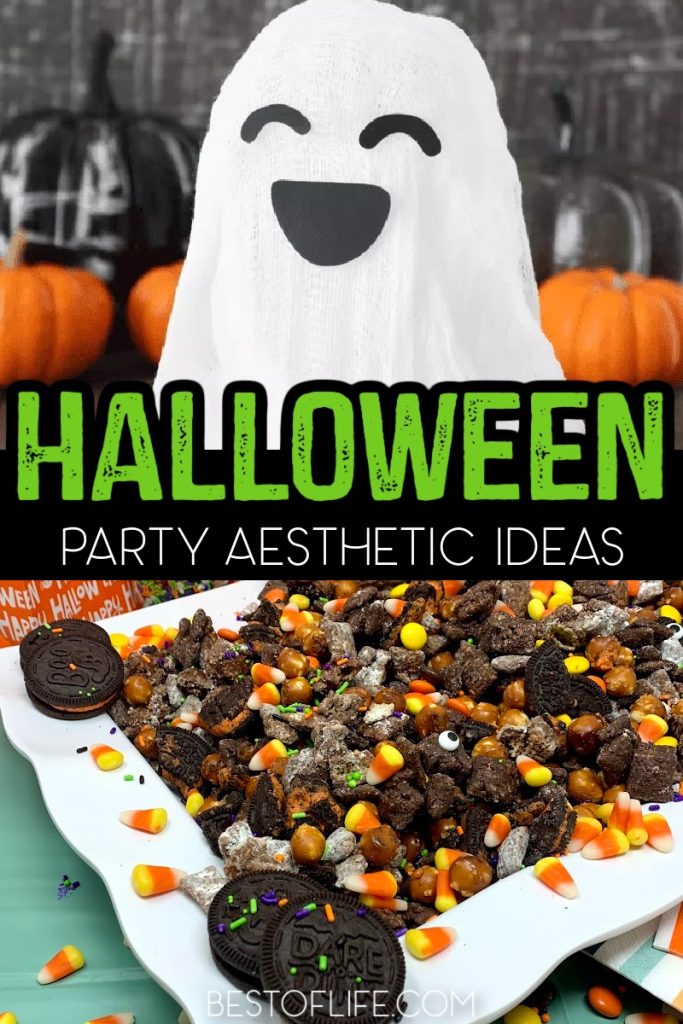 The best Halloween party aesthetic ideas can help you set the mood for the best Halloween party anyone has ever attended. Halloween is meant to be a specific way. The goal is always to get people scared but in fun and enjoyable ways.
The only way to scare people is to find the things that scare them, which are usually not beautiful. Spider webs all over the house, bloody scenes, and zombies hunting for brains feel more like Halloween than a beautiful bouquet of flowers.
That means Halloween party aesthetic ideas are not meant to be beautiful. Instead, we should aim for antiaesthetic and antibeauty for Halloween parties. We can incorporate that idea throughout the party.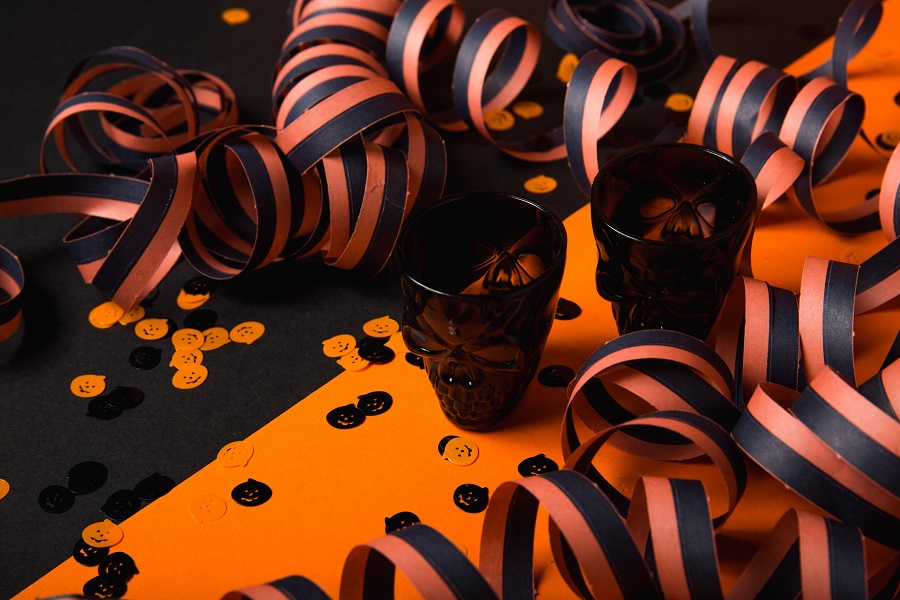 Creating an aesthetic should cover everything people's eyes will behold. For example, the food on the platters at the serving tables should be creepy, as well as the tablecloth they rest on. The music will add to the aesthetic by adding another layer, sound.
Lastly, the lighting should be dim and all but nonexistent if possible. This sets the stage for the scares to be easier, more enjoyable for all, and memorable.
DIY Bat Branch Centerpiece | The Sweetest Occasion
Skeleton Dish DIY | Four Front Doors
Spiderweb Candle Holder | Chicken Scratch NY
Cheesecloth Ghosts | One Good Thing
Spooky Candles | Cheltenham Road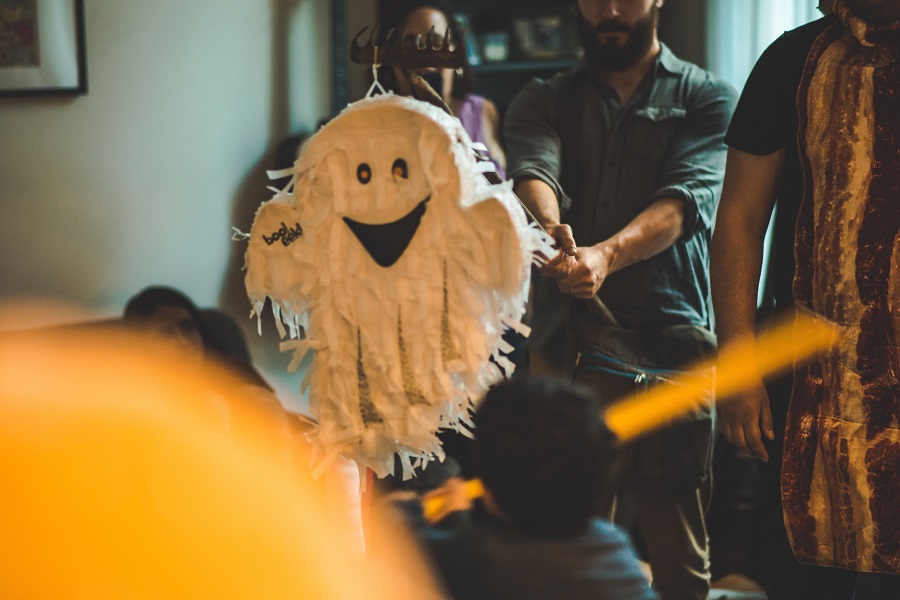 Halloween Party Aesthetic Ideas
There are three things we should focus on when putting together a Halloween aesthetic. The first thing is the decor. The decor is easy enough; you can even go with DIY Halloween decor if you'd like.
The next thing is music. Music touches the soul, and it will be effective even if it is just creepy sounds. Lastly, the food.
Ultimate 8-Hour Playlist | Art & Home
Vintage Playlist | The Dapper Dahlia
Classic Halloween Songs | Studio DIY!
Halloween Soundtrack | The Sits Girls
Offbeat Songs for Halloween | Spooky Little Halloween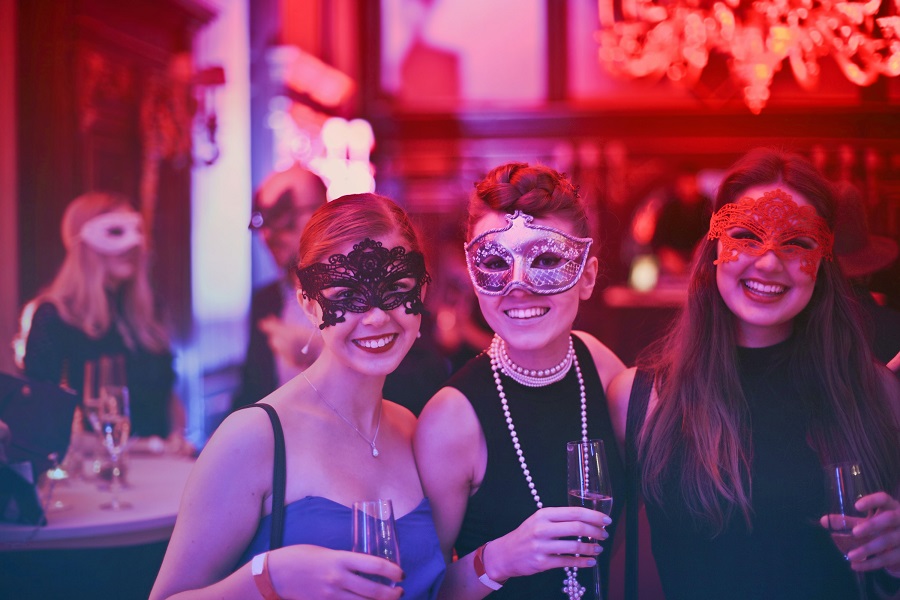 Halloween Party Food Ideas
Halloween party food should be incorporated into your Halloween party aesthetic ideas. This is a great opportunity for you to add even more creepiness to the party. The food can be the usual things like chips and dips.
However, the food is going to be all about presentation. For example, you can easily make a ranch dip red by adding red food coloring to it, and now it's a bloody dip. There are plenty of other ideas you can use for inspiration as well.
Halloween Puppy Chow | Best of Life
White Chocolate Boo Bark | Pumpkin 'N Spice
Ghostly Gooey Dip | Who Needs a Cape?
Chocolate Swamp Monsters | Kidgredients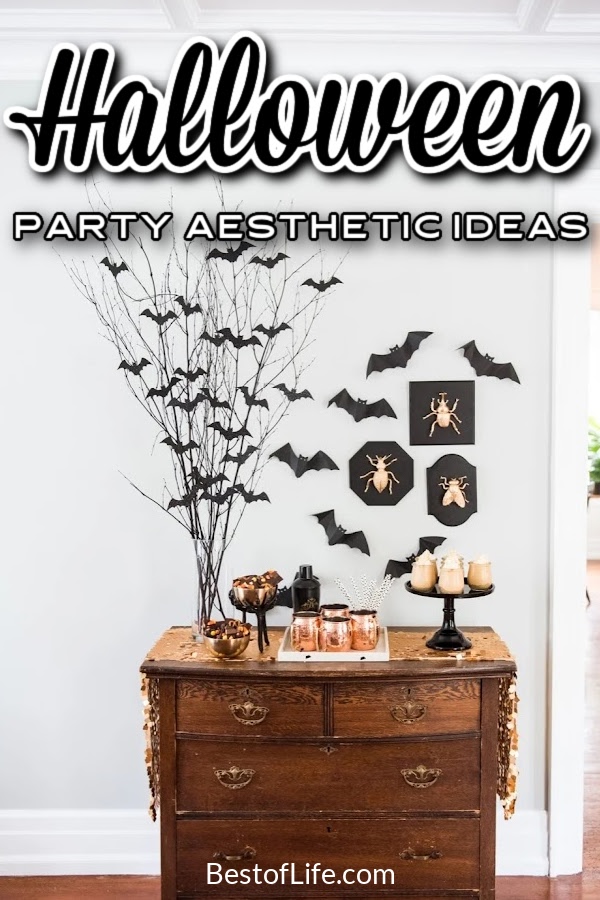 More Halloween Ideas
Halloween Virgin Party Drinks | Virgin drinks are great to have on hand for those who prefer not to drink and for kids.
Pumpkin Spice Martini with Baileys Recipe | Of course, we also need to make sure we have some alcoholic options for the guests who would prefer a drink or two.
Scary Netflix Movies to Watch for a Frightful Night | You can help get in the mood for the spooky season with some of the best spooky movies.
Halloween Cocktails with Whiskey | Okay, maybe a little more alcohol will be needed, but that's it.
40+ Pumpkin Carving Ideas for Halloween | Carving pumpkins is a tradition in the US and we need to respect that by getting creative with it.