Pumpkin Spice Mocktail | Drink Recipe for Kids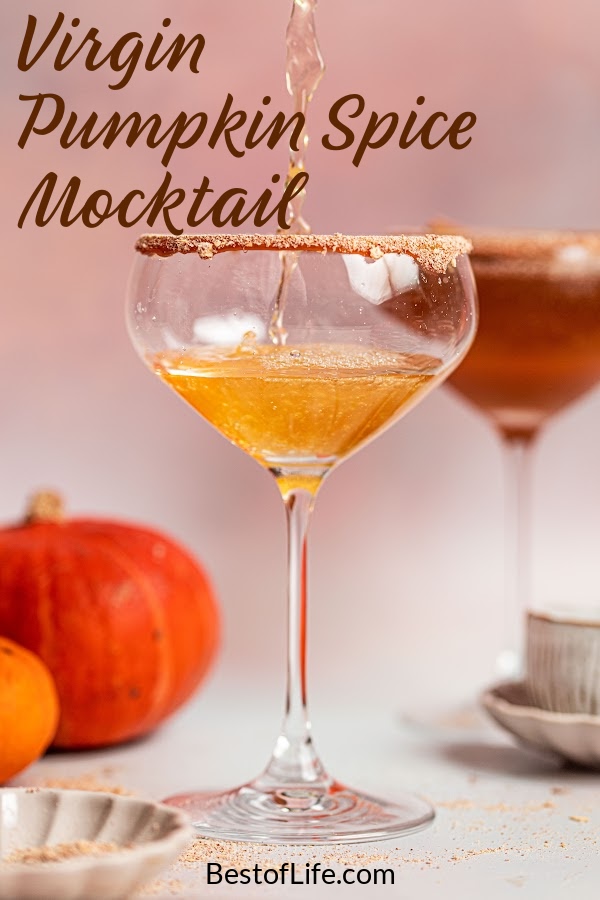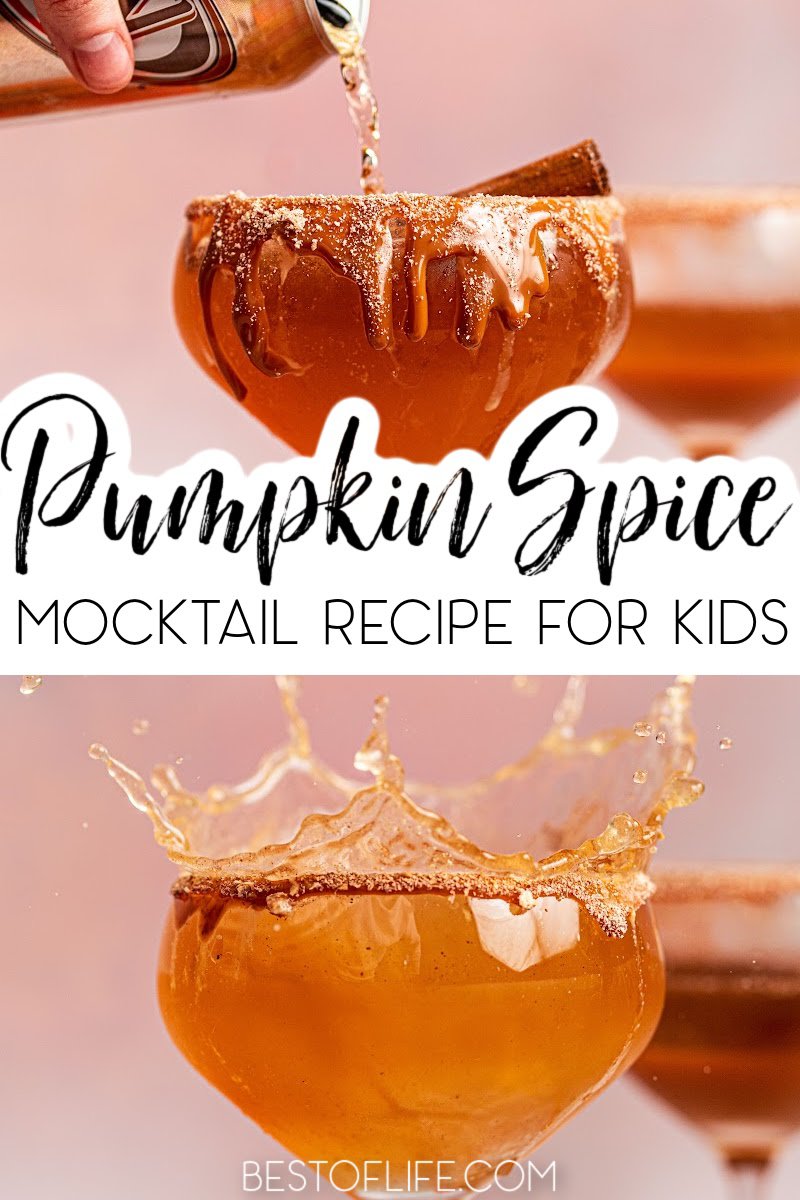 Adults enjoy pumpkin spice in many different ways. We have coffee drinks, alcoholic drinks, and of course, classic food. But kids only get to enjoy pumpkin spice as a food until now. A pumpkin spice mocktail can include the kids while keeping the alcohol to ourselves.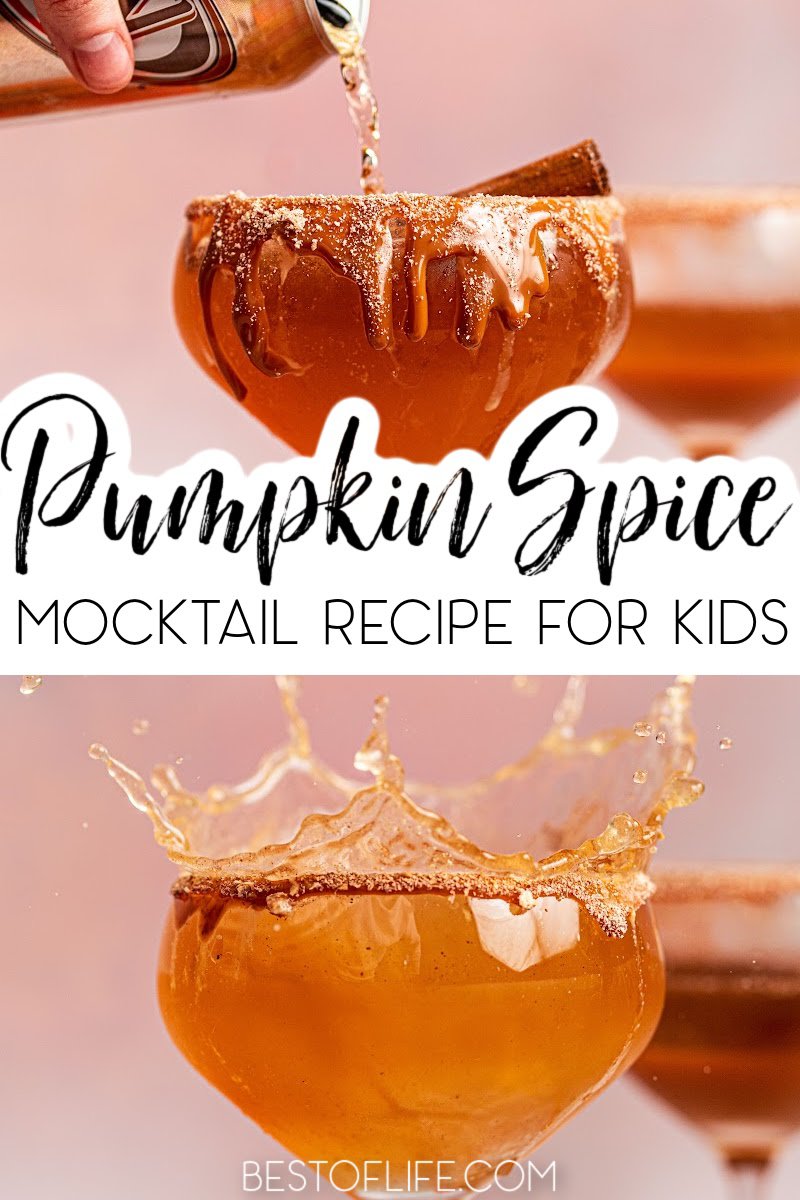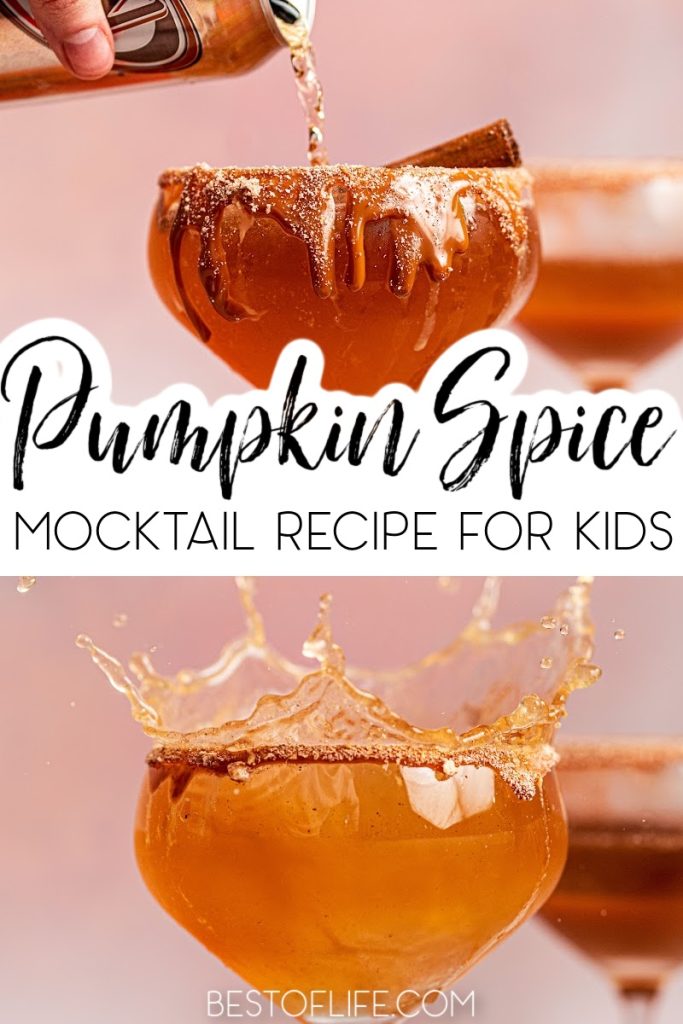 Use this easy pumpkin spice mocktail recipe as a holiday party drink for kids or as a virgin cocktail for adults who prefer non-alcoholic drinks. Pumpkin spice has infiltrated the country and may have gone too far.
We use pumpkin spice in just about anything and everything, like the original pumpkin pie. But we also use it in drinks and cocktails and other recipes that didn't usually include pumpkin at all.
The idea is simple, pumpkins remind us of fall, and so when we drink pumpkin spice cocktails or lattes, we feel like we're drinking in fall. There is absolutely nothing wrong with that, and we should be enjoying ourselves.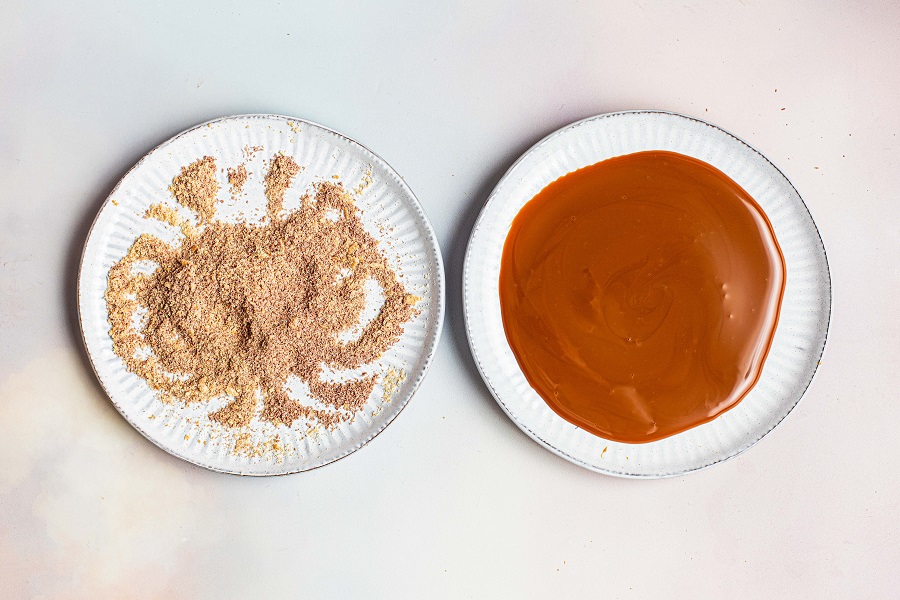 But do we need pumpkin spice cat food? The answer is no, we don't need to feed our pets pumpkin spice, and while we're at it, do we need pumpkin spice soap or shampoo? Again, no, we don't, but we have it; we have that before we have more pumpkin spice options for our children.
Parents everywhere know their kids would love to get more pumpkin spice in their lives, but where do we find it most often? Starbucks, coffee drinks, and cocktails are where we find pumpkin spice most often.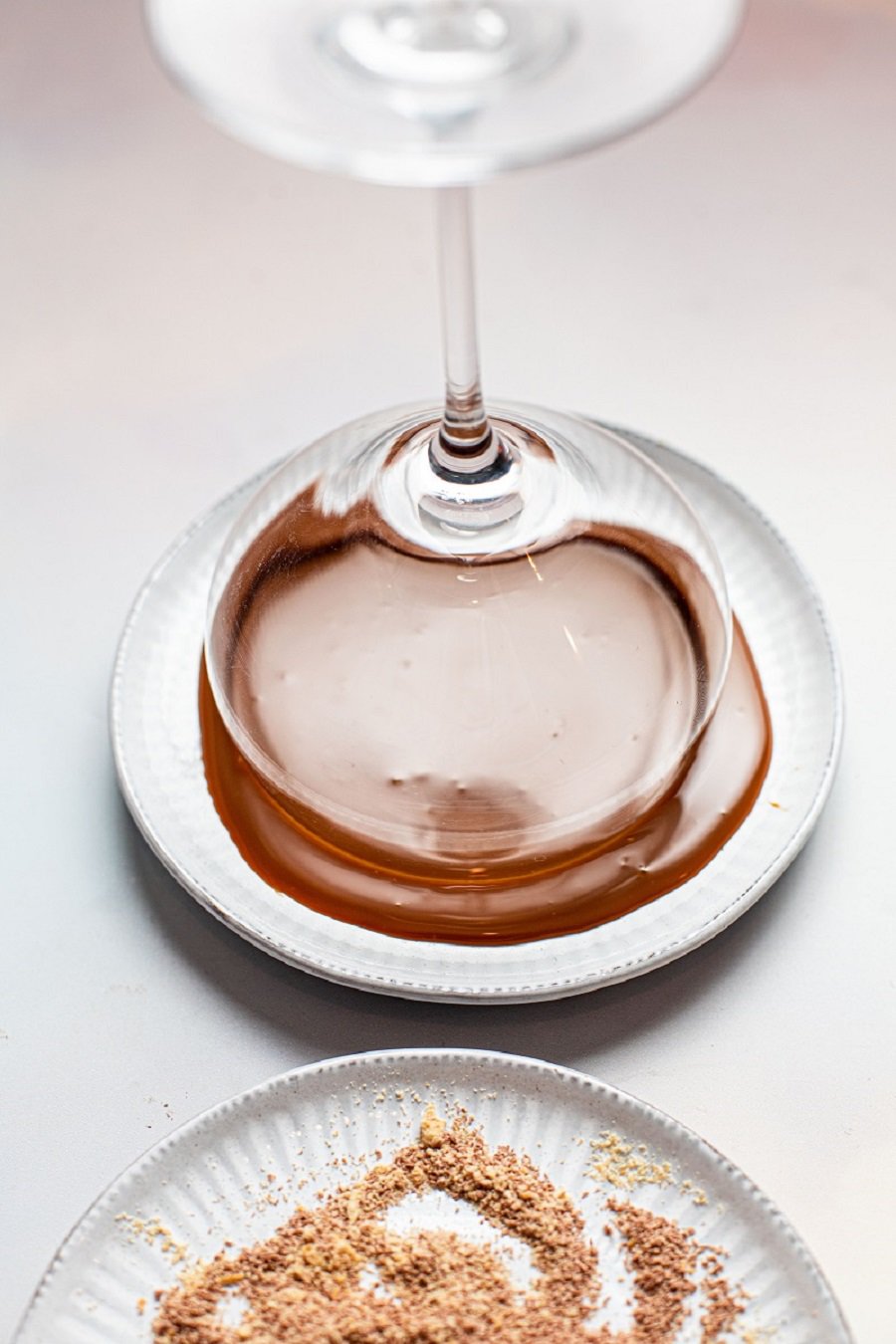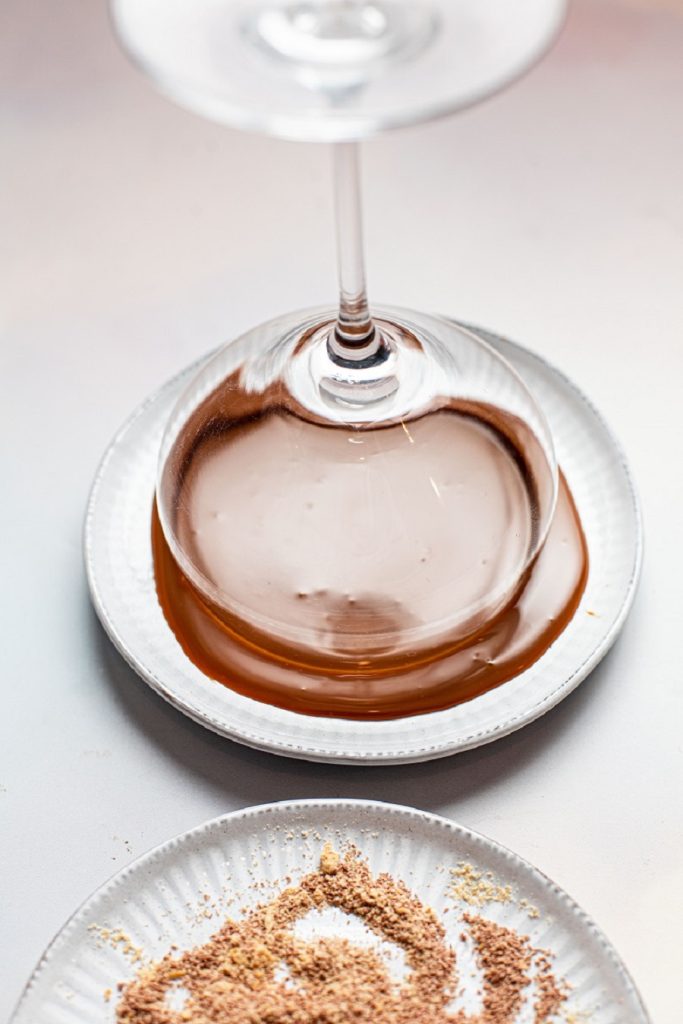 We can surely get our kids a pumpkin spice latte, but that might not be the best option for healthy kids. We already know that pumpkin spice cocktails are definitely not for kids. Normally, we don't need to worry about kids getting into the alcohol when we're enjoying a glass of wine at home on our own.
But holiday parties are very different and bring kids and adults together. Now there is a concern about kids getting into alcohol because not every adult will be paying attention during the event.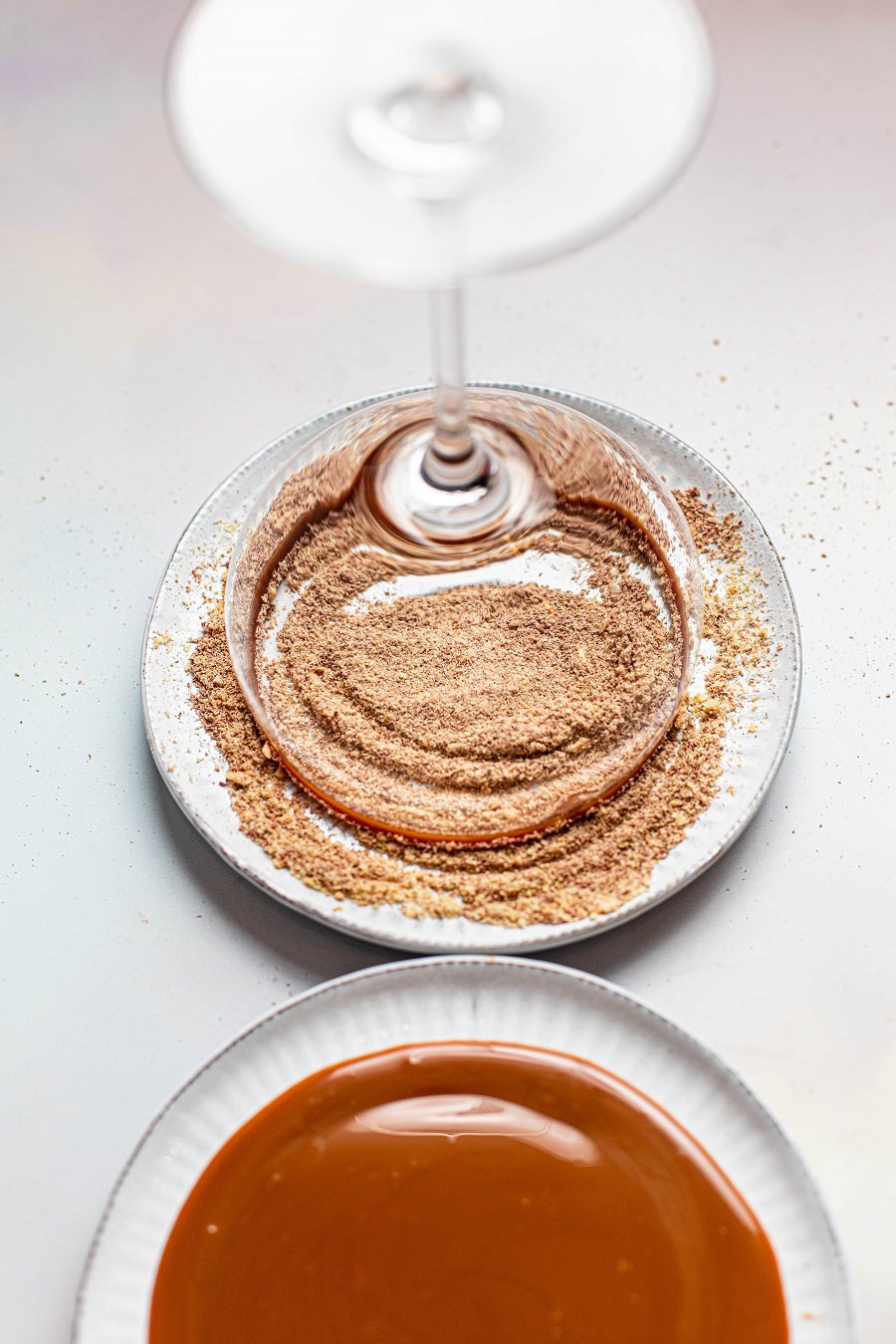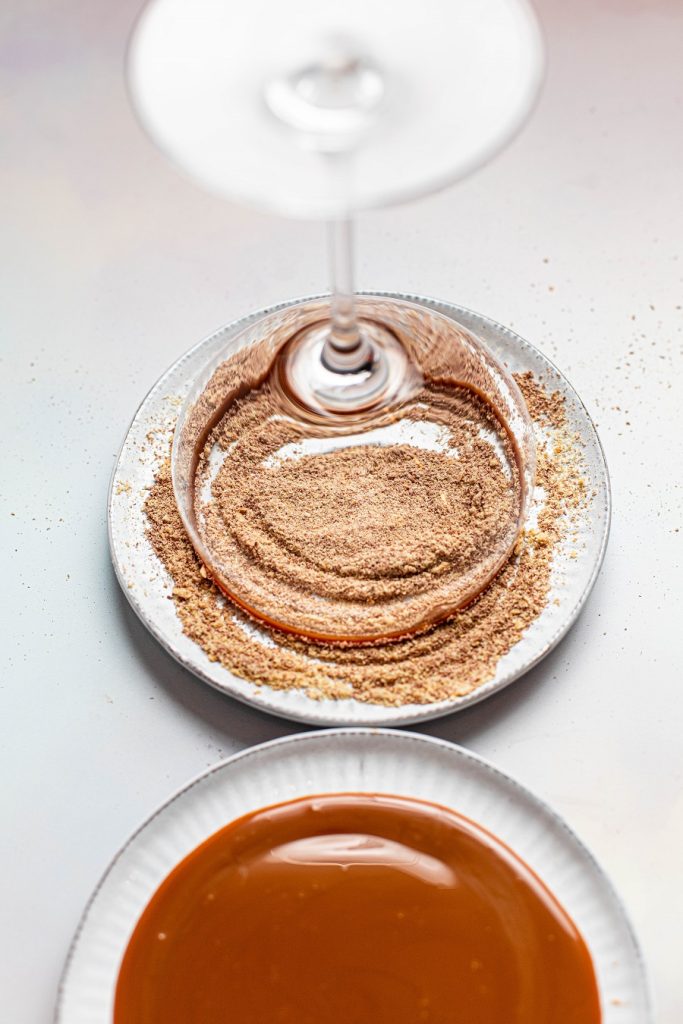 The only solution is to give kids a drink they can enjoy that is just like their parents, minus the alcohol. That is when we turn to mocktails. A mocktail is a flavorful cocktail drink minus the alcohol; imagine a margarita without tequila.
Obviously, we can't make mocktails out of every single cocktail; a good challenge would be a Long Island iced tea. But we can find other ways to make mocktails like this pumpkin spice mocktail, which is a fantastic holiday party mocktail.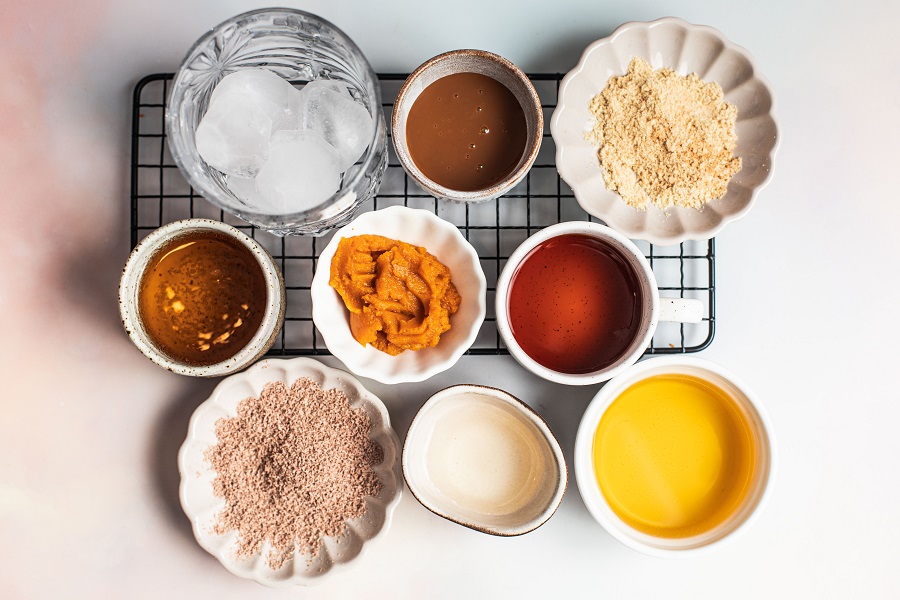 Pumpkin Spice Mocktail Ingredients
You may think that a mocktail is made the exact same way as a cocktail is, leaving out the alcohol. Some mocktails are like that, but not all. Instead, mocktails are more like gourmet drinks that don't have any alcohol in them.
Gourmet in the fact that this is not going to be a drink you just simply pour from the carton. You will need to put this drink together in the same way you would a cocktail. This means you will need more ingredients to make this drink.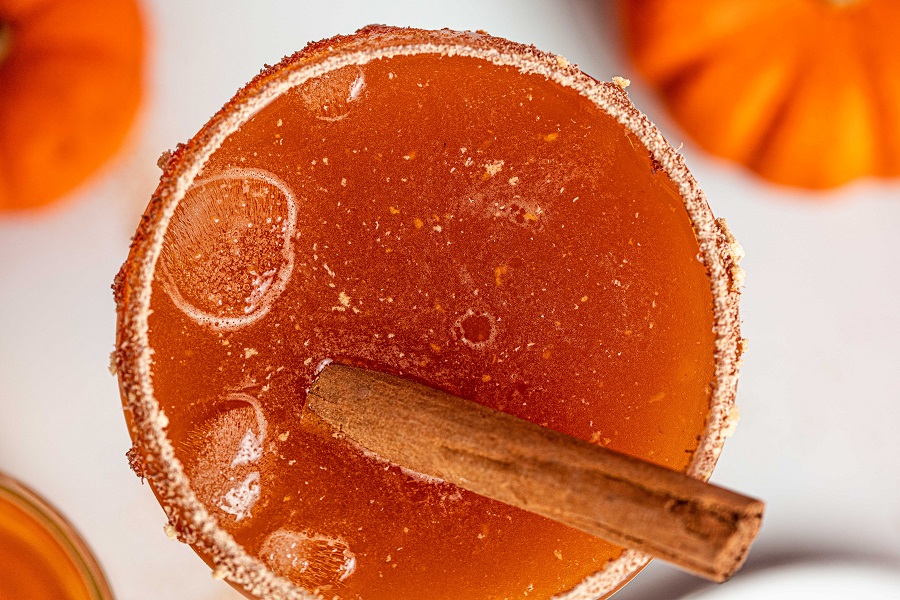 The ingredients include pumpkin puree, apple juice, vanilla extract, pumpkin spice syrup, some cream soda, and ice. You can even make kids feel more like adults by adding some fun to the rim of the glass.
This drink will require some caramel dip, graham crackers, and a bar of chocolate to decorate the rim and add more fun.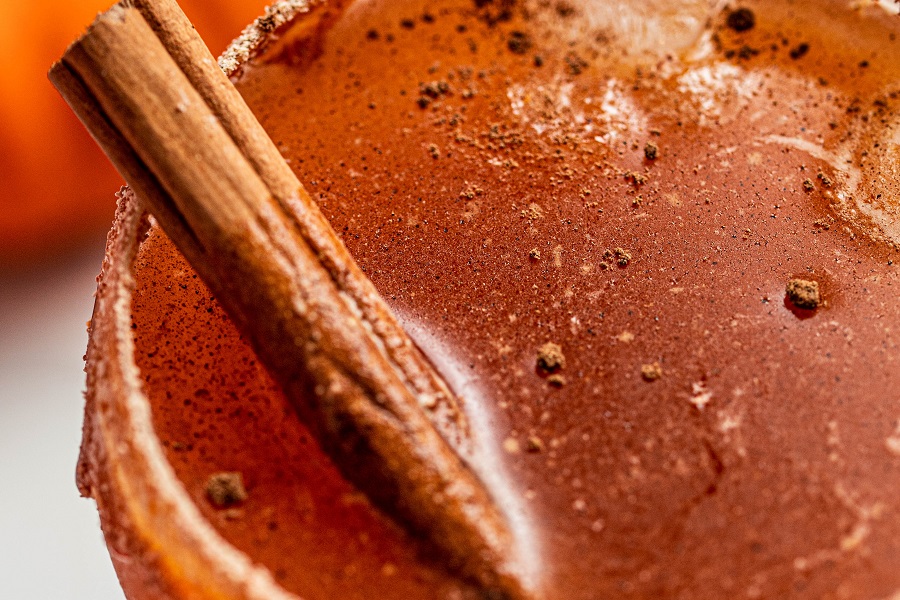 Holiday Party Mocktails
Mocktails are not meant to make kids feel like adults drinking alcohol; it is important to understand that difference. Instead, mocktails are intended to make kids feel included in the events going on around them.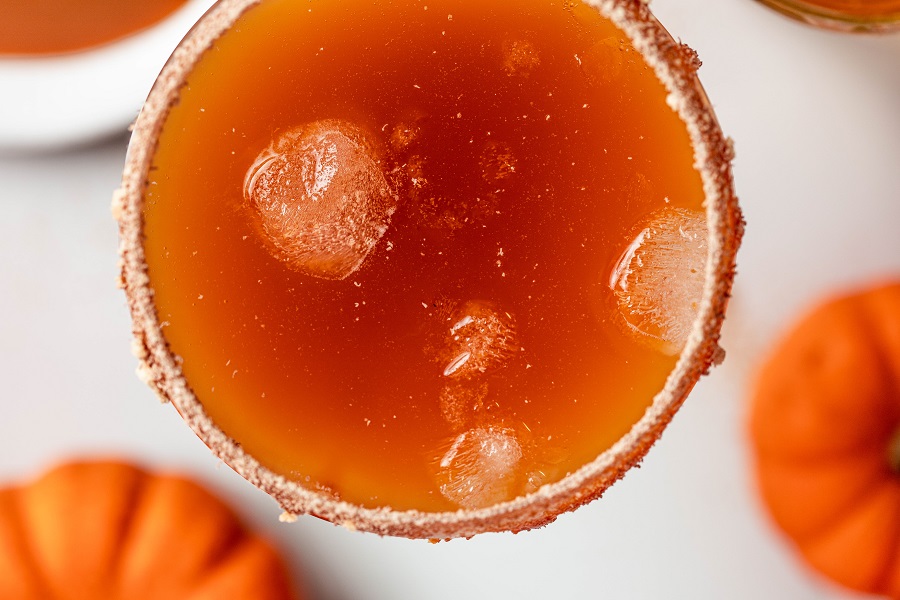 For example, you're at a holiday party, parents are drinking pumpkin spice cocktails with chocolate on the rim, and kids can clearly see it. Then you hand your kid a cup of hot chocolate, but the rim is not decorated, and it doesn't look the same as the one the adults are enjoying.
That is the perfect time to use mocktails. We all have had those experiences where kids just feel left out and excluded, and then they aren't the easiest to deal with. But use a pumpkin spice mocktail recipe to help solve that problem without the kid knowing any different.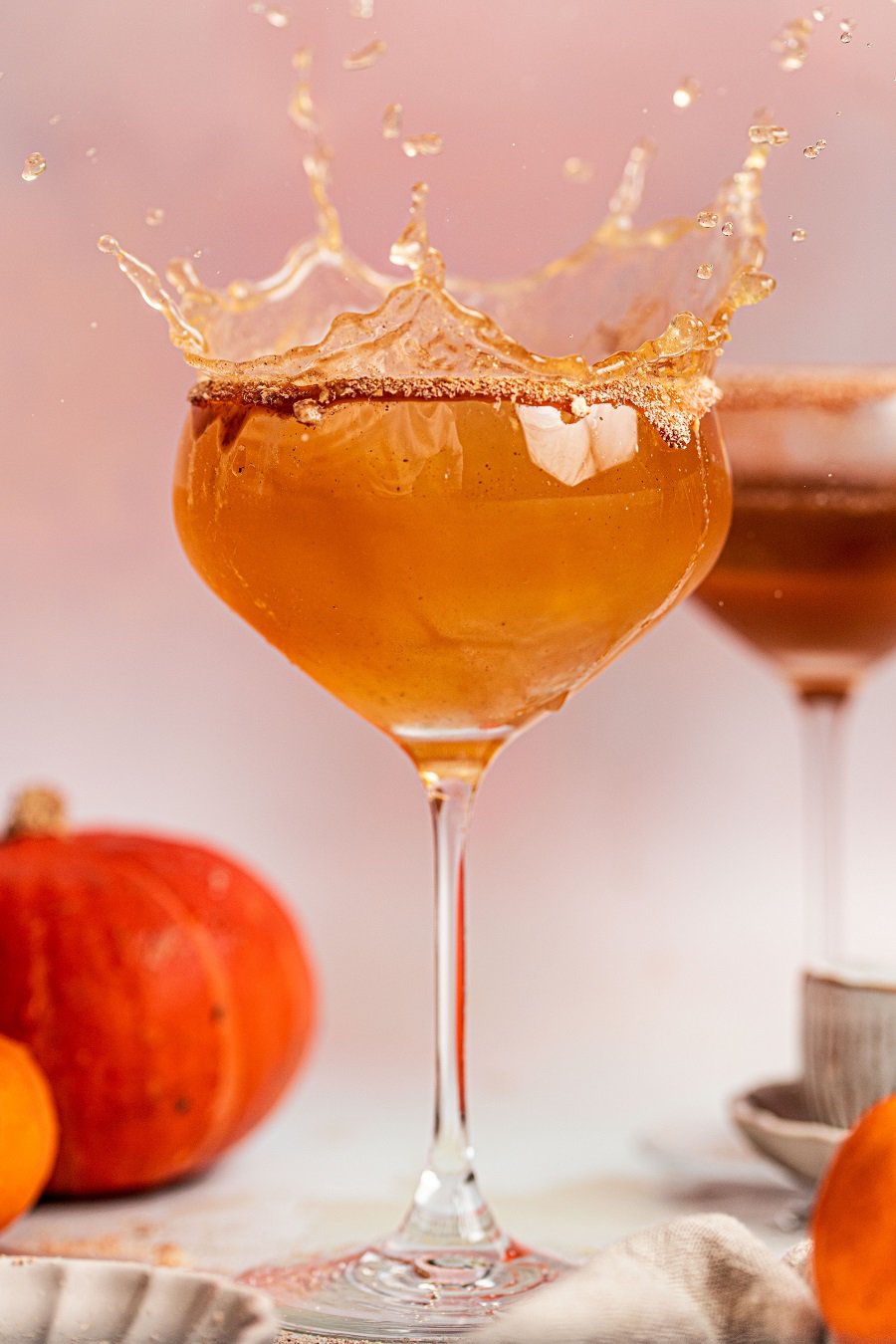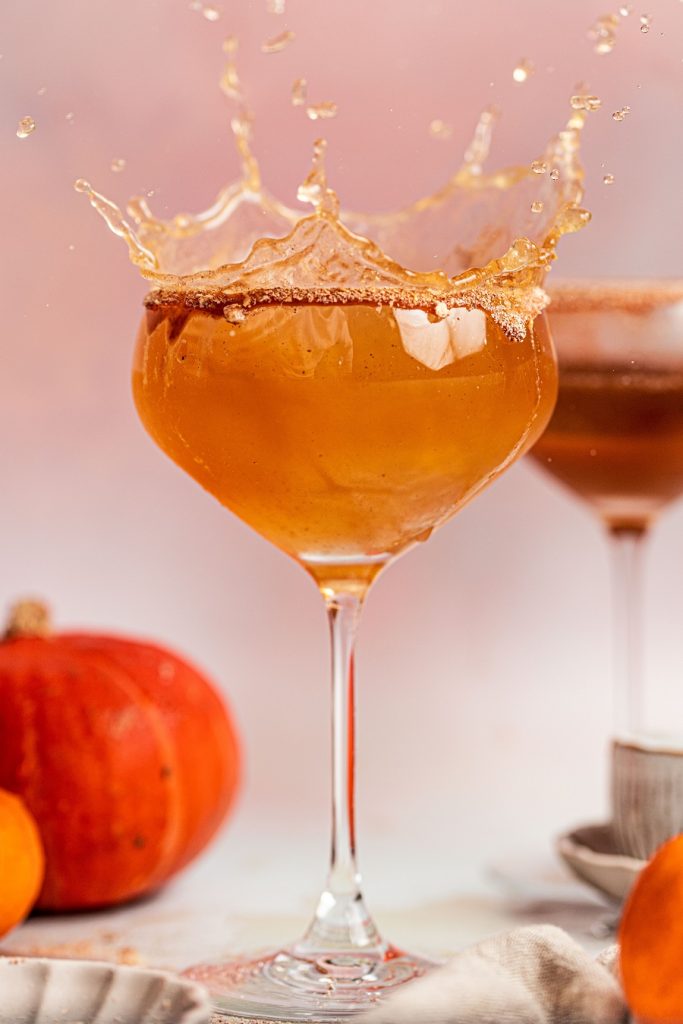 Pumpkin Spice Mocktail Directions
Take your graham cracker and chocolate onto a grater until fine. This will act as the 'salt' for the rim of your mocktail.
Dip the rim of your glass in the caramel dip and then onto the graham cracker and chocolate mixture.
In your cocktail shaker, add 1 TBSP of pumpkin puree, 3 oz of apple juice, 1 oz of vanilla extract, and 1 oz of pumpkin spice syrup before topping with crushed ice.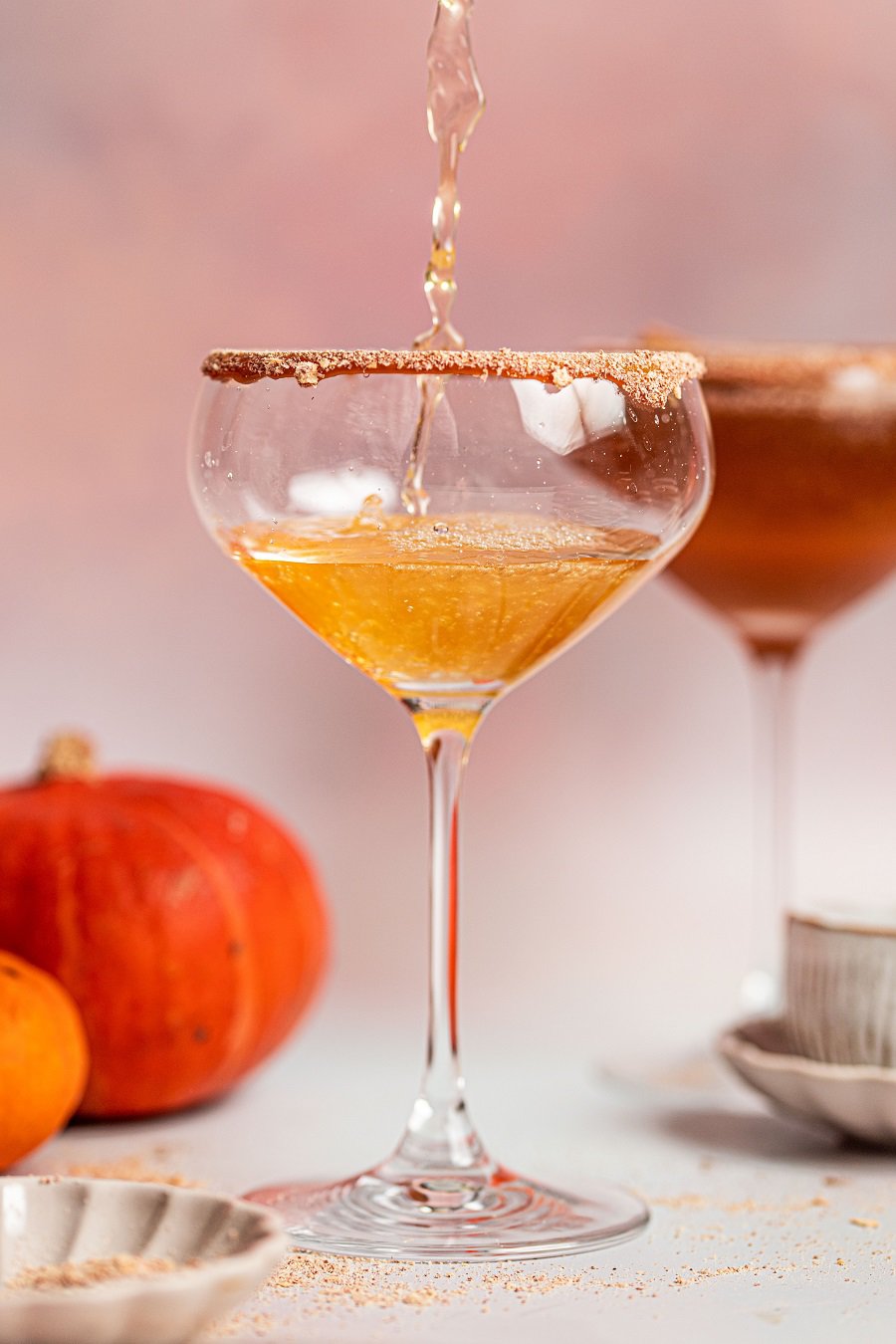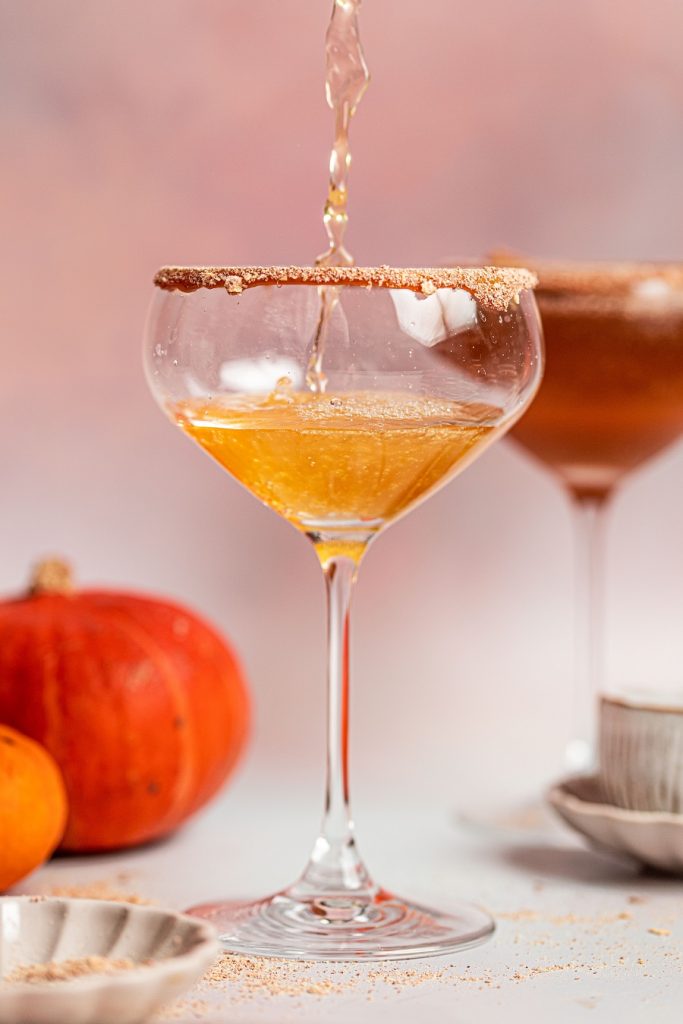 Secure the lid tightly and shake for about 30 seconds.
Strain the mixture from the cocktail shaker into the cocktail glass that was dipped into the chocolate earlier.
Top off the mocktail with a splash of cream soda.
Garnish with a cinnamon stick, and enjoy!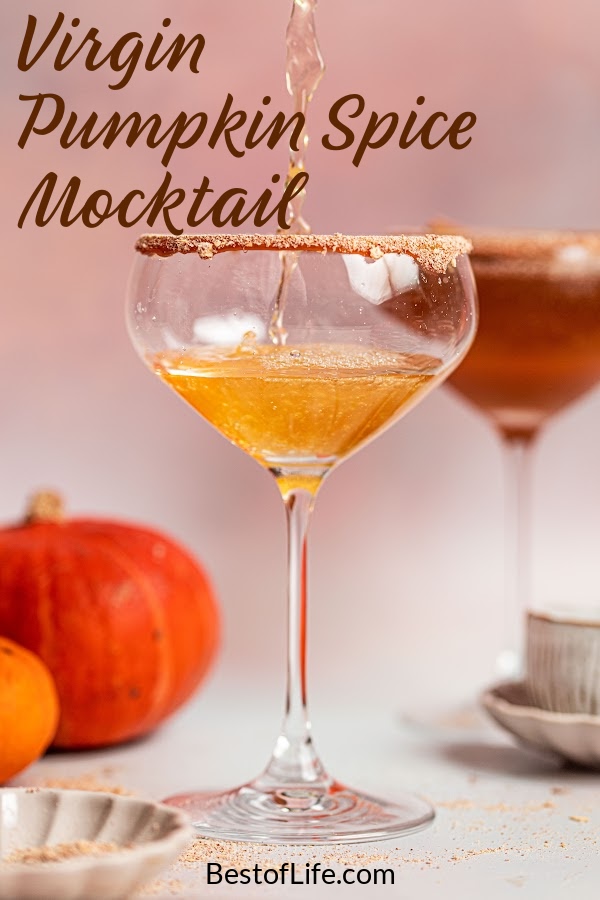 More Pumpkin Ideas
Pumpkin Spice Martini with Baileys Recipe | You can't have a mocktail without having a cocktail for the adults.
Best Fall Quotes for Pumpkin Spice Season | Pumpkin spice has gone questionably far into our culture.
DIY No Carve Pumpkin Decorating Ideas | You don't only have to eat or drink pumpkins. You can make them part of the decor.
30+ Pumpkin Dessert Recipes for Fall | Pumpkin desserts are perfect. These recipes use pumpkins perfectly.
40+ Pumpkin Carving Ideas for Halloween | You can also carve your pumpkins for Halloween. There are just so many uses for pumpkins!